Physical: 100 Star Choo Sung-Hoon AKA Sexyama, 47, Doesn't Eat Rice At All But Has A Big Mac Once A Month
The super fit MMA Legend, who was in town last week for a One Championship event, talks to 8days.sg about his cravings and why his famous daughter, Sarang, did not watch Physical:100.
No part of this story or photos can be reproduced without permission from 8days.sg.

Everyone from K-variety show-watching aunties to adrenaline-addicted fitness junkies love MMA legend and Physical: 100 star Choo Sung-Hoon. But just how much do they love him?

Well, enough to attend his meet-and-greet session at 7am on a Saturday.

The 47-year-old zaddy, who also goes by his Japanese name Yoshihiro Akiyama and the much more apt and awesome nickname Sexyama, was in Singapore last weekend to attend One Championship's One Fight Night 8.

Sexyama, who was born in Japan to Korean parents, arrived here on Friday night (Mar 24) and was up bright and early on Saturday morning for his fan meet-and-greet session. P/S: He flew back to Korea that very night.

According to a One Championship rep, his fans were already queuing outside the Singapore Indoor Stadium at six in the morning. All that just so they, all 180 of them, can breathe the same air as Sexyama…. and of course, get an autographed photo and a selfie as well.

Some even wanted a hug from him. Do you blame them? We mean, have you seen him?
Sexyama has been famous for over two decades.

First as a gold medal-winning judoka — he won gold for South Korea at the 2001 Asian Championships, and for Japan at the 2002 Asian Games — in the early noughties, before moving on to mixed martial arts where he was named world champion in 2006.

By the time the 2010s came along, he was a reality star, thanks to his hugely popular stint on The Return of Superman with his unbelievably cute daughter Sarang, then just 20 months old, from 2013 to 2017. The show made Sexyama, who is married to Japanese model, Shiho Yano, a household name across Asia.

This year, he cemented his status as an age-defying fitness legend with Netflix's Physical:100, the reality fitness competition that has introduced him to a whole new generation of fans and has turned him into an inspiration for those over 40.

When we meet Sexyama backstage at a dressing room in the Indoor Stadium, it was already half past noon, and after the main event, which saw Thai kickboxer Superlek — another awesome name — retain his world title over Aussie Danial Williams.

A protein shake of a man, Sexyama, in person, is as muscled and tanned as you would expect.

He's wearing a crisp white jacket that emphasises his caramel-coloured skin. Underneath the jacket is a tight black T-shirt that barely contains that famous body.

He's also in shades, which makes him look very intimidating. He is also not smiling. We would not want to go up against him in a death match. Though we wouldn't mind being that boulder he pushes up and over a hill every 40 secs.

But as he poses for our photos, someone from his team teases him in Japanese, which we don't understand but we do recognise the word "sexy", which was said in English a few times.  

He laughs, clearly feeling a bit embarrassed by the myriad of poses he's giving our photographer.  

When we finally get to talking — we communicate with the help of a Korean interpreter — Sexyama whips off his shades and flashes a smile.

We don't feel intimidated anymore. In fact, if he tells us to move a 1500kg ship across a sand-filled arena with him right now, we would totally do it.
8DAYS.SG: For someone called Sexyama, what do you think is the sexiest part of your body?
CHOO SUNG-HOON: There's no specific part that I believe is like very strong or sexy. I think it's all about balance. If you want to be sexy, you've got to be balanced. I think my body is well-balanced in general when it comes to muscularity. That's why I think people call me Sexyama.

As an icon of fitness for many people, not just those over 40, are there days when you just want to sleep in and be lazy and eat what you want to eat?
I'm a human being too so I do have my cravings. But I try my best [to resist] and these cravings I only give in to them once every month or once every two months.

What do you crave for then?
(Smiles) McDonald's… and Korean ramen.

Which McDonald's burger in particular?
Big Mac! And fries. Yes, everything.

What your daily diet like? Everyone wants to know what you eat to keep so fit.
I'm off-season now so I'm not particular about what I eat. But I do make sure to eat only when I'm hungry. And when I do eat, I eat primarily protein… meats like chicken, beef and pork.

So you don't snack?
(Shakes his head) No, no, not at all.

Have you always been like this?
It's been a long time. Like over a decade.

Is there any food you find it really hard to say no to?  
(Laughs) Rice. Carbohydrates. I feel really sluggish and heavy every time I eat carbohydrates. That's why I just try to eliminate it completely as much as I can.

Is there any Singapore food you are looking forward to trying?
I'm not exactly too sure what's famous in Singapore.  I had Korean barbecue yesterday. If you can provide me with some recommendations, I can try them the next time I'm here.

But my recommendations are all really unhealthy.
(Laughs).

Like pandan cake.
(Laughs) No, I've never tried that before. Okay, I'll try that.
If there was a second season for Physical:100, would you take part again and is there anything you would do differently?
I would love to go for season 2. But there's just one thing I really want to say. You really have no idea what the next challenge is. All you can do to prepare is your own fitness thing.

Is there any physical training you feel you need to do more of?
If I do go for another season, I think I would have to do more Crossfit training 'cos the winner is a Crossfitter.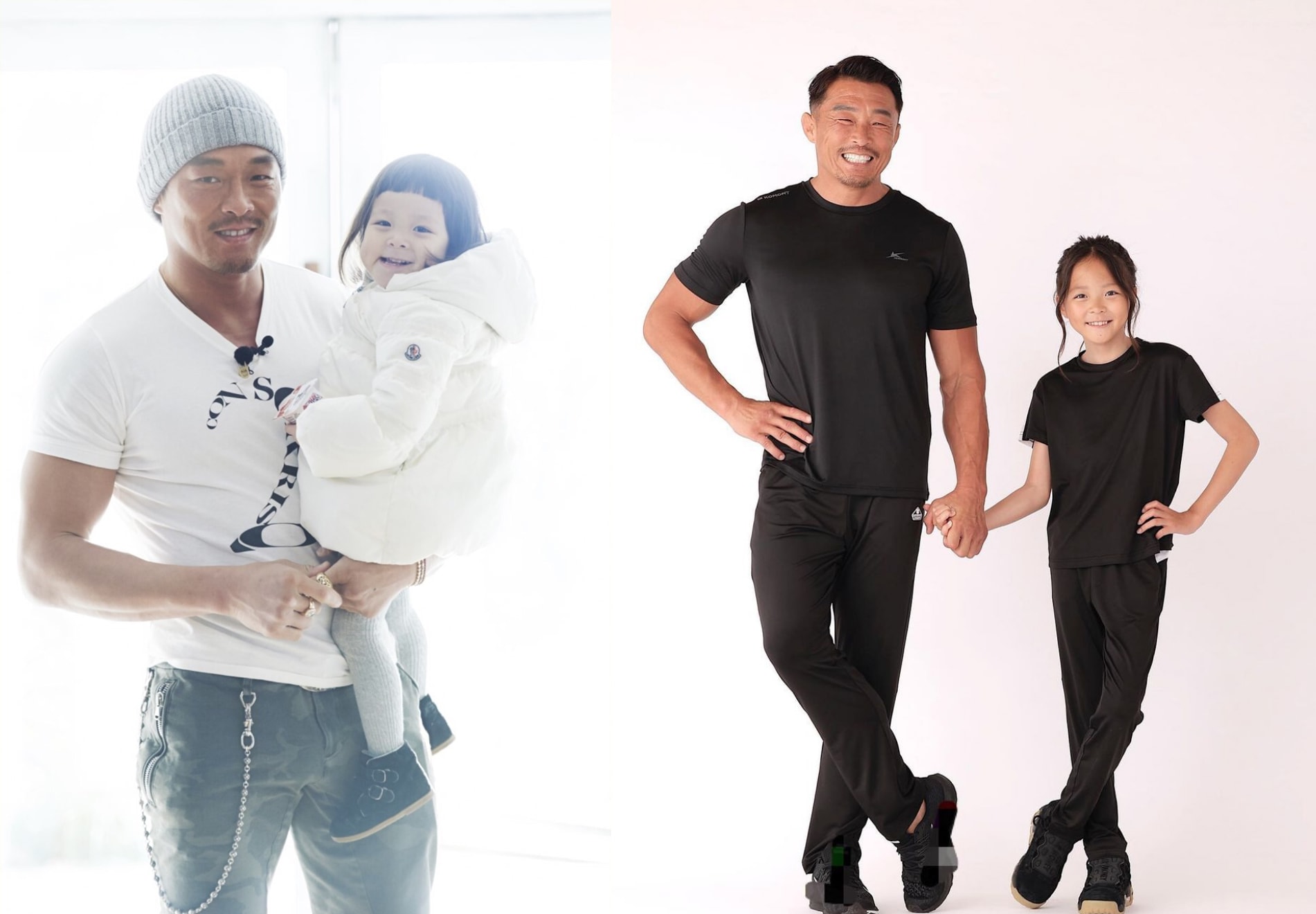 What did Sarang think of Physical: 100?
She didn't watch it.

Why not?
Concepts like survival shows and challenges and making it through conflict… She has never liked such genres in the first place so she didn't watch it.

She is now 11. Are you worried about the day she becomes a teenager and starts dating?
Whatever the case is, when you grow older, she will definitely bring home a boyfriend. Someone that she loves. That's just part of life.

Do you think the guys will be really scared of you?
(Laughs) The young kids around her age don't really know who I am so I guess they will just look at me like an old…ahjussi. [Ed: That's uncle in Korean]

No part of this story or photos can be reproduced without permission from 8days.sg.
Photos: Kelvin Chia & akiyamachoo/ Instagram (main pic)