The Ups & Downs Of A Delivery Driver's Job: "I've Met Someone Who Told Their Son To Study Harder Or He'll End Up Like Me"
Nope, he doesn't let comments like these bother him.
On any given day, delivery driver Daniel Ling, 41, delivers more than 200 parcels and clocks up to 20,000 steps a day at work, making him among the high performers at Ninja Van, where he's been working for six years.

But things weren't always this rosy for Daniel. "When I first started, I went home and cried every day for the first two weeks," he tells us as we're travelling around Ang Mo Kio in this, uh, ninja's van, following him on his delivery route for the day.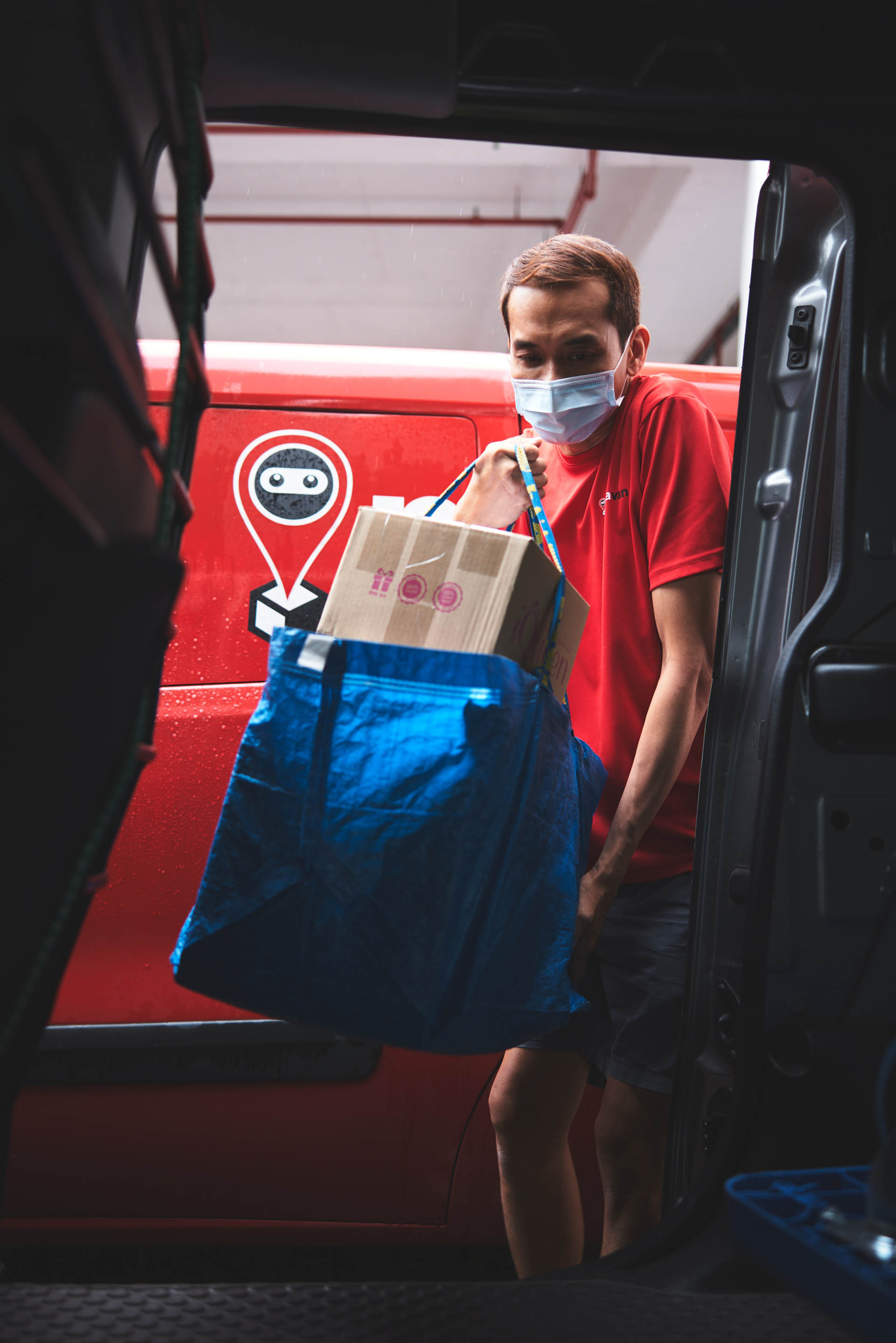 We pull up at the carpark at a block of flats in Ang Mo Kio. Daniel not only finds a parking lot in an instant, he strategically chooses one that's closest to the unit he's heading to.
"Experienced drivers will know to look out for unit numbers on the [rubbish chute landings on the ground floor] and park closest to the unit you have to go to, so you save time on walking," he divulges.

Every minute counts when you're a delivery driver who has hundreds of parcels to deliver a day. Daniel reckons he covers 200 to 250 locations per day. Each location, like a block of flats for instance, is most likely to have more than one parcel delivery, so he estimates he delivers about 200 to 300 parcels daily.

Daniel typically wakes up at 6am, reaches the warehouse to pick up his deliveries for the day by 7am, has breakfast nearby, then sets off at 9am. On most days, he ends work by 5pm or so. On good days, he goes home at 4pm, and gets to spend more time with his wife, a corporate secretary, and their eight-year-old son.

Mealtimes are flexible and left up to the drivers' discretion. Besides the breakfast he has before his shift starts, he chooses not to stop for meals when he's working. "Only if I'm really very hungry then I'll stop for about 15 minutes at a coffeeshop. The earlier I finish, the earlier I can go home," he says, as we trundle along the corridor towards the unit to deliver his first parcel of the day.

Daniel rings the doorbell a couple of times. No one's home. He follows company protocol to call the customer to ask them to authorize him leaving the parcel safely outside the unit. The customer gives the verification code, Daniel checks it, and hangs up. He places the item outside the unit, and snaps photos for record purposes before leaving.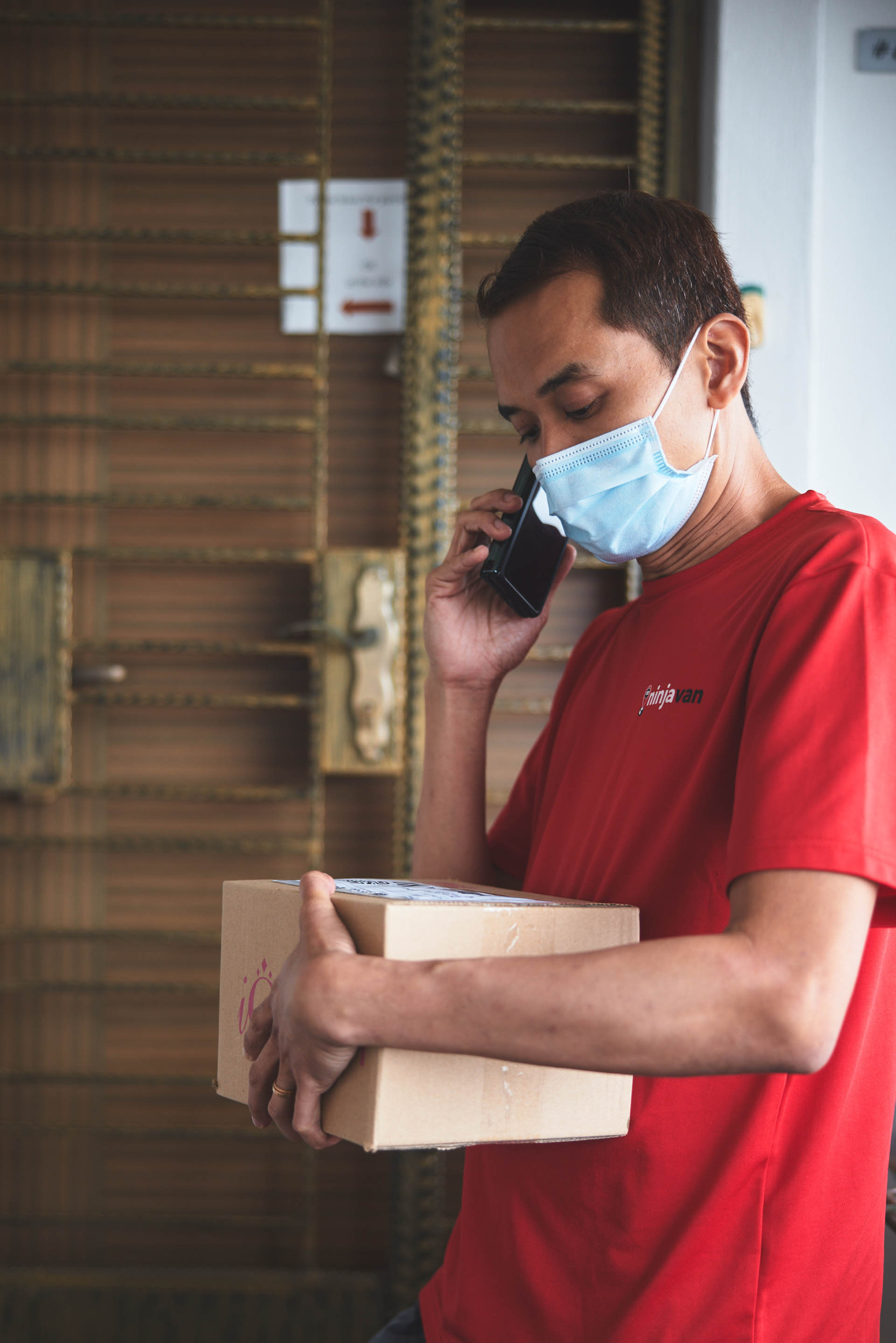 And, well, after years of working in the same delivery zone, some regular customers (read: online shopping fiends) could very well become like friends (Ninja Van drivers are assigned fixed zones for a period of time before they're routinely rotated).

"Sometimes, you can deliver parcels to the same place three or four times a week, and after a few months, you get to know the customers," he explains.

"Some treat you like friends. When you arrive, they ask if you've eaten. There was one time the customer said they'd just cooked beehoon and asked if I wanted some," he recalls. "If I'm really hungry sometimes I'll take lah. But most of the time if they ask if I want a drink or some food, I will say no because courier drivers are always in a hurry (laughs)."

He must have come across his fair share of difficult folks too after all these years, we ask.

"Some people look down on us," he says. "Sometimes, if I'm carrying a lot of things with a trolley and I'm sweating and all, some people won't want to take the same lift as me.

Daniel is able to brush off unpleasant incidents like these, not least because of his positive mindset. "Being a driver is not a difficult job. But you have to be mentally strong," he asserts.

"I'm not stealing or doing anything wrong. I'm doing a legit job that I'm proud of."

Daniel maintains that this is one of the better paying courier companies around, and that "if you're hardworking, you can draw a good salary and have a decent life."

How does it match up against food delivery? "It's so different. Our job is non-stop," he laughs. "For food delivery, you have to wait for orders to come in, then go to the restaurant to pick up the food and then deliver. After delivering, you may not necessarily receive another order. Ninja Van is already quite established so every day you have the volume there, and you know at least you have X amount of money you can earn."

Indeed, during peak periods (think blockbuster 11.11 or 12.12 online sales), Ninja Van's average parcel volume as a whole is at least 100,000 parcels a day. Yes, in one day.

Little wonder that in November 2021 the homegrown logistics firm just launched its second automated hub. In fact, the sprawling 80,000 sq ft warehouse space in Yio Chu Kang is its largest yet, and is poised to handle up to 200,000 parcels a day.

There are no bulky items to be delivered on his route today, but we're guessing that having a journalist shadowing him is slowing this top performer down. After a couple more deliveries, we decide it's time for him to get back to his regular lightning-paced work day.
After all, there are folks who've been eagerly waiting for him to deliver their loot since this morning — customers are automatically notified when drivers collect their delivery haul for the day in the morning.

"Some will keep following up and ask what time it will arrive. But it's hard to give them an estimated time of arrival because we don't just do one delivery. Sometimes we get delayed due to unforeseeable circumstances or other deliveries," Daniel quips.
"When they keep asking if we can deliver faster, we feel the pressure. But we try our best lah. If I have your parcel already, I'll definitely send it to your house by the end of the day."

Photos: Alvin Teo/8Days.sg