USS Halloween Horror Nights Is Back This Year… As An Exhibition. Is It Still As Spooktacular?
The USS Halloween Horror Nights Exhibition isn't like other exhibitions.
After a hiatus in 2020 due to Covid-19, Halloween Horror Nights at Universal Studios Singapore (USS) is baaack — but not as you know it. Instead of the usual scare-fest brimming with haunted houses and scare-actors, the much-loved Halloween extravaganza will be held as an exhibition for the first time ever.
Think of the Halloween Horror Nights Exhibition as an homage to HHN, which was among the biggest Halloween shindigs on our shores every year in pre-pandemic times.
While there are no haunted houses, ghosts and jump scares this time, it's not to say that HHN, in this iteration as an exhibition, is any less spooktacular. After all, the exhibition's advisory suggests that it may be too intense and not recommended for those under 16, though there isn't an official age requirement to enter.

The exhibition revisits the past nine editions of HHN and showcases props, displays and costumes of the blockbuster Halloween event at USS. Here, visitors can reminisce and come face-to-face (again) with the most hair-raising icons and moments from HHN's history — all in line with safe management measures (SMM), of course.

The tunnel at USS Halloween Horror Nights Exhibition.

USS ticket holders can pop by the exhibition during their visit, but will have to pre-book a timeslot
online
. There is no separate ticket to be purchased as it's already included in the USS admission fee.
What to expect at the Halloween Horror Nights Exhibition at USS:
The exhibition is split into six zones: the lobby, the tunnel, the main hall, scare zones, Pantages and the haunted houses.
It starts off decidedly tame at the tunnel and main hall, though HHN die-hard fans will geek out over the nuggets of behind-the-scenes information from the inaugural HHN in 2011 all the way until HHN9 in 2019 (it was cancelled last year).

Main hall at the Halloween Horror Nights Exhibition
The segment on scare zones gives you an idea of just how much work goes into the planning of each edition HHN (each one took one year to plan). You'll even be able to scrutinise costumes and props without having to worry something's gonna jump out at you. Phew.
The Scare Zone segment

Like the regular HHN, the main highlight at the exhibition is the Haunted House segment, which is split into two zones: Western and Asian.
The Haunted House zone at the USS Halloween Horror Nights Exhibition
It's also the biggest section of the exhibition where clowns, pontianaks and background information of how these scares were orchestrated the past nine editions await.
Asian haunted houses at the USS Halloween Horror Nights Exhibition
How the exhibition stays SMM-compliant but still remains inexplicably creepy is beyond us. Or is it all in our head? Guess you'll have to go to find out.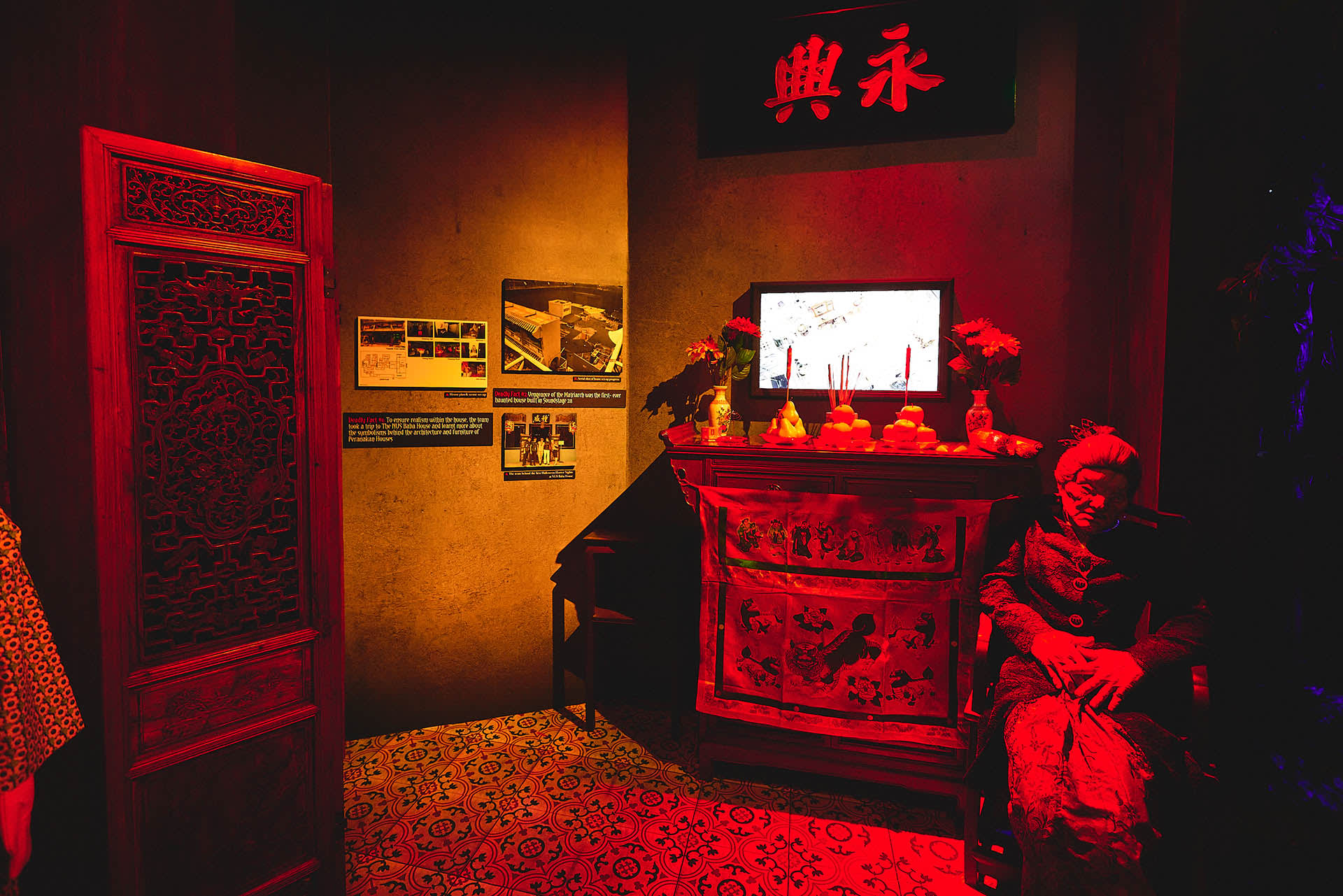 And if all this is still too intense for you, there are other family-friendly Halloween festivities going on outside of the exhibition as well, from Halloween-themed nosh at KT's Grill (from $68 for a three-course meal; $38 for kids) to meet-and-greet sessions with trick or treating minions.

Meet-and-greet with trick-or-treating minions at USS

The Halloween Horror Nights Exhibition is on from Sep 10 to Nov 7 at Universal Studios Singapore. More info here.
Photos: Alvin Teo