Giveaway: Win "We Bare Bears: The Movie" Watch Party Snack & Merch Boxes Worth $135 Each
Yes, We Bare Bears: The Movie drops Sept 12 and we've got boxes full of snacks, merch and activities to give away.
If you're a fan of Grizzly, Panda and Ice Bear, you might want to sit down for this: We Bare Bears: The Movie premieres on Sept 12 at 11am on Cartoon Network, Boomerang, Warner TV, Oh!K, HBO and HBO GO, and 8days.sg has got three big boxes full of goodies to give to three lucky winners. The contest form is at the end of this story, and meanwhile, this is what you can win:

A box full of:

- We Bare Bears party flags to make your own colourful backdrop for your viewing party
- A booklet full of fun WBB crafts for kids and kidults
- An Ice Bear Do Not Disturb door hanger
- 2 activity booklets
- 2 foldable snack holders
- 3 We Bare Bears plush toys (Grizz, Panda, Ice Bear)
- 2 We Bare Bears sticker sheets
- We Bare Bears pencil set
- HBO GO notebook
- We Bare Bears biscuits
- Candies
- Potato chips
- Juice-flavoured drinks
- Cheese ring snacks
- Caramel popcorn
Value of Watch Party Pack: USD 100 (S$136.80)

Everything you need to fully enjoy We Bare Bears: The Movie come Sept 12.
A little more about the movie:
Your fave lovable stackable bears face their biggest threat yet — a sinister villain named Agent Trout who's determined to tear the brothers apart. He's a wildlife control agent who will stop at nothing to do capture and separate Grizz, Ice and Panda forever to restore the "natural order". Gasp! The cuddly trio leave their home to find refuge in Canada, and embark on an epic road trip filled with new friends, dangerous obstacles, and massive parties. It all sounds like it will be totally, unbearably nuts.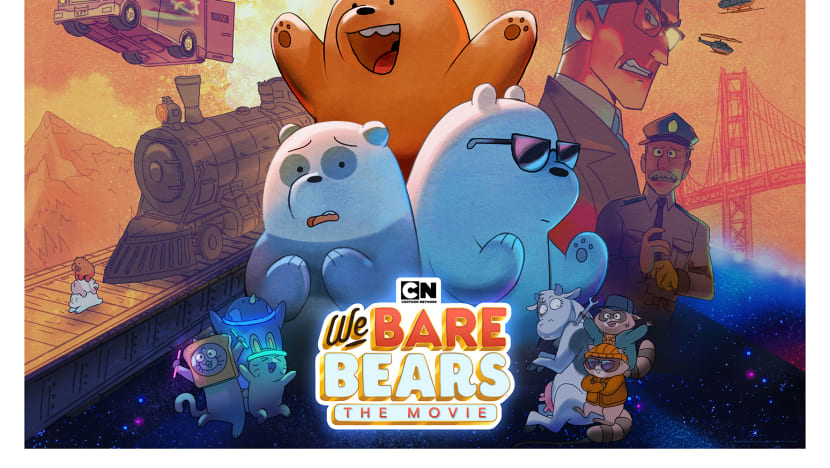 https://cartoonnetworkasia.com/webarebearsthemovie
which offers decoration templates such as posters, popcorn cups and party crowns, as well as We Bare Bears-themed recipes and other activities such as exclusive videos, games and quizzes.
Tune in at
11am on Saturday, September 12, with encores at 3pm and 7pm, and join fans all across Asia in Cartoon Network's
We Bare Bears: The Movie
first-ever watch party. The movie will show on Cartoon Network (Starhub TV 316, Singtel TV 226), Boomerang (Starhub TV 317, Singtel TV 228), Warner TV (Starhub TV 515, Singtel TV 306), Oh!K (Starhub TV 816, Singtel TV 525), HBO (Starhub TV 601, Singtel TV 420) and on
HBO G
O.
Scenes from the movie. Looks epic.
Ready to win your Watch Party Pack? Enter via the contest form below.
Turner Broadcasting System Asia Pacific, Inc. (Turner) has agreed to Sponsor the prizes in connection with the Contest conducted by 8 Days, the Promoter of this Contest.

Turner is not the promoter of this Contest or otherwise associated with 8 Days, the Promoter of this Contest. The use of the Cartoon Network name, and/or the offer of the Cartoon Network prize does not imply any connection or endorsement by either Turner, Cartoon Network of 8 Days as Promoter or its products or services."