This Building Next To Changi Prison Is Actually An Underrated Museum Dedicated To WWII POWs, And It's Just Undergone A Revamp
One more hidden gem in Singapore to rediscover.
The taxi takes us through a long winding road in Upper Changi. Our view right now: blue skies and the stark, imposing concrete walls of Changi Prison. There are few other vehicles around, mostly construction trucks and the occasional car. Right beside the prison, a small non-descript white building stands, flanked by a handful of houses on one side and a wall with barb wire on the other.
We've arrived at the newly-revamped Changi Chapel and Museum (CCM), an under-the-radar museum nestled in the (far) eastern tip of the island. It's an attraction that may have often been overlooked, even by people living in the East familiar with the pet-friendly Bark Café next door.

What the rest of us (easties or not) may not know is that CCM has been here since 2001. The tranquil chapel and museum is dedicated to the history and personal stories of some 48,000 Prisoners-of-war (POWs) held in Changi Prison camp during the Japanese Occupation in World War II.
In 2018, CCM quietly closed for a complete revamp. Come May 19, it's set to reopen with an expanded collection of artefacts, a more immersive experience to tell the heartwrenching personal stories of the POWs held at Changi Prison during WWII.

What's new at the refreshed Changi Chapel and Museum?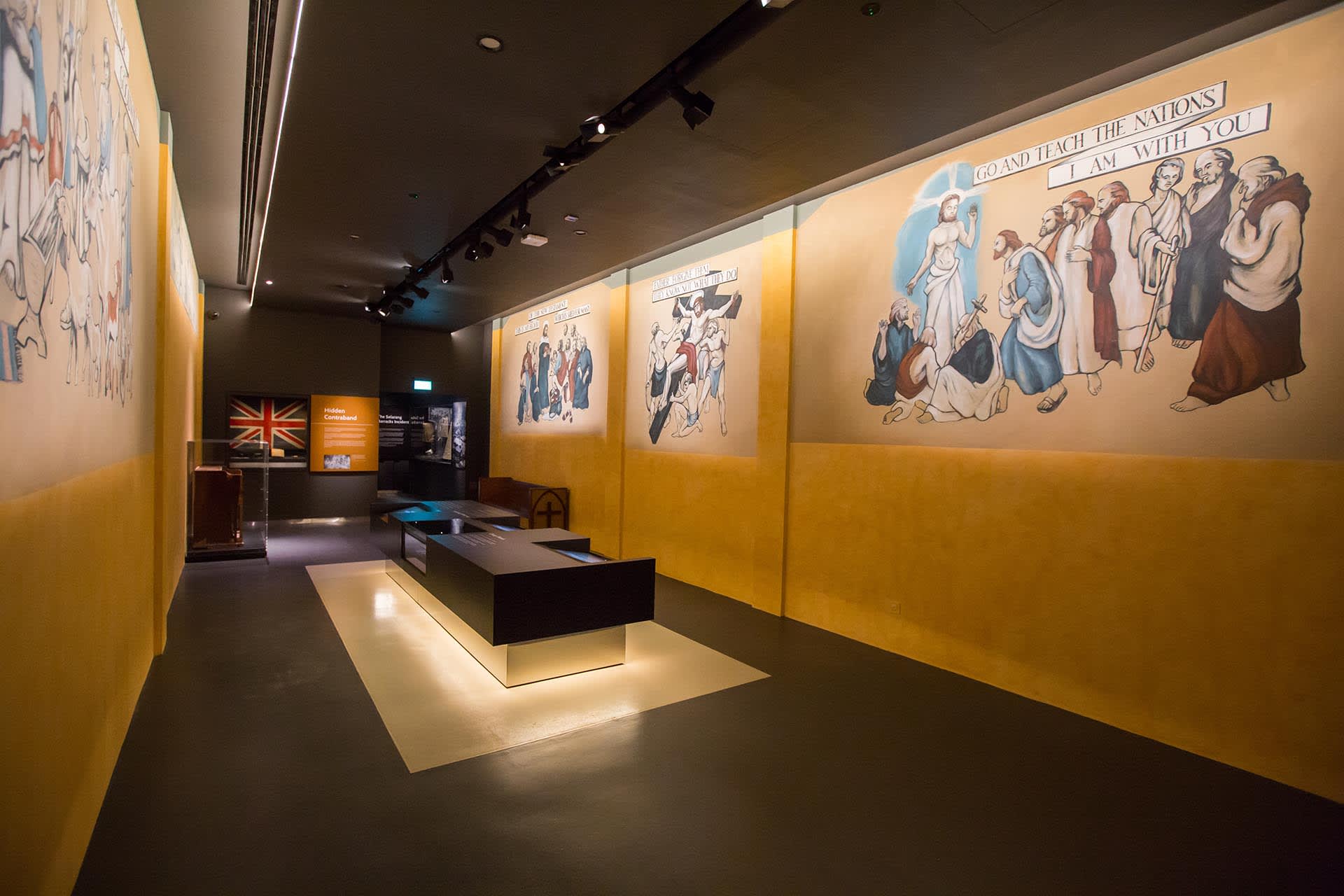 The refreshed CCM offers an expanded immersive multimedia experience, with 114 artefacts displayed across eight galleries. In fact, 82 of these are displayed for the very first time, including numerous personal objects — diaries, letters, even hidden contraband such as a Kodak Baby Brownie camera painstakingly hidden by the internees in camp. These are either on loan or donated by families of former internees, and help us piece together the gruelling, emotional day-to-day lives of the internees in the camp.

As part of the new immersive experience, visitors can also step into a recreated Changi Gaol cell, which features an original Changi prison door from the 1930s (below).

A replica of a cell back then, smaller than the size of a room in a BTO flat, which is meant for a single occupant, though it's not uncommon for up to four internees to share the bare concrete bed in the cell.

Other highlights include personal objects that the POWs kept with them in camp, against all odds.
This Malay-English dictionary was painstakingly handwritten and compiled by POWs as part of what was known as 'Changi University', where internees picked up languages during incarceration.
A Christmas dinner menu from a troopship that transported soldiers to Singapore— Private Albert Riley kept it throughout his time in captivity in Changi.
If you need a breather or a space to reflect, head to the chapel in the courtyard. This has long been the centrepiece of CCM, even before the makeover. It may be a replica of the original that was built by POWs within prison walls (the original was relocated to Australia after the war), it's still regarded as a sombre remembrance of the men and women imprisoned in Changi during WWII. The refurbished courtyard space now has a glass and timber canopy that not only adds a design element to the space, but retains the open-air environs of the original WWII chapels while providing shade.
To commemorate its reopening, CCM is offering all visitors free admission from May 19 to 30. Guided tours of the gallery and a recorded orchestral performance are available over the opening weekend (May 22 and 23). But due to tightened Covid-19 measures, visitors must pre-book tickets and sign up for opening weekend programmes; reservations open May 17 at 12pm at www.changichapelmuseum.gov.sg.

Changi Chapel and Museum is at 1000 Upper Changi Rd North. Open Tue to Sun at 9.30am-5.30pm (closed Mon & PH); last admission at 5pm. Free entry from May 19 to 30 (pre-booking required).
Photos: Changi Chapel and Museum, Jasmine Teo