MRT Train Gets Hijacked In Ambitious New Mediacorp Drama Third Rail, Starring Rebecca Lim
The train is real, okay — the English-language series is filmed in one of the biggest sets ever built in Singapore.
Rebecca Lim has picked the wrong day to catch the train to work — in reel life, that is.  
Mediacorp has released the first look and one-minute trailer of its upcoming action thriller Third Rail, which arrives on meWATCH on Oct 17.   
Produced by Ochre Pictures — the folks behind Last Madame — the 12-part English-language series follows the chaotic moments that ensue after a train is hijacked by terrorists. (It's Taking of Pelham 123-meets-Undersiege 2, Singapore-style!) The title refers to the part of the rail track that supplies electricity to the train; it's also a term politicians used to describe a controversial topic.
But according to the producers, they didn't draw inspiration from said Hollywood blockbusters.
"In creating the characters and stories for the episodes, I was inspired by real stories I had researched or that were told to me and I ask myself the question — what would make an ordinary person do something so drastic like hijacking a train," executive producer Jean Yeo tells 8days.sg.
"For example, I read about a man who sacrificed his entire fortune, sold his home to fight a long-drawn lawsuit to claw back what he thought was rightfully his, but in the process loses his family," she says. "I read about a parent who lost his child to suicide because the latter was forced to conform to societal pressures and the parent was part of that pressure to conform. These became my inspiration for the hostage takers.
"So while there are a number of hostage dramas out there, our hijack situation is unique to our part of Asia, unlike the usual politically-motivated or religion-related tropes of the West. For example, we have as characters a teenage son, estranged from his prostitute mum who meets by chance on the train, two migrant workers who are looked down upon, a live-in maid who had just stolen from her boss and is making a run to the airport. Even the terrorists/hostage-takers are unexpected characters, unlike the usual Middle Eastern or western archetypes.
"We present an Asian perspective that the west hardly sees, with compelling characters and unexpected twists and turns authentic to the socio-political background of our region. And yet the issues and the interpersonal relationships and human emotions are universal and relatable."
The Third Rail cast also includes Andie Chen, Nurul Aini, Shrey Bhargava, Jason Godfrey, Benjamin Heng, Carla Dunareanu and Vanessa Vanderstraaten. 
But the real stars of the show aren't human — they are the two decommissioned MRT train carriages where most of the action takes place. 
When 8days.sg arrived on the Third Rail set in July, it's a sight to behold. 
The carriages as well as the parts of the train tunnel were housed in a cavernous set erected in the an 16,000 sq m-hall at Changi Exhibition Centre, with the rest of the train and tube digitally extended using computer-generated imagery.  
The transportation of the trains from the depot to Changi was an epic undertaking unto itself, which said to have cost the producers a hefty five-figure sum. Getting the train to the set was like "a military operation" says Jean.
We've been to our fair share of local TV film sets but the Third Rail set is nothing we have seen before, in terms of size and scale. It's one thing to build a 1930s whorehouse in an abandoned school assembly hall but another to construct parts of a transit system in a King Kong-sized hangar.
Interestingly, Third Rail is one of two local productions revolving around trains. The other is Circle Line, a film starring Jesseca Liu and Peter Yu, about a giant lizard-looking beast causing havoc in the underground metro system. 
Filming at JB's Iskandar Malaysia Studios has already wrapped but no one word on when it will be out in cinemas. But that's another story for another time…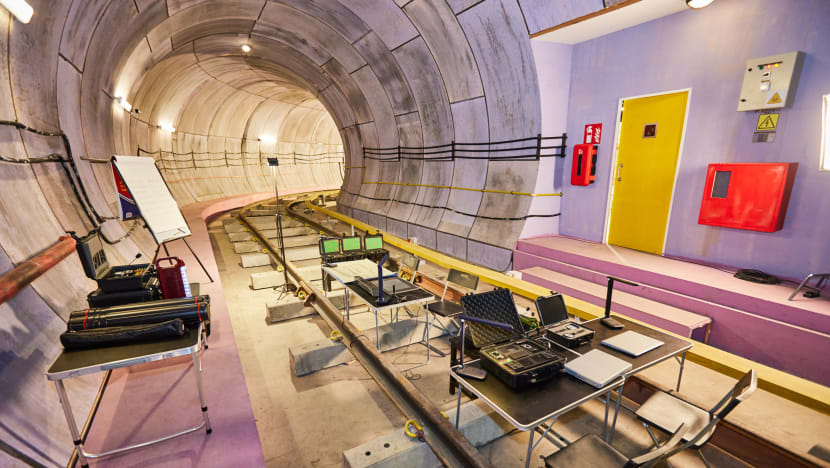 Meanwhile, back on the set, we get to chat with Rebecca, who plays one of the hostages. It's been a while since she's taken a public train," she says. How long? "Up till the final year of university? That was probably the last time I took a train. Ten years ago?" 
Rebecca, 36, says Bishan was her favourite MRT station in her secondary school days because "it's next to Junction 8" where she would hang out with her friends after class. 
"We were trying to get out of extra-curricular activities," she says, with a laugh. 
To 'prepare' for her role as marketing VP Geri, Rebecca visited the Upper Thompson station ("the one nearest to my grandma's house"). 
"I am so bad at directions with the different lines, the different stops, the new lines, new stations," she admits. 
Rebecca says she was impressed with the station's air-conditioned underpass, a far cry from the Third Rail set, where she and her cast-mates were holed up in a sweltering, confined carriage for months. 
On top of that, she had to wear the same white dress throughout the shoot. "This is not the most fun outfit to get stuck in for more than 18 hours a day," she says. (FYI: Three sets of the same costume were made for her.) 
She says, "The moment we close the train door, we can't switch on the fan on the set because of the noise, and before the windows were broken [in a later scene], the carriage was basically an oven — where more than 50 of us were baking inside!"
That said, the harsh environment did help inform their performances — they didn't have to pretend too much that they were portraying trapped captives. "But on the bright side, it really brought us together as an ensemble," she adds. 
As we marvel at the sets (everything would be taken down later that day), we ask Jean what she thinks the audience will be most surprised by Third Rail?
"Our audiences are very savvy and have the luxury of sampling the best contents around the world made with many times the budgets that we have," says Jean. "But I hope that the audience would be able to see the heart and sincerity in producing Third Rail — they may be surprised by the fact that this was a difficult concept to execute and we yet dare tackle and take on the hijack of an MRT train.
"Even ordinary dramas are hardly ever shot on an MRT train or station as permissions are hardly ever granted and if they are at an exorbitant cost — and so we had to be creative.
She continues, "They may also be surprised to see a new station and a new livery on their familiar trains — livery I happen to think looks sleeker and nicer than out real MRT colours, thanks to our art designer Charles.
"But my greatest hope is that they will be pleasantly surprised by the level of story-telling that we have — it is not predictable and we can in fact do a good suspense thriller."
Are you ready to board Train 1095?
Watch the first episode here:
Third Rail premieres on meWATCH on Oct 17, with two episodes every Monday. It'll be available on Mediacorp's YouTube Drama Channel from Oct 25, with new episodes every Tuesday. It will launch on Channel 5 on Oct 31, 9.30pm.