War Movie Malbatt: Misi Bakara Sheds Light On Malaysia's Role In Rescue Mission Featured In Ridley Scott's Black Hawk Down
Director Adrian Teh hopes his movie will set the record straight on Malaysia's crucial role in the rescue mission depicted in Ridley Scott's Black Hawk Down.
Malaysians have every reason to gripe about Ridley Scott's 2001 movie Black Hawk Down.
Black Hawk Down tells the harrowing true story of the US troops trapped behind enemy lines during the 1993 Somalia Civil War, after failing to capture a Somali warlord.
But that's just half of it.
In truth, Malaysia's UN peacekeeping contingent — as well as the Pakistani military forces — played a pivotal part in evacuating the US soldiers from Mogadishu's Bakara Market, where they were surrounded by local militia.
The Malaysian Battalion (or Malbatt) comprised 11 officers and 101 troops. The deployment resulted in one Malaysian soldier killed in action and nine injured. A few of their APCs (Armoured Personnel Carriers) used in the mission were destroyed too.
Regrettably, Malaysia's contribution was all but reduced to one line in Scott's Oscar-winning dramatisation. "Pakistanis, Malays, I want their tanks and APCs", an American top brass, played by Sam Shepard, ordered.
"The movie portrayed the rescue as if it was as easy as calling a Grab," a miffed Adrian Teh tells 8days.sg from KL via Zoom. "The Grab arrives, masuk, and then, bye and gone."
And this is where Teh hopes his movie, Malbatt: Misi Baraka, can set the record straight.
Costing RM20 million (S$5.8 mil), Malbatt: Misi Baraka is one of the most expensive movies produced in Malaysia. The cast includes Bront Palare, Shaheizy Sam and Hairul Azreen. The movie opened in Malaysia and Singapore last Thursday (Aug 24).
Why has it taken three decades to share Malaysia's perspective of the incident?
The Malaysian filmmaker, 39, said he isn't aware if there were prior attempts to tell the story. The idea for Malbatt: Misi Bakara was seeded by his chats with army personnel he befriended while working on Paskal, the 2018 movie about an elite unit of the Royal Malaysian Navy, the country's first military-theme movie and Teh's debut Malay-language feature.
Before Paskal, Teh was primarily known for his Chinese rom-coms, including 2015's King of Mahjong, starring Mark Lee and Chapman To.
Teh and co-writer Ashraf Modee Zain spent three years developing the script that "connects the dots" of the multiple characters involved in the operation. Some of the dialogue, Teh admits, was "cut and paste" from his interviews with the real-life participants.
He reckons that 90% of what's on screen is based on what actually happened. As for the remaining 10%, he exercised his creative licence with a subplot involving a made-up Somali character (played by Musa Aden) who worked as the Malbatt's interpreter.
To Teh, it's just as important to show the impact of war on the locals: "I did not just want to make a movie with a lot of action, and no substance."
Elsewhere, Teh found shooting in Turkiye — where the city of Gaziantep stood in for Somalia — an eye-opening experience. "I had like 120 Turkish crew members on set every day and I would say less than 10 of them could speak English. So relaying my instructions to the team was the biggest challenge."
And just when things couldn't get any more chaotic, the filming almost sparked an international incident. While Teh was recreating a war zone — replete with pyrotechnics and props — an actual war zone was raging on in Syria, where the border is 60km away from Gaziantep.
While some Gaziantep residents were aware of the filming, folks on the other side thought an attack was imminent (this was around the time the Turkish government was planning a Syria invasion).
When speculations went into overdrive on social media, Gaziantep officials stepped in and suspended production.
"The local production house arranged a meeting for me to have dinner with the mayor," he recalls. "We chatted and I had to introduce myself, 'We come from Malaysia, we come with love, and all the military assets being tweeted are all movie props'."
To calm things down, the mayor also invited a few international media outlets to visit the set.
Sounds like the best PR money can't buy, no? "I did not need that kind of publicity back then, honestly," Teh counters. "I just want to finish the shoot and get on with my life."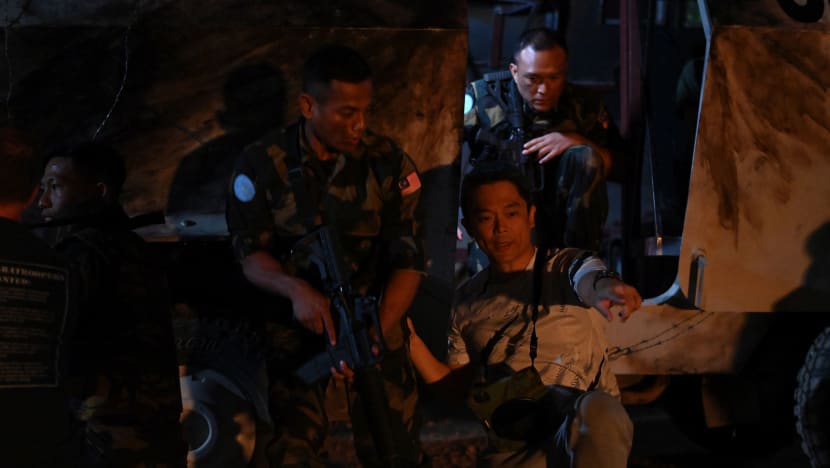 Now that Malbatt: Misi Bakara is out in cinemas, will Teh be sending a copy to Ridley Scott?
"It is so not necessary," he says. "I mean, I'm telling you, he couldn't care less about a movie he made 20 years ago."
That said, Malbatt: Misi Bakara has another Scott connection — by way of military technical consultant Paul Biddis. The former British Army veteran is one of Hollywood's go-to military advisors, whose credits include Strike Back, 1917, and Indiana Jones and the Dial of Destiny.
Teh remembers having his first Zoom meeting with Biddis from the set of Scott's Joaquin Phoenix-starring Napoleon. "After Paul wrapped Napoleon, he came straight to my set immediately," he says.
While Teh believes he'd answered a "higher calling" making Malbatt: Misi Bakara, he also feels it's time to move on to other kinds of stories.
"Malbatt: Misi Bakara will be my last military genre film," he declares.
Did the epic undertaking burn him out?
"Not so much of burnout," he adds. "I would like to think that Paskal opened up the door for this genre and since then, there have many people doing it. I think my deeds are done."
Up next for Teh is another true story: this one is about Cheah Liek Hou, Malaysia's first Paralympic badminton gold medallist.
"In telling a true story, I find more satisfaction because I'm introducing something real to the audience," he explains. "So, yeah, I think it's more fun to tell a true story."
Malbatt: Misi Bakara (PG13) is now in cinemas. Paksal: The Movie is on Netflix. Napoleon opens on Nov 23. 
Photos: GV Pictures, Clover Films