Last Madame Producer Hints Possible Return Of [Spoiler] In Prequel Series, Sisters Of The Night
 We visit the brothel set of the show that stars Fang Rong as a young Joanne Peh back when the mama san character was still a prostitute.
Let's talk about sex. Or rather, the smell of sex.
It's the 1990s and Jean Yeo is, in her own words, a "young and overzealous" assistant director working on Triple Nine, the classic cop drama led by James Lye, Wong Li-Lin and Lim Yu-Beng. While researching the ins and outs of the flesh trade, she finds herself exploring the red-light district in Geylang.
"The mama-sans were all very nice — at least in the few brothels I visited," Yeo shares with 8days.sg. "The girls came across as more ordinary than slutty to me." One hustler, a Chinese, stands out from the crowd, though.  "She was a nice girl, matter-of-factly doing this to help out her family finances back home."
That said, it isn't the people that left an indelible impression on her, but the putrid odour of transactional bonking. 
Think stale sex mixed with stale cigarette smoke and "maybe some cheap air freshener", says Yeo.
The combo is atrocious, no, make that beyond atrocious. Some bordellos would try to mask the post-coital funk by burning incense "and failing", she adds. "It's a smell that stayed with me for a long time and makes me want to gag each time I recall it."
The incense would come in handy 20 years later when Yeo runs her den of vice — as the showrunner of Last Madame, the 2019 English-language Mediacorp drama, starring Joanne Peh as brothel-keeper Fung Lang and Lina Ng as her servant Ah Yoke, that's set in late 1930s Singapore.
The 12-part drama was the first M18 show to stream on Toggle — later rebranded as meWATCH — and had tongues wagging over Peh's sex scene with Canadian-Taiwanese actor Jeff Chou. It was one of that year's top-rated shows and picked up a few awards and accolades, including a Best Supporting Actress gong for Ng at the Asian Academy Creative Awards.
And with success came the inevitable: a sequel. Or rather, a prequel. Subtitled Sisters of the Night, the 10-ep serial focuses on the early days (circa the 1920s) of Fung Lang and Ah Yoke — this time portrayed by Fried Rice Paradise's Fang Rong and Healing Hands' Gini Chang, respectively — and how they become bosom buddies and eventually flesh-peddling business partners. Along the way, they'll clash/collude with spies, gangsters, and other unsavory characters.
The cast also includes Zhang Zetong, Terence Cao, Lim Kay Tong, Jo Tan, Gavin Yap and Min Ji-Oh.
Oh, yes, about the incense. Ostensibly, it's a prop Yeo used to create the illusion of concealing the foul odour of fornication. "It's also used to recreate the authentic feel of a brothel in those times," Yeo explains.
Back when such places were shrouded in opium and tobacco smoke, not unlike "our nightclubs before the cigarette ban," she adds. "Hopefully, it'd help to evoke audiences' sense of smell."
Plus, from an aesthetic perspective, "We just love the smoky feel that gives texture to the visual and the effect of curling smokes."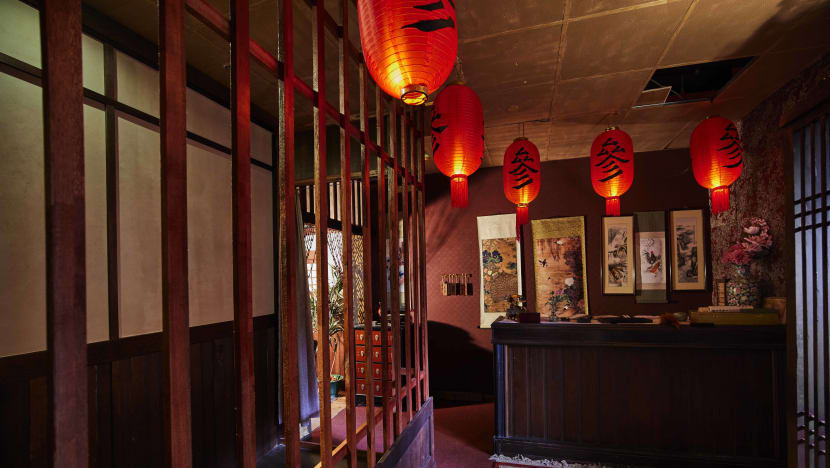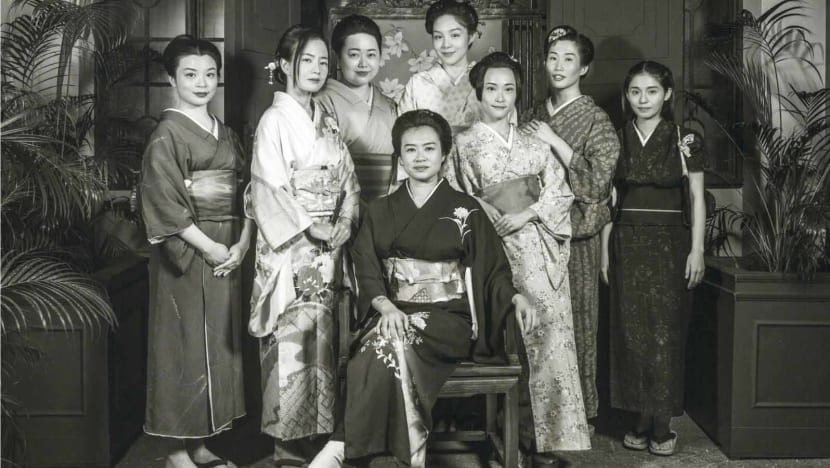 But when 8days.sg and other journos drop in on the Sisters of the Night set one fine day, there is no smell of incense. (Maybe the sumptuous scent of siew mai on the buffet table in the briefing room, but we digress.)
While the cathouse in Season 1 was erected in an assembly hall of an abandoned Ang Mo Kio school, Season 2's house of ill repute was constructed on the eighth floor of an industrial building in Admiralty, about a 15-minute drive away from the Johore Causeway.
"In Season 1, it's a Chinese, Western-influenced brothel, whereas the one in Season 2 is Japanese-styled," says Yeo of her Airbnb-worthy set.
For Sisters of the Night's espionage storyline, Yeo drew inspiration from The Black Ocean Society (Genyosha), an ultra-nationalistic secret society descended from samurai warriors with ties to the Imperial Japanese Army. They ran a chain of whorehouses where the harlots were also doubling as spies.
"This is a piece of history that I found very fascinating and I think not many Singaporeans, at least the ones I talked to, know about," she continues.
But some of them do know that when you watch a show called Last Madame, there's going to be risqué elements like said coupling between Peh and Chou (pretty chaste by M18 standards, but still).
And there certainly is.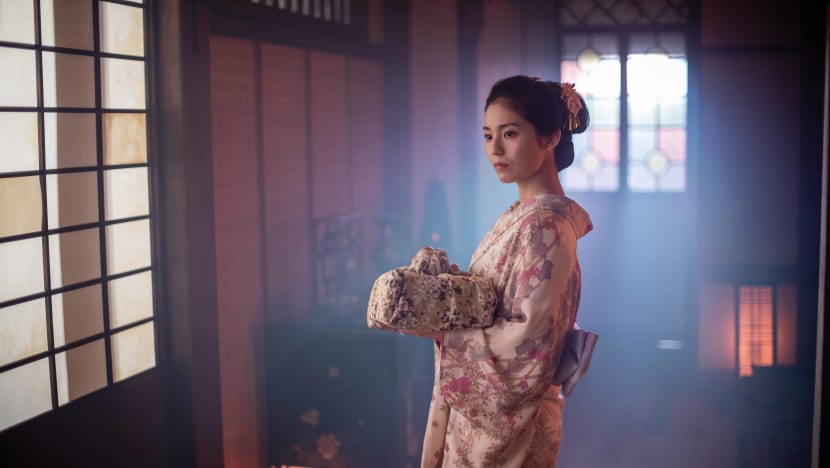 Before the tour, we're treated to a highlight reel, which includes a glimpse of some girl-on-top action, but the actress' back is facing the camera. (We're told later that it was Gini performing the deed.)
Whether or not that scene makes it to the final cut, Yeo maintains that Sisters of the Night is "totally pushing the envelope" in terms of how much flesh is revealed. She cautions, however, that they're doing it not because they want to but because the narrative requires it.
"In Season 1, the focus was on the madame," she said. "In Season 2, the focus is on Fung Lang and Ah Yoke when they are young and they are prostitutes, so of course there are more sex scenes by virtue of the fact that our leads are the prostitutes."
But there's more to Sisters of the Night than just the rumpy-pumpy moments. "In Season 1, we had the veterans, and in Season 2, we have a bunch of younger actors, most of them under 30, [doing the heavy lifting]" says Yeo. "I hope that this would be one of the attractions of the show: a platform for them to show their mettle."
So, will Peh appear in the final episode a la Clarice Starling's 'cameo' at the end of Red Dragon that leads directly into Silence of the Lambs?
"She does — but in what way?" Yeo teases. "You'll have to watch till the end."
Until then, here's Chang giving us a tour of the Sisters of the Night set.
Gini Chang gives 8days.sg a tour of the brothel set used in Last Madame: Sisters of the Night
Last Madame: Sisters of the Night premieres on meWATCH on July 13 (prime subscribers can stream it on July 6); and Mediacorp YouTube Drama Channel on July 20. Last Madame is now streaming on meWATCH, HBO Go and Netflix.
Video shot & edited by Pyron Tan