Thrift Stores In JB With Clothes & Accessories From As Low As S$1 — Brands Like Levi's, Vans, Carhartt & More Available
The next time you
'
re in Johor Bahru and buying banana cakes from Hiap Joo Bakery, be sure to visit thrift stores, some of which are just a short walk away.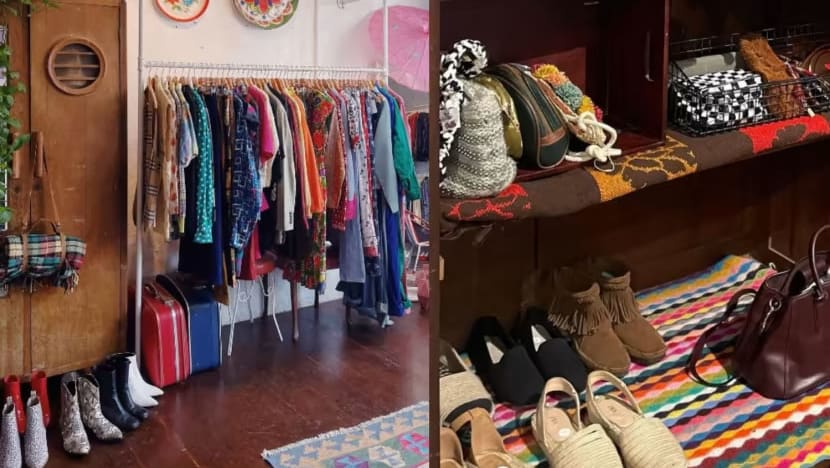 Vintage tees easily cost S$50 per piece in Singapore, but in Johor Bahru, a few Singapore dollars is all it takes to snag one from a thrift shop. No wonder bargain hunters and trendsetting hipsters are flocking across the border with fervour.
Two types of thrift shops exist – the carefully curated and the haphazardly stocked. The former comes with higher price tags but offers well-preserved goods and the luxury of air conditioning. Most of these shops are located in the heart of JB's old town, a short walk from City Square Mall, where the famed banana cakes from Hiap Joo Bakery can be found.
Meanwhile, the latter type of thrift shop is known as bundle shops, named for their hit-and-miss quality. With the exception of Japan Bundle, most of these outlets are not curated. Sifting through vast troves of clothing in various conditions for hidden gems can take hours, on top of the 30-minute car ride, but the prices are unbeatable.
One of the following stores will hit the spot, depending on what you're looking for in a thrift shop. Take the "brands" mentioned with a grain of salt, though. Their authenticity may be suspect, but this very element of uncertainty keeps things interesting.
1. REBIRTH INC
Rebirth Inc may be small, but it packs a punch in men's fashion. Its collection ranges from band tees and graphic tees featuring pop culture icons and movie franchises, to brands such as Carhartt, Vans and Champion.
There is no lack of options to choose from and, if you can't make up your mind, you can always grab a cup of joe and pastry from their in-store cafe while you mull it over.
Rebirth Inc opens daily from 12pm to 8pm except Mondays. It is located at 51, Jalan Tan Hiok Nee, Bandar Johor Bahru, 80000 Johor Bahru, Johor, Malaysia.
2. REDCHILI VINTAGE STORE
Redchili Vintage Store, which opened in January, has quickly made a name for itself in the local thrift scene. While it may not be the ideal spot for bargain hunters, those seeking unique pieces will find themselves in the right place.
The store's Facebook page lists a vintage Wilson bowling bag and statement eyewear from Oakley and Celine, among other items. In addition to high-end brands such as Ralph Lauren and Vivienne Westwood, you'll find streetwear staples from Diesel and Harley Davidson, as well as throwbacks from the Y2K era such as Roxy.
Redchilli Vintage Store opens daily from 11am to 7pm except Wednesdays and Thursdays. It is located at 15C, Jalan Dhoby, Off Jalan Pahang, Bandar Johor Bahru, 80000 Johor Bahru, Johor, Malaysia
3. SERBA SERBI VINTAGE GOODS 
Before opening its physical location in 2020, this family-run business had been selling vintage apparel online for years. Their inventory features men's and women's clothing from various eras, with a particular emphasis on the 1970s and 80s. Expect to find hippie styles, crochet textures and paisley prints that will transport you back to Beatlemania.
But it's not just clothing – they've got the music and culture to match. Explore their collection of vintage vinyl records, cassettes, and film cameras, some of which are available for purchase if you're bold enough to ask.
Serba Serbi Vintage Goods opens daily from 11am to 10pm. It is located at 18, Jalan Dhoby, Bandar Johor Bahru, 80000 Johor Bahru, Johor, Malaysia.
4. B-SIDE ROOM
B-side Room makes thrifting a breeze by doing the heavy lifting for you. Their selection is primarily curated, so you won't have to dig through piles of clothing to find brands like CDG, Kangol, and Reebok. However, there are still bargain bins available for those who crave the thrill of the hunt.
The store offers a variety of unisex apparel, including accessories, shoes, outerwear and workwear suitable for day-to-night wear. Word on the street is that the owners are a friendly bunch who may even give you a discount if you purchase in bulk. Check out their Instagram for a sneak peek and decide for yourself if it's worth a visit.
B-Side Room opens from 12pm to 12am on Tuesdays to Sundays, but closes early at 6pm on Mondays. It is located at 66a, Jalan Tan Hiok Nee, Bandar Johor Bahru, 80000 Johor Bahru, Johor, Malaysia.
5. FARA FIRST 
While lacking the indie charm of some of the other stores on our list, Fara First offers a refreshing change from the typical oversized shirts and windbreakers found in many thrift shops. They carry a selection of girly blouses, long skirts, and dresses in floral prints and pastel hues.
With prices hovering around RM20 (S$6), Fara First is definitely worth a visit, particularly during one of their sales where you can snag three items for only RM40. Recently, they've even opened a men's section on the second floor, stocked with tees, pullovers and jumpers.
Fara First opens daily from 10am to 1am. It is located at 52, Jalan Tan Hiok Nee, Bandar Johor Bahru, 80000 Johor Bahru, Johor, Malaysia. 
6. KEDAI DOBI SHANGHAI 
Kedai Dobi Shanghai is no stranger to seasoned thrift shoppers in JB. It's got vibes that scream vintage, from its antique signboard to its peeling walls and eclectic interiors. It's like stepping back in time, except now you're armed with worldly fashion sense.
Their pieces aren't dirt-cheap, but still good bargains compared to Singapore's thrift stores. You'll find a decent variety of bottoms and overalls, and amid two floors of apparel from brands like Carhartt and Tommy, one TikTok user had even spotted a couple of brand new tees from Essentials here.
Kedai Dobi Shanghai opens daily from 10am to 8pm. It is located at 53, Jalan Tan Hiok Nee, Bandar Johor Bahru, 80000 Johor Bahru, Johor, Malaysia.
7. NOTHIN FANCY GENERAL STORE 
Nothin Fancy General Store lives up to its name with its collection of military-style outerwear, cowboy hats and American flag hanging proudly on the wall.
Located on the second floor of a shophouse, this thrift shop offers a plethora of grungy bottoms, including cargo pants and faded denim, as well as streetwear labels like Bape and Neighbourhood. However, what sets it apart are the rare finds from high-end brands such as YSL, Georgio Armani and Ralph Lauren that can be scored for a bargain.
Nothin Fancy General Store opens daily from 12pm to 10pm except Mondays. It is located at 143, Jalan Trus, Bandar Johor Bahru, 80000 Johor Bahru, Johor, Malaysia.
8. JALAN JALAN JAPAN
Jalan Jalan Japan is like a portal to the thrift shops in Japan. Its massive collection hails from 850 thrift stores in Japan, including apparel, homeware, toys, musical instruments and sporting goods.
True to Japanese standards, everything is clean and sorted. Imagine being able to shop for skirts categorised by length and sleeveless tops separated from their sleeved counterparts, with sizes indicated on their hangers. Social media posts rave about finding gems from Uniqlo and indie boutiques for as low as a dollar, making this store a gold mine for your next upcycling project.
Jalan Jalan Japan opens daily from 10am to 10pm. It is located at A011, Kipmall Masai No. 2, Persiaran Dahlia 2, Taman Bukit Dahlia Masai, 81700, Johor Bahru, Johor, Malaysia.
9. JAPAN BUNDLE
Japan Bundle is a thrift store with a twist – you must remove your shoes before entering, so we recommend leaving your white socks at home.
The store is organised and curated, with notable picks brands such as Carhartt, Dickies and Levi's. Although the prices may be slightly higher, the store's discerning selection and unique vibe make it a great thrifting destination.
Japan Bundle opens from 11am to 8pm on weekdays (except Tuesdays) and 10pm on weekends and public holidays. It is located at 1-2, Jalan Baiduri 1, Taman Baiduri, 81200 Johor Bahru, Johor, Malaysia.
10. BIG BUNDLE
Big Bundle is, well, big. The kind of place that could swallow you in its maze of apparel and footwear from brands like Adidas, Champion, Nike, Fred Perry and Gucci.
While the shopkeepers are helpful, you'll still have to keep an eye out for defects as they can be common. The cats lounging throughout the store add a certain charm, as does the separate section for premium items. If you're in no hurry, it's certainly worth an hour or two of exploring.
Big Bundle opens from 9am to 11pm daily. It is located at Pasir Gudang Hwy, Taman Bukit Alif, 81200 Johor Bahru, Johor, Malaysia.
11. KING OUTLET BUNDLE
King Outlet Bundle offers an array of low-priced apparel and accessories starting at S$1, with the higher-end items thoughtfully displayed in a separate section.
Shoppers have scored Levi's for RM10 a pop, but the real gems are the Japanese-branded clothes, many of which are still brand new with tags attached. It's worth noting that the store can be a bit dusty, so it's best to bring hand sanitiser or wet wipes.
King Outlet Bundle opens from 2pm to 2am daily. It is located at 22, Jalan Utama, Kampung Melayu Majidee, 81100 Johor Bahru, Johor, Malaysia.
12. EMPIRE BUNDLE
Empire Bundle is a double-storied thrift shop brimming with options, especially for shoe enthusiasts on a budget.
Besides footwear, shoppers have apparently found activewear from brands such as Adidas, Mizuno and Le Coq Sportif in pristine condition, and lauded the store for its variety, organisation, and "quality control". According to the grapevine, the shopkeepers sometimes throw in a free gift or two for customers too.
Empire Bundle opens from 8am to 12 am daily. It is located at 15, Jalan Kebudayaan, Taman Universiti, 81300 Skudai, Johor, Malaysia.
13. REZEKI BUNDLE
Rezeki Bundle offers a selection of like-new clothes, including winter wear, at unbeatable prices if that upcoming ski trip has already cost you a bomb.
The store is neatly organised and regularly updated with fresh finds, making it a must-visit destination for repeat visitors. It may be difficult to find on ride-hailing apps, but if you're driving, ample and spacious parking awaits.
Rezeki Bundle opens from 10am to 10pm daily. It is located at 1-3, Jalan Desa Mutiara Utama, Desa Mutiara, 81100 Johor Bahru, Johor, Malaysia.
The original version of this story first appeared in CNA Lifestyle.
For more CNA Lifestyle stories, visit https://cnalifestyle.channelnewsasia.com/.