Fancy A Nap On A Slab Of Stone In The Heart Of Orchard Road?
Japanese hot stone spa Ganbanyoku at Far East Plaza wants to heal your achy muscles simply by having you lie down on heated volcanic stones and doing nothing. Sounds shiok?
True story: there is a nook right in the heart of Orchard Road where you can change into pyjamas and take an hour-long nap in dim, quiet surrounds. And it even relaxes your muscles while you're at it.

We're talking about Ganbanyoku Hot Stone Therapy, a spa which opened at Far East Plaza last July offering ganbanyoku, a form of Japanese wellness therapy.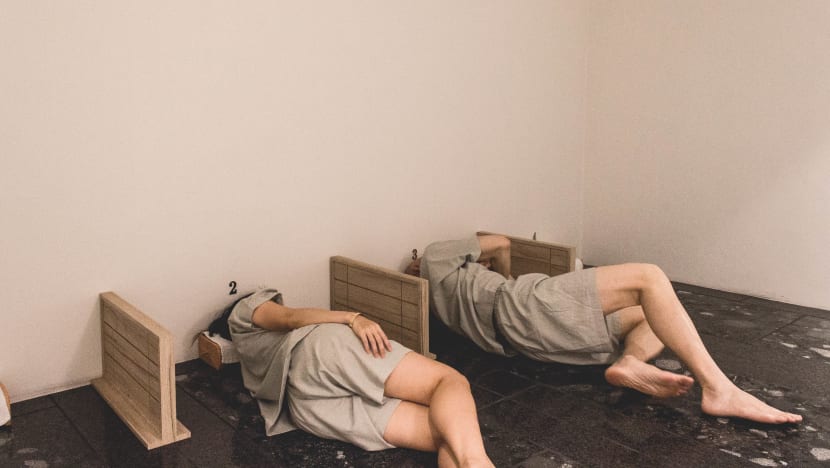 After your hot stone sesh, you can freshen up at this ladies-only changing and shower room (there's a separate one for guys) which is stocked with amenities like body spray and
facial wash.

At the end of the session, we are perspiring slightly, like we had just gone for a short easy jog. Oh, so that was why we were told to "bring extra underwear" when we received the media trial invitation (if you're garang enough, you can go commando under your PJs). But don't rush straight to the gender-segregated shower rooms; Ganbanyoku's PR rep tells us we are supposed to gently pat dry the "silky sweat", which acts as a layer of natural moisturiser for the skin, instead of washing it off.
When we walk out of the spa, we did feel much more refreshed, kinda like how you'd feel after some light exercise. "It's not a one-time miracle, you need to come back for more sessions!" Greta tells us. So it's a little like TCM, where the heat therapy gradually restores your body to tip-top condition. An hour-long session costs a promotional price of $20/hour (till Feb 28, after which it will cost $25/hour). Or you can opt for a seven-day package ($77), which lets you book one session a day for a week.
The therapy's effects did keep us going back a few more times (once or twice a week is recommended), but we reckon we'd need to find ways to entertain ourselves if we were to spend more hours in a darkened room.
Ganbanyoku Hot Stone Therapy, #02-29 Far East Plaza, 14 Scotts Rd, S228213. Tel: 6208-9357. www.ganbanyoku.co.

PHOTOS
: Courtesy of Ganbanyoku Hot Stone Therapy