Yvonne Lim Is Hatching A Plot To Move Her Family Home To Singapore
Is it too early to welcome her back to our TV screens?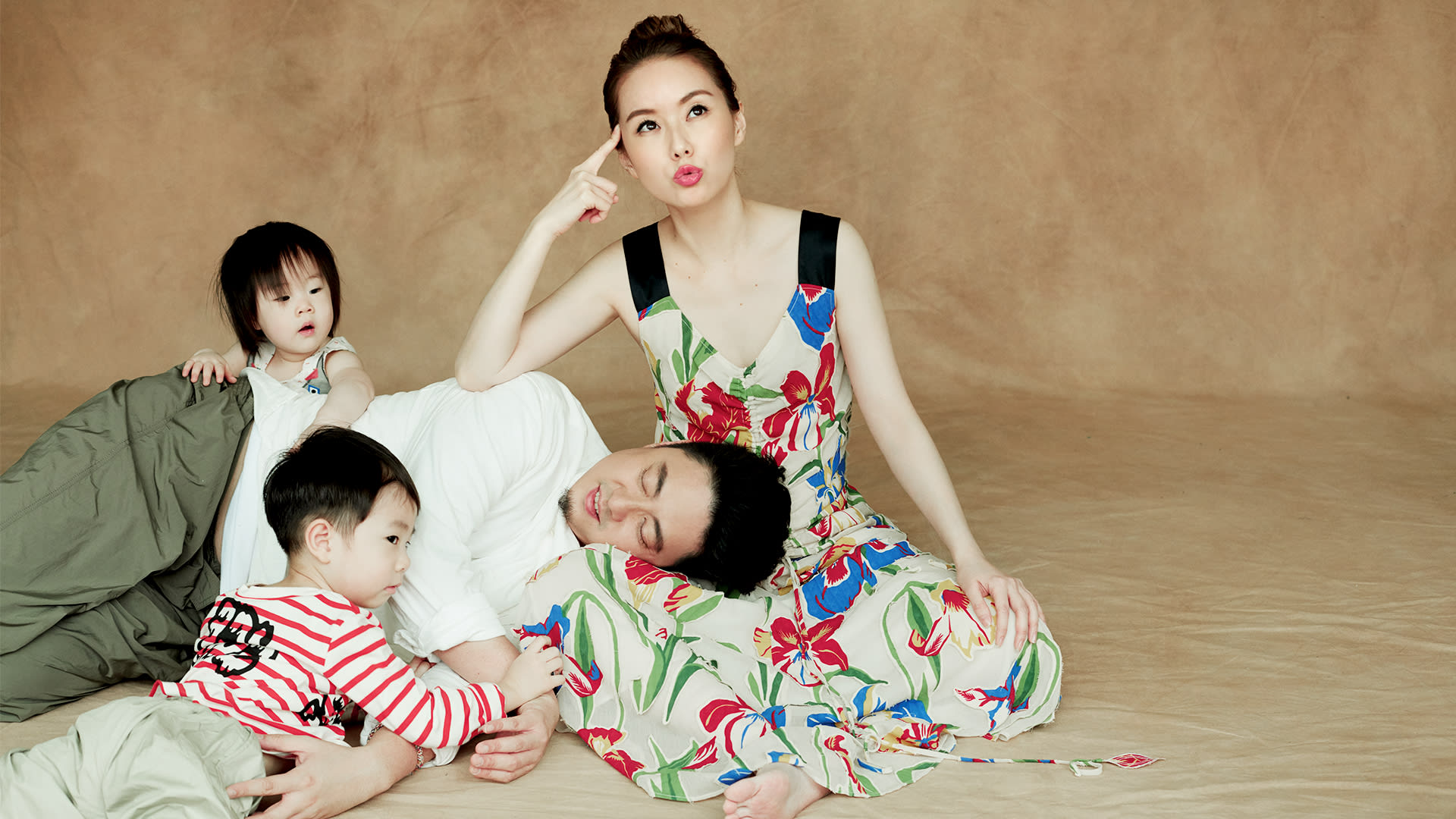 Sneaky, sneaky Yvonne Lim. What looked like an action-packed two-week trip back to Singapore over the recent Chinese New Year holiday to visit friends and family was in actuality part of a bigger scheme: To slowly but surely move her family back to our sunny shores. The plan: To make her kids love Singapore sooooo much, they'd cry and beg to live here forever. The modus operandi: Take AJ and Alexa to as many deliriously fun and exciting (and sometimes touristy places — duck tours, anyone?) as possible, let them gorge on local delights like kaya toast, have her famous celeb pals like Zoe Tay and Huang Biren cuddle and shower them with love and ang pows, and generally make life in Taipei, where the on-hiatus actress has been living for the past three years with her Taiwanese husband and growing brood, feel unbearably dull in comparison.

It worked. At the end of the whirlwind tour, little AJ declared, "I love Singapore! Singapore is my home!" And if meimei Alexa could talk, we're sure she would have similarly pronounced her allegiance. Well done, Yvonne! Not-so-secret mission accomplished! The 41-year-old actress has been frank about her desire to come home, telling all and sundry, and especially her hubby Alex, how much she misses Singapore. She laughs, "Alex is very aware of this! From Day 1, I've said I want to come back to Singapore."

And so, three years after putting in her time in Taiwan, she's set her comeback plan in motion — in her two weeks here, the yummy mummy has been meeting people, viewing houses (so you know it's serious) and doing photo shoots to make sure her fans know she hasn't forgotten them. Yes, of course she hasn't abandoned her showbiz career — this woman loves to act. She's currently sending the 8 DAYS team into hysterics with her pretend exasperation (or would that be real exasperation?) at her three children, including one overgrown man-child, who are refusing to cooperate for our photo shoot. Alex Junior has decided to cycle off the set on a tricycle, and the minute we get him back into place, Alexa starts toddling off towards some dangerous-looking wires. Someone pulls her back, but Alex Senior is now snoozing on his wife's lap, 'cos being upright and smiling at the camera has proved too exhausting. Yvonne, ever the consummate professional, is the only one who is camera-ready at all times, even managing to turn her family's antics into a picture-worthy moment by hamming things up.

The shoot, of course, takes forever (includes a nap for Alexa and lunch for the kids and crew), but that's okay. Time spent with Yvonne is always a breeze. The veteran actress has a way of making you feel completely at ease, like you could be BFFs, despite her fame, talent and many A-lister buddies (hello, Jam Hsiao is her kid's godfather, okay?). She's genuinely and disarmingly friendly and down-to-earth, asks for advice (not that she needs it) about the things she's seen me do with my kids on my Instagram, and generously hands me two ang pows, despite not having met my children before. It's easy to see why she's so popular with her fellow artistes — her presence back in Singapore is enough to get stars like Zoe, Biren, Chen Hanwei, Hong Huifang and Phyllis Quek to gather in one place to celebrate.

And did we mention that AJ is a gem of a star in the making? The little dude, who converses in Taiwanese-inflected Mandarin, is chatty, completely unafraid of strangers and as natural in front of the camera as his mother. The huge fan of cars aced a quiz on-camera where he was asked to identify car brands based on their logos (Do you know what Citroën's logo looks like? Yeah, me neither), with the innocence, confidence and cuteness only a three-year-old can possess. Future YouTube and TV star? We can't wait. Just like we can't wait for his mum to hurry up and move back to Singapore already and light up our screens again.

8 DAYS: Always great to see you! We see that on this trip back, you had a long list of kid-friendly activities for AJ and Alexa to try.
YVONNE LIM: Yes! This time back, I have an agenda, and that is to make my kids love Singapore. All my friends know I love my country a lot, and that I'm super patriotic. Singapore is such a conducive place for kids — there're so many things for them to do, and the shopping malls are kid-friendly, with so many baby changing stations. No, it's not like that in Taiwan, maybe only in the newer malls, and it's not as clean as it is here. And Singapore is my country and I know where to bring them, how drive them around, and there's no need to drive one or two hours to get to a kids' activity. Which is why I compiled a list of things to do! Fish Leong [Malaysian singer and fellow mum who also resides in Taiwan] saw my Instagram Stories and all the things we did and she was like, "Oh my goodness, you're supermum." (Laughs)

What were some of the memorable things you got up to?
We went to visit the Central Fire Station. AJ really loves fire trucks! He thinks I'm a paramedic, because I showed him my [2012] drama Rescue 995. No, he's still not aware of what mum really does. We can try asking him!
Yvonne: (Beckons AJ over) Baby! Come over! Is mama a firefighter? Did I fight the fire?
AJ: Yes, but I didn't fight the fire.
Yvonne: Did I go and save someone? What must you say when you save someone? Are you…?
AJ: (In English) Are you okay?
Yvonne: (Proudly) Yes!
AJ: I want! Because I'm a fireman! I want to save people! I will pretend to put out the fire! The car is on fire. Eee-oooo-eooo-eooooo! (Dashes off)

He's too cute!
We also brought him to the Central Police Station. When I was shooting 995, I visited, so the people there sort of know I did the show and there was this part [of the tour] where they get people to volunteer for a [rescue] demonstration. So they asked if I wanted to do it and I said okay! So I did it, and AJ thinks his mum is a wonder woman. That I'm a paramedic and also a fire fighter. I was happy 'cos I portrayed myself as a hero in front of my kids! (Laughs) And also now, in times of danger, he knows his mum is there to protect him.

Awww… so he thinks you're an actual heroine! AJ is a really fun kid.
He is very, very talkative, and very fun to be with. He's a happy boy. But Alexa is cooler. Her character is more like that of Faye Wong — very cool, and less of a crowd pleaser. AJ is more like Jacky Wu — he's very comical and loves to talk. (Laughs)

What else did you do here besides tricking your kids into thinking that you save people's lives?
(Laughs) We went to the ArtScience Museum and on a Duck Tour, and we took a lot of public transport, which AJ loves. We are unable to do that in Taiwan, 'cos I'm not familiar with the transport system. AJ has been trying so many new things here and there's so much for him to do. He loves local food! We brought him to Tiong Bahru Market and he ate all the local food and loved it! He loves kaya toast, pork floss bread and ban mian! AJ has really embraced Singapore. (Gleefully) He said "I love Singapore. Singapore is my home! (Laughs)

So your plan to get them to love Singapore worked!
Yes! (Laughs) So when the time comes, he will be happy to come to Singapore, and not sad to leave Taiwan. AJ was born here, and I want him to know his country. And Alexa just got her Singapore citizenship. She was born in Taiwan, and it took a while to get her citizenship, but she got it just before we came here.

It doesn't seem like you're crazy about assimilating to life in Taiwan. Guess that's how much you wanna be back here.
(Laughs) I do try to do stuff and drive around, but I only know certain areas. I miss all my friends here! I have fewer friends in Taiwan, and my life is pretty much 24/7 about the kids. This time being back, I met fellow artistes and old friends. The Mediacorp artistes are close-knit — we take care of each other. We have so much to talk about.

Does Alex know you want to come back so badly?
Yes, he's very aware of this! And especially after the recent earthquake scare, I really want to move back for the safety and wellbeing of the children. I'm not saying that Taiwan is not good — it's great that they have four seasons, and Taiwanese people are generally nice, but in terms of education, Singapore is better, and there are no natural disasters. And I'd have more help here. In Taiwan, it's just us on our own. Alex and I are very hands-on parents, and so we don't have couple time. I do miss going out with just him and having supper but we can't do things like that 'cos we have to be home for the kids. Here, couple time is more possible, 'cos I have friends and family to help. And I can get a helper easily.

You don't have a live-in helper in Taiwan.
No, but I have a nanny who helps with the kids and things like cooking sometimes.

Would it be tough for Alex to move here, 'cos of his work and his family business?
Yes, it would a bit tougher for him — he would have to do more travelling. But we had always planned for the kids to have their education here, and maybe when they're older, in the US. The plan was to have the kids grow up and be in different cultures and countries. Talking to the other [celeb] mums, it seems that the ideal age to move back would be when AJ goes to Primary 1, so we have another two or three more years? We have to start planning — it's almost time.

Tell us about the earthquake. It really scared you.
Two weeks ago, there were tremors in Taipei after an earthquake [hit Taiwan's north-eastern coast]. It was very sudden. An earthquake is one of the natural disasters you can't predict — it's not like a typhoon, where you can tell it's coming. It means your life is in the hands of nature. You can only hang on and hope for the best. It's such an out-of-control feeling, and I'm the kind who needs to be in control of everything. When it happened, my knees were shaking and I felt so numb. Alex and I were standing there, feeling the tremors and saying that if it gets any worse, we have to be ready to run and grab the kids. I was clinging on to the table even after Alex told me it was okay, and that the tremors had stopped. Fish Leong, who has lived in Taiwan for many years, told me I have to get a disaster bag ready, with things like torchlight, blanket, water and snacks. I told Alex and he was like, "There is no way we can prepare — we live on the 26th floor! There's nothing we can do." I told him that if it would help our chances of survival even one per cent, I'd do it. So I took out my bag and started dumping things inside — I even put in my Singapore passport. I'm very sure that if anything happens, my country will come and save me!

Singapore will send paramedics! The real ones!
(Laughs) I was so paranoid, I start texting my best friend, saying that if anything happens, please take care of my kids. I gave her my insurance agent's number! The tremors happened almost three nights in a row. I couldn't sleep. I heard that another earthquake just happened — I don't wanna go back!

You've set the wheels in motion for your return?
We've viewed a few properties the last few days. First of all, we need a place. We've not found the ideal one yet. If a bad earthquake really happens, at least we can come back here to live.

Are you keen to restart your showbiz career?
Not go into it like 100 per cent again, but I hope to do a project. The company [Mediacorp] is waiting for me to give them the green light — they just need to know when I'm ready, so they can arrange for casting.

We miss seeing you on TV and around at events! But you've been playing the role of mum, and they say it's the toughest role.
I'm quite keen to move on to the role of a working mother. (Laughs) The good thing about being an artiste is that we can do a project and have a hectic few months, then move back to the kids. I'm looking forward to hopefully doing a drama project this year, but there's a lot of mummy guilt. If I leave the kids in Taiwan, I'd feel guilty, and if I bring them with me, there's also guilt if I leave them to work. The dilemma is whether to satisfy my own selfish desires or put the kids first. But you also have to take care of yourself and make sure you're happy, before you can take care of others.

Totally. How does Alex feel about you wanting to work again?
He would of course be 100 per cent supportive if I want come back for a project.

Alex is like a big kid too. So you sorta have three kids.
(Laughs) Yes! He's playful, like a kid, so besides being the mother of two kids, I have to take care of him as well. He works in the day and comes back at night, and when it's time for dinner, it's not just calling two kids to the table to eat. I have to get him to the table as well. He asks questions just like a kid and it annoys me! (Laughs) Like, why can't we do this and why is it like that? I'm like ahhhhh…. it gets on your nerves!

Guess you're the boss of the family?
I'm the person who makes the decisions and I'm the boss. Alex doesn't like to deal with conflict and have arguments, so he will ask me to settle stuff for him, even with other people. He's like a kid lah. I have to mother him, make sure I sayang him, that he's okay and has his food. (Laughs) Whatever I say goes, especially when it comes to the kids. But this time when we came back, I planned all these activities, but Alex decided to back out of Sentosa and East Coast Park 'cos he was exhausted. (Laughs)

Any plans for a third kid? Or fourth, if you're still counting Alex.
(Laughs) Alex wants, but right now, it's a no. I'm very happy to have a boy and a girl and they are fantastic kids. I think that this year, I wanna do something for myself. After that, I can think about my next step — do I have another kid or continue my showbiz career? I'm a responsible person — I promised my fans, the brands I endorse and the company that I will come back. We'll see where it goes.

Jam Hsiao is AJ's godfather. How did this happen and what kind of a godpa is he?
He and Alex are good friends, so naturally he became AJ's godfather. Hopefully one day, he will be able to teach AJ music. Though I think Alexa is the one with the musical genes. I think AJ has the acting genes! Now that AJ is able to communicate, he and his godpa are closer — AJ would look for him and ask him to take him to play, or want to sit on his lap.

He has no idea that his godpa is very famous?
No, he has no idea — we don't tell him, and he doesn't watch much TV.

What's a typical day like in Taiwan? We're guessing it's not the tai tai life for you.
No! (Laughs) AJ has started pre-school, so a typical day is wake up, eat breakfast, then go to school. I might have breakfast with the other mums in his school, or meet up with Fish [who has a son who is AJ's age] and Stella [Huang, Singapore-born Taiwan-based singer, who has a 6-year-old son]. Not every day lah, 'cos I'm not living the tai tai life! We would catch up once a week. I'd also do the grocery shopping — I buy organic meat and vegetables. Then I'd pick AJ up, shower the kids, and get dinner ready. Sometimes I cook, or the nanny will help.

You mentioned AJ and Fish's son are besties, and you two have toyed with the idea of setting up a YouTube channel to show the antics of the two boys.
Fish is really toying with the idea — we'll see how it goes.

You should! AJ is quite entertaining!
(Laughs) Alex and I are just very lazy parents — we have so much on our hands. I don't even have time to go for a facial! It's like when I'm in Singapore, I'd go to Passion Salon to do my hair. In Taiwan, I just go to the hair salon that is downstairs my house!

Do you have any time at all to take care of yourself? 'Cos obviously, you still look great.
I put on face mask myself, and use the usual skincare. As for exercise, I told Alex that he'd better exercise 'cos he was getting very fat and he complained that I don't exercise with him, so we recently tried one lesson of power combat. It almost killed us. (Laughs) I thought combat was a suitable exercise for me 'cos I've acted in period dramas and I can do kung fu, so I'd be able to learn easily. (Laughs) It killed us, but we might continue.

Any parenting tips, since you're a full-time parent now and probably very knowledgeable?
I would say I am quite knowledgeable in parenting. (Laughs) Generally, kids will behave better or be less cranky when they are fed well and have sleep well. So make sure they are not tired or hungry. And you have to start everything from young. I sleep trained my kids. In Taiwan, most parents sleep in the same room with their kids, so they were very surprised that my kids sleep on their own. Alexa's room is on second floor and AJ is on the first floor in his own room. I don't rock them to sleep or put on music. I just tell them good night, then it's lights off and they will sleep on their own.

So you did the cry-it-out method?
Yes. AJ took a while to be able to sleep on his own, 'cos we started sleep training when he was eight months old. For Alexa, we started at one month old, so it was easier. She only took a day! The good thing about training and having a routine is that the kids know what to expect. They know it's bed time — time to brush teeth, read a book and sleep. There's less of a power struggle.

You don't seem like a very strict mum, from what we see.
I am flexible, but when it comes to routine, I'm pretty strict. I believe in it 'cos I know the kids will not go 'haywire' with it. I want them to be disciplined, and not think they can get away with whatever they want. I give them some freedom, but with boundaries. I think it's about finding the balance.

What are your thoughts about using the iPad? Some parents are absolutely against screen time. But we see you let AJ watch cartoons during his lunch.
Right now, we are on vacation, so things are more flexible, but back home, when I can spend time with him, I will be stricter about the iPad. I'd rather do things with him. I admit that I do let him watch stuff every day, but never more than two hours a day in total. We only started letting him watch after he turned two, so Alexa is not watching iPad yet. When I'm back in Singapore, I want to catch up with my friends or have a nice meal, so I'm like, okay lah, watch iPad. (Laughs) I'm not a supermum, I need a bit of help!

How do you deal with kiddie tantrums?
If you give in to them even once, they will know they can get away with it. AJ knows he can get away with it with his dad, but not with me. He's tried throwing fits, like lying on floor and all that, but I will tell him, "You no need to act, okay?" I'm an actress, so I know! (Laughs) I can deal with all the crying. I will look at him with a blank face and ask him, "Are you done?" He will stop, as he knows the tactic doesn't work. The key is not to overreact to tantrums. Play it cool, go down to his face level and talk to him, and he will know he cannot outwit you. Or sometimes, I just walk away.

Great tips! In a few years, AJ will be in primary school. You must have heard that Zoe's eldest son did super well for his PSLE. Will you be a Tiger Mum like Zoe?
Alex feels that kids should be kids. Right now, I just let them play. In school, I wasn't the top student, but I wasn't the last. I told myself, as long as you're in the middle, you're safe. (Laughs) Of course, there's mummy peer pressure, like, "You mean you never bring your kids to this and that class?!" I'm just letting AJ enjoy first. I'm more about character building. Values are more important than academic results. I want AJ to be an all-rounder. I don't always scold him — I encourage him a lot. I want to build his confidence so he can face the world. The whole world is changing, and everything is about social media and social skills. Who knows what it will be like when our kids grow up? But I believe it will eventually be less about academics and more about social skills and networking.