In The Year Of The Dog, Will Rebecca Lim Be Working Like A Dog?
She talks about her year ahead and her BFFs. Move aside, Desmond and Ian, Becks' best friend is not a Duke, but a Dog.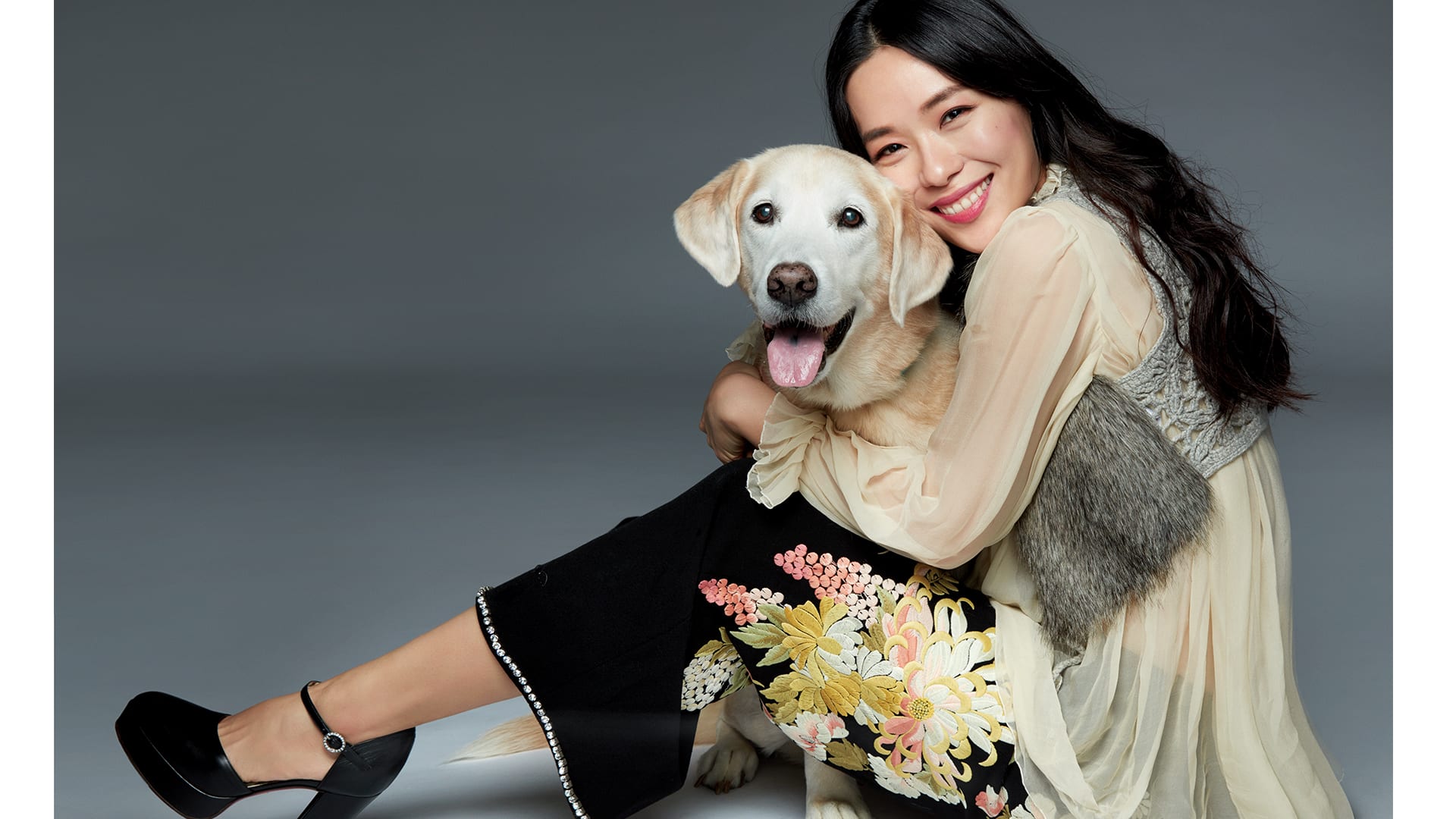 Who is Rebecca Lim's BFF? It's kinda odd, but that question has, ahem, dogged the 31-year-old actress since her are-they-just-really-really-good-pals-or-a-bit-more friendship with Desmond Tan hit headlines a few years ago. After a few years of BFF-ship, all of a sudden, they were no longer besties. In fact, it seemed like they could barely stand to be in each other's orbit. But Queen-in-waiting Becks wasn't best friend-less for long. Quickly stepping in to fill the Duke-shaped hole in Rebecca's life was Ian Fang. Before you knew it, they had pet names for each other (he calls her "BGB", the meaning of which remains a mystery to the public; he also calls her "my baby" while she says they're really good friends) and tongues began wagging about their unlikely are-they-or-aren't-they-an-item relationship. When we ask her about her supposed falling out with Desmond, she demurs, "That's like so Year 2000!" Actually, it was 2013. And no, we're not rehashing old news. There is a point to all this. You just have to wait for it. Sit and stay.

We're at the shoot for our annual CNY issue and the cover star is late. Rebecca Lim is here, though, and she's trying her best to summon the festive spirit for the photographer, but the spark just isn't quite there. Then, in a flurry of big wagging tail, blonde fur and wet nose, he arrives. And it's suddenly clear who Rebecca's BFF is. Step aside Desmond and Ian, Flapper Choo is in da house. The 11-year-old Golden retriever-Labrador mix tries to upskirt us, then, upon realising that there was a much prettier and more famous person to 'molest', made a beeline for Rebecca. She's already frantically calling his name, arms outstretched. The pair hug like, well, BFFs. And just like that, there was that spark in the air, and in our photos. Or should we say, bark.

We had actually planned for Rebecca and her Golden Retriever, Ruffles, to grace our Year of the Dog cover. But a day before the shoot, we received a phone call: "Hello, this is Rebecca from Mediacorp." We were puzzled. Rebecca from Mediacorp? Did we forget to fill in some form and was a HR or finance person calling us? Yet, the voice sounded strangely familiar. Ohhhh… it was Rebecca Lim… why did she have to so modestly say she was "Rebecca from Mediacorp", as if we wouldn't know it was her if she just said, "Hi this is Rebecca"? Or maybe she should have gone with "This is Rebecca, A-lister actress and ambassador for top brands like SK-II, Goldheart and Mercedes-Benz." But of course, that would never happen. She was calling to tell us that her doggie pal was not well. Ruffles, who's a senior dog at 15 years old, was having diarrhea, and would it be okay if Flapper, who filmed with Becks in dramas Sudden in 2013 and Love? In 2015, came instead? For sure. Flapper was, after all, an A-list doggie actor, the canine version of "Rebecca from Mediacorp", if you will.

The minute he arrives, we knew having Flapper was a barking good idea. He ain't a Duke, but he sure is a charmer. We mean, Rebecca has a great smile, but Flapper is giving her a serious run for her money. "He knows where the camera is, and he will smile at any camera," says his owner, Corrinne Choo. "He's a camera whore!" With chemistry built over starring in a few dramas together, Becks and Flapper are killing it at the shoot. After the session, Flapper sticks around to take selfies with his adoring fans (ie the entire shoot crew) and to gaze lovingly at Rebecca. And Becks would later caption in an Instagram pic with Flapper, "This boy melts my heart." Awwww.

But back to Becks, one of the top dog actresses on Stars Avenue. What does her year ahead look like? Will she continue working like a dog and film back-to-back dramas? Will she go on a holiday? Will she get married this year? Will she, ahem, get a new best friend?

8 DAYS: So, Year of the Dog. Let's begin by reading your Chinese horoscope for 2018, according to Grand Master Tan Khoon Yong from Way Fengshui Group.
REBECCA LIM: (Laughs) Okay!

For your horoscope, the Tiger, you are ranked 7th out of the 12 animal signs, in terms of how lucky you are this year.
Hmm… below average. As long as I'm not the last few, should be fine! I don't usually read these horoscopes and when I do, I'd take the good stuff only. When it's bad, I'd be like, "It's nonsense!"

The Grand Master says: "You'll find solace in your work. You'll reap the rewards of your hard work and endurance, as long as you show respect to your fellow professionals and focus on doing a good job." Are you like, oh no, not more work!? You've been working hard for the past few years — do you feel like you need a break?
I don't mind working, actually. I really, really enjoy working. I've been very fortunate. There are people who want jobs, but don't get jobs. I don't think I'm in a position to grumble or complain. I'm enjoying it 'cos there's the demand and I don't wanna take that for granted, or say I'm too tired or anything. Opportunities don't come to everyone. It's just important to acknowledge that. I can take a break when I get older, or when I'm pregnant, I can take nine months off work. (Laughs) So what's the rush to take a break?

"Brace yourself for challenges involving people relations and legal matters throughout the year."
I'm glad I have a law degree [from SMU, where she got an Accountancy degree and majored in law] to fall back on! (Laughs) I can help myself to a certain extent. Hopefully this means something like buying a new house? I'll take it as something good! Another 'retirement' saga? Hopefully not! (Laughs) As for the challenges involving people relations, I guess that, with our job, we meet all sorts of people from all walks of life, and also the general public. It's difficult to make everyone like you or agree with what you do or say, or even the roles you play or the photos you take.

You're really popular with your peers.
I'm okay lah. (Laughs)

But everyone knows about your 'break-up' with your ex-BFF Desmond Tan.
(Warily) Uh-huh...

Do you think 2018 is the year you can kiss and make up, and be good pals again?
That's like so year 2000. Let's not talk about it.

No New Year and new beginnings?
Let's just say I'm very content with my small group of friends. I don't have a lot of friends but I think quality is better than quantity. Trust is an important factor. Being able to trust people close to me and open up to them. If the trust is broken, it's very hard to rebuild.

Oh, is that what happened between you and Desmond? Was trust broken?
Next question! (Laughs)

Okay, okay! Are most of your friends from showbiz or from before?
There are showbiz friends and also friends from many years ago, like since primary school. Thankfully, we were born in an era with no social media. When we went out, we had real conversations. We spoke and got to know each other — it wasn't just a very surface thing. And there's no underlying competition between friends, which I feel is very prevalent in this day and age. It's not easy to be a kid growing up in this generation. I'm fortunate to be an '80s kid. There was a lot more innocence, more childhood and a realness. In this generation, it's very difficult to survive and know who you are. You get very easily influenced by the things around you. You may feel you need something but you don't. It takes a strong personality, good upbringing and good circle of friends to discover who you are. I don't envy them at all.

How about your showbiz inner circle — who's in it?
Aileen Tan is one veteran I share quite a bit with. I worked very closely with her when I started out. Besides Aileen, there's also Chen Hanwei and Zoe. The three of them really give me honest advice and take care of me. I'm very fortunate, 'cos it's not like I make extra effort or anything, but they accept me for who I am. I'm not the most talkative or outspoken person but thankfully I have a lot of — how should I say it — favour. It's something that's really helped me a lot. It's not like the veterans take care of everyone in the industry or say good things about everybody. So I'm very thankful.

How about the younger stars — who do you hang with?
I hang out quite a lot with Romeo, Ian and Elvin, and once in a while, I catch up with Priscelia Chan as well. She keeps secrets very well. It's not easy to find close friends you can trust in this industry.

So you've told her a big secret she has not divulged?
A few! (Laughs)

Back to your horoscope: "You'll likely suffer financial loss from run-ins with conniving characters and legal issues. Be vigilant, even when dealing with friends."
Nooooo! I reject that! (Laughs) Hmmm…. I will stop talking to all my friends! (Laughs) I don't think I have conniving friends. I think I've reach a stage where I'm comfortable with the friends I have. And they're all kinda richer than me so I don't think they need my money!

"Stress may put a strain on both your relationships and your health."
I think I'm quite Zen. I deal with stress quite well. I let it get me down for like a day or two and then I pick myself up. I don't like to be in a state where I'm very low and it's affecting my work. One thing I like about myself which many people don't like is that I can compartmentalise very well. When I'm at work, I work, even if I'm facing personal stress or problems. I don't let things affect my work. My good friends who know things will be like, "How can you smile or laugh in front of the camera?" They feel I should face my emotions, but I don't need to bring my emotions along. I cannot allow myself to not do my job well. Sometimes, you're only given one opportunity, or one take. Seconds chances don't come to everybody.

"Combat stress with soothing exercises, like yoga and meditation. Focus your energy on something positive, like attending part-time courses to gain new skills that will aid your career."
I think I need to take up dancing classes. I'm terrible at dancing. I danced once for a countdown show and that was the last time I ever had a request to dance. (Laughs)

Have you ever thought about taking a break to decompress, or find yourself? It seems to be quite popular these days.
Even while working, I'm sorta finding myself. As much as I'm busy all the time, if you think about it, there are a lot of opportunities to reflect and think about what's going on in your life. You don't need a whole week at the beach by yourself. Sometimes, when you're driving home or on public transport, that's a good time to think about what you can do better, or the people you've met, or people you haven't spoken to in a while. I make it a point not to touch my phone or go onto social media just for a while, to digest what has been happening. Now, I have very, very little free time, so I try to maximise my time. A lot of people complain that they don't have time, but if you cut down on using your phone or online shopping, you'd have quite a bit of time. Don't waste time admiring someone's beautiful Instagram and feeling bitter and sorry for yourself. I mean, if you look and aspire to be better and aim to have enough money to buy yourself or your mum something, then that's a motivation. But if you start to feel jealous and bitter and talk nonsense about other people, that's not necessary or positive.

Master Tan also says: "Single Tigers shouldn't rush into a new relationship — make sure you enter one for the right reasons." Interesting. You are single, right?
Yah. (Laughs)

For you, what would be the right and wrong reasons for entering a relationship?
The wrong reasons would be because my relatives are urging me to get married. Which they will do again this Chinese New Year — Oh my gosh… I'm so not looking forward to it! Another wrong reason would be to do it as an easy way out. Like, marriage may give you a comfy and cushy life. In a relationship, of course love is a definite must, but you also need time to understand who the person you're entering into a relationship with is, exactly. Anyway, the more my relatives pressure me, the more I'm not going to get married. They'd be like "When's your turn? Your brother and sister are already married." I'll tell them, "After they have three kids each! (Laughs)

It's no secret that you have lots of admirers waiting in the wings.
Very honestly, the admirers have decreased over the years. When I was in school, it was very straightforward — when a guy liked me, he would come and talk to me. But now, it's more difficult to approach me. Last time, in JC, when we used to have MSN, my brother would change my MSN status to things like: "Oh, anyone has the entire season of The O.C?" And the next day, some random guy would put the DVD in my locker. (Laughs) Yes, my brother would do that to get things he wanted!

Omg, how useful it is to have you as a sister!
(Laughs) Those days are gone! For a relationship to work, it's about two people. Once too many people are involved and there are too many opinions, it's not beneficial and may strain the relationship.

A certain Ian Fang seems to be one of your not-so-secret admirers. Do you feel more embarrassed or flattered by his attention, and all this attention on your relationship?
I think it's quite funny. I mean, there's no outright admiration, actually, or maybe I don't really feel it. (Laughs) Also 'cos we've all been very, very good friends for many, many years. The main thing is that people find it amusing that two people with contrasting personalities can be such good friends, and that sparked off interest. I'm also very, very good friends with Romeo, but nobody finds it a surprise or anything. (Laughs)

Back to safer ground. Or rather, different grounds. Apparently, you should be travelling to South Africa, Spain, France or Italy this year. These are your lucky destinations.
Wow. Hmm… How many days of leave do I have? (Laughs) I've not been to any of these countries. At the moment, I don't have any travel plans. It's okay — I'll just look at pictures, or look at the hashtags for these countries. (Laughs) I have air sickness, so I'm not fond of travelling or being on a plane for long flights. I'm not one of those who are interested in planning a holiday. If I have a week off, I don't mind staying in Singapore, resting my face with no make-up, spending time in my pajamas for an entire week, catching up on dramas and movies, and bringing my grandparents shopping. And, um, save money I guess.

For what? Are you planning to get your own place?
Hopefully, but it depends on the economy. I don't wanna give myself too much pressure. I don't need a big house, just a place where my parents can live with me. Yeah, I'd like them to live with me after marriage, if my husband doesn't mind. I'm still living with my whole family in an apartment condo that belongs to my parents. My brother and sister are married and have their own places, but sometimes, they'd bunk over to make the house a bit livelier.

Let's review your Year of the Rooster. It's been an eventful year, which saw you cementing your place in showbiz as the up-and-coming Ah Jie. There's been more work and continuing endorsements, and continued mystery and uncertainty about your love life and who your BFFs are or not. Did we sum it up well?
(Laughs raucously) I guess that's pretty accurate! I like the way you put the Rooster Year. I haven't had time to review the entire year. But I think the rooster year has been very kind to me. It feels like it flew by just like that, even quicker than the previous year. Despite being so busy, I'm actually enjoying myself more. I think I'm on the right track. I'm understanding myself a bit better. Two or three years ago, I was more unsure or insecure about certain things, like what people thought of me or whether I was doing the right thing. But now, I think less about what others think and just do my best, and if people have things to say, I will accept it. Also, this year, certain things have happened that made me realise that life is pretty fragile. Also, not to treat people in a way you will regret. This is something I've learned in a not-so-pleasant way, in my personal life.

What's your wish for 2018? Any dream projects? Or personal ambitions or hopes?
One huge hope is to go on a holiday with my parents. That would be great, if we can travel and have fun together. Work-wise, just keep working. I can work for 360 days — just give me five days with my family! (Laughs)

You're known for being one of the nicest actors in local showbiz. In line with this being the Year of the Dog, do you sometimes wish you could be more of a b****?
In private, I can be quite a b****! (Laughs) You always tend to take the people closest to you for granted or show them your worst side, and have very little patience with them. Possibly, if you ask my parents if I'm the nicest person, they will… have no comments. (Laughs) I'm the middle child and gave them a lot of problems growing up. But generally, I quite like who I am as a person. I'm not perfect or anything. People have certain expectations of me, but work-wise, people feel I'm nice. It boils down to basic respect for people at work. Everyone is just trying to do their work well and feed their family or take care of their parents. There's no point in being nasty to people — it will come back to bite you in some way or other. I try to stay out of drama — I don't like politics. I have a good group of people in the industry who know who I am as a person — they believe in me and trust me, and it makes things easier. When you're receiving good energy and vibes, you're just ruining things if you're nasty.

So dogs are a man and woman's best friend. But your high-profile best friends seem to be Dukes. Did you have a lot of guy friends in school?
I was in an all-girls school (St Nicholas Girls' School) and have a group of close girlfriends. But for some reason, guys found it easy to talk to me. [Before JC], I was the tomboy of the gang, not the princess. I was approachable and I wasn't a very attractive girl, so guys would talk to me to get to my friends. Yes, I was a late bloomer. (Laughs) It helped that I had an older brother, so I grew up with a lot of boys around, who would come to my house. We'd play soccer and watch wrestling. Because of that, I don't feel self-conscious around boys.

So that's how you and Desmond became BFFs lah.
I don't know how it happened also…

Then you were no longer BFFs, and Ian was your best friend.
It's not like I named them as my best friends! (Laughs) It's always the media that comes up with these terms. I totally understand that you guys want stuff to talk about, and I appreciate the interest — it's better than no one talking about me! But I've known these guys for many years.

Okay, so let's talk about your furry BFF, Ruffles. We're sorry to hear he's not feeling well.
Yeah, I'm worried about him. For a Golden Retriever to live till 15 years is amazing. He's not the healthiest dog, and he's had his episodes, like eating chocolate [which is known to be toxic to dogs]. He ate an entire packet of chocolate and when we came back, all the wrappers were on the floor and his month was full of chocolate. We were freaking out, but nothing happened to him. But don't try it on your dog! (Laughs) He's not the best-trained dog, but he's a good dog. He doesn't know any tricks, except sit and come and lie down. (Laughs) But he's very empathetic and sensitive, and he can sense if someone's not feeling too good. He will stick very close to you if you're sad. He sleeps in my room every day. He would wait for me at the door till I come home and follow me back to my room and sleep there. He's actually my brother's dog, but my bro rarely brings him down to pee, like fewer than 10 times in 15 years! (Laughs) The only times he brings him for walks are when he's trying to impress a girl. If Ruffles needs to pee, he comes to me. I'm basically his servant lah… yeah I'm his b****. (Laughs)

Cesar Millan said that the best way to get over losing a dog is to get another dog.
Yeah, I think so. A home doesn't seem complete to me without a dog. It's like an additional family member. A dog can help you to understand yourself better. Whether it's teaching patience, responsibility or teaching you to be more selfless. If I ever have kids, I definitely want them to grow up with a dog around. There's just this magical bond and I feel all kids should have a dog or a pet companion to grow up with.

There's a fear that in the Year of the Dog, many people would rush out to buy puppies. But there's also a big push for adopting dogs that need homes.
People need to know that having a dog is a big responsibility. It's not just cute pics. Dogs have their own tempers, and they need time to be trained, and you need to pick up their poo, bring them to the vet when they're sick and walk and bathe them. My dad says it's like having a kid that never ever grows up. It's true that they take up time, effort and money. Don't rush into getting a pet if you don't have time for it. Get a Tamagotchi instead. (Laughs) Whether you buy or adopt, you have to be responsible for your decision and your pet.