Why Stefanie Sun Is Our Biggest Star And Also Our Most Down-To-Earth
​​​​​​​She's volunteering at her son's primary school for starters.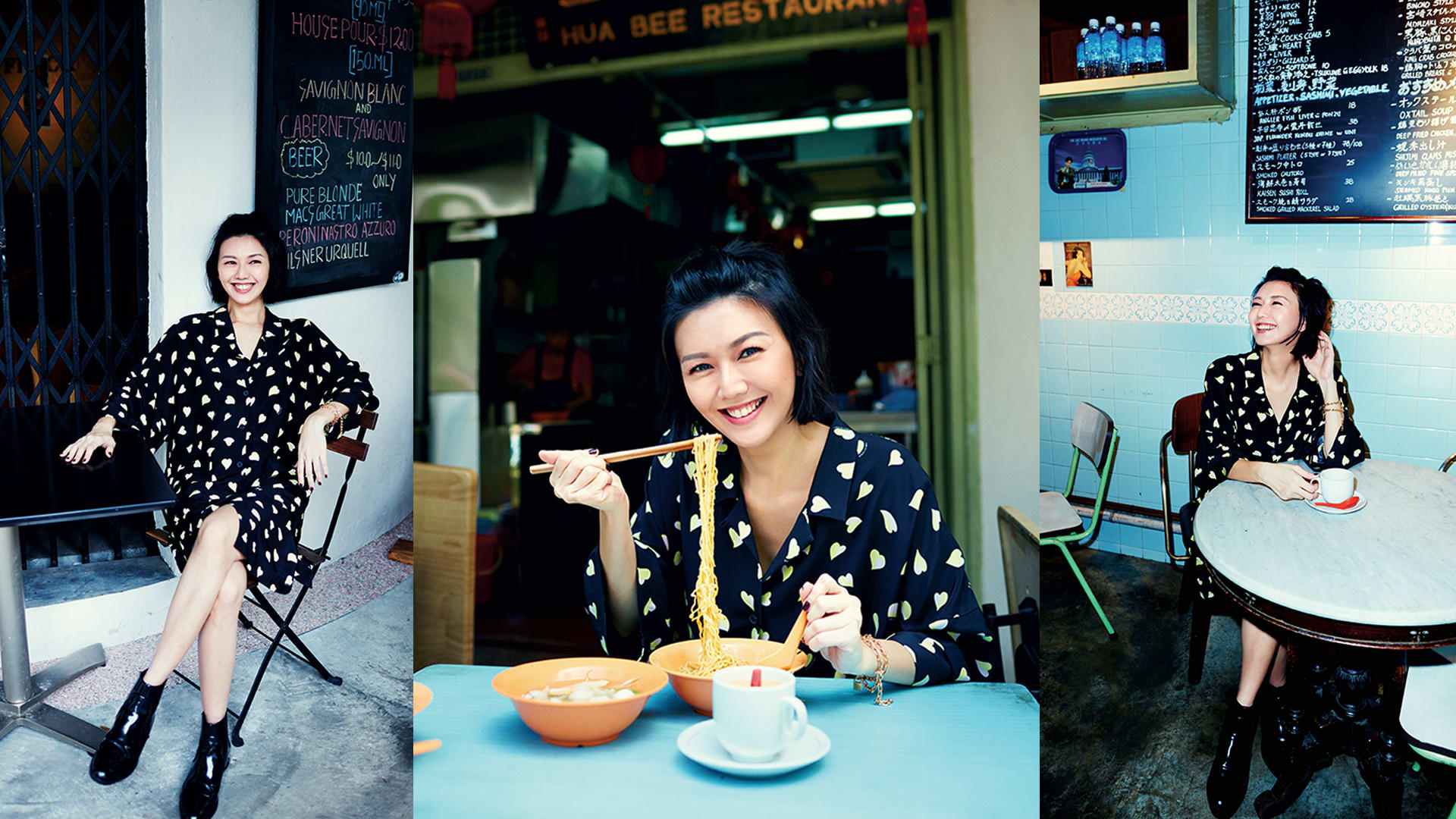 If you're one of Stefanie Sun's many fans — and here I should disclose that I'm one of them — you would surely have a story to tell about Singapore's most popular singer. When I was a recruit in Pulau Tekong, I would assuage my homesickness every night in my bunk by plugging into my Discman and listening to her music — in particular, her Yanzi and My Desired Happiness albums, both of which were released the year I entered the army. Her lilting voice would calm and eventually lull me into dreamland, all the while blocking out the sound of mosquitoes revving their engines for the all-you-can-eat NS boy buffet. Some of my army buddies would joke that I was 'sleeping' with Sun Yanzi every night, which, when it comes to crude army boy humour, was actually pretty witty. It also wasn't entirely false and till this day, whenever I think of my NS days, it's Stefanie Sun's music that's playing in the background.

Who would have thought that almost two decades later, on this sultry Thursday afternoon, I would find myself narrating to Stefanie Sun this anecdote while we have lunch together. We're sitting outdoors, tucking into the famed fishball noodles from Hua Bee Resturant in Tiong Bahru. The lunch time crowd has come and gone but we're only just getting started. She had snacked on a turkey sandwich ("I made it with leftover turkey from last night's dinner," she shares) before meeting me and isn't all that hungry. But that doesn't stop her from digging into her bowl of mee kia, which just happens to be her favourite kind of noodle.

She is after all eating for two now.

The original plan was for us to spend a day with her, where we would start off with breakfast before moving on to some place of special meaning to her. Stefanie, who has just released her 13th studio album A Dancing Van Gogh and has been jetting round the region promoting it, had balked at the idea of going into yet another photo studio and doing the kind of photo shoot she jokingly refers to as "the change clothes kind". Her idea was to do something that is, according to her publicist, "more lifestyle". After all, Stefanie Sun is all about keeping it real, as we've all seen in those viral photos of her queuing up for McDonald's dressed in her, um, heartlander best, and taking the train with her hubby like she isn't one of Asia's most feted pop queens.

But that original plan soon morphed into one that involved me and Stef, which I assume is what I would call her by the end of the day, going on a food trail around the island stuffing our faces silly with local food — she lurves her vegetarian beehoon and carrot cake as much as she does acai bowls and salad wraps.

By the time we got down to planning the itinerary, Stef suddenly announced that she was pregnant with her second kid, whose gender she has not yet revealed. (Rumours of her being preggers again had been swirling around gossip pages and social media by then.)

And of course 8 DAYS was not going to make a pregnant woman crisscross the country just so we can shove food down her throat for a story. And especially not after we were informed by her management that she gets tired a lot more easily during this pregnancy. Which is why we decided on going kopitiam and café-hopping in the more contained Tiong Bahru.

She doesn't look four months pregnant. Maybe it's the loose fitting dress she has on but the only thing that gives it away is when she says she avoids eating pineapple and raw food. "I'll let you know when I start feeling sick 'cos [with this pregnancy] it happens all of a sudden," she tells us when we ask if she's feeling okay.

In fact, Stef still looks very much like the fresh-faced waif who captured the region's attention some 18 years ago with her inimitable timbre and her stadium lights smile. It's really hard to imagine that she turns 40 this year, not because we think 40 is a scary age (aren't we past that already?) but 'cos it still seems like yesterday when we first saw the then 21-year-old tinkling the ivories in the MV for her debut single 'Cloudy Day'. Seriously, where did all the time go?

"Eat more please!" she says, as she pushes in my direction a container filled with grapes and blueberries that she had prepared herself. We're now at a café called Flock just next to Hua Bee Restaurant and it seems her energy level has started to dip. She admits she can feel the lethargy kicking in and points to a bench at the entrance of the café, and jokes, "I may have to lie flat on that after this." But the day is far from over for the superstar. After our little Tiong Bahru sojourn, she's meeting another journo for an interview, after which she'll head over to Mediacorp to go on a radio show.

Today is the second time I'm meeting Stef. The first was four years ago when she was promoting her album Kepler and I had interviewed her in a suite in the Fullerton Hotel. It was one of those hit-and-run chats but even in that short time span, she had struck me as smart, genuine, funny and gifted at making you feel like she's talking to only you even when the room is packed with people listening in on our conversation.

But on this afternoon, while we're sitting out in the sweltering heat and in the full view of random passersby who, yes, approach her for photos, she seems more relaxed, less guarded, and, if this is possible for someone already so frank, more candid. Yes, even when she talks about her hubby of seven years Nadim van der Ros and their five-year-old son.

Here's the thing: There are few stars as famous, and even fewer who are as easy to talk to as Stef. It's not so much an interview as it is like we're chitchatting, our conversation meandering from one random topic to another. It does feel like I'm talking to an old friend, which isn't all that far from the truth when you think about it. After all, Stefanie Sun went through army with me, right?

8 DAYS: They were telling me you have very strange meals times now 'cos of the pregnancy.

STEFANIE SUN: Yah 'cos I wake up in the middle of the night.

And you're hungry?

(Ponders) Yes, but sometimes I try to ignore it and go back to sleep. 'Cos I'll be thinking of what I have in my fridge and I will be (makes a face) "not very appetising". Actually I have frozen soups from my mum and my friend Charlie.

Charlie Young?

Yeah. She gave me this whole pot of soup and I poured it into little containers so, by right, I can heat it up, but you know, having to go downstairs (laughs)…

Does she always bring you food?

(Shakes her head) No, no...

So it's 'cos you're pregnant?

Yeah. It's very sweet of her. She's a very good cook.

What sort of cravings do you have now?

Once, on my way to my gynae, I walked past Chalk Farm and I decided to buy, like, three slices of cake for my gynae 'cos she's very nice. But I started eating them in the carpark (laughs). In the end, I only gave her two slices (giggles). I'm also not a pizza person but recently I'm like, "Can we order pizza?" (Guffaws)

How has this pregnancy been?

It feels different from the last one. I don't remember being so tired. And bloated. And nauseous. [The nausea] would come very suddenly, like, "Okay, I need to go puke now."

But do you feel better now?

I want to say yes… but I just vomited yesterday. So I don't know.

Let's not jinx it then.

Yeah… but at least I don't feel so out of sorts anymore.

So when did you find out about your pregnancy?

(Smiles) So I was doing my album promo in Taiwan and I was supposed to go to Beijing after that. Then I fell sick. I was like, "Can we delay the later part [of the promo]? 'Cos I want to do my work well." But somehow Apple Daily picked up on it. They called my manager and said "Eh, we have news that she's preggers… " My manager called me and I was like, "Rubbish lah! If pregnant you think I won't know meh?"

And you really didn't know?

Nope. I think [Apple Daily] just looked at [the news of me delaying my promo] and went, "Oh, she is pregnant". (Laughs)

So they're psychic.

Yeah! So we called back and said no. A few days later I started feeling bloated and out of sorts. I also started to get very hungry late at night. So I called my manager and said… Okay, this is a funny story. When I called him my first word was "Apple" but then my line got cut. My manager then thought I was going to buy him the latest iPhone X 'cos I upgrade all their phones for them. He then called me back and said "Apple what?" enthusiastically. And I said "Apple [Daily] guessed it correctly." (Laughs)

Were you guys trying for a second kid?

We thought, maybe about time… Aiyah, this is too personal lah. But the plan was there.

As in you guys always wanted more than one kid?

No, not really. It was only recently that I felt that maybe my son is feeling quite lonely and that this is something we can explore.

So we hear that your son was the one who broke the news that you're pregnant 'cos he told everyone in his school.

(Laughs) I wasn't surprised [he did that]. He's a sharer. We did tell him it's a secret but he only kept it for like, I don't know, five hours. He told the first person he met (laughs). But everyone was nice about it. And they kept it to themselves.

Is he musical?

He likes to listen to songs.

A lot of people will be disappointed if they find out he's not.

I'm sorry but he's not (smiles). I'm very sure his piano teacher would agree with me but I think she's too polite to say that. But he enjoys music so that's good enough for me. I don't need him to be, you know (shrugs).

Is he more like you or your hubby?

I think he is his own person. (Her face lights up) He has a funny, funny laugh. He looks so delighted when he laughs. That's the best part.

Do you feel like going home when you talk about him?

No…no more guilt. (Smiles)

The story I was telling you earlier about how you, or should I say your music, had accompanied me through my NS days. How does it feel when people tell you stuff like that?

It's a very warm feeling to know that you're part of… that when people are listening to your songs, it reminds them of a time. I feel very lucky, especially when you hear it all the time. In Shanghai, Hongkong, everywhere.

What's the most memorable of such stories?

So many. There was this super young boy, like 11, he came on stage by himself when I had a meet-and-greet session and I thought that maybe it was his mum who asked him to come up. He looked very serious when he told me that he likes my music. And when he got my autograph, he turned around and started smiling. I don't know how to say this but there are people who have been through the front part of your career with you and then you see young kids who are just discovering your music. But as much as I feel lucky, I also feel like it's your thing. Like even though I'm part of it, everyone's story is unique.

A lot of singers are now taking part in Chinese variety shows like I Am A Singer. But apart from that appearance on I Want to Sing with You, you don't seem to be going down that route. Why?

I know [my appearance on that show] is very random. I did it 'cos [Chinese powerhouse vocalist and the show's host] Han Hong has been an awesome friend and I felt like I had to do it. But the reason I don't really do it… I don't know how to say this without being politically incorrect (laughs). But for what it is, the pay is crazy. And I feel like I don't get it.

You don't get that they pay you a lot of money to be on the show?

No. That I get. I get that the market is very big but in a way I don't get it. I feel like I need to swallow fire or wear a bikini, you know what I mean? I get it if I get paid well for performing or holding a concert. Maybe it's 'cos I feel like I don't know how to be a judge [on a talent show]. Performing is fine, that's okay. I'm not closed off to it.

I'm sure you've been asked many times.

Yes. I've been asked until they feel like, "Don't ask her lah, so irritating."

We're asking 'cos it does sound like a good way to make a quick buck.

I know. I know. I know. I get it. But that part is also the part that scares me. Like, what do you mean?

Like it can't be all that simple?

Yes!

Do you think about your legacy? Like what historians would write about you in the future?

I don't really think about such things, maybe 'cos I'm not dying. (Laughs) And I think it's weird to do things just so… yeah, I don't.

When you arrived today, I heard you talking about turning 40 this year. Do you feel 40?

When I think about it, I feel like, yeah, I've been through stuff, I kinda know what's going on, I've made peace with certain things, I've figured some stuff out. So in that sense, I do feel 40. But I also feel like when you're young, 40 was something that your parents are. Like, wah so old. But I don't feel old old. I just feel 40, whatever that means.

When you were growing up, what did a 40-year-old person seem like to you?

(Laughs) Like no energy, a bit boring, a bit mumsy. Which I am. I can be all of the above. But I am okay with it. I don't feel it's a bad thing.

Times have changed, you know. 40 is considered young now.

Is it ah? Or are we just kidding ourselves? (Laughs)

Have you accomplished the things you wanted to at 40?

I just knew I wanted to be a singer. And sometimes I find myself reminding myself that this is my dream. That I have to do it well.

Was being married and a mum part of any plan?

I feel like it was part of my plan when I was growing up, like, "Oh yah, I want to get married, I want to have kids." And along the way I felt that I do these things 'cos my time is up, like I need to get married, I need to have kids.

You mean like your biological clock was ticking?

True. And also it is something you feel is time to do and whether it's right or wrong, you just do it. Sometimes along the way, you feel like, how do I stuff this baby back (laughs). But you know, you do it and you question it, but that's life. You make your choices.

Speaking of baby, what do you like most about being pregnant?

I like that my husband becomes very attentive (laughs).

You mean he's usually not?

No! Although he will claim otherwise. But yeah, other than that. A lot of changes. Bodily changes.

What about the warmth of a life growing inside you?

(Laughs) I thought you were going to say (gestures at her chest like her boobs got bigger)

No…

(Laughs) Okay, I'm not that kind of mother. I feel like I'm so much happier now that my kid has grown up. I feel like I know him now. When he was a baby, I was like, "Who's this?" I'm not (makes a cooing noise and mimics an overly affectionate mum). I try my best lah. But generally no.

What I find very interesting is that even though you're out and about in Singapore all the time with your family, there are no pics of your son on the Internet.

Yes. I do feel very lucky. It also made me realise that people are very decent, be it the media or the public. I take my kid everywhere. And they know not to take pics of him and it's really… I feel like people should know that humans can be decent lah.

It makes you believe in humanity a little bit more?

For sure. And you know, I've taken a lot of pictures with a lot of people, like random strangers. They probably have [photos of my son] on their handphone. And every time I'll tell them to not post it online. And they don't!

You're a singer, a mum and a wife — which of these three jobs do you think comes most naturally to you?

I would think I'm a natural singer 'cos it's something I've done since I was a kid. I would sing all the time. Being a wife only happened in recent years. As for being a mum, let's not even talk about it. (Laughs)

But does being a mum come naturally to you?

I read loads. I read until I didn't want to read anymore. Like all the stuff about breastfeeding, how to bring up your kid, what's the best way. There are so many views you can subscribe to and there isn't one right concept. You just do what works.

How were you and your siblings raised? [Ed: Stef has an elder sister and a younger sister]

Oh, we were raised the very Singaporean way. Two working parents and typical stuff like, you're expected to do your homework after school. I don't think my kid will be very far off from that. But we don't hit him lah. I was caned. I don't know about you.

Oh, I was caned. Badly.

But people don't do that nowadays.

Do you think it works?

Caning? It works if you want your kid to be fearful of you. And I don't really want my kid to be scared of me.

I don't think I was fearful of my mum.

Were you not fearful of the cane?

Well, I would look for it and throw it away.

(Guffaws) We threw so many out of the window. (Laughs). [My parents] would find [the cane] behind the curtains or on the ledge. Or in the depths of the wardrobe (laughs).

Have you spanked your kid before?

I have. But it has to be a very controlled thing and not when you're super angry.

There have been celebs who got flak for posting pics of them kissing their kids on the lips. Are you aware of this controversy?

I haven't seen it but (rolls her eyes) everybody has something to say about everything. You don't cane your kids? Oh you should cane! You cane your kids? You cannot do that! Tsk. Just do what makes sense to you. If you want peace of mind, then let your kid use the iPad. Last time I used to think, "Wah, wah, wah this parent just use iPad [to entertain his kid]" But now that I'm a parent, you do what works. If you want to have a conversation, then put it there. Then subsequently do something about it, like tell your kid, "Can you don't use it now?" There's always a way to manage the situation.

I guess one should not criticise until you're in that situation yourself.

Look, it's not great. Nobody wants their kid to be on the iPad all the time. But you do it for some peace and quiet. You do it for your sanity.

I cannot agree more. What you just said shows why you're so loved by everyone. You just come across very real and relatable.

Do you all actually know if I'm really being real? (Smiles cheekily) Ah hah!

You have a point.

(Laughs) I mean I try to be as honest as I can be. Whatever I can share, I share. Whatever I can't, I won't.

I'm not even talking about that, I mean, like, people have seen you queuing up at McDonald's.

(Laughs) My McDonald's shot is my money shot.

It's like you're saying "So what if I'm a big star!"

Of course. I feel like if you're a star and you limit yourself to experiences that you should have… that's very sad. So you can only eat at expensive restaurants or you cannot take public transport? How is that a better life? I don't think it is. I feel like I should be able to take my kid on the train and tell him, "This is what stop, this is what stop." It's fun for me. It's fun for him. I believe in different experiences. And I feel that being a star makes me very lucky in the sense that I can go for very expensive meals and I also can go for very cheap meals. I have that option. Obviously, I want to be able to do everything I want. That's luxury to me.

Have you queued up for Macs since?

(Sheepishly) All the time. Every week I'm there 'cos there's a branch where my son has art lessons (laughs).

The good news is people haven't been snapping pics of you on the sly.

Maybe 'cos I put in a bit more effort (laughs).

There should be a website called Stefanie Sun Doing Everyday Things.

(Laughs) I'm very scared now.

How much time do you spend on the Internet a day?

Too much.

Was that how you came across your death hoax?

(Laughs) I think someone told me. Nathan Hartono also texted me, "Are you okay?"

Is it more disconcerting or funny to read something like that?

It's a bit, "Why ah?" I remember (Lee) Wei Song was like, "Aiyoh, these people are so suay leh." Like the older people would get very upset (Laughs)

You always seem to have a good laugh at things.

Well, it is quite funny lah.

Like how you Photoshopped a crown onto that unglam photo of you at Macs?

(Laughs) Actually, I was a bit embarrassed by that. I felt like, "Huh, why like that?" But my husband was like "Own it baby, own it." (Smiles)

Are you good at housework?

(Without missing a beat) No! (Laughs) I'm a bit ashamed of it. I don't like that I don't cook for my son. My mum shows her love for us by cooking. Like when we go back home, she prepares 10 dishes. I feel like I don't know how to do that. And that bugs me a bit.

Do you Deliveroo or use UberEats?

I do but I try not to 'cos they use a lot of plastic bags. And it's always nicer to eat at the place itself.

I can imagine how stunned a delivery man would be if you were to open the door.

No lah… I try not to answer the door when it's my door 'cos I don't want people to know where I live. That's one line I don't cross.

Well, your husband has a very recognisable face too.

True. But I have a helper.

Does your husband cook?

Yes, and he's a good cook.

What's his specialty?

Steak.

Not local food?

Nooo (laughs). He's very not local but he tried making Penang laksa once and it was very good.

So if you don't cook, how do you show your love to your son?

For him, a lot of it is about listening. I think he enjoys talking about things. So I'll ask him "Hey, how does this work?" and he'll explain about the Transformer toy (smiles).

Is he very chatty?

Is he? (She turns to ask her assistant who replies, "Yes. His grammar very good. His linguistics (sic) very good.")

I remember reading an article about how he was very vocal about not liking people taking pics with you.

Yeah, he would say "Stop taking pictures!" to strangers! And I would tell him, "Cannot, these people help support mama." (Laughs)

If you suddenly decide to not sing anymore, do you think you could retire right now and be comfortable?

You mean money-wise?

Yeah.

Money, for sure. I mean, I don't need a lot. But I am comfortable.

I'm not sure if I can imagine you as a stay-at-home-mum though.

(Her assistant interjects and says, "She cannot sit still one lah.") Yeah.

Are you a Tiger Mum?

I can be.

So will you be volunteering at his school when your son goes to Primary 1 next year?

Excuse me? I have already volunteered my services as an alumni.

Now everyone's going to Google which school you went to. We guess 2019's going to be stressful year, what with your son entering Primary 1 and a baby to care for at home.

Well (points at her tummy), this one is more physical so it's okay. But for my son, I am quite concerned 'cos his current school is pretty… free roaming chickens, go forth and prosper. But the school he's going to… Well, that's different. I think I need to monitor his mental well-being. You know, I didn't have a great time in primary school.

Why not?

I felt like I didn't know what I was doing. I remember being very blur. I don't think I was the apple of anyone's eye. I was more like the thorn (laughs) Like, [teachers would say] can you stop talking? Which was followed by punishment. I was that kind of kid.

You think your son will be like that too?

Yes, so good luck to him (smiles).

I was going to ask you if you're worried about his PSLE…

Wow, you're going way too far into the future now. Are you going to ask about his career choice and what kind of girls I want him to date next? (Laughs)

Maybe next time?

Yah, yah (guffaws).

A Dancing Van Gogh is in in stores now.