What On Earth Is Elvin Ng So Annoyed About?
At some point during this interview, he asked us: "How annoying do you think you are?"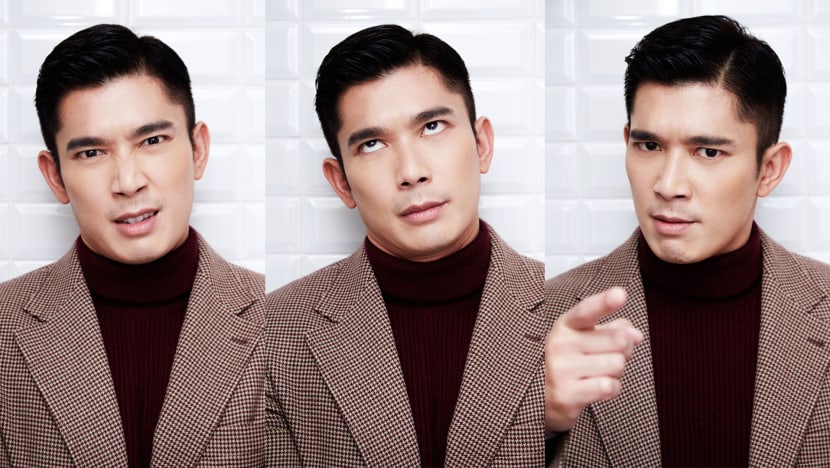 The day: Thursday. The place: Ann Siang House. Elvin Ng's mood: Pleasantly annoyed.
Oxymoron? Yes, but that's just Elvin getting into the right mood for today's cover shoot for the 8 DAYS Annoying Issue. Well, actually the 37-year-old star was slightly miffed earlier in the day — he'd nearly got into an accident trying to get here when another car almost reversed into his in a car park queue. But no one (and no car) got hurt, so Elvin has since brushed it aside. You wouldn't even be able to tell that anything had happened from how sprightly he is as he swans into the suite at boutique hotel Ann Siang House.
Our mission of the day is to get him annoyed, if only for a bit. And he does. Elvin slips into a faux foul mood when we remind him about today's theme. He asks in jest: "Is it because you find me annoying?" We assure him we don't, but we will be trying our best to irk him today. And he takes it all in his stride. Never mind if office workers around us are already on happy hour drinks and Elvin hasn't even had lunch. Never mind the fact that he'd worked through the photoshoot with no breaks, even as there was a very inviting plush bed and luxe bathtub in the chic suite (seriously, it's #homeinteriorgoals). Never mind that a waitress gets his drink order wrong (we swear we didn't plan that), or that we make him late for his next appointment. After all this, we ask him how annoying we'd been. He rates it a measly 5/10.
This, coming from a guy who says he has a short fuse. "I started becoming a bit more angsty two years ago, when I was renovating my house. It just carried on from there. Now, I'm learning how to chill and let go," he says as he sips on his iced cappuccino. Our chat stretches on for longer than expected. But it is only when we're just about to part ways that he mentions that he's running late for his personal training session (he's been hitting the gym five to six times a week, and even more often this week, no thanks to a shirtless scene he has in a couple of days for Ch 5 drama 20 Days, where he plays geeky younger brother to Nat Ho's playboy character).
When pressed for time, most other celebs would politely cut short the interview or subtly give snappy answers. But this one focuses on the task in front of him, taking time to explain and ruminate over proper answers to our questions, such as this one: What's been the most annoying article ever written about you? He pauses for what seems like eternity (fine, just the duration of one Instagram story) before he remembers that one time his personal space was invaded. "The article about my house and how it was written as if Romeo [Tan] gets a place over there. It was just very nosey. And it seemed like I was very angsty, from the way it was written. I was just trying to say it's not necessary to write about it in the first place. I didn't even need to respond [to the reporter]." Call it suay or serendipitious, what was to happen in the next few days may have made him change his answer to this question.
The day: Monday. The place: Insta-sphere. Elvin's mood: Majorly annoyed.
We don't need to be doing another lengthy interview with Elvin to know that something's bugging him today. Like, really riling him up, and not in a for-a-fun-8-Days-shoot sort of way. A cryptic IG post hinted at it ("Why does a reporter hold a pen, thinking it's an arrow?"); and his subsequent posts and IG stories made it clearer. They were in response to a story in a local paper speculating that Elvin's seeming absence on Ch 8 primetime could hint at trouble in paradise. It was based on a tip-off from a netizen identified only by a mysterious IG handle, and production crew were cited anonymously.
We risk further infuriating the man, who has recently signed a three-year contract, and dropped him a message to get the lowdown about this latest turn of events. "[It boils down to] the credibility of the story, not about the person. It's not personal. It concerns ethics too, [by citing an Instagram handle only as his source]. It's like if I wrote an essay during my English Literature days and I just quote from some nonsense anonymous online source and treat it like it's a Shakespeare quote," he replies. The wounds are still fresh, and you get the sense that the man has not yet attained Zen-ness about the situation (don't worry, he's getting there, even as we write this story). But he does keep it objective, even though there may be more running through his mind. "I'm not someone who shuts up if I see something wrong. I will speak up for what I believe in. In this situation, it's the integrity of the story that I'm addressing [in my social media posts]," Elvin elaborates.

It's rare for local artistes to be so vocal about negative press, but after our Thursday chat with him, which was before the fiasco unfurled, it hardly comes as a surprise. Elvin had explained at length about how he vents his frustrations. Sometimes it involves complaining to family and friends. Other times? "I used to blog in the past, but now, I'll take to social media if they are issues I feel need to be addressed, or if it involves principles, or if it's the right thing to do," he opines.
And for all other issues in his tissues, there's always the 8 DAYS Annoying Issue interview.
8 DAYS: In the past year, you've done an array of projects. You acted in Hokkien in Eat Already 4, then filmed in Ningbo for Till We Meet Again, a reinterpretation of Journey to the West. Now, you're doing an English drama, and you start filming Ch 8 drama Heart to Heart right after that.
It just happened like that, and I feel more open nowadays [now that I've done a variety of things]. I'd like to do more of everything actually. I've become more receptive to things around me, and I don't hold on to some things so strongly. I'm much more [easy-going] although I'm still a difficult person.
How so?
I'm very straightforward and direct. If I don't like anything, I'll just say it and I've offended people in the process. It's about my own expectations at work. But it's about the matter, not the person. That said, I know it's not about what you say or do, but how you make someone feel, and I need to manage that better. I'm mellowing with age. When you're out there doing different things, you learn a lot without realising it. I've heard from my co-stars like Felicia [Chin] — she's said that I'm very different now, and that I'm much more open and maybe less stubborn. I don't hold on to my principles [as rigidly], and I go with the flow a bit more now.
This is our Annoying Issue, so, which is more annoying for an actor: to be typecast or to be criticised for bad acting?
To be typecast. It's very hard to say what typecasting is. Everyone has their own unique look and [strengths]. Normally, actors aren't so versatile that they can play everything from A to Z — maybe only the very, very good ones can. When the director casts an actor, you can definitely tell from their aura if they can do this or not. You wouldn't put me in a role that Dennis Chew or Marcus Chin would do, and vice versa. Then again — and I've asked this before — how do I get out of this frame that people put you in? You're in your frame, and there's only so much you can do. You can't suddenly just jump out the frame. Just do the best you can and slowly you enlarge your frame, but at the end of the day, there will always be a frame. Actors don't want to be typecast but there are roles that suit you better and that you can play better. When you get to try a variety of roles, you find out what you can or cannot do. It doesn't mean you'll be the best in every role you play. It's always a learning curve. Nothing is absolute.
You almost got into an accident on your way to today's cover shoot. Annoying or not that you can't show your true emotions in traffic incidents like these, in case people recognise you?
Normally, I'd confront the person and make sure I get my point across. But as a public figure, you have to think about how it comes across to other people. Personally, the [affected parties] will know what's going on, but if I flare up and bystanders who don't know the context see me flaring up and [get the wrong idea], then it will look bad on me. But if I see [injustice] or if someone needs help, then I'll step in.
What are your biggest pet peeves in life?
Road-hoggers, any form of disrespect and fake people. It's uncomfortable to be around that type of energy. I wouldn't know how to hold a conversation with [fake people].
Is that not common in showbiz?
I think it happens everywhere, but it's played up a bit more in this industry. Usually I'll just keep quiet [if I encounter fake people], but on days when I feel like a social butterfly, I can play along. But after that, I'll usually ask myself, 'What did I just do?' Usually, the discomfort shows on my face anyway. At the end of the day, you have to deal with yourself. And I have anger management problems. (Laughs)
Seriously?
Over the years, people in the industry know me for being straightforward or demanding and difficult. I'd ask things like: "Why are we getting the rundown so late?" But that's the real me, though I can be nice too (laughs). It's not personal. I'm sure I have offended people before in the past few years. I've never set out to please or to offend anyone. I'm just like that. But over the years, I've learnt that people skills are very important, and that's the hardest part of the job.
What else irks you?
Drivers who change lanes without signalling totally piss me off 'cos it's so irresponsible. It's as if it's their grandfather's road! Also, actors or co-actors who like to be in control and ask, "Are you going to act this way?" or "I'm not saying this line or that line" can be quite annoying too. It's very self-centered and egocentric, when a production should be about teamwork to [show the best] on screen, not personal demands or agenda. It happens, but it's not that common. When a person behaves very differently to different people, that's super annoying too. I'd rather a person with a bad attitude who's consistent to everyone, than someone who smiles like a princess to people [they deem] useful and is black-faced to others, for example.
Most annoying kind of social media haters?
Aren't they all annoying? Previously, I never really had haters. But recently there's been one who keeps going on and on with the bad [comments]. I want to tell the person thanks for all the attention but go get a life, but I don't want to respond on Instagram. Because I have one hater who tries to use different accounts to say these things, but my [260K] followers will see me being mean to this one person. Who do I care about at the end of the day? So I just brush this aside and delete the comments. I delete it 'cos it's my space and I don't like nonsense things there, especially if they are purposely out to harm. It's fine if it's constructive [comments]. When the person gets tired of it, they will stop, so I just leave it be.
On a scale of 1 to 10, how annoying was this interview?
(Laughs) You saw me getting stumped quite a few times, right? So how annoying do you think you are?
Zero.
It's a good balance, so maybe a five? Haha! Enough to get me irritated but not enough to bang the table and walk away (laughs).