Sora Ma's Husband Was Stuck Outside The Asia Contents Awards Venue While She Was Accepting Her Best Supporting Actress Award
The actress, who won for her role in Mediacorp drama This Land Is Mine, tells us all about her "surreal" and "dramatic" experience in Busan.
By now you would've heard about Malaysian-born actress Sora Ma's Best Supporting Actress win at the Asia Contents Awards in Busan last Saturday (Oct 8).
The 38-year-old bagged the award for her performance as a nightclub hostess in Mediacorp period drama This Land Is Mine.
When Sora, who is still in Busan, spoke to 8days.sg over the phone late on Monday night (Oct 10), it was clear that she was still ecstatic about her surprise win.

So much so, that she didn't realise that it has been two days since the awards show. 
"Yesterday seems so long ago… Eh actually it was the day before right? Wah, I'm still dreaming leh," she chuckles. 
She describes the whole experience as "surreal" and that it was only after she reposted image after image of her win on social media the next day did the feeling of happiness finally kick in.
She never expected to get nominated for her role in the drama, let alone win. And so she treated her trip to Busan as "a holiday".

"It was my first time in an English drama and I always felt that my English is really "private limited kind", so I didn't think about it… because it's not a language I'm proficient in," she says.

She adds that she has "no confidence" speaking English, and that she spoke less than a hundred sentences in English while on the set of This Land Is Mine.

"Everybody would communicate in English and sometimes I felt like I couldn't figure out what to say at that moment. There were also some jokes that I was unable to catch, so I was a bit more quiet," she reveals.

When she received a call from the show's producer informing her of her nom, she refused to believe it and asked for "some kind of proof that [it was] real".
With her in Busan is "Mr R", her businessman husband of one year, whom Sora says has been a strong pillar of support for her.
Planning for the Busan trip came with its share of complications.
"Everything was so last minute. I got my air ticket less than a week before and I applied for my K-ETA (Korea Electronic Travel Authorisation) three days before departure. Everyone's had theirs approved [in advance] except for me. I was so nervous 'cos there was still no news after two days," recalls Sora.
While applying for the K-ETA for her and Mr R, Sora also noticed that she was required to fill in more information than her Singapore husband, and realised it was because she is still holding a Malaysia passport.
Thankfully, she received the approval 24 hours before she was set to depart.
8DAYS.SG: What did your husband say to you after you won the award?
SORA MA: Um… (chuckles) What did he say to me ah? There were so many people and we were a bit shy lah, so after we finished everything and went back to the hotel room that night, he said "You made it, you proved to people that actually you are so talented". It was what he always told me.
During the pandemic, there weren't many things to do so I was thinking of starting a small business or something. But he discouraged me. He said "No, you are meant to be an actor, you should just pursue your dreams and do whatever you like. You don't have to worry so much because I will be there to support you". And I was like, are you sure? I got no job leh (chuckles).
I always doubt myself, but he just believes in me so much.
It's adorable that he's so supportive of you.
Yah. You know, it was very chaotic that day. He actually has a ticket to enter [the event venue] but the backstage was very messy so he didn't get in and he was left outside together with a bunch of Korean fans! He didn't manage to see [me get the award at all]! He missed out on the whole thing, he didn't even watch me on screen.
He was the only person [from our entourage] that was left outside. It was like we were in a Korean drama, everybody was inside except for him. Luckily someone from TCA texted him to tell him that I won and immediately after, he could hear me giving my speech and he said he almost teared up.

Talking about it now and I'm tearing up too. I don't know what to say… It was just very dramatic.
Also, I didn't have my phone and coat with me 'cos he was holding them. I had told him to pass me my coat and bag when I'm seated so I could take some behind-the-scenes pics and selfies. So throughout the whole ceremony I had no phone, no jacket and I was freezing. Dramatic (laughs).
So he stood outside for the whole ceremony?
Yes and in the cold! We only saw each other when we were going back to the hotel. He said it didn't matter that he got left behind 'cos it means nothing compared to [me winning the award].
Your pal Hong Huifang was in Busan at the same time for the Busan International Film Festival.
Yah! I met her so many times (laughs). I met her the night I received the award. I left the afterparty early to look for her. She stays quite near to my hotel, like a 10-minute walk. Then we celebrated in her room.
The next day, she called and we met after lunch. I was actually so tired and I wanted to go back to the hotel to sleep, but she said "No no no, you should go to the place where the ceremony was held". She said there were lots of exhibitions there, so she told me to go and take photos and videos and relive the feeling of that night.
We can tell she's super happy for you.
Yes. We have been close for more than 10 years. Back then, we were filming in Malaysia and we really depended on each other 'cos it was just a few of us Singapore actors and we often met up for supper. She's more than a friend to me, she's like family to me in Singapore.

A lot of stars were in Busan recently, did you have any interesting encounters?
I was having dinner just now in the VIP room of a restaurant. Before we started eating, the director of This Land is Mine, TJ (Thean-jeen Lee) mentioned Hong Kong director Peter Chan and it just happened that we later shared the same room as him and Sandra Ng!
They were sitting behind me and I thought it was so amazing 'cos they were talking about things in the entertainment industry.
We took pics with them (chuckles). We waited until we were about to finish eating then we went to say hello. TJ actually met Peter Chan before and he recently attended one of his talks. And of course I wanted to take a pic with Sandra.
Did you tell her you're an actress too?
TJ introduced me to her (laughs). He told her I had just received the award the day before and they congratulated me.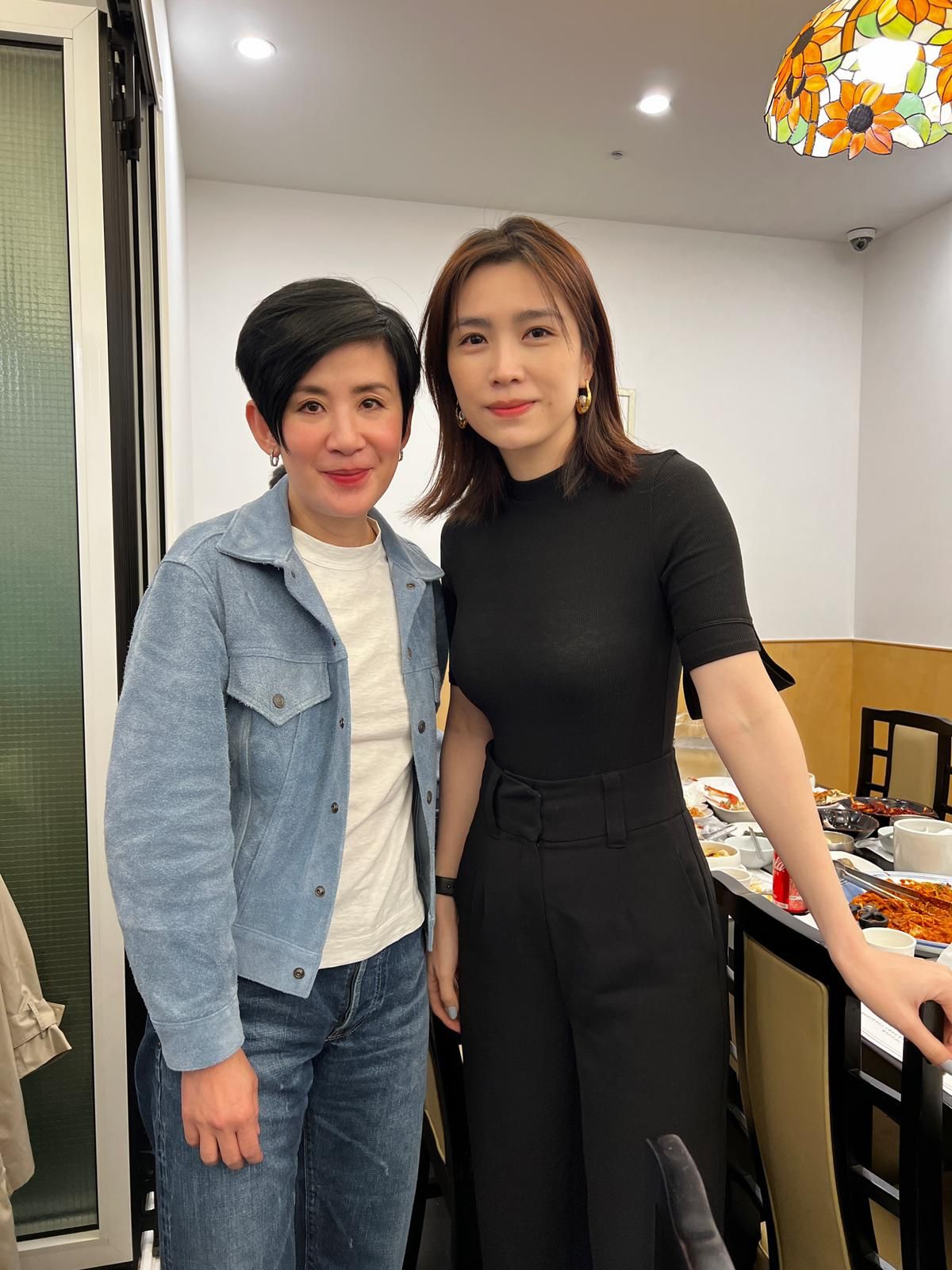 Photos: Sora Ma/ Instagram, Hong Huifang/ Instagram
Catch Sora in
This Land Is Mine on meWATCH
, or watch an episode below