Remember When We Visited Romeo Tan At Home?
A throwback to when we visited the future Duke in his four-room Simei flat. (This story first appeared in Issue 1165, Feb 14 2013)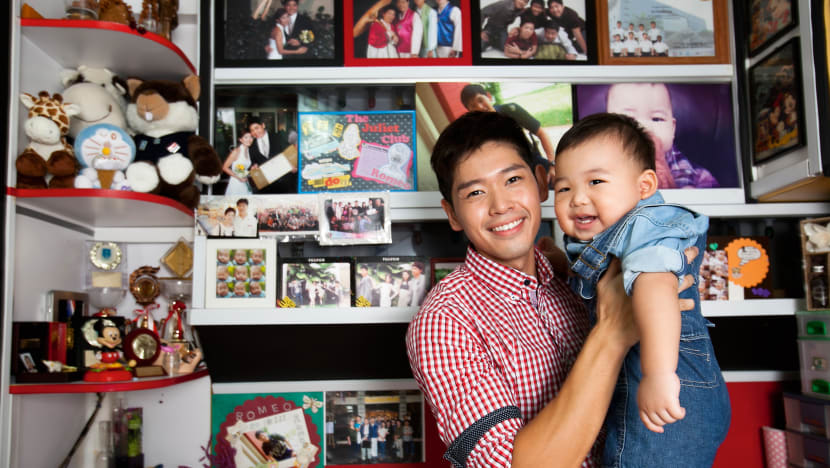 Here's a photo of Romeo's living room. The actor's family, which includes his parents, his younger brother Rowell, his elder brother Robin, Robin's wife and their son Skyler, have lived here for three decades.
For our Chinese New Year family reunion issue way back in 2013, we visited Romeo Tan at his four-room HDB flat in Simei where he lives with his taxi-driver dad, housewife mum, two brothers and his sister-in-law. It was then when we found out that the actor slept on a bunk bed in a room he shared with his younger brother, Rowell. "We've been sharing a room since we were kids, so we have no problems with it. Plus, he's serving NS now, so he's not home as much," explained Romeo then.
Bunk mates: The double-decker bed, which Romeo, who takes the top bunk, shares with his brother. "We rarely have disagreements about the room since we grew up sleeping together like this."
The walls of his bedroom were plastered with photos and hand-made paraphernalia from 'Juliets' (what Romeo fans call themselves). These painstakingly-crafted gifts even spilled out into the living room where they lined an entire shelf, thanks to the interior décor skills of Romeo's mother.

Romeo-land: Pasted on walls and lining shelves in the Tan's household are family photographs and cards from Romeo's fans. "We never really took a huge family portrait," Romeo says. "This photo of us is all we have."
Although the other members were too shy to be photographed for our Chinese New Year family issue, Romeo managed to find someone even more comfortable than he is in front of the lens – his nephew Skyler. The rambunctious, chubby-cheeked then one-year-old tyke dances to 'Gangnam Style' and brings you his shoes whenever you tell him "gai gai". Here's an excerpt of our interview with Romeo, joined by his oh-so-adorable nephew.
Something about Gangnam: "My younger brother and I introduced the song 'Gangnam Style' to the song. I don't know why but there's something about it that makes him bop up and down whenever he hears it. I use it to calm him down whenever he cries!"
8 DAYS: Looks like Skyler may be stealing your thunder as the star of this household.
ROMEO TAN: (Laughs) Well, I treat him like my own son. To be honest, before he came along, I'd always preferred animals to kids. But I'm so excited to have a nephew that I want to share my joy with everyone. That's how his Instagram account came about. I started posting pictures of him on my own account ( http://web.stagram.com/n/romeotan), which has 27,000 followers. When people started asking if Skyler has his own account, I decided to start one for him. He already had 800 followers, mainly subscribers from my account, by the time the first five photos went up. Skyler's Instagram account is managed by me and my older brother, and we think it's a good way to archive his childhood photos. When he grows up we'll let him take over the account, provided Instagram is still around by then (laughs).
You sound like a dad-in-training.
Yeah! Even my fans have commented that I carry Skyler like a seasoned pro and am starting to look more and more like a father (laughs). In fact, I think if I had a kid of my own next time, I'd know how to take care of everything… except changing diapers, 'cos it can get really smelly! I'll ask my mother for help on that. My mother is a housewife and she looks after Skyler in the day. As for Skyler, when he gets older, I'll pull him away from all this attention, 'cos I don't want him to think that fame is an important thing in life. I want him to lead a normal childhood.
Do your folks get excited about seeing you on TV?
To be honest, I've never asked them what they think of my showbiz career. They're quietly supportive. When my show airs, they'll watch it in their room, but they rarely give me any feedback. They'll talk about the storyline, and my mum will update my aunt about which shows I'll be in next.
Speaking of aunts, what happens at family gatherings during Chinese New Year? Do your relatives grill you about showbiz gossip?
Before I entered showbiz, the most common question I'd be asked was, of course, when I was getting married. But ever since I became an actor, they'd ask me stuff like: 'So is this actor with this actress?' or 'Is this actress really pretty in real life?' They'll also ask me about my colleagues, like Fann [Wong] and Felicia [Chin], and especially about my co-stars. And then they'll ask me if I'd eventually date someone from showbiz (chuckles). I just play along with non-committal answers (laughs).
What are future plans for yourself and your older brother? Any plans to fly the coop?
I think my brother might move out with his family when Skyler is slightly older. As for me, the East side is where I grew up, so even if I do move out one day, it'll have to be somewhere around here. My parents are very attached to this flat. I don't see them ever moving, so I've got to be close to them. I haven't seen my folks this happy before Skyler came along. It's like they wake up every day looking forward to seeing him, and they're always smiling and laughing. And the rest of us feel like coming home for dinner every day 'cos we want to see him before we go to bed.
So does Skyler get any ang pows from his doting uncle?
Last year I didn't give him any. I think if I do give him, it'd be when he's much older, 'cos whatever I give him now will just go to my older brother (guffaws).