"I Actually Almost Couldn't Recognise Some Of Them": Jin Yinji Says Her Recent Reunion With Her Old Showbiz Pals Was "Heart-Wrenching"
The actress, who stars in new Mediacorp drama Strike Gold, also shared with 8days.sg how she told Zhu Houren, who went from playing her son to her husband, that he's "aging faster than [her]". 
Isn't Jin Yinji everyone's favourite on-screen grandmother?
In new Mediacorp drama Strike Gold, the 75-year-old plays Dudu Ma, a loving grandma with a talent for making pineapple tarts who singlehandly raised her two grandsons, played by Desmond Tan and Edwin Goh.
When 8days.sg spoke to Jin-jie at the drama's press conference, the first thing she asked was: "Are you a new reporter? I've never seen you before."
Yes, even after more than three decades in showbiz, Jin-jie still makes the effort to remember all the faces she's seen, a testament to how professional she is.
In fact, Jin jie is always an hour early for work.
"For my role in Strike Gold, I don't have to wear any make-up. But for the past 30 years, I've always made sure I'm an hour early whenever I have to work. I also won't take MC or tell anyone when I'm sick. I only stop working when the director can see I'm really sick and then will tell me to go home," she laughed.
8DAYS.SG: You recently had a reunion with your old colleagues like Duan Weiming, Tang Hu, Hong Guorui and Zhou Shiqiang. How did that gathering come about?
JIN YINJI: We're getting old, so we wanted to have a chance to gather together again. It's been a while since I last saw some of them. At one glance, I realised all the old men sitting at the table played my husband before. But I actually almost couldn't recognise some of them, like [veteran actor] Yang Jun He (see pic below).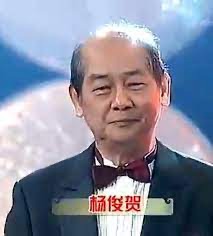 He was sitting right in front of me but I couldn't recognise him. [Before the gathering] I actually messaged him on Facebook to say I want to meet him. But when he was in front of me, with only that few strands of hair left on his head and his back all crooked, I couldn't tell that that was him. 
Did you guys reminisce about the old days?
We didn't have time to talk about the past but we talked about when [Duan Weiming] first started sitting on the wheelchair [after his leg amputation]. He wasn't used to it and fell backwards on his head when nobody else was around.  
When I learned about his amputation, I didn't even dare look at him. I didn't dare hear him speak either. I just called him and couldn't stop crying. Why did he become like that? I'll never be able to look directly at him now.
So how did you feel when you saw him that day?
It was very sad. I first saw the huge scar on his head, so I asked his wife what happened. When he speaks now, he's a bit slow. We didn't really get to chat with each other. He was talking mostly to Tang Hu, who also suffered from diabetes. Tang Hu had to use a device to hear what others are saying. Then there was Zhou Shi Qiang, who still has a healthy appetite, but he can't hear anymore as well so his daughter had to relay to him what we said. 
It was really quite heart-wrenching to watch. I've known them for more than 30 years, Ah Cai [the character Duan Weiming played in iconic '80s Mediacorp drama Neighbours] is one of the youngest, but even he has to be in a wheelchair now.
Do you miss having these old friends with you when you're working?
I miss them, but now there's still Zhang Wei and Zhu Houren (laughs). Nowadays the characters in the shows either only have a mum or a dad, plus I'm always acting as a grandmother now, so I wouldn't have a husband. When I do have one, then it'll be Richard Low (laughs). 
In Neighbours, Zhu Houren acted as my son. He was very handsome. Now he's acting as my husband. It's so funny. So I told him: "You're aging faster than me". (Laughs)
How do you keep yourself so youthful and energetic?
I like what I'm doing. My goal since young, from when I was in Korea, was to become a performer. Once I'm on stage, I'll have the energy, but when I'm not filming, I go to bed at 9pm. This is what I love, so I don't feel tired no matter what I have to go through.
Has it been challenging for you to keep up with the new trends these days? Your TikTok game is killer though.
Not at all. It's very easy and very fun. Actually I didn't even know what I was doing, my helpers were the ones who started it. I didn't even know it was TikTok but they just told me to sit there and take photos with them. I was staring at the phone when they suddenly stood up and turned, so I turned too and they started laughing. It was totally spontaneous (laughs).
Even now I don't know what TikTok is, or how to upload a new video, but I do have a lot of ideas that I want to try. I want to do something meaningful, like shuttlecock kicking or Korea's Geommu, which is a traditional sword dance, or five drum dance. I want the young audience to get to know the real me, and I want to share all my old video tapes to let others learn about my journey. 
You've been in the industry for so long and have seen so many generations of actors and actresses. What do you think about the current crop of newbie artistes?
I can't remember their names (laughs). Like Kiki Lim, when I first met her before we started filming, I didn't really know who she was. She's so young, only 21 years old. But the young actors will always greet me when they see me, though some of them I still can't remember their names. 
Was there anyone who left a strong impression?
Zhang Zetong and Ayden Sng. They are really polite and respectful.
Photos: Mediacorp Photo Unit, 8World
Catch Strike Gold on Channel 8 on weekdays, 9pm, or catch it on meWATCH below: