Jeanette Aw Carries A Big Bag of Knives Around As A Patisserie Student In Bangkok
Don't mess with the actress/director/social media star and now, aspiring professional baker and Le Cordon Bleu Dusit Culinary School brand ambassador.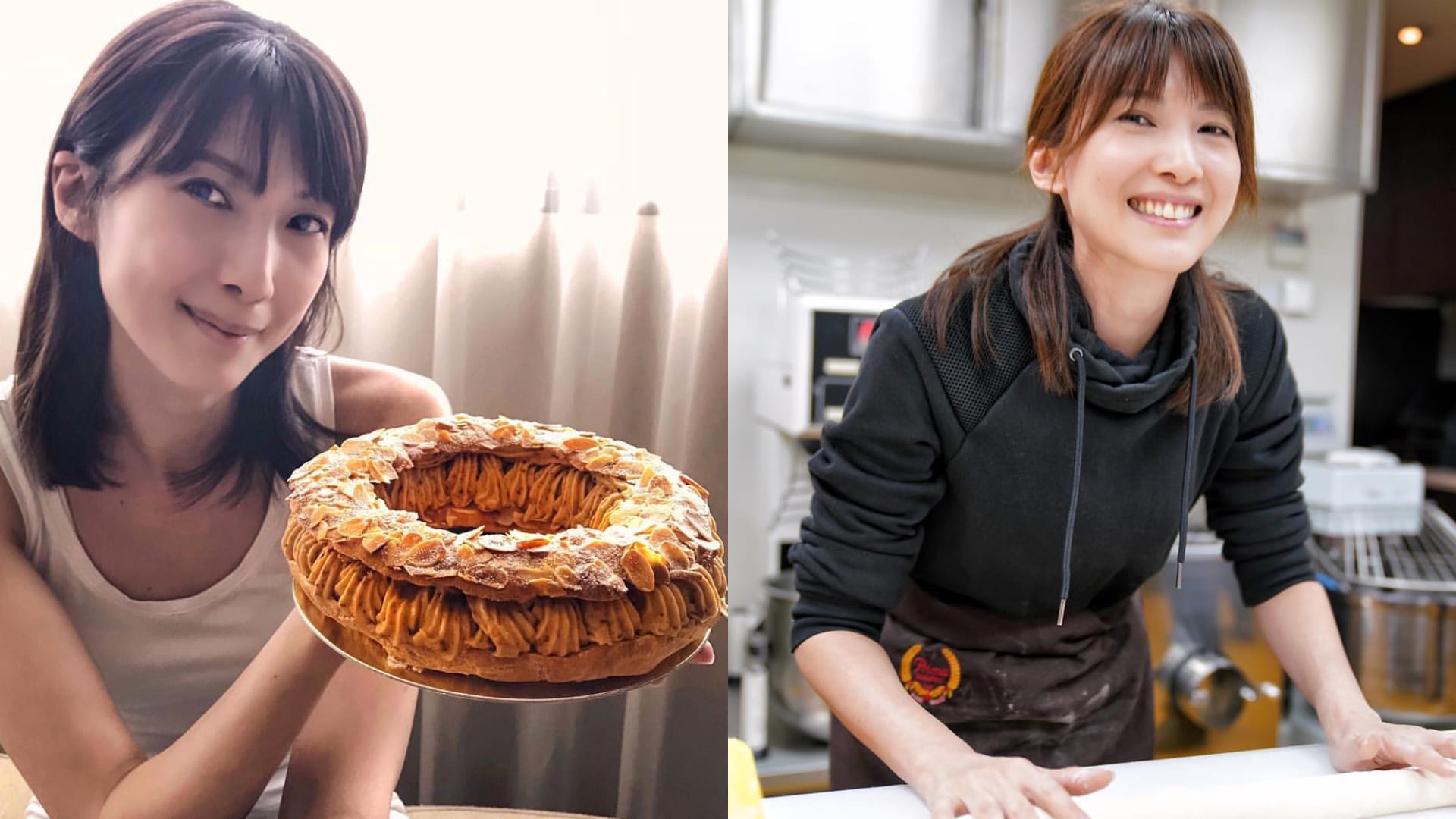 It's been a year since Jeanette Aw caused a ripple in local showbiz by announcing that she was becoming a free agent to pursue "personal growth", ending 15 years of being contracted to Mediacorp and her management agency Hype Records. Since then, she has made a short film, The Last Entry, promoted her Eric Khoo movie, Ramen Teh, attended film festivals worldwide, shot beauty and fashion social media campaigns in Europe, filmed a Ch 8 drama and, in her most un-showbiz move yet, packed her bags for Bangkok to enroll in the Le Cordon Bleu Dusit Culinary School to get a Diploma in Patisserie. Yes, the aspiring baker moved to Bangkok four months ago and has been slaving away prettily in the kitchen and classroom in grueling seven-hour school days, while managing her busy social media business. We catch up with the 39-year-old actress/director/dessert maker on the phone, right after she got off school at 8pm, BKK time.

8 DAYS: How's it going Jeanette? What's life like as a student in Bangkok?
Jeanette Aw: I've been here almost four months now. I'm getting my Diploma in Patisserie at Le Cordon Bleu Dusit Culinary School, and I'm now in Intermediate Patisserie after completing my Basic. Each term is three months, and the full course is nine months. The last course would be Superior Patisserie. It's been busy, but peaceful. Being back in school means regular hours, and I have weekends again! When I was filming, I had no weekends and the hours were irregular. Now, school starts from 8.30am to 3.30pm or from the afternoons to about 7pm.

So you have an apartment in Bangkok?
Yes, I'm renting a condo not far from my school, which is at the Dusit Thani. I walk to school from my apartment as traffic here is so crazy. I can't really take the train 'cos I have to carry my heavy tool kit around, and there are knives in there. The kit is big and quite eye-catching, and I don't want to get stopped for random checks at the train stations and have them ask me why I'm carrying so many knives around or ban me from taking the train! (Laughs) My classmates who drive sometimes end up late for class 'cos of the traffic, and at Le Cordon Bleu, if you're late, they consider it an absence, and three absences means you fail the course. But the school is moving to Central World at the end of the year as they're demolishing the Dusit Thani building, so I have to find a new apartment near the new school.

What do you do when you're not in school?
I go out on weekends to explore places I've haven't been to. I've had lots of friends and family coming over to visit — in October, I have four groups of friends coming up. We have plans to rent a car and drive out to visit different parts of Thailand. Yes, Pauline [her personal assistant/photographer/manager/scheduler] is here with me — she helps with planning and handles stuff to do with my lifestyle website and my film company. My short film The Last Entry was nominated and selected to be screened in the Tokyo's Short Shorts Film Festival earlier this year, so that was really exciting. I'm making a second short film and working on the script now, but I can't say anything about it yet.

Do you miss home?
I'm still okay. I'm used to being away, as for dramas, I sometimes have to be away for three to six months. And also, I get to go home in between terms 'cos Singapore is so near. My parents were here in July, as it was my dad's birthday.

What do you plan to do with your Patisserie diploma? Are you going to open a bakery or café?
I've always liked baking, and just really felt that I wanted to do this, to take the course to learn the proper techniques. I just never had the time till now. I do want to have my own café or restaurant eventually, but that needs careful planning. A lot of businesses die 'cos of rental issues. I'm playing with the idea of a pop-up first. I have friends in F&B offering help, so we'll see.

What's your favourite pastry or dessert to make?
My cinnamon sugar crumble cake is a favourite with friends, and a lot of people seem to like my fudgy brownies as well!

You've just been appointed an International Brand Ambassador for Le Cordon Bleu Dusit. What does that mean?
I'm their brand ambassador and I'll be sharing a lot more about my life in Le Cordon Bleu. But it's not just 'cos I'm a celebrity. I needed to score a certain percentage as well. The ambassadorship was only confirmed after my results came out. Yes, they were quite good. (Laughs) I topped my class for my mid-term exams.

What are the exams like? Is it like an episode of MasterChef?
(Laughs) Yes, it's quite MasterChef-y. We are graded on a practical exam, which includes things like hygiene, presentation and technique, and there is also a written exam. Guest chefs come in for the exam to taste our work. You have a certain amount of time to work, and after, say, two-and-a-half hours, they will tell you to stop, and you have to stop.

Do people in Bangkok recognise you and stop you for photos?
Yes, they were showing The Little Nyonya here not too long ago, and also The Dream Makers and Ramen Teh. So locals stop me on the street to take photos and they are very nice and very friendly. This girl stopped me and her phone was on my Instagram and she asked me, "Is this you?" (Laughs)

When are we next seeing you on TV?
I'm in Till We Meet Again [Singapore's first period drama in 20 years, a version of Journey to the West], which also stars Elvin Ng, Ian Fang, Julie Tan and Ann Kok. There'll be a prequel on Toggle this month, and it will air on Ch 8 in November.

Can't wait. So any big revelations or epiphanies now that you've made the big move to chase your dreams in a foreign country?
No big revelations, really. I think coming here to study is a little crazy. To drop everything I have and say no to every job at the peak of my career to do this — it seems crazy to a lot of people. But this is something that really makes me happy.