Edwin Goh Is A Thirst Trap Now And We Have The Photos & Interview To Prove It
He's gone from teen idol to thirst trap faster than you can name all the Eight Dukes. Ch 8 bad boy Edwin Goh is all grown up and back to wreak havoc on TV. This time with abs.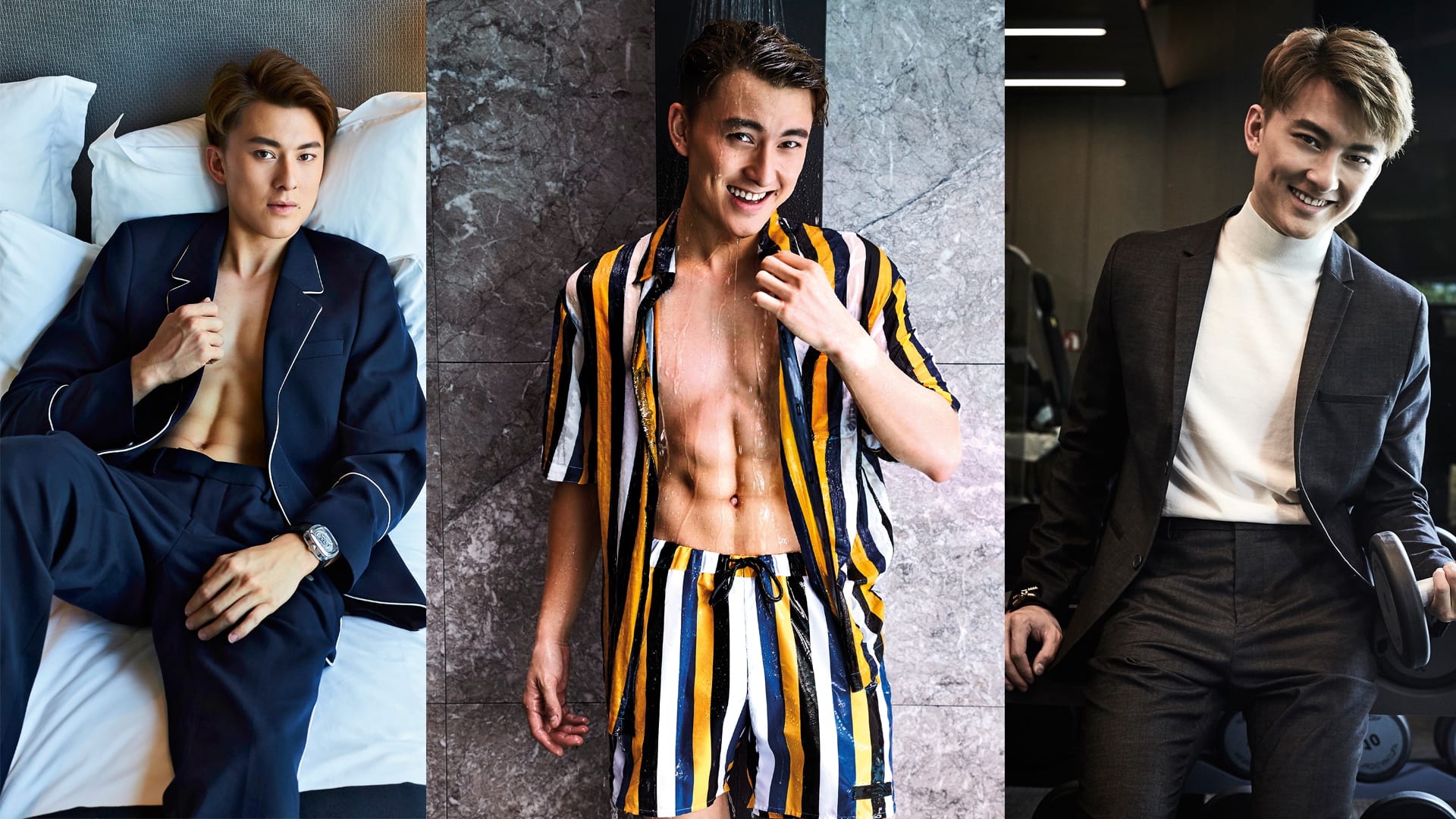 Edwin Goh has been around the block and back. And quite literally too. We're having lunch with the 23-year-old actor at a restaurant along Orchard Road, and just around the block from where we are is where Edwin first tasted the kind of stardom that many dream about.

It was 2011 and the then 16-year-old actor was on top of the world after the success of Ch 8 drama On The Fringe 2011, where he played the brooding delinquent son of reformed gangster Li Nanxing, who himself shot to stardom in the 1987 original drama of the same name. Edwin was set to make an appearance at a fan-meet at Cineleisure Orchard and it was supposed to be a just another run-of-the-mill event. One which Edwin and the rest of his co-stars, like Ian Fang, Kimberly Chia and Elizabeth Lee (all of whom weren't born when the OG drama aired) had feared no one would show up. It ended up becoming something you would see in one of those Black Friday sale riot videos (see below).

Over 2,000 over-enthusiastic fans descended upon the young upstarts in a way we hadn't seen since Fann versus Zoe was a thing. (Remember when that rivalry was all we could talk about?) Their limbs were grabbed, the sleeve of Edwin's jacket got torn and the increasingly unruly crowd suddenly became a legit safety hazard. And so the one-hour event where Edwin and gang were supposed to sign autographs and pose for photos was cancelled after just half an hour.

You can still see videos of that day on YouTube. It's a fascinating watch mostly because… when was the last time you saw Ch 8 stars get mobbed like that? Also the expressions of genuine awe (not to mention, fear) on the faces of Edwin and gang are priceless. Sure, Nanxing, Fann Wong and Rui En were the stars of On the Fringe 2011, but it was the kids who ran away with the spotlight. And of that group, there was no star brighter than Edwin's.

Fast forward seven years and Edwin and I can see Orchard Cineleisure from where we're sitting. I marvel at how incredible that experience must have been, that at that moment he must have been like, "I made it!", and he chuckles, "Yeah, it was surreal."

Now a perfect fairytale story would be how Edwin went from that day at Cineleisure to one of Ch 8's most sought-after leading men, like how Nanxing's career had taken off with On the Fringe or Chen Hanwei with Morning Express. But Edwin, who has been called the next Nanxing, has clearly taken a different path from his predecessors.

A year after showing what he was capable of onscreen, like more than holding his own against scene-chewing veterans, Edwin decided to become a full-time performance arts student at Lasalle College of the Arts. You might think, why? Shouldn't he have ridden on the momentum of On the Fringe and parlayed it into greater fame? Sure... but he was only 17.

"Back then I already knew that getting a diploma was important. Plus, it is a diploma in something that I love," says Edwin, who dropped out of Holy Innocents High in Sec Three and took his 'O' Level exams privately the following year. "I wanted to get proper training in acting. And I knew going through that will benefit me one way or another."

He graduated from Laselle three years later — during which his only appearances on TV were minor supporting roles no thanks to his back-breaking 14-hour school days. Then came two years of National Service, where he all but disappeared from the small screen. It was a period that Edwin, whose dad is in shipping and whose mum runs a hair salon, had likened in interviews to being "in prison". "I didn't like that regimented lifestyle or the feeling of being caged," he told us earlier this year.

Those five years away meant that Edwin could only sit back and watch his peers overtake him. Like Ian, his Fringe partner-in-crime, and Shane Pow, who was an extra on the set of 2012 teen gangster movie Imperfect, in which Edwin was the lead. In 2014, both actors were named as two of the Eight Dukes of Mediacorp along with Desmond Tan, Jeffrey Xu, Xu Bin, Zhang Zhenhuan, Aloysius Pang and Romeo Tan, all of whom had seen their popularity skyrocket during that period. They were heralded as the future of local TV, picking up Top 10 Most Popular trophies and Star Awards acting nominations along the way. If they were the future, where would that leave Edwin?

"Did I think why I wasn't [part of that group]? Yeah, there was a bit of that," says Edwin, with a shrug. "But at the same time, I was like 'I'm going to make it on my own'."

Now Edwin, armed with his pink IC and deeper knowledge about his beloved craft, is back. And in a big way. He's filmed two high-profile dramas since becoming a full-time Mediacorp artiste again last September — the uber-popular Million Dollar Dream and Fifty and Fabulous, which is now showing on Ch 8. He's now shooting two dramas concurrently — Toggle Original Close Your Eyes, whose executive producer is Zheng Geping, where Edwin plays a nerd ("A new kind role for me!" he beams) as well as the third instalment of nursing drama series You Can Be Angel. For the first time since he was a kid, the world is Edwin's all-you-can-eat-buffet again. And you bet he's going to lap it up.

The same cannot be said about the meatball pasta he ordered. "It's a bit dry," he whispers to us, as if he feels bad to be complaining about the food. When it comes to celebrity interviewees, he isn't one of the chattiest. At times, you feel as if he's nervous that he might say something he regrets, which will then be turned into a headline that he will regret even more. At other times, you feel like he just doesn't want to talk about himself 'cos maybe he doesn't find himself all that interesting or maybe he doesn't think anyone will find him interesting. Or maybe he just doesn't like talking about himself.

It's a kind of guardedness that you don't see in other young actors his age. You know, those who stumble into fame in their early 20s, all bright-eyed and bushy-tailed, and who have no clue how powerfully devastating a throwaway quote can be. Edwin's not like them. Well, at least not anymore.

In case you forgot, Edwin got his start in showbiz a long time ago. He was only 13 when he got cast as fearless teen misfit Soon Lee in Ch 5's Fighting Spiders. The popular drama, which lasted two seasons, meant that Edwin's formative years were spent on set and in front of the camera. "I guess you can say that I grew up faster than my peers in certain aspects... you become more aware," he tells us now.

We've known Edwin since he was a teen — "This dude saw me when I was just a child," he points at us during the shoot — but this is only the second time that we're talking to him in a professional capacity. The first was seven years ago at the peak of his On the Fringe popularity. Back then, we had noted how he was a bundle of nervous energy and how he couldn't stop twirling on a swivel chair during our interview. "I can't help it, I've got to keep moving," he told us then. But while he already wasn't chatty — at least compared to the loquacious Ian Fang, whom we also profiled — he had regaled us with tales about his wayward younger years (yes, even though he was only 17), like how he had spent a night in a police lock-up. "They thought I wanted to steal a car," he had revealed nonchalantly in the eyebrow-raising interview.

Things can't be any more different these days. The new Edwin Goh has recalibrated himself. He now exudes a kind of calm that we don't expect from someone so young. He also plays down all those naughty things he did, is doing, might end up doing. His sharp darting eyes, which once burned with teenage angst and which made him so believable as an onscreen delinquent, now simmers with a kind of mature intensity that actors older than him would kill for. At the risk of sounding like a cliché, the former bad boy is all grown up.

Which you can clearly tell from these photos.

"Wah, who knew he had abs? someone squeaks as Edwin, with his shirt unbuttoned, climbs into bed and gets comfy for the camera. We're at the Intercontinental Singapore Robertson Quay, a gorgeous riverfront hotel situated where the old Gallery Hotel was. Gone are the kitschy (some say, kiddy) art pieces that had defined the old establishment. In place, after a complete overhaul, is a much cooler, more sophisticated hotel that wouldn't look out of place in the pages of Monocle. It's up to you to decide if we're trying to draw a comparison between the new Edwin and the location we've picked for today's shoot.

He's understandably nervous about how the photo shoot will go, and for the weeks prior had messaged us to ask if there are any examples of past shoots that he can reference. We don't blame him for feeling antsy. This is after all his first solo 8 Days cover, and with him showing off his glistening abs (thank you, keto diet!) it also means he'll be joining the pantheon of male stars who've bared their bods for these pages. You know, Christopher Lee, James Lye, Allan Wu, Elvin Ng. No pressure, right?

We really didn't intend for him to get wet. But the opportunity was too hard to pass up on this blazing hot day. He's game for anything anyway. With little to no warning, he dives into the pool. When he comes back up for air, he lets out a little whoop. "This feels so good," he laughs, as the rest of the crew, all dripping in sweat, look on at him in envy.

After years of watching the action from the sidelines, Edwin Goh is finally right back where he belongs.

8 DAYS: You're looking good these days! I guess all that working out has paid off.
EDWIN GOH: Thanks! I was really excited [about baring my bod] 'cos it means that there will be something to show for all the hard work I put in. But at the back of my mind, I was quite unsure if I wanted to actually do it 'cos there are many people out there with more amazing bodies. But in the end, when my manager brought it up, I was like, "Okay, just do it."
We hear you went on a strict diet.
Yeah, I started about a month before the shoot. I was filming with Geping da-ge then and both of us went on the keto diet, which switches your body's main energy source from carbs, which are essentially sugars, to fats. That means you can eat a lot of fatty food. So I ate a lot of roast meat but I stayed away from rice, bread, potatoes. Also no sugar, so no sweet drinks. Basically, fats should be like 85% of your diet.
Wait a minute, that sounds very unhealthy.
But it's not! 'Cos a week or two after I got started on the diet, I saw myself slimming down. It's unreal!
So if you have char siew rice, you ask for the fattiest parts?
Yeah (smiles).
That sounds too good to be true.
Well, there was an article about how pork belly fats are actually the most nutritious. But you have to exercise lah. Once you do, it should be okay. It was a good thing that Geping da-ge was with me 'cos dieting can get very lonely. Once, everyone on set went out for Japanese food, except for Geping da-ge and I. Instead, we headed for Texas Chicken and ordered 15 pieces of chicken. The way he eats is very intense — he peels off the skin and then goes at the rest of the chicken. I eat with the skin on, I mean, I enjoy it (laughs).
Geping's been watching his diet ever since he went from uncle to hunkle. Do you think you can be as dedicated as he is?
You can see his efforts paying off. His body is looking better than ever. And at his age, it's quite impossible to [attain such a physique]. But I doubt I can be like him. I'm not on the diet anymore. I need to indulge myself (laughs).
With?
With better tasting food (laughs). It was only after the diet that I realised how much I love carbs. Like prata. Thankfully, I don't have a sweet tooth. When I drink coffee, it's also always kosong.
There's a huge chance people will look at you differently after this shoot. Does it bother you that people still think of you as a kid?
I think it's part and parcel of acting. At my age, there's only this amount of characters that I can play, given the type of shows that we have.
The past few years have seen some of your peers rise to leading man status. Do you think being out of showbiz for so long has put you on the losing end?
There was a certain pressure and a sense of loss, like I would ask myself if this is the right decision, and if I should have just focused on my career [instead of going to school]. But I also knew that what I learnt in school would make me a better actor and that the experience would be invaluable. That was how I came to terms with it.
Was taking a break from acting to go study a tough decision to make?
Nah. It was really easy. When I had the opportunity to go to school, I said yes straightaway. My parents were like, that's good! They know how much I love acting but I think all parents also want their kids to study, right? (Laughs) So that was the easy one. The difficult part was when I was in NS. 'Cos I felt like I wasn't doing anything… and at the same time, a lot of new actors came onto the scene. It's a good thing, but at the same time, I was like, "S***, now I'm stuck here and I can't do anything." But I remember watching a video then that said that everyone has their own time to do certain things. That resolved it for me. I know that my own time will come.
Which do you think was the biggest missed opportunity in the past five years?
(Ponders) The writer of [Ch 8 drama] It Takes Two told me that he had written a role specially for me in the drama, and so he was like, "Why you want to go study?" (Laughs). It was a bittersweet feeling but you know, I couldn't do anything about it.
That's quite an honour.
Yeah, it's unreal. I mean I don't want to sound like (shrugs)… but yeah.
What role was it?
Oh, I cannot say lah. For me, it's about fate. If it's yours, it's yours. Sometimes, even if it's yours, it may not even turn out like how you expected.
You couldn't take a break from school to do that role?
No way. My schedule was like from 8am till 4 to 5pm every day. And then we would have rehearsals for our productions till night time.
How it did feel when they came out with the Eight Dukes and you weren't a part of it?
It was okay. I wasn't in their league, I guess? I was still a boy-boy then. So okay lah. I did think, "Why wasn't I included?" but at the same time, I was like, "I'm happy for them" so now go do your thing (laughs). I mean you cannot get so caught up with the negativity inside your head. You won't progress. You gotta focus, like, "I can do it by myself", "What else do I need to do [to be better]." That also motivated me to change my image.
How so?
I've played so many delinquent roles in the past and I know I wanted to step away from that. It's why I started hitting the gym and getting bigger.
So what has been the response?
Some have said that I look more mature with more 'meat'. But there are also some, like Ian [Fang] who said that I'm getting too big, which doesn't look nice on screen. I guess it's about finding a balance.
Is there anyone you'd want to play your love interest?
Definitely not Carrie (Wong) 'cos I would have to wear heels (laughs). But that would be quite funny. The truth is, I don't know many people [in Ch 8] now. After I came back from NS, I was like, "Wah, so many new people."
When did you first discover your passion for acting?
It's quite a long story (laughs). When I was in secondary school, I joined the choir and my mum and I had an argument. She was like, "Why don't you join basketball or NCC?" And I was like, "Why would I join NCC?!" (Laughs) It was just not for me. I have no idea why I joined the choir though.
'Cos you can sing?
Only in groups (guffaws). So my school was celebrating its anniversary and they wanted to do a musical. And 'cos it's quite a 'gangster' school and no one went to audition, they picked some of the choir boys to go. I was one of them and I got the role. They had a vocal coach and towards the end of the production, she was like, "Do you want to audition for this show called Fighting Spiders?" And I was like, "What's Fighting Spiders but yeah, sure!" I think it was 'cos during the musical, I had a bit of fun. And I liked it.
What did you like?
I think it was the adrenaline from performing on stage. When you're doing it and singing in front of people. It was like YOLO.
What was the plot about?
I don't remember. It was so long ago. But I think it was about student problems and stuff. I remember we had to perform at the Esplanade. And all the parents were there and I had to sing a solo song in front of everyone. It was like, "Oh My Gawd!"
So you got addicted to the high of performing?
Yeah. And thankfully when I did Fighting Spiders, the crew and the fellow actors, we had a lot of fun, despite it being very gross to film in the jungle all day and getting all muddy (laughs).
What do you remember of the audition?
That it was so awkward. I was in a room facing just a camera. It was the first time I had to imagine talking to someone who wasn't there. I mean, I was 13.
Your parents were supportive of you being an actor?
They didn't know I went for the audition (laughs).
So who took you there?
Myself? I got the contact and texted the people. But after a few months, I'd clean forgot about the whole thing. I was like, "Sigh... gotta get on with studying." (Laughs) Then one day they called and said I got the role. I remembering I was spazzing out on the street (laughs). I was so happy. I was alone but I was like, "Ahhhhh!"
How did your parents take to it?
I only told my dad. I didn't let my mum know 'cos I didn't know how she would react 'cos she's the one who wanted me to study hard. Come to think of it, my dad was pretty lax about the whole thing. He was the one who would send me to Khatib MRT at 5am where this sketchy bus would drive us to the location. It was sketchy as hell 'cos it had like LED lights underneath (laughs).
How did filming affect your school work?
It was shot during the December holidays and when it crossed over to the other months, they would pick us up after school. I remember during class, I would look forward to seeing that white sketchy bus (laughs).
Wasn't it tiring having to work after school?
Nope. I was filming with two other boys my age so it was basically like going there to play. I think that's what I miss most about acting, when you're just playing and having fun.
Would you say Fighting Spiders was the most memorable experience of your teen years?
Certainly. I had the most fun then. Filming [for the first season] stretched on for six months (laughs). But it was 'cos of conditions we couldn't control. Like it would rain so we would spend the entire afternoon just chilling out at McDonald's.
Then when would you do your homework?
There wasn't much homework in secondary one.
That's not true!
(Laughs) You can say I was more focused on acting.
Has your mum finally come to terms with you being an actor?
Yeah. Honestly, acting has made me a much more responsible person. I remember when my mum used to wake me up for school, I would be like, urgh, and I just couldn't wake up. But for work, I would wake up on my own.
So she's fully embraced the life of being the mum of a star?
Yeah. Plus she works in a hair salon and so she will talk and all that. (Laughs) Sometimes, she would hear people talking about my acting — they don't know she is my mum — and she'll tell me what they said after. Like, "Maybe you can relax your…" And I'm like, "Um, okay… alright…" (Laughs)
You have two older sisters too. Are you guys close?
Yeah. You know the band S.H.E? There were times when they would force me to be Ella [Chen] (laughs). They would play [the band's] songs and we would just lip sync along. This was when I was really, really young, okay. Like eight or something.
What was your childhood like?
It was happy… but there were some trying periods.
How so?
With relationships but it turned out okay.
With your family members?
Yeah. Now that I've grown up and matured, my mum can chill more. She's always so worried for the three of us and now that she has seen how I've grown up, she can… rest her mind more (smiles).
How did you deal with fame as a kid?
There was a period of time when I kept thinking about how I would behave if I weren't in this line of work. How would I be as a person? And there's no way I can answer that. But I remember after Fighting Spiders came out, a lot of people on the streets would call me, "Soon Lee! Soon Lee!" Back then, most Singaporeans watched TV and and so it was kinda cool. My fellow cast member Freddy (Fielding, who played Peter) and I would hang out a lot and people would be like, "Eh Peter! Eh Soon Lee!" It was crazy.
Do you still keep in contact with the boys?
Well, Freddy lives in London now and I had to miss his wedding 'cos of work. He's 25 now and he graduated from Oxford in civil engineering. He's a really, really smart guy. I haven't seen him for the longest time though.
On the Fringe was also a massive hit. Being 16 and famous, you must have felt there wasn't anything you can't do.
But at the same time, there was pressure, like how do you maintain it? Which isn't possible. That was a surreal part of our lives. It happened and now we are back to our normal lives.
There must have been a lot of girls who threw themselves at you.
There were girls… and guys. Aunties and uncles too.
I mean throw themselves at you.
Oh… (Laughs) Actually… surprisingly, no. (laughs). They were really just like fans. It was all very innocent, like, "Oh, you very cute, can you follow me back?" (Laughs).
I find that hard to believe.
Okay, there was one scary encounter. I was home alone and I heard giggling outside my house. And I was like, "What is this ghost s***?" So I looked through the peep hole and I saw a figure dash past my front door. I freaked out!
So it was a girl?
More like girls. I wondered if I should go out [to see]. So I waited for a while before stepping outside. I walked towards the staircase 'cos that was where I saw them run to, and written on the wall was 'Edwin Goh lives here…." And they had written out my full address! I was like, do I erase it? 'Cos if I erase it, they will know I really live there. But if I don't, people might see it. In the end I just left it there.
Is it still there?
Nah, it's been painted over.
How did they know where you live?
I have no idea. It's quite scary and still a mystery after all these years.
Do you Google your own name?
I used to. A lot.
One of the first few things that pop up when you google 'Edwin Goh'…
Are we going there? Are we really going there? (Laughs)
Is about…
… That period of time where life was unstable (laughs).
Your break-up with Jayley Woo. [Ed: He was seen snogging actress Dawn Yeoh at Zouk in 2012 when he was still attached to Jayley, which eventually led to their break-up. The scandal made headlines and Edwin was publicly chastised.] When you look back at this whole thing, what comes to mind?
Now it's very clear to me. I made a mistake when I was under the influence of alcohol. And I got what I deserved lah. But you know, it's all good now. It's been so long. There have even been times when all three of us hung out. So yeah, it's all cool now.
Do you wish there would be more news about you so what happened would get buried further into the depths of the Internet?
Yeah I do. It was a mistake and I paid for it and I'm glad I did. But I don't want to be reminded of it every time (shrugs).
Are you seeing anyone now?
Nope. I'm super single.
Do you go on Tinder?
Nope.
Why not?
I think I'll get too caught up in it.
A lot of people have met their other halves on Tinder.
Hmm, I might give it a try then (laughs). Okay, how do I put this? I'm just not looking for a relationship now.
You're a millennial but you're not really active on social media. Or at least not anymore. Does your manager bug you to post more since having a big online presence is important for an actor now?
In the past, yes, but I think they gave up 'cos they know I gave up too (laughs). I stopped using Instagram a lot after NS 'cos you can't take photos in camp. And I kinda stopped taking pics after that. It takes a lot of effort for me to post something these days. In the past, we only had to take pics of what we liked. Now you have to mind the aesthetics.
Do you think that's good or bad...
Or do I wish [social media] doesn't exist? I think it's cool 'cos it opens up so many more opportunities. And it's become a platform for us [to voice our thoughts]. But at the same time, it's become so established that it's so tiring to have to put in so much effort. Like selfies don't cut it anymore. You have to ask someone to help you take a pic. It's crazy.
You also used to be very garang when it comes to responding to haters on social media. What changed?
I think my perspective on social media has changed — I'm just not that easily affected by it anymore — and perhaps I've grown up as well?
Still, it might be hard for people to not think of you as a bad boy.
'Cos of that mistake I made and so people have the impression that I'm a player? I guess [it doesn't help] that my roles have all been so rebellious… and convincing (laughs).