Mandarin-Speaking Indian YouTuber Das DD Makes Movie Debut In Reunion Dinner, Says PM Lee Texted Him After Seeing His 'Magic Cup' Video
The multi-lingual actor-host is also on the time-travelling meWATCH drama Future Proof.
YouTuber Das DD credits a recent change in his career to a magic cup.
Remember when Prime Minister Lee Hsien Loong first announced the circuit breaker in his live national address with his blue cup? The cup that ostensibly granted PM Lee the power to speak in a different language each time he took a sip from it.
Yes, that magic cup. Remember how that ceramic vessel spawned gazillion memes and spoofs. And Das DD happened to be one of those satirists. The then-Night Owl Cinematics content creator came up with his version of the speech, replete with a cup — delivered in English, Mandarin, Malay and Tamil, no less.
"He can't speak Tamil, so that was my one-up over him, I think," Das — whose full name is Dharmadasa D Dharamahsena — laughs. "But the jokes were all very respectful. It was not, like, making fun of the Prime Minister — it was more like telling people to stay at home."  
PM Lee got the joke alright; he even dropped Das a text message. "He said, 'Thanks for your video, I enjoyed watching it. Can I borrow your cup for my next broadcast because it's more powerful than mine? LHL,'", says Das, glowing, as he shows 8days.sg the reply on his phone.
"It was very surreal and I have it framed up in my room," he adds. "I'm not joking at all." Even more surreal: the viral video showcasing Das' multi-lingual prowess got on the radar of Ong Kuo Sin, the director of the Golden Horse Award-winning drag-queen comedy Number 1.
The next thing the 31-year-old bachelor knew he was auditioning for Ong's Mandarin Chinese New Year screwball laugh-fest Reunion Dinner. "Within the same day they gave me the okay, and before I realised, I was already at the imaging session and subsequently started filming," he recalls.
Reunion Dinner — which opened in cinemas last week — stars Lawrence Wong as a marketing exec who doesn't want his mainland Chinese girlfriend's (Cya Liu) ball-breaking father (Guo Liang), an ex-army officer, to know that his mother (Xiang Yun) is a mama-san.
To impress his prospective in-law, he decides to round up a group of kooky background actors (Mark Lee, Mimi Choo and Das) to pass off as his fake family. (Think The Birdcage meets The Millers — but with, ahem, fewer in-your-face product placements.)

Here, Das tells us (in English) more about his transition from online personality to acting, the secret to mastering languages, and it can be tough not to eavesdrop on people in public who assume he doesn't understand what they are talking about.
8 DAYS: When you first appeared in Reunion Dinner, it reminded me of a Stephen Chow movie. Actually, it's reminiscent of King of Comedy, which is also about background actors. But I'm digressing. Was the script written in Chinese or in hanyu pinyin?
DAS DD: It's not hanyu pinyin — it's all in Chinese! But they did give me an English-translated version, which I refused to refer to. Because I think sometimes, it's very difficult to translate comedy, and a lot of it was plays on words. So I wanted to try and digest it in Mandarin. But it would take me a lot longer than someone who's more familiar with Mandarin. I studied the script and I also got help from the director [Ong Kuo Sin]. He met me a couple of times actually, to go through the script and let me know his intentions because he was aware that this is my first movie.
What was it like to be on a film set?
A lot of people would say surreal, but I don't think it was surreal (laughs). It was very daunting because these actors are so established. Guo Liang is such a great actor and host, and Mark is such an icon. And Lawrence has gone to many places; he made Singapore very proud by going to China to make an epic period drama [The Story of Yanxi Palace]. So I really have a lot of respect for all of them, and I was very happy. I was very afraid that I would be intimidated, and might underperform because of that. Because I didn't know them personally, I was afraid they might be divas and treat me like s***. But they didn't! They were all really lovely. So that made it a lot more comfortable for me to perform.
The way you mentioned Guo Liang and Mark Lee's names… it sounds like you're a fan of theirs.
Definitely! For Mark, I used to watch Gao Xiao Xing Dong [Comedy Night] and I was excited by his performances. The Mandarin used [on that show] is very simple, actually. It's not like a period drama where they're trying to showcase their linguistic abilities — it's pure comedy for the heartlanders; it was very relatable to me. It was very surreal to work with him.
What's your takeaway from making Reunion Dinner?
[Making a movie] is a very different experience. I was formerly from Night Owl Cinematics. We do a lot of short, 5–10-minute video content, one minute if it's for Instagram. It's very short and high energy all the way so we can retain people's attention. But for a feature film, it's long-form, and there are a lot of nuances to it. My takeaway is that it's very different acting in a movie as opposed to acting in a comedy video. It's very different doing scripted versus unscripted work as well, because someone else wrote this script. I have to try to understand it, and also, there's a lot of mainland Chinese nuances in the movie, so I had to understand the culture properly before I could execute it. Even when I don't have any lines, I need to react appropriately to what the other actors are saying in the same scene. I think being a versatile actor is also important because it's two completely different crafts doing online content and feature movies.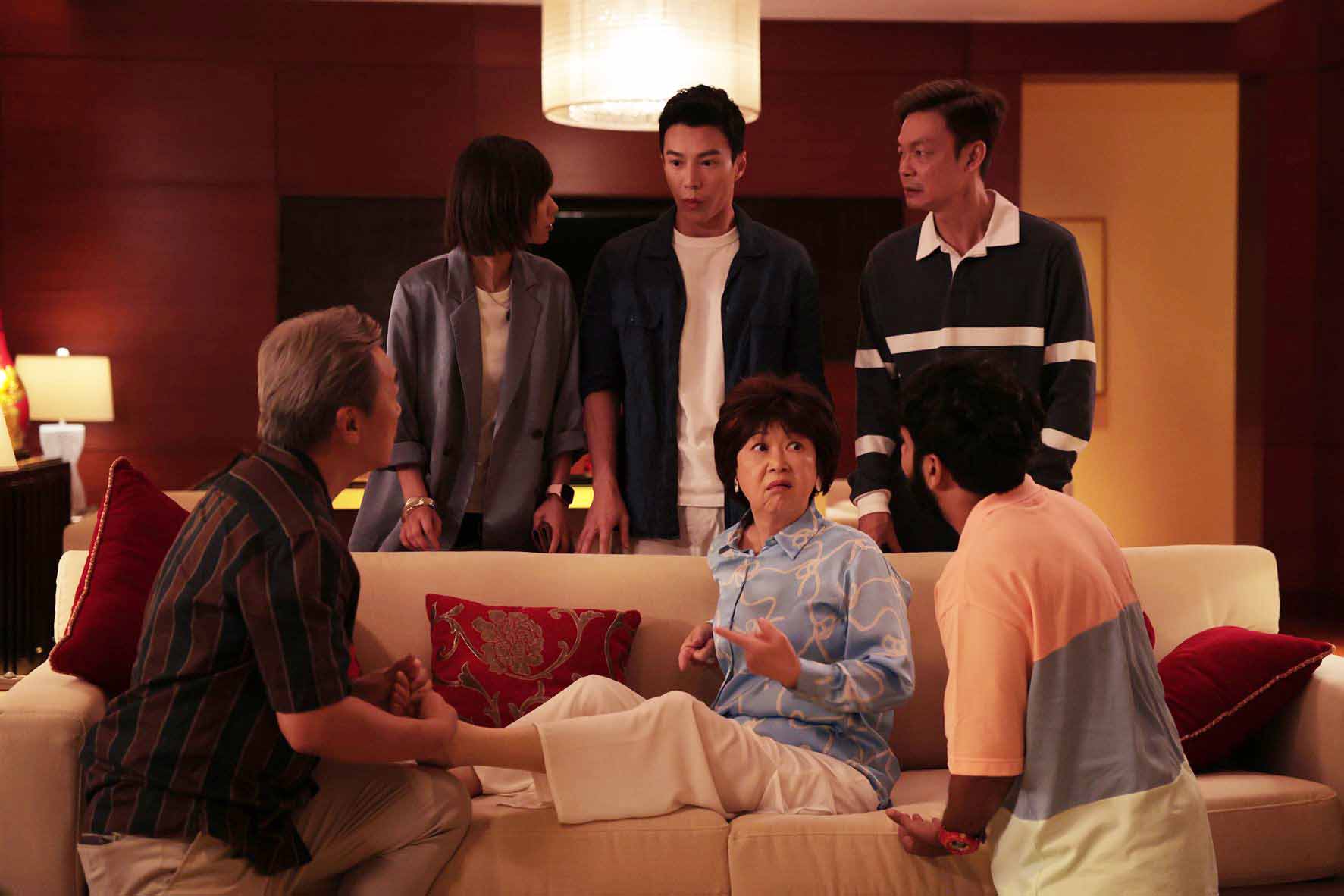 You're the only non-Chinese in the cast. Are you concerned that your character AK is a token comic relief?
I would be the first to call it out, and Kuo Sin is very nice and open to opinions. I knew as a matter of fact, when I read the script, I was not just a token minority. Although yes, I am the only Indian person in the movie — or rather the only non-Chinese — but I wasn't just there to make stereotypical Indian jokes or stuff like that. All the jokes that were made about AK, or with AK, were really part of what he intended to be. Three of our characters were calefares [background actors] — anybody can be a calefare, it just so happens that one of them is Indian. Lawrence's character needs some help, and they all chip in to help him. Of course, a lot of calefares are budding actors who just want to act, and I think there was this scene in the movie where — I'm not sure if it made it in — AK said that he loves Mandarin so much and stuff like that when he's introducing himself. His point: He loves Mandarin so much that he wishes that someone would notice that he can speak Mandarin and give him more roles. He's still a calefare, but I think that angle was a lot more respectful to the fact, while acknowledging that he's an Indian person who can speak Mandarin. It wasn't insulting. I would definitely decline the role if it's just me doing a lot of stereotypical Indian things.
What's next? Channel 8 dramas?
I may be shooting a Channel 8 show in May. But I'm not saying much because I also don't know what show it is. I'm looking forward to that. Recently I've been doing some Vasantham dramas as well. I'm just doing a lot of acting more so than when I was at NOC. There's one out on Channel 5 now, [the time-travelling drama] Future Proof, with Kuo Sin as the executive producer. I shot that drama and this movie concurrently. So I would wake up in the morning, go shoot the drama, then after that do a night shoot for the movie. Once, I remember taking a nap at a bench at the MediaCorp campus for half an hour before going to my next shoot. I just felt so blessed to have the opportunity to do them at the same time.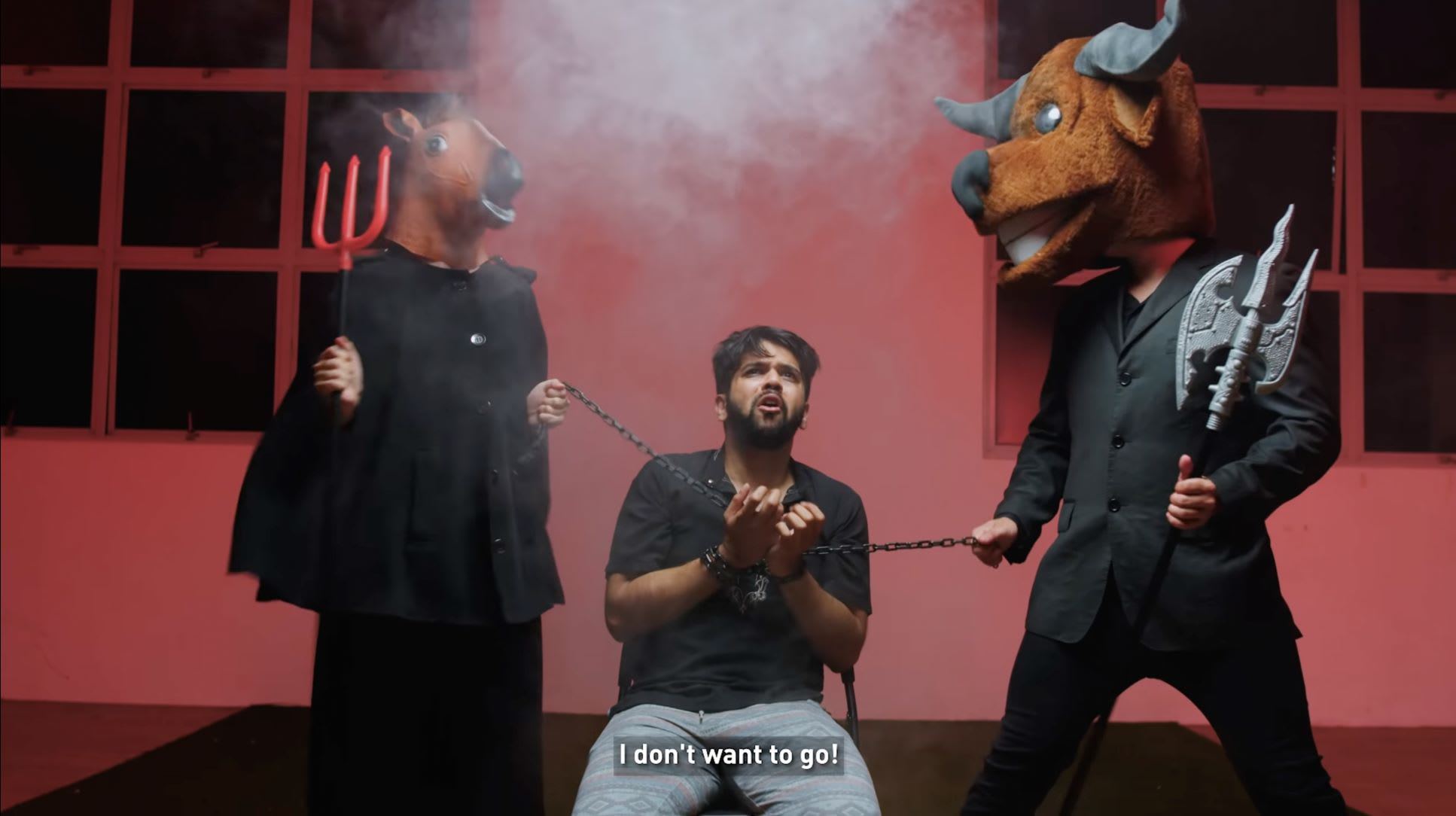 Who do you look up to in showbiz?
I feel like, overall, out of everybody in Singapore, the artiste of my life is Kumar. He really paved the way for comedians and really pushed the envelope. He really managed to do what he does within the boundaries of the Sedition Act and all these laws that the government has put in place with regards to what you can and cannot say. He has done such a stellar job and he's still doing it now. Actually, I have a few scenes with Kumar in Future Proof. That one, I was starstruck. I was so floored. But he was so nice and normal about it that he made me feel like, oh, I don't have to be starstruck — I can just be myself. When he finished filming, I almost teared up because I was like, wow, I shared a screen with Kumar. He's really a stellar human being and a great, great artiste.
You speak English, Mandarin, Tamil and Malay — every Singaporean should be like you!
I don't belittle people for not knowing that many languages. A lot of my Indian friends don't speak Tamil as fluently as I do, and I think they feel bad about it. Because of that, I think they stop speaking it altogether — they're afraid people will make fun of them. So I don't feel like it's someone's fault, and it doesn't make you any less of an Indian or Singaporean if you can't speak proper English. I mean, there are Singaporeans who can't speak Singlish, you know? And I find that very astounding.
What's the secret to learning languages?
Having real conversations with people. Texts, going for classes, watching shows and listening to music do not really help. It can help you accumulate new vocabulary, but if you want to speak well, you need to speak to a native speaker. That is really the only way to learn languages, because you are expected to respond on the spot. Also, I think if you speak to a native speaker, you will learn more of the colloquialisms. If you go for a class, they might teach you the proper language, and when you speak the proper, formal language on the streets, people might laugh at you as well.
Growing up, how did you pick up Mandarin?
The key source was when I was in kindergarten, and in childcare. I was surrounded by Chinese kids who spoke Mandarin at home, so they only spoke Mandarin at school. They had not learnt English yet. I just hung out with my friends and spoke Mandarin! That's how you learn. And I thought everyone could speak Mandarin. I was very young, like two years old, and I went home to speak Mandarin to my parents. They had to explain to me that they didn't speak Mandarin, and I was like, "Why?! All my friends speak Mandarin, why don't you speak Mandarin?"
Did your parents freak out when you spoke Mandarin to them?
They were very shocked, but they thought it was just going to be a short-lived thing. They thought that once I start Primary 1, I would be like every other Indian kid who learns Tamil as their mother tongue. But in fact, I continued learning Mandarin and now I'm in a movie where I think one of the reasons [I was chosen] — I hope that isn't the sole reason — was that I could speak Mandarin. So I'm quite happy that I made that decision [to learn Mandarin].
This is a silly question. Have you ever unintentionally eavesdropped on people's conversations in public? Especially around Chinese people who assume you don't understand Mandarin…
I do a lot — I can't help it. Because if I'm sitting in a train and someone's talking next to you, you listen. In the past, when I was a lot younger in primary and secondary school — when you didn't have headphones — you're [always] listening in, right? So I do eavesdrop on a lot of people's personal lives — breakup conversations or even very intimate discussions that people have. Because they're thinking, "He wouldn't understand, right?" Sometimes we also do that, what. If I was speaking Tamil to my mum, I might say more things because I would think the Chinese people around probably wouldn't get what we're saying. So I do listen in to a lot of conversations. The worst thing is when they crack a joke! Then I might feel compelled to laugh and they'll find out. So I try to keep it together.
Has that happened a lot?
It has! Once, it happened in Tamil (laughs). There were these two ladies talking in front of me on the train, and they were talking about kids and stuff like that. And somehow the conversation got a bit raunchy. They thought I didn't understand Tamil for some reason. Maybe they thought I didn't speak their Tamil dialect. But the moment they cracked the joke, I started laughing with them. They were so embarrassed that they got off at the next stop.
Reunion Dinner (PG) is in cinemas now. Future Proof is now streaming on meWATCH; watch the first episode here: