Ronny Chieng On The Bloody Scene In M3GAN You Didn't Get To See: "It Took A While To Clean Up"
The Malaysian comedian plays a CEO of a toy company in the horror flick, M3GAN.
[SPOILER ALERT: This interview contains spoilers for M3GAN. Approach with caution.] 
Ronny Chieng is fearless.
In his 2022 Netflix special, Speakeasy, the US-based Malaysian comedian famously dared Twitter critics to cancel him.
"If you really think you have the ability to cancel me, sitting in your underwear at home, on your f***ing phone, do it," said Chieng. "I left three countries with free healthcare and no guns; I moved to America to in 2015 already prepared to die. You think MAGA idiots, Asian hate, uncontrolled Covid, Twitter people scare me?"
Social media lynch mobs don't scare him. Scary movies, however, do.
"I'm a fan insofar as a genre study for an actor," he explains. "But most of the horror stuff, it's too scary even for me."
But that didn't stop Chieng, 37, from boarding M3GAN — a horror pic from genre masters Jason Blum and James Wan and New Zealand director Gerard Johnstone (Housebound) — about the titular AI doll (the name is short for Model 3 Generative Android) that goes berserk on its creator Gemma (Get Out's Allison Williams) and her family, neighbours and co-workers. (It's Child's Play meets Artificial Intelligence! Come to think of it: the homicidal plaything bears a fleeting resemblance to Tiffany, aka the Bride of Chucky.)
The US$12-million movie rolled out globally last week to enthusiastic reviews (94 percent on Rotten Tomatoes), and a solid weekend opening of US$45 million. 
Chieng plays Gemma's smarmy boss, David Lin, who wants to turn her invention into the Next Big Thing in children's entertainment. Like any villain in a cautionary tale, Lin only cares about making money, not the consequences of his actions — and pays a hefty price for it. (No sequel for you, Mr Lin!) 
Speaking to 8 DAYS on Zoom from LA, where Chieng is filming Interior Chinatown, a Hulu series based on Charles Yu's 2020 bestselling novel, which follows the story of Willis Wu (Crazy Rich Asians' Jimmy O Yang), a background character trapped in a police procedural trying to find his way into the larger story. The Daily Show senior correspondent plays Fatty Choi, Willis' best friend.
Here, Chieng shares more behind-the-scenes tales of making M3GAN — including a more denouement gruesome of his character — and the secret to playing a likable a-hole.
8 DAYS: First things first, how did M3GAN land on your lap?
RONNY CHIENG: The director [Gerard Johnstone] gave me a call. He asked me if I was interested in it. We had a conversation about it. I basically had an interview with him and, yeah, we just got along in the interview. I think there was definitely an Australia-New Zealand kind of connection (ed: Chieng spent his college years at the University of Melbourne); I'd toured New Zealand a little bit for stand-up. We talked about working in Australia and New Zealand, and I think he just believed I could bring something to the table. Gerard is a very precise director. He's not one to compromise what he's doing for any other reason. In other words, I didn't know this until I started working with him – he's like a genius director and if he was asking for me, it's because he believed I could do it.
I always thought it had something to do with James Wan because of the Malaysia-Australia connection: He's an Australian who was born in Sarawak.
I'm sure it didn't hurt to have that connection. I've always wanted to meet and work with James Wan and I got to meet him working on this movie. But, yeah, Gerard was the one who I spoke to. Maybe James put me on his radar. I'm actually not sure (laughs).
You based your Shang-Chi and the Legend of the Ten Rings character, Jon-Jon, on a Singaporean Ah Beng. Who did you model David Lin on?
No one in particular. I just thought of someone who is in charge of a toy company, which is inherently a very fun thing. But he's just one of the guys who, when he sees toys, he just sees profits and losses. So I was trying to, I guess, channel someone who is in a fun industry but doesn't really see the fun in it. He just sees numbers.                                                                                                   
David has a memorable confrontation with M3GAN in a very Shining-inspired hallway, where she did this really creepy dance. Was that CGI or the real deal?
Again, that goes to Gerard, who's a bit of a visual genius. He's very particular about how things look. We shot in New Zealand during the pandemic. That was actually my first day of production: in this hallway and running from M3GAN. They managed to find this hallway with the blood-red walls in this exhibition centre. It was a very physical scene, with not a lot of dialogue. Ame Donald, who played M3GAN physically, is this kid from New Zealand they found, who is just a movement genius. She can do standing back flips and not to mention, the dance moves. But that's all Ame — running on all fours, dancing, and the more emotional scenes — under the mask. She always had a smile on her face. Despite having to wear this mask for long hours, she was always very positive. So day one we met. She did that dance and I just kind of reacted, naturally. That's all her — no CGI.
Needless to say, that confrontation didn't end well for David. This isn't your first screen death, though.
No, actually, I've been a bit of a Sean Bean — I kind of die in about 90 percent of the movies I'm in. I don't know if my profile's big enough for someone to make a dying montage, but I've been riddled with bullets in this other movie, Bliss, with Salma Hayek and Owen Wilson. There's another indie movie where, I don't wanna spoil it, but I die of something else (laughs). So M3GAN is not my first onscreen death. I was asking Gerard how he wanted to play it and we shot a few versions of this scene. That was one that was even more gruesome.
Yes, I was going to ask you about that. Screenwriter Akela Cooper said an unrated version is already in the works. Just how gruesome was David's death?
It was very messy. One of the deaths that we shot was… let's just say, it took a while to clean up to go home. That was one version we shot where blood was just everywhere (laughs). It was very liberal with the blood.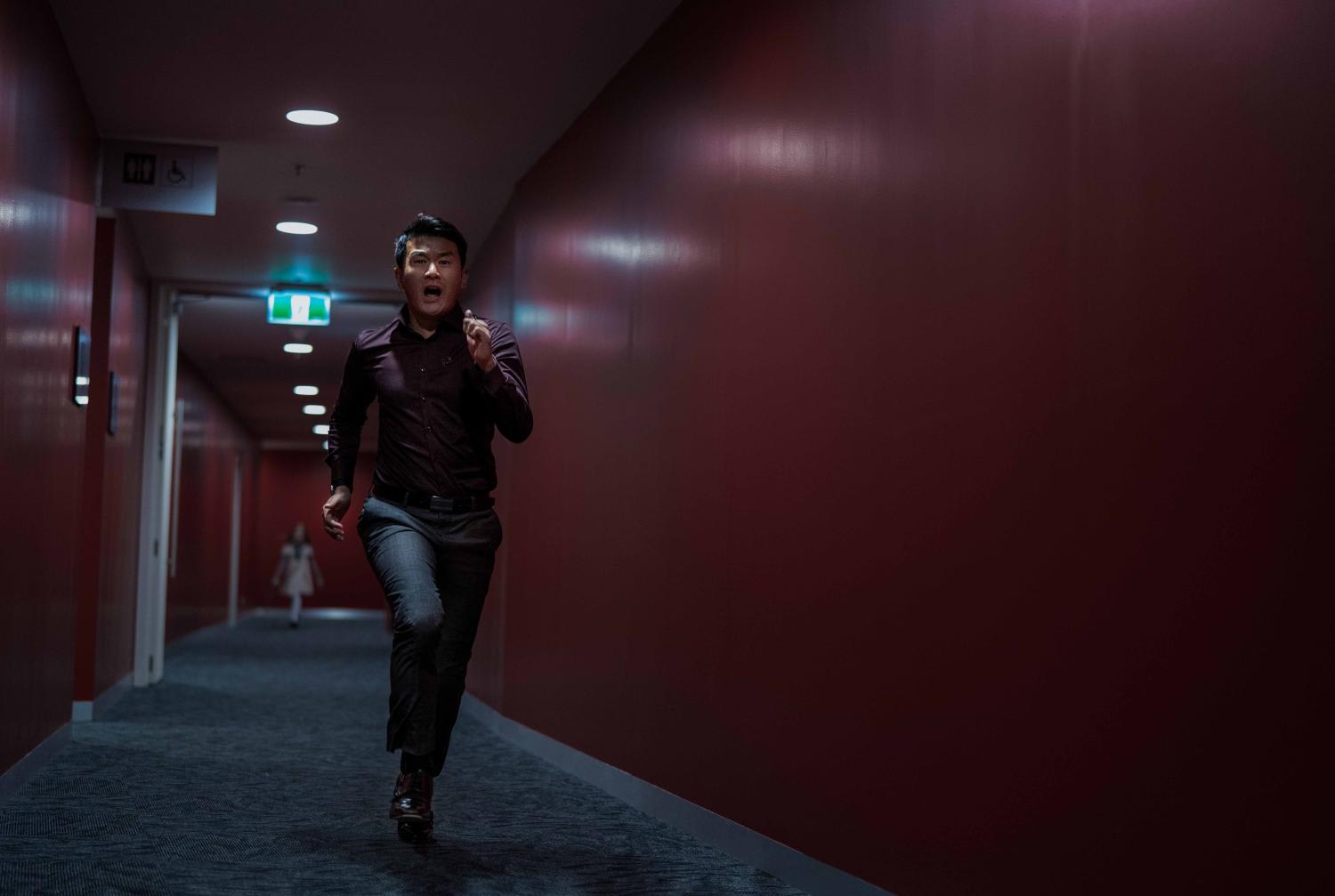 David Lin is very much like your character, Dr Lee, in Doogie Kamealoha, M.D., a likable asshole. What's the secret to playing an endearing douchebag?
This is what my wife says, this is according to her, so don't take my word for it. Apparently, there's a likeability that you have to have for the endearing, lovable asshole thing to kind of work. There's that element of likeability, which I guess, is a little bit of the way people wish they could act at work. If they were to let loose at work, that's how they would act. I think one of my skill sets is saying terrible things, and getting people to like it (laughs), get behind it, or laugh at it. That kind of skill set lends itself to playing a likable asshole, as you said.
By the way, I mean that with the utmost respect.
I appreciate it. It's a skill set (laughs).
You were recently back in Malaysia and Singapore. Looking at your Instagram posts, you had a blast.
Yeah, it was great. I had a great trip. I haven't had that much time to hang out in Singapore in a while, so it was really great that I got to see all my friends. I obviously got to spend time with my mum. It was very rare for me to have that much time.
Did you also take time to process the end of the Trevor Noah era of The Daily Show?
Yeah, maybe. You're right. I didn't think about that. You're right, [Noah leaving is] kind of a bookend to that era.
My first interview with you at the MTV office in 2016, a year after you joined The Daily Show, the beginning of Trevor Noah's. And now I am speaking to you after he left the show. It's fascinating how the seven years flew by.
I think someone told me that we kind of go through seven-year cycles. We become different people every seven years or something. That's such an arbitrary number, but the more I thought about it, the more it kind of makes sense for me, personally, anyway. I moved to America when I was 30 years old. And that definitely felt like a new start, a new cycle for me. It wasn't just another job, it was like a definite turning point in my life and career.
Fun fact: M3GAN opened on the same day as this Singapore horror movie, Circle Line…
What's the Circle Line?
It's a creature feature about a monster wreaking havoc in the subway tunnels. It features a Malaysian lead, Jesseca Liu, and was shot at Iskandar Malaysia Studios in Johor Bahru.
I wish them the best, man. It's hard to make a movie. I love that it was shot in JB — I'm from JB. So yeah, go for it! I want to go see it now. I wish they needed a lovable asshole and I would do that too.  
What's next for you?
There's American Born Chinese coming out on Disney+. I'm playing Ji Gong in that, so that's a lot of fun, a lot of fighting.
Daniel Wu is playing the Monkey God. He said he wanted to do stand-up comedy after working with you and Jimmy O Yang on that show.
Oh, yeah? Daniel Wu is great, man. He's super funny. He's a really down-to-earth guy, so he should try. He's very funny (laughs).
M3GAN (PG13) is now in cinemas. American Born Chinese premieres on Disney+ later this year. The Daily Show airs weekdays on Paramount Network (Singtel TV Ch 418, StarHub Ch 620), 3.30pm, from Jan 19.
Watch exclusive 8 DAYS interviews on meWATCH and Mediacorp YouTube Channel.