8 DAYS' First Interview With The Directors Of John Wick
Wanna fight like John Wick? You need to be a jock and a nerd.That was what the directors told us back in 2014.
Before 2014, stuntmen Chad Stahelski and David Leitch were known mostly for their work on The Matrix. These days, the duo is synonymous for directing Keanu Reeves' action spectacle John Wick. (Leitch, on his own, helmed Atomic Blonde, Deadpool 2, and the upcoming Fast & Furious spin-off, Hobbs & Shaw. In 2014, 8 DAYS asked Stahelski, then 46, and Leitch, 42, about their stunt-and-training outfit, 87Eleven Action Design, and how they're indebted to Hongkong action cinema. This story first appeared in issue 1257, Nov 20, 2014.
WHO ARE THEY? Chad Stahelski and David Leitch are Hollywood stuntmen with more than 20 years of experience under their (karate) belts. They first met in the early '90s when they started out as stunt performers. After working on The Matrix movies they formed 87Eleven Action Design. (8711 is the unit number of their LA office.)
Their first major gig was Zach Snyder's 300. Besides choreographing action, whipping actors into shape and training them for fight scenes (the studios reportedly paid them at least US$500,000), they also worked as second-unit directors, taking charge of a film's more action, heavy, dialogue-light scenes.
After years of making other people's movies, the duo finally got to make their own, John Wick, the critically and commercially applauded thriller starring Keanu Reeves as a vengeance-seeking hitman. "We've been attending a lot more meetings lately," Stahleski tells us over the phone. Leitch, who once dated Maggie Q, adds, "We're also looking for our next movie… any suggestions?"
8 DAYS: Congrats on John Wick! It's not uncommon for stuntmen to be second-unit directors, but it isn't as easy when they make the leap to directing features.

DAVID LEITCH: Our biggest hurdle to making John Wick was convincing the producers to understand that we can shepherd a story from beginning to end in a compelling way, and not just the action
portion of it…
 
CHAD STAHELSKI: It's not an unjust thought, really. Action directors are great with action because they don't have to focus on other stuff. [But] like anything else, if you're really good at one thing, it doesn't necessarily mean you're not good at another.
 
DAVID: Over the years we've tried to develop projects on our own but nothing was as serendipitous as John Wick in which we had an actor — Keanu Reeves — bringing us the material. On top of that, Keanu is someone we know who can deliver both drama and action.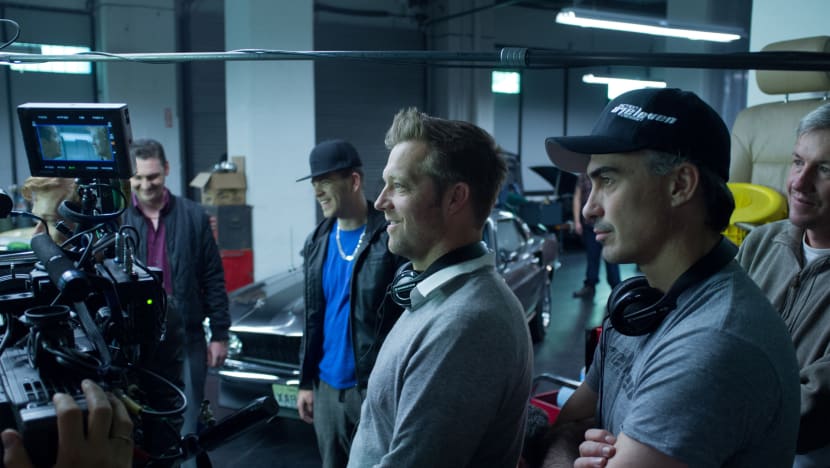 John Wick has a lot of Hongkong influences. The ending is reminiscent of Ringo Lam's Full Contact…
DAVID: Some people say it it's from a Johnnie To movie! You can't take the Hong Kong cinema influence out of us. If you give us a romantic comedy, we'd probably still use the lessons we learnt from Hongkong directors. I've worked with Ringo Lam on three films and I learnt a lot from him about drama as much as I did about action. We've never worked with Jackie Chan [but] we studied his editing and choreography style. We can also watch the Shaw Brothers [movies] all day…
CHAD: We're nerds (laughs).
 
It was working with Yuen Wo-Ping on The Matrix trilogy that inspired you to start 87Eleven Action Design. What was the stunt scene in Hollywood like before and after starting the company?
CHAD: When we started out, martial arts stuntmen were only assigned to low-budget Jean Claude Van Damme movies. There wasn't a lot of work in mainstream movies. Then The Matrix came and we worked with Wo-Ping and his team. We wanted to form a team to practise fight scenes and the art of choreography [and] we got this idea from watching how [Wo-ping] worked. If you're a producer, you hook up with a stunt coordinator and he calls up his guys. They may be exclusive to one co-ordinator but they're not practising on their day off. At 87Eleven, our guys are training five days a week, whether they're on a show or not.
 
What does it take to join you guys?
CHAD: We insist that they have a professional martial arts or sports background. That shows us that you're competing in a high-level game, you're disciplined, you're tough and you're in good shape. You also need to be smart and have a great memory. You have to be a cinephile and know a thing or two about filmmaking 'cos we require all our guys to shoot and edit their own fight scenes. You need to be a jock and a geek.
CHAD: They need to have no life outside but us (laughs).
 
DAVID: It's like coming to the Shaolin Temple and they have to kneel outside for a couple of weeks…
 
CHAD: And we have no problem making them wait for two to three years before taking them in.
 
What kind of injuries have you suffered for your art?

CHAD: I got beat up real good in The Matrix and Constantine. In The Matrix, I busted a knee, an ankle and a rib. And on Constantine, I fractured my skull and broke my knee. Funny enough, both times with Keanu.

DAVID: Look, I've broken my ribs in four places and lost my teeth but nothing as horrible as suffering a wicked concussion after getting knocked out by the Hong Kong guys either on The Matrix Reloaded or Revolution.

Do you know why no Oscars are given out for stunt choreography? The Golden Horse Awards has a Best Action Choreography category.

DAVID: There's a rumour that some famous stunt guy pissed off some member of the Academy back in the day… but that could just be an urban legend. I think we stuntmen have such an impact on movies that it's kinda lame that our work isn't recognised.

What's one thing you've learnt that they never taught you in school?

CHAD: Follow your dreams and don't give up — not just in the industry but life in general. It's that simple. We started out as stuntmen with $2 between us… but we're focused on our jobs and we put our minds and hearts to it and made things happen. Be a good guy; don't be an a**hole. Don't sit around and wait for things to happen.

DAVID: If we can do it, so can you (laughs)!
(Photos; TPG News/Click Photos)