Glass Onion Star Jessica Henwick On The Project She & George Young Hope To Make With Mediacorp: "I've Always Wanted To Be In A Singaporean Show"
The half-English, half-Singaporean actress almost worked with Mediacorp on a few occasions early in her career. 
It's Dec 16, 11am-ish in Los Angeles when 8 DAYS is doing a Zoom call with Jessica Henwick. (As she's about to start her day, I'm about to end mine — next stop, back to bed!)
This is the first time in a while that the half-English, half-Singaporean-Chinese actress, 30, has some downtime: She's been flying around the world – including a brief stopover at Changi airport on route to Thailand — promoting her latest project, Rian Johnson's Glass Onion: A Knives Out Mystery, which roll-out on Netflix on Dec 23.
In the follow-up to 2019's Oscar-nominated Knives Out, Daniel Craig is back as Benoit Blanc, the master sleuth with the mesmerising Southern accent, back to solve another murder mystery, this time on a private Greek island owned by a tech tycoon (Edward Norton). The suspects are played by Dave Bautista, Janelle Monae, Kathryn Hahn, Leslie Odom Jr, Kate Hudson, Madelyn Cline and Henwick.
Henwick's Peg is the long-suffering personal assistant to Hudson's supermodel-cum-sweatpants line founder Birdie. The part brings back not-so-wonderful memories for Henwick: she once worked as a production assistant in the set-decoration department of a film. Her experience working as a fictional PA in Glass Onion, on the other hand, is nothing but wonderful.
"It doesn't feel like work when you are really happy with the product and you are surrounded by a great group of people, it just feels like a holiday," says the Iron Fist star. 
Does Henwick think she and her fellow Glass Onion cast-mates would be invited to be in the third Knives Out movie — as part of the US$469 million (S$626 mil) deal with Netflix —  like the way Ryan Murphy reuses the same ensemble in the American Horror Story series?
"It's not gonna happen," Henwick says. "He's gonna get a totally different cast. I would be so surprised if he asked us to come back. I would totally be down to wear a costume and prosthetics so that you can't see that it's me. I love transforming and Rian is a genius and I would follow him in anywhere." (FYI: Besides Craig, Johnson's longtime pals and collaborators Joseph Gordon-Levitt and Noah Segan are the other actors who've appeared in the two Knives Outs, as different characters.)
The last time I spoke to Henwick was slightly a year ago for The Matrix Resurrections. Then I only had four minutes with her, but today I have 20 minutes. "The four-minute interviews are kind of fun," she says. "Because if the questions are good, you get right to the answer. The long interviews, I kind of go off tangent."
Here, Henwick shares more stories from the making of Glass Onion – which is up for Best Picture: Musical/Comedy on Wednesday's 80th Golden Globe Awards — and gives an update on the project she and George Young hope to get made at Mediacorp.
8 DAYS: In an Entertainment Weekly interview you said you once wrote an e-mail to Rian Johnson when you were still a film student. Years later, he dropped you an e-mail to inform you that you got the job, which appeared as a "recognised e-mail" in your inbox. Care to elaborate on that story? Do you think it was that e-mail that got you on Rian's radar?
JESSICA HENWICK: Me being involved in this had nothing to do with the e-mail. He clearly never read it. But it's funny to me because I'd never written fan mail before. I watched Brick when I — I must have been 14 or 15 — was in my film studies class at school. I thought, this guy's a genius! And I found his e-mail— I don't know if it was on his website or IMDB. I wrote him a gushing letter and said that I would love to work with him one day. And yeah, he never replied (laughs). But it all came full circle. I got my moment.
For a while, I thought he read that e-mail and offered you the part.
No, no. I had to make a tape. I know that there were a couple of other actors in the mix. We were all very different. It was interesting like they didn't even know if they wanted a man or a woman. Our types were totally different. So, it was a fascinating final line-up.
Daniel Craig really had fun with his Southern accent. Did he stay in character as Benoit Blanc between takes?
No, he didn't. He did have his headphones a lot between takes and he was often listening — I never heard it, but I'm assuming — either him or someone else saying the lines, just so that he could stay in the accent. But if you went up and spoke to him, he wouldn't reply as Benoit. That would be kind of amazing if he did (laughs).
There was a lot of hype around Chris Evans' sweater in the first Knives Out. In Glass Onion, Daniel's array of neckerchiefs is astounding. Do you have a Daniel Craig neckerchief story to share?
I don't think so. I wasn't really paying attention to Daniel's neckerchiefs. His costume is amazing, though. All of our costumes are amazing. Jenny Eagen, our costume designer, deserves all of the awards that are coming her way. She managed to say so much about each character without a single word. You can really get a feel for all our us very quickly by our costumes.
Did you have any say on Peg's outfit?
Yeah, I sent them a couple of images beforehand. I did a film with Kristen Stewart once [2019's Underwater], and I always found it interesting because she is obviously absolutely stunning and when you see her on red carpets and she's just so beautifully styled but she almost exclusively wears, like, sweatpants. Like this kind of [checkered] shirt I'm wearing now. She's very, very casually dressed and clearly does not dress for anyone except herself. I like that energy and I think Peg is the same. I said to Jenny, "Think of off-duty Kristen Stewart, except not cool — want it to be 10 degrees off of looking cool." So, the bucket hat is really in fashion right now, or, I don't know, maybe it's not; I think it is. The combination of that with the sunglasses and shorts. I said I didn't want them to be real shorts; I wanted to get sweatpants and then just cut the bottoms off. Peg is so lazy that she couldn't be bothered to go to the shop to buy shorts — She just cut up her trousers. The Tevas she's wearing, they're so practical.
You've worked on your fair share of highly secretive projects. Glass Onion, being a whodunit, must've been really hush-hush. Do you know who the killer is when you first received the script or did they only disclose it until the very end?
No, there was actually no secrecy in this film (laughs). Even before I signed on, they sent me the whole script and said, "Do you wanna do it?" It was very clear about what I was getting into. I think it's a bad idea to not give the actors the [full] script or the ending. [Or you'll have a situation] where they sign on thinking it's one thing but when they read it, Oh, I thought I was in it more, I thought I was gonna be the killer, I thought it was gonna be more funny. So, by preempting that, it just starts you on a really good relationship with the cast and crew. Everyone knows exactly what's gonna happen. Maybe they'll get more secretive as the success of the Knives Out films continues. But certainly [Glass Onion] was the least secretive thing I've ever worked on.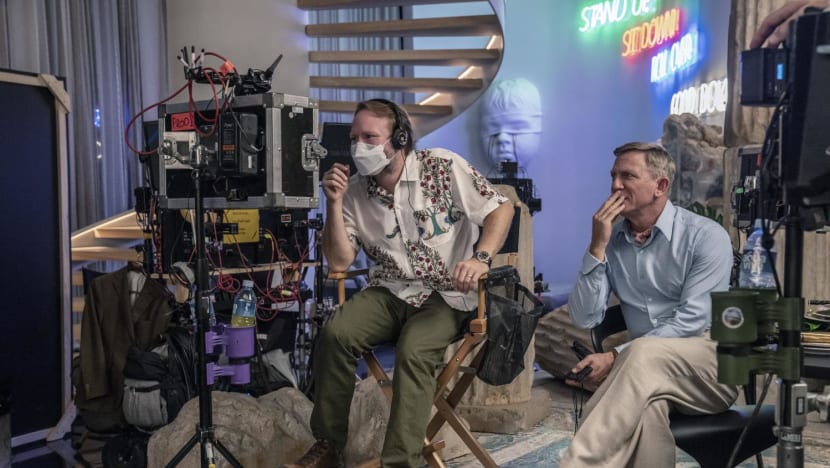 I remember an interview with you did with Simu Liu that you were offered to test for Shang-Chi and the Legend of the Ten Rings but they didn't have a script.
I was offered to test but they weren't willing to give me a script. Honestly, it's because they hadn't written it yet. But that to me is just like, I don't know, a hit-and-miss. Maybe it'll be great. And obviously, with Shang-Chi, it was a hit, but you don't know. It's hard to sign onto something blind. Imagine if you got an offer to write at a magazine and they were like, "But we're not gonna tell you what the magazine is — we'll just tell you the pay and where the office is." It's kind of crazy. You'll go: I have no idea what they're gonna make me write. I think it's a weird control thing that studio execs do.
And when I worked with Marvel, they would talk about it a lot and they thought it helped us with the characters. I was like, speak to the actors — no one likes it (laughs). It doesn't help to not know what they're gonna do. I think there's a fine balance between keeping [the script a secret] and the spontaneity, freshness, and liveliness you first read it. Obviously, you don't wanna read something which you don't film for like four years and it's kind of gone stale in your head. But with [Glass Onion], it was not that situation. I read it and I signed on and I immediately flew to Greece and started filming.
Glass Onion was made during the pandemic. Did you spend more time doing homework on your character and less on socialising?
See, that's so funny because every other journalist was like, "Does that mean you just socialised with each other?" But you, a Singaporean, were like, "Does that mean you did more homework?" (laughs) I think that [question] was culturally representative of Singapore. Did we do more homework? No, I think I did the same amount that I would've done regardless, but it definitely meant we socialised with each other because we weren't allowed to socialise with anyone else. We spent a lot of time hanging out with each other. Maybe that was homework. It definitely helped us [with building the rapport between our characters]. We also drove around Greece, exploring.
I saw your Instagram posts. It sounds like a summer camp.
It totally was. It was a holiday.
You also appeared in The Gray Man alongside Chris Evans and Ryan Gosling. In an episode of Carpool Karaoke, you said you were glad that the role didn't involve action. In fact, you did a string of non-action movies —Underwater, Love and Monsters, and On the Rocks. Do you miss doing action?
I do, but my body doesn't miss it (laughs). I would love to do another one, but I've said to myself, I wouldn't do another one —  and I've done so many now — unless it was the pièce de résistance. Like, I wanna be the lead if I'm gonna be in an action film again. Because otherwise it's a lot of blood, sweat and tears. There's no way around it. Your body really get damaged. So I wouldn't do it again unless it was super worth my time (laughs).
You also made your directorial debut with Bus Girl, a short film about an aspiring chef, which you also wrote and starred in.
We're such foodies, aren't we? My mum is an absolute foodie. Food is a religion. I have always been obsessed with it. I've never worked in a restaurant and I'm kind of sad. I feel like I would've enjoyed it. Maybe that's really naïve of me, though, to be a bus girl. The idea came to me when [smartphone maker] Xiaomi approached me and asked if I could do it. Thankfully, I had a little break during the filming of Knives Out. I had a week off, so I flew back to England and shot for a couple days and then flew back to set.
We've written it. We've just sent it to TJ [Lee Thean-Jeen], George's old director from The Pupil. Look, I've always wanted to be in a Singaporean show and it's never lined up. I think I had two offers in my early, early career and the timing never worked out. It was very hard to get details out of them, like, when does this start? Where are we filming? It was so loosey-goosey, I just couldn't sign on. But I've wanted to do it all this time. And every time I see George, we joke about it. He worked more in Singapore than I did — and I am the one whose mum is Singaporean! So we wrote the show. It's a comedy, a sort of a mockumentary about us trying to crack the Singapore industry — and failing (laughs). I really wanna make it. I would love to make it this year (laughs). I wanna do it with Mediacorp. I want us to go all the way. I wanna do the most Singaporean TV series!
Glass Onion: A Knives Out Mystery is now on Netflix.
Photos: Netflix, John Wilson/Netflix, TPG News/Click Photos
Watch exclusive 8 DAYS interviews on meWATCH and Mediacorp YouTube Channel.