Bullet Train's Hiroyuki Sanada Has Trouble Keeping Up With Brad Pitt: "He Did A Lot Of Ad-Libbing"
The US-based Japanese actor also says he felt homesick while making the Japan-set action-comedy Bullet Train.
Veteran Japanese actor Hiroyuki Sanada felt a bit homesick while working on the Bullet Train.
In the action-comedy, Bullet Train, currently in cinemas, Sanada, 61, stars as The Elder, a florist with a mysterious past embroiled in a conspiracy involving a group of assassins — played by Brad Pitt, Aaron Taylor-Johnson, Brian Tyree Henry, Zazie Beetz and Benito A Martínez Ocasio — onboard a shinkansen ride from Tokyo to Kyoto.
While Bullet Train is set in the Land of the Rising Sun (or a hyper-reality version of it), it was filmed entirely in Los Angeles. The bustling neon-lit Yokocho alleys were recreated in a side street in downtown LA. And what about the Tokyo Station? That was actually the Los Angeles Convention Centre. It's all an illusion, boys and girls!
For Sanada, the sets were like a home away from home: Sanada has been based in the City of Angels for 20 years and the second he saw the train signs in Kanji and Hiragana, he was overwhelmed by nostalgia. "When I was living in Tokyo, I would take the train to Tokyo to Kyoto [where the movie studios are], back and forth, many times in my life." Sanada shares with 8days.sg from LA via Zoom.
It was hard not to get nostalgia while filming amid the Covid-19 pandemic when many countries had imposed travel restrictions. The bit that hit him the hardest were seeing the Kyoto machiya in the climactic third act: "They brought back memories; that part made me homesick." (FYI: Bullet Train was filmed between November 2020 and March 2021.)
An award-winning actor in his native country with more than 50 movies and TV shows under his belt, Sanada began his English-language career when he performed with The Royal Shakespeare Company in London before making his Hollywood debut in 2003's The Last Samurai opposite Tom Cruise. On that period epic, he also doubled as a cultural consultant to ensure that the Japanese elements were authentically depicted.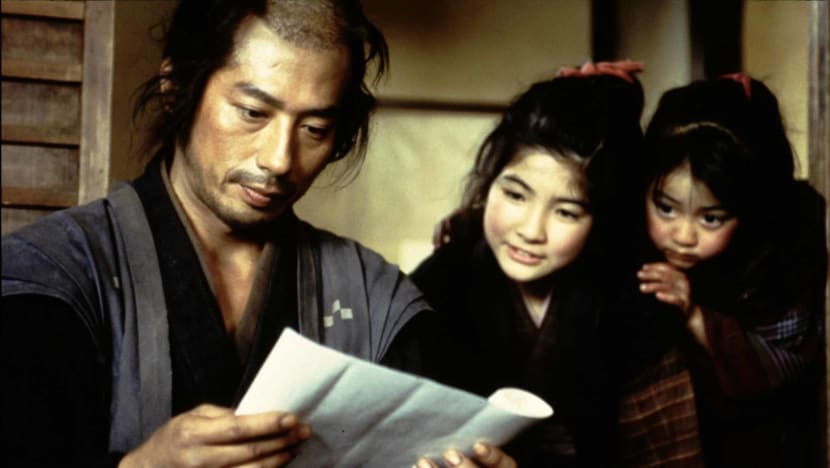 "Since The Last Samurai, every project I've been involved in I was like that: as half actor, half crew," he told South China Morning Post in 2020. Sanada's other film credits include The Wolverine, 47 Ronin, Army of the Dead, and Sunshine, as well as TV shows such as Lost and Westworld.
On Bullet Train, he didn't advise much to stunt choreographer-turned-feature director David Leitch. "They already have an image of what their world is like, which is not necessarily an authentic Japan." He usually wears his advisor-hat on period pieces, like his next gig, the remake of the 1980s mini-series Shogun, in which he's both star and producer. "It's still in post-production, so I have to be careful with how our culture is portrayed."
For Bullet Train, all he had to do was to turn up and have a good time. "When I read the script, I really enjoyed it," raves Sanada, who previously worked with Leitch on The Wolverine. "I think it has a great balance between drama, action and comedy — all in one."
But what Sanada found more challenging wasn't the fights but trying to keep up with Pitt and his improvisations. "He did a lot of ad-libbing in our conversations — in every take, he would say it differently. It was so much fun that it was hard not to laugh while trying to stay in character as The Elder."
Elsewhere, working with 87Eleven —- the Hong Kong-styled action design company founded by Leitch and fellow stunt performer-turned-action director Chad Stahleski, inspired by their experience studying under Yuen Woo-Ping on The Matrix trilogy — reminded Sanada of the two early Hong Kong flicks he made, 1982's Ninja in the Dragon's Den ("I was young and it was first international project") and 1986's Michelle Yeoh-starring Royal Warriors.
"Chad and David respect those Hong Kong filmmakers and actors," he says. Their love for actors and action made it easy for him to communicate and collaborate with them. Perhaps that was why he didn't hesitant to board John Wick: Chapter 4, the latest instalment in the Keanu Reeves-led hitman franchise directed by Stahleski and produced by Leitch.
"During the shooting of Bullet Train, Chad asked me to join John Wick 4," recalls Sanada. "After I read the script, I said yes immediately." The chance to reunite with Reeves, whom he appeared alongside in 47 Ronin, and trade punches with Donnie Yen was too good to decline.
"Dave and Chad, they are partners," says Sanada who senses a sort of creative rivalry between them. "They are trying to best each other in making movies — I was happy working with both of them."
Bullet Train (M18) is now in cinemas; John Wick: Chapter 4 is slated to premiere in March 2023.
Photos: Scott Garfield/Sony Pictures, TPG News/Click Photos