George Young Got Ripped For Hollywood Film Debut Malignant But The Shirtless Scene Didn't Make It To The Final Cut
George Young spent two months getting in shape for James Wan's psychological horror, 'Malignant'.
George Young is speaking to 8days.sg — with a calming, pleasing British accent. That sounds like a strange thing to say considering George is British. But hear us out: our Zoom session takes place mere hours after we'd seen him playing an American cop in Malignant, the just-released shriek-fest from The Conjuring's James Wan.
The movie is the lawyer-turned-actor's Hollywood feature debut, following his American TV breakout in the 2016 limited series Containment, about a deadly virus that breaks out in Atlanta.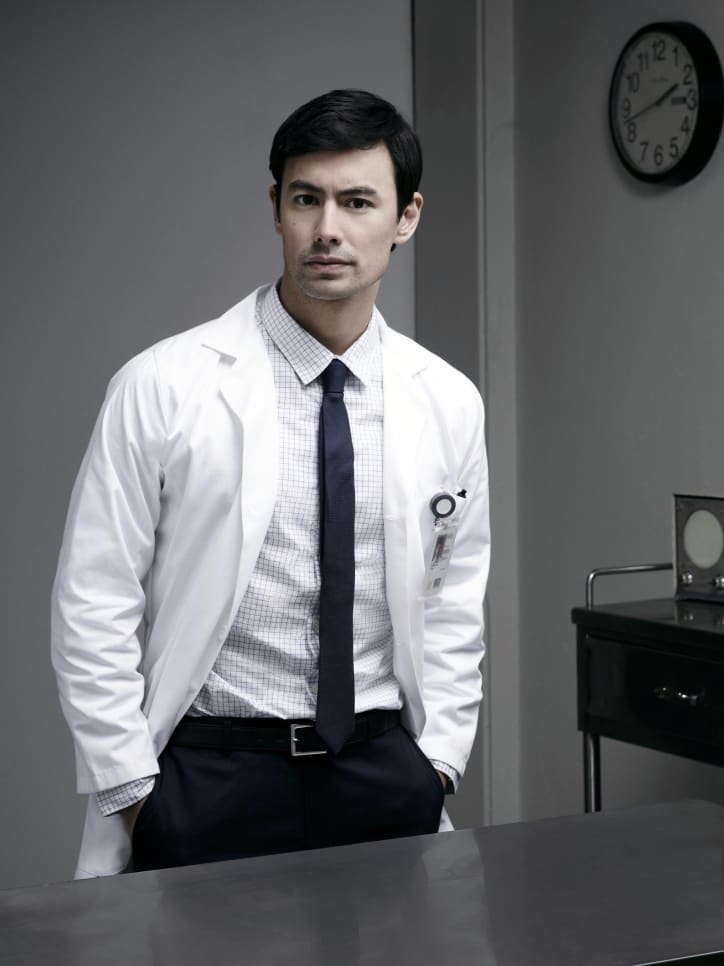 "You'll need to do the [American] accent if you are going to do Hollywood movies" George, 41, says with a laugh. "I have a few people from Singapore asking [for advice] and I said, Practice your accent — you never know when you're going to need it; it will widen your net, basically."
George is calling in from Los Angeles where he's been busy taking meetings (you know, hush-hush actor-ly stuff) and doing his bit to spread the macabre gospel of Malignant (he's been sharing videos on Instagram of him searching for the movie's poster ads).
George's wife, actress and TV host Janet Hsieh, and their boys, Egan, four, and seven-month-old Dylan, were with him for a few days before flying back to Taiwan. "Janet is nominated for [Best Supporting Actress] for Adventure of the Ring at [next month's] Golden Bell Awards," says George. 
"She's so jealous of me right now," he adds. "I'm here by myself, without the kids. This is the first time for a long time during the pandemic, so I'm enjoying it — I get to sleep!" But George admits that it took him a while to get used to the solitude.
"I did cry when they left," he recalls, feeling a tad melancholy. "It was quite an experience to see them go. After being so connected with them and living with them in the same room for a year, almost in the same room, in such close proximity, and then suddenly be apart. It just got to me."
Good thing he has us to keep him company for the next hour or so. During which, we cover a wide range of topics: Shang-Chi and the Legend of the Ten Rings (he hasn't watched it but has met Simu Liu a few times before), The Matrix Resurrections trailer ("I'm getting goosebumps from talking about it"), and of course, Malignant.
In the movie, Annabelle Wallis (The Mummy) plays a woman who is psychically linked to a serial killer who may or may not be her childhood imaginary friend. George plays Kekoa Shaw (more of that later), the hot-shot detective assigned to the bizarre case.
The gritty psychological thriller marks the Malaysian-Chinese Wan's return to his indie horror roots — following tentpole blockbusters Fast & Furious 7 and Aquaman — which pays homage to the demented works of Dario Argento, Brian De Palma and David Cronenberg.
But George cautions that this isn't a typical James Wan horror flick and fans should approach this with an open mind. If you're expecting another Saw, Insidious, or The Conjuring, "they are not going to get that," says George. "James wanted to do something different — and fun. It's going to be a polarising film; it's either they hate it or love it. It's better than people going meh."
Here's what else he has to say about the movie…
/ He channelled Keanu Reeves in his performance.  
In Malignant, George's character is Kekoa Shaw (Kekoa means 'Brave Warrior' in Hawaiian), a Chinese-Hawaiian who used to be a beat cop in the Aloha State before relocating to Seattle. But much of his past and comic relief moments (including a flirty relationship with a forensics officer, played by Ingrid Bisu, Wan's wife in real life) were left on the cutting room floor. "I understand it's cut for the pacing," says George. "Because it's a kinda rollercoaster ride, you don't want to have too many still moments where it's just dialogue and back story." Elsewhere, there's a running gag about Kekoa being the "Keanu guy in the force". "Because he's Chinese-Hawaiian and Keanu is Chinese-Hawaiian," says George. "So instead of Kekoa, they would just call him Keanu." To brush up on the Keanu references, George watched Point Break. "What James has created is this dumb, young, action guy who wants to live up to being his namesake. He's actually kinda sensitive and fumbles a bit."
/ He worked his butt off for a shirtless scene which also didn't make the final cut.
After he got the part of Kekoa Shaw, George received an e-mail from Wan who wanted him to bulk up for his character. "'Do you want me to get more cut or more buff?'" he asked his director. "'Cut and buff will be great.'" "You can't get cut and buff — it's very hard to achieve that,'" says George, who had two months to get into shape under the supervision of a personal trainer hired by the studio. Alas, after the blood, sweat and tears he put in, his shirtless scene was removed, another sacrifice made in the name of expediting the narrative. But all that hard work wasn't for nothing. "If it weren't for the physical training and the stunt choreography, I won't have the confidence to [handle the action sequences], George says. "I might injure myself too quickly and I didn't want to be injured on the first day."
/His wife, Janet, made an appearance in Malignant.
"I knew Janet wanted to be involved in the movie [when she visited the set]," says George. "I talked to the production team, 'Hey, my wife is an actress. She would love to be in any sort of role in the background.'" The next thing you know, she had a blink-and-you'll-miss cameo: "She is the nurse with a pink stethoscope. You can clearly see her for a second in the last quarter of the film. So it's kind of an Easter egg for anyone who knows us." Egan was on the set as well. "You know the car that I drove; I got a picture of him, I think, driving it against a green screen, which looks like he was driving it," says George. "I had a lot of blood makeup on my face. Thankfully, he wasn't too freaked out by it. I told him it was fake, and he understood. He was about two at that time. He's not allowed to watch the movie for a while."
/ This year marks the 10th anniversary of his Mediacorp debut.
Before heading over to Hollywood, George is best known here for the Channel 5 legal drama The Pupil and as the host of The Million Dollar Drop, both came out in 2011. "Why don't they do another Pupil, man?" says George, who last visited Singapore in 2018. "If they do a reunion — with Rebecca [Lim], Adrian [Pang], Janice Koh, [showrunner Lee] Thean-Jeen — maybe do a special, one-off limited series, I'm doing it! [Those shows] helped me get to where I was in Singapore and beyond. I'll be happy to go back. Thean-Jeen is of the greatest in Singapore. He makes such quality stuff. I'm always more than happy to work with him. If that happens, I would go. Tell the powers that be — we'll make it happen!"
Malignant (M18) is now in cinemas. The Pupil is now streaming on meWATCH.
Photos: Warner Bros Pictures, George Young/Instagram