Chucky Creator Don Mancini Is A Skyscraper Fanatic, Would Love To Visit Marina Bay Sands
Chucky, everybody's favourite demonic doll, has his own TV series now.
Wanna know the secret to making a creepy doll movie? Simply take a flashlight and put it under the doll's chin. That should do the trick.
It doesn't sound much but coming from Don Mancini, it means a lot.
Mancini is the creator of Chucky, the demonic redheaded doll, first introduced in the 1988 movie, Child's Play. The heathen rubber plaything would, over the course of next 30 years, return in six sequels, including Bride of Chucky, Seed of Chucky and Cult of Chucky. (Mancini has zilch to do with the 2019 remake starring Aubrey Plaza and Brian Tyree Henry — that's another story for another time.)
"In a way, the doll does a lot of the work for you," says Mancini, who was inspired by the Cabbage Patch dolls crazy to create Chucky. "There's something creepy about dolls, a primal response to them because they are distortions of the human form — they look like us, but not quite. That's why it's disturbing."
And now, Chucky is crossing over from the movies to TV Land with his (its?) own TV series, launched recently on Rock Entertainment.
"To me, what was exciting about doing Chucky as a TV series was the opportunity of having so much storytelling room to play with," Mancini, 58, tells 8days.sg over Zoom from Los Angeles. "You can focus so much more characters and relationships which you can't do in a 90-minute feature."
In the eight-part series, Chucky (the vessel of the spirit of slain serial killer Charles Lee Ray, once again voiced by Brad Dourif) becomes chummy with a 14-year-old boy named Jake (Zackary Arthur), who bought him at a local yard sale.
Unbeknownst to Jake, Chucky comes to life and a homicidal doll is the last thing he needs right now. A high-school pariah, Jake has a laundry list of issues, notably with bullies and his sexuality (he's gay) — two painful experiences Mancini knew all too well growing up in Richmond, Virginia, in the 1970s.
He adds, "I think the series also goes to some emotional places that we've never been before in the franchise."
On the show, Chucky is both a tormentor and protector. The problem is, you can't tell where one begins and the other ends because there are occasions where you'll but root for the knife-wielding toy as he metes out punishment to Jake's oppressors.
"It's an interesting position to put the viewer where Chucky becomes an ally with this emotionally vulnerable kid and coming to him, saying, 'Let's make your life better.'', says Mancini. "Who doesn't have that fantasy at some point in their lives? Someone defending you in the most extreme way?"
This isn't the first time LGBTQ issues have been dealt with in a Chucky narrative. Mancini, who came out in Hollywood as one of the first openly gay writers in the horror genre, introduced a gay character in 1998's Bride of Chucky.
He has fond memories of being on the set of that sequel — where Chucky finds a mate, Tiffany (voiced by Jennifer Tilly) — helmed by Hongkong auteur Ronny Yu (The Bride with White Hair) and lensed by Peter Pau (who would later win an Oscar for Crouching Tiger, Hidden Dragon).
"When I got to the set, I can tell, 'Oh, this is going to be amazing," recalls Mancini. "We were in that weird space, almost cathedral-like set [where Tilly's character slits a guy's throat] and Ronny Yu was so exciting setting it up. I remember him saying, almost like he was Alfred Hitchcock on his TV show, 'It's like a commercial for murder!' Because it's so beautiful and slick, so '90s."
Mancini delved deeper into questions about sexual identity in 2005's Seed of Chucky — which was also his directorial debut — where Chucky and Tiffany have a gender-confused son/daughter, Glen/Glenda (voiced by The Lord of the Rings' Billy Boyd). "When that movie came out, it wasn't very successful at the box-office and it didn't get great reviews," says Mancini.
"[But] it's been very satisfying, in a nice turn of events, that over the years, it's been embraced by filmgoers, particularly by the members of the queer community," he continues. "I've heard from them whom Glen/Glenda meant a lot to them. And that was great. So, I didn't feel I waste those two years of life making it."
Looking back at the movies (especially the last three which he directed), they taught Mancini to be a better collaborator. "I think that was a good preparation for doing the TV series," he says. "Being a director on a movie is tantamount to being a showrunner on a TV show. It's your vision you're trying to project but at the same time it's your job to collaborate with all these incredibly talented people and get them to make what I want to do and make it better."
The movie series also, he says, "in a completely accidental way" also helped him hone his skills in telling long-form stories on TV. "We have been evolving a single storyline over the course of 30 years, even before [it became a norm on contemporary] TV shows," he explains. That said, while Chucky is a standalone, it's also a direct sequel to 2017's Cult of Chucky, the last film in the franchise. (Expect that movie's star Fiona Dourif, daughter of Brad, as well as Tilly, to show up later in the series.)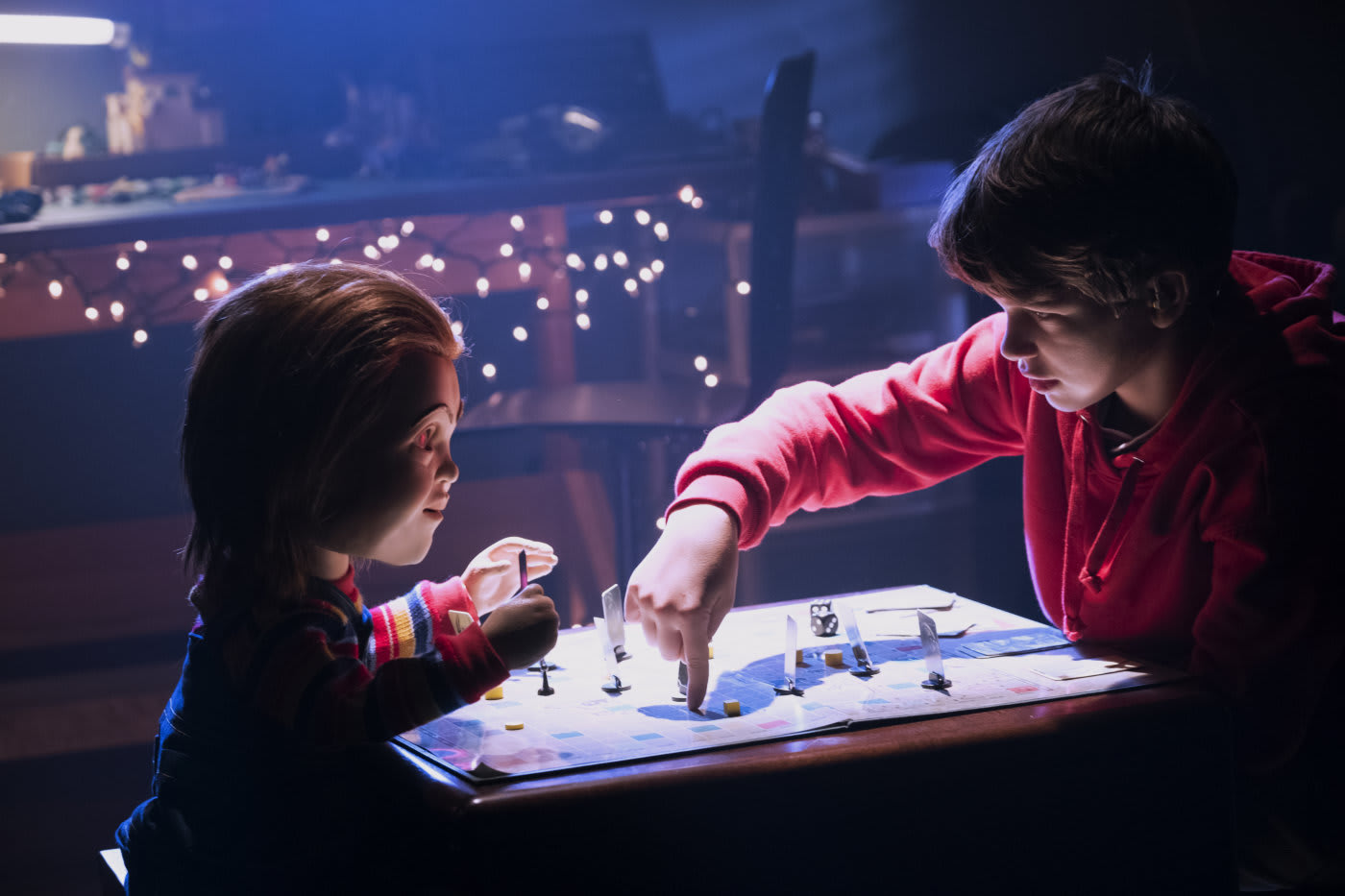 After spending all these years with Chucky, what traits has Mancini inherited from his alter-ego? "I'm sure I got influenced by him," says Mancini, whose other credits include the Silence of the Lambs-inspired Hannibal and the supernatural anthology Channel Zero. "I definitely get influenced by Brad's performance as well as conversations with him about the character.
"So in that way, I am becoming Chucky but as Chucky becomes more and more like a figure in the zeitgeist, he's not mine anymore in a way — he's everybody's. Those who worked on the movies and TV show all feel like we work for Chucky — he's our boss."
And as his own boss, Mancini is also acutely aware of what fans want from him. "It's an interesting situation to be in as a writer and I really love it," he says. "I care about what people have to say about him. I'm genuinely interested in [incorporating their requests into Chucky's stories]. I did that a lot of that in the TV show. For example, everyone for 30 years wants to know about more Charles Lee Ray as a young boy, how he became a killer, and what he was like as a human being. People have been asking for it for a long time, so, 'Oh, okay, I should do that.'"
Alas, our time is almost up so Mancini and I bid our farewells. But just before I hit the 'leave meeting' button, I hope he can visit our Little Red Dot soon when the pesky COVID-19 situation has settled.
"I've wanted to go to Singapore for many reasons," Mancini replies. "I'm a skyscraper fanatic. I collect these little skyscraper [figurines] and the Marina Bay Sands hotel is one of the most amazing buildings that I have ever seen."
This got me thinking: If Mancini's looking for more ways to reinvent the franchise, he should consider taking the cherubic toy from Hell overseas, to somewhere like, say, here. Imagine him stalking his victims at the Skypark Observation Deck. Hmmm...
Can you see it? Totally.
Chucky airs Wed, Rock Entertainment (Singtel TV Ch 318, StarHub Ch 509), 9.45pm.
Photos: © 2021 Universal Content Productions LLC. All Rights Reserved, TPG News/Click Photos