Would Xiaxue Dye Her Pink Hair Black If She Became A Nominated Member Of Parliament?
The blogger queen tells us more about her political ambitions.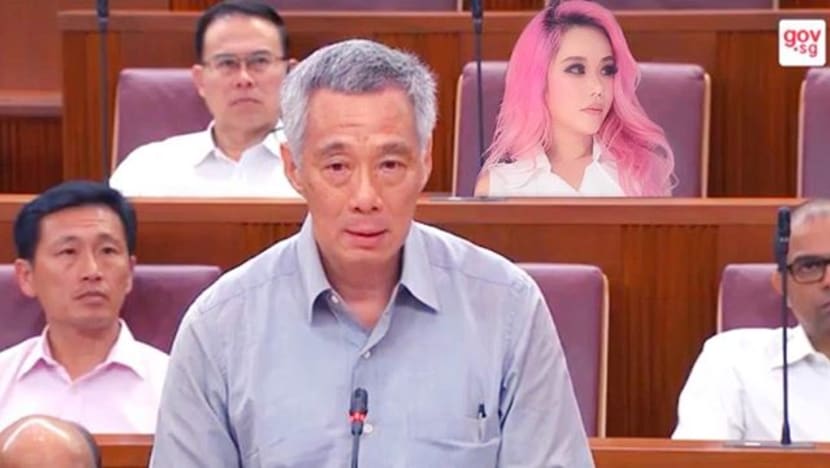 On April 1, Singapore's blogger queen Xiaxue aka Wendy Cheng, dropped a bombshell on her social media: She's running for Nominated Member of Parliament.

"For so many years, people have always told me to use my influence for good. And now, I think I'll try to. Maybe I can actually change the world a little. The Internet is the way to get the voices of the people, and I want to bring these voices to Parliament. There are many issues I'm passionate about which I'm sure loyal followers already know of, and I want to fight for these issues," she wrote. She then urged her followers (may we remind you that she has a combined following of over 1 million on IG and Twitter?) to nominate her for NMP by leaving comments in her social media posts or by doing up their own posts with the hashtag #xiaxueforNMP. As a disclaimer to her shocking PSA, the 33-year-old added: "P/S: It's April Fool's Day but I'm NOT joking." Her post was accompanied by a picture of herself Photoshopped into a seat behind Prime Minister Lee Hsien Loong at a parliamentary hearing ( Did we expect anything less from the Photoshop expert?).

Before we get to the crux of the matter, here are the hard facts first: Nominated Member of Parliaments (NMPs) are Members of the Parliament of Singapore who are appointed by the President. They are not affiliated to any political party and do not represent any constituency. Nine NMPs are appointed every two-and-a-half-years. Singaporeans are invited to propose names of candidates to the Special Select Committee, which will then consider if those candidates have rendered distinguished public service, brought honour to Singapore, or excelled in certain fields. Candidates also need to reflect a wide range of independent and non-partisan views. The NMP scheme was introduced in 1990 to bring more independent voices into Parliament and give Singaporeans more opportunities for political participation. NMPs have the right to participate in parliamentary debates and vote on most matters before Parliament.

Unsurprisingly, just like everything Xiaxue does, there have been mixed reactions to her political aspirations. While some supporters said that her getting a seat in Parliament will get younger people more involved in politics, her detractors have responded with scorn ("Nice joke. It will be Xiaxue (snowing) in Parliament [if you get appointed as a NMP]," said one). We caught up over Whatsapp with Wendy, who's currently in Japan, to chat about her bid to become Singapore's first pink-haired politician… and to confirm that it's not an April Fool's Day joke.

8 DAYS: A lot of people think that you're joking about running for NMP, especially 'cos you revealed the news on April Fool's Day. So why did you choose April 1 of all days to make this big announcement?
XIAXUE: I thought it would be fun to have people discuss whether [me running for NMP] is a joke or not (smiley face emoji).
Why did you decide to run for Nominated Member of Parliament then?
As I got older, I became a lot more interested in politics. [But] I didn't think I could commit the time to be an MP. Nor did I think that as an MP, I'd still have all the freedom I enjoy now, like having my hair pink or cursing at haters. But being an NMP sounded like a viable option. I can at least get my views heard in Parliament.

What do your family and friends think about you running for NMP?
They mostly all said I'm crazy, but once I said I'm serious, they all are quite supportive.

There have been mixed reactions.
Some haters got quite angry and started insulting me. Dude, I didn't even get appointed [as a NMP] yet haha, why are you so pissed?
Xiaxue shared the news along with this picture, captioning it: "I don't know if this will be my seat if I get selected [to be a NMP] but it was empty in this picture so I photoshopped myself inside. I think I really look like I belong."


In your post, you included a Photoshopped picture of yourself in Parliament.
I thought it was funny! Another reporter asked my lawyer friend if it was contempt of Parliament. So ridiculous...
What qualities do you think you possess that makes you ideal to be an NMP?
I think I'm very well connected to what the youths think 'cos they often communicate with me via social channels. In that way, I think I'm a good candidate to convey their views to Parliament.
What are some issues that you would fight for in Parliament?
Probably issues pertaining to the Internet (including freedom of speech), youths, or social issues about women/working moms.
Lastly, would you dye your pink hair black if you really get appointed as a NMP?
I won't. I don't see how hair colour affects one's work performance.