We are happy struggling musicians: The Freshman
A journey in pursuit of dreams and music: "We can be happy because this is really what we want to do"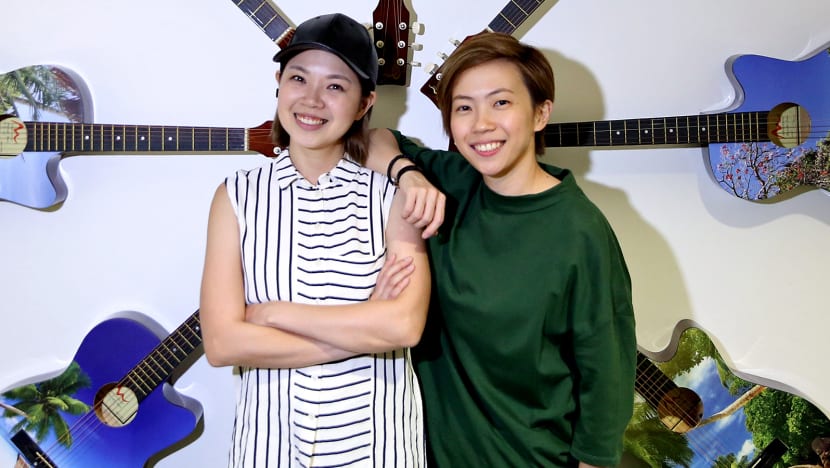 Diya and Carrie during the Project SuperStar competition in 2007.
Writing on-the-go
Being surrounded by musicians and like-minded people on Jacky Cheung's A Classic Tour helps fuel their creative juices when it comes to song-writing on-the-go, said Carrie. "Sometimes the musicians would be jamming after the concerts and sometimes the chords sound nice and we'd take out a voice recorder to record it down. There are a lot of places that inspire us [when we're on tour], and personally, I enjoy flights, taking trains or buses. I tend to feel more inspired from these."
While it's easier for them to be inspired by their environment and circumstances (like how they wrote 'I'm Coming Home' when they were travelling and feeling homesick), it's hard for them to meet deadlines without sacrificing some creativity, Diya shared.
"We were writing it in the hotel room and we were damn stressed 'cos we had to submit the demo and we had an after-concert wrap party to attend, plus we needed to record the demo too!" she recalled as Carrie added, "And there was a lucky draw at the wrap party - obviously we couldn't afford to miss the lucky draw, right? (
Laughs
)"
So how did they eventually pull off the feat of writing 'I'm Coming Home' while on tour?
According to the two friends, Carrie was in the hall, holding her phone and murmuring to herself as she tried to fill in lyrics (all this while helping to take photos of those who had won the lucky draw which, unfortunately, saw them go home empty-handed).
It was a good thing the song and lyrics were more or less done and all they had to do were minor tweaks such as trying to "find the right words to represent time and the four seasons" in the song.
WATCH: The Freshman get candid about working with Jacky
With Jesseca Liu and Charles Tu, the leads of their MV for 'Holding On.' (Photo: The Freshman/Facebook)
Writing and composing for TV shows
Apart from a theme song for
Revenge Queen
, another song they specially wrote is 'Memory Palette' for Channel 8 Drama
Dream Coder
. According to The Freshman, the show's EP (executive producer) Lyelin had approached them after hearing what they did for
Revenge Queen
.
"She came to me and told me she really liked 'Holding On' and asked if I could write something similar for the show," recalled Diya. "I was like, 'Huh! This is not possible!' I was so stressed, but the EP was very nice and told me she has confidence in us."
After reading the script to get an overall feel of the show and viewing scenes where the song will be used, Diya turned to her old voice memos on her phone to find a melody that would fit the drama.
"I remember we were taking a bus from Hong Kong to Dongguan for a full-dress rehearsal and I found this verse that I wrote long ago. I really liked it, took it out and filled in a chorus," she said, as Carrie added, "This is our first time writing a story about someone else, so it was quite an eye opener."
Carrie and Diya on the road with Jacky Cheung as his back-up vocalists. (Photos: The Freshman/Facebook)
Writing from personal experiences
As singers who prefer to go with the flow and "do what we feel like doing" in the moment, it should come as no surprise that music-making—and for the matter, writing—comes organically to them too.
Their second full-length album,
Growing Up
, which was released in 2016, was derived from their years of hard work. They gained a lot of inspiration from their experiences and wanted to share their stories with others, which explains their desire to write songs that people can easily relate to, such as 'Holding On.'
The girls were especially touched by the positive and overwhelming feedback they received for it because they're not people who'd write a commercial song with the intention to make it a hit.
"That's not how we start it," said Diya. "It's from our experiences and from our hearts. But for people to like it and have such a good reaction is really heartening to us."
The Freshman's latest single, I'm Coming Home. (Photo: The Freshman/Facebook)
Writing a future for themselves as struggling but 'happy' music artistes
As people with no concept of long-term planning, Carrie and Diya were momentarily stumped when we asked them where they'd see themselves in the next five years. Will they still be on tour as back-up vocalists for another singer or will they have achieved a new peak in their careers as The Freshman?
"If possible, I hope for us to be able to live off our careers as The Freshman and for The Freshman to be able to support a whole group of people (like how Jacky does it). It doesn't have to be as big a group as his, but at the very least, the musicians and our manager can depend on us as we continue to chase our dreams. This is the most ideal situation for us," Diya thoughtfully replied.
On top of that, they hope to continue pushing out good music from their experiences garnered on the road, release a new album, hold a concert of their own, and have more hits like 'Holding On' or 'You Kong Ji De Yue Wo' (a.k.a. the theme song for Channel 8 telemovie,
The Provision Shop
).
"I think it's a journey that keeps going on and on. There will always be struggles, I think we already recognise that we can be happy as struggling music artistes. We can be happy because this is really what we want to do, we still feel inspired to keep moving forward, but I really don't know where we'd be five years later," said Diya as Carried chimed, in her usual exuberant voice, "I'm confident we'd still be The Freshman, and we'd still be struggling doing other things… I hope to continue to challenge societal norms, and continue to strive for breakthroughs.
"Life is a journey, we can't really plan and say we'd be as hot as Stefanie Sun five years down the road, though that'd be ideal. (
Laughs
)"
WATCH: What are The Freshman's plans for the next 2 years?
WATCH: The Freshman are starstruck by Jacky
Follow The Freshman on Facebook for more updates. The Freshman's latest album, Growing Up, and other music singles are available on iTunes.