Taiwanese Band Mayday Accused Of Making Extras In Music Video Stand In The Rain For Hours
Mayday's recording company has since responded to the controversy, saying that "weather for outdoor filming is hard to predict" and that "many raincoats were prepared on set".
On Oct 29, an anonymous post on Facebook claimed that "a band which has numbers in their name" was shooting a music video that day and they had made "hundreds of bandsmen stand under the rain".

"They were paid so little and [the band] didn't compensate them with any transport fees," added the post.
According to reports, Taiwanese band Mayday, who held a casting call for extras in September, had shot a music video at Taoyuan track-and-field stadium on the same day.
So no surprises that many netizens quickly realised that the band in question is Mayday. 
Around the same time, a drummer who claimed to have participated in the music video, also took to his Instagram Stories to hurl some accusations at the band.
Chiding Mayday's production team, the drummer said that the "planning [that day] was bad, and they even made the bandsmen and their instruments get drenched in the rain for hours."
He also criticised the stylist for the shoot, writing: "They made someone who is usually a 70 look like a 30. The pay was only NT$2100 (S$92.6), totally insulting people."
However, the drummer later posted a separate IG story (see below) to apologise for what he written earlier.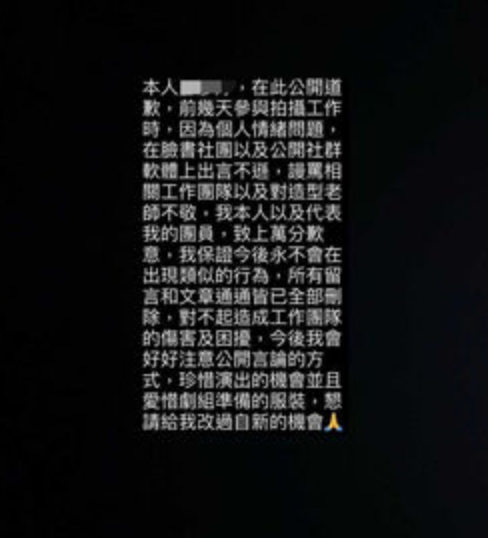 He claimed that he only "made the rude remarks" as a result of his "personal emotional problems".

"Sorry for causing any hurt or problems for the crew, I'd be more careful of the way I say things in public from now on," he added.
He also said that he "cherishes the opportunity and treasures the outfits prepared by the production team."
Meanwhile, Mayday's recording company B'in Music also responded to the controversy, writing: "The weather for outdoor filming is hard to predict. [We] prepared many raincoats on the set, and also quickly provided shelter when the weather turned bad. [We're] very grateful to everyone who were willing to participate that day. It was hard on you guys."
Photos: sinchew