Selina Jen, 41, Is Having A Kid With 34-Year-OId Boyfriend; Revealed She Is 12 Weeks Pregnant
She chose to share the good news on the death anniversary of her beloved pooch.
In her podcast, Selina said she found out she was pregnant in January. She had felt unwell from staying up late after celebrating the New Year and decided to take a pregnancy test.
When the test showed a positive result, Selina thought her eyes were playing a trick on her. She immediately called her boyfriend and got him to buy more pregnancy test kits. 
Selina went on to say that she broke down in tears after confirming that she's pregnant.
"I'm really becoming a mum, this is a really unbelievable, beautiful moment in my life," she gushed.
So why nickname their kid 'Little Cashew'? 
It apparently has something to do with her recent trip to Vietnam, which is the world's top producer for cashew nuts, and how the nuts had left a deep impression on her.
"When I went to Vietnam, I was probably pregnant already. I feel that there's an affinity, so I wanted to name [the baby] Little Cashew, since we don't know the gender yet," she explained.
So what do Selina's S.H.E pals Hebe Tien and Ella Chen have to say about her pregnancy?
According to reports, Hebe called the pregnancy "a gift from heaven", adding that she's looking forward to Little Cashew's arrival. 
Meanwhile, Ella, who's on holiday with her family, said: "I was very emotional and touched when I knew about it. I'm very happy for [Selina]. I believe this is God's gift for her, and I look forward to the arrival of this new life."

Ella also made a reference to the lyrics from S.H.E's 2002 hit song 'Genesis', saying: "Welcome to this beautiful new world, let the touching moments come true one after another."
In other news, Selina's parents recently leaked a photo of the singer's boyfriend (see below) by accident after they went trekking in Yangmingshan National Park.

Prior to this boo-boo, Selina had taken great effort in covering her boyfriend's face with emojis or stickers whenever she posts pics with him.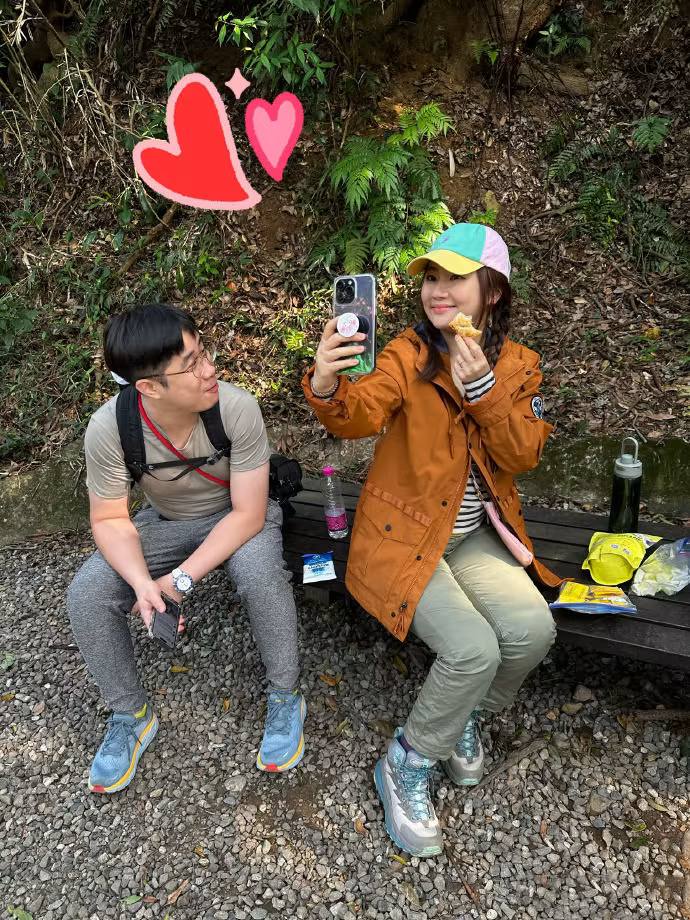 Selina was married to lawyer Richard Chang from 2011 to 2016. Selina and Richard, who's now rumoured to be dating Taiwanese actress Ivy Yin,have remained good friends even after their divorce.
Photos: Selina Jen/Instagram, Hebe Tien/Instagram, 8world