Rainie Yang Really Wants You To Know That She Didn't "Do" Her Face, Okay?
The Taiwanese pop singer is done with people insisting that she's plastic.
It's been 21 years since Taiwanese actress-singer Rainie Yang, 37, starred in 2001 hit Taiwanese drama Meteor Garden. 
She quickly won audiences over with her pixieish beauty which, if you ask us, hasn't really changed over the years. And even if it did, it shouldn't matter since it's been two decades. 
However, some netizens think she looks really different now and are insisting that she has gone under the knife to alter her looks. They've even go so far as to create videos comparing pics of Rainie then and now. 
And it seems the outspoken Rainie has finally had enough of all that plastic surgery talk.
 
Last week, Rainie went on a sudden rant on Instagram, where she posted a series of photos to address the never-ending allegations of her having had plastic surgery. 
In one of her IG Stories, she shared multiple screen grabs of herself in Meteor Garden, writing: "Look, this is me when I was 16. I grew up in the entertainment industry and was in the public eye all the time. I didn't secretly 'Do' anything. When I say I didn't 'Do' anything it means I didn't." 
"Stop making videos to mislead everyone, my way of looking good is different from yours," she warned her haters.
"But still, thank you for complimenting me on my beauty."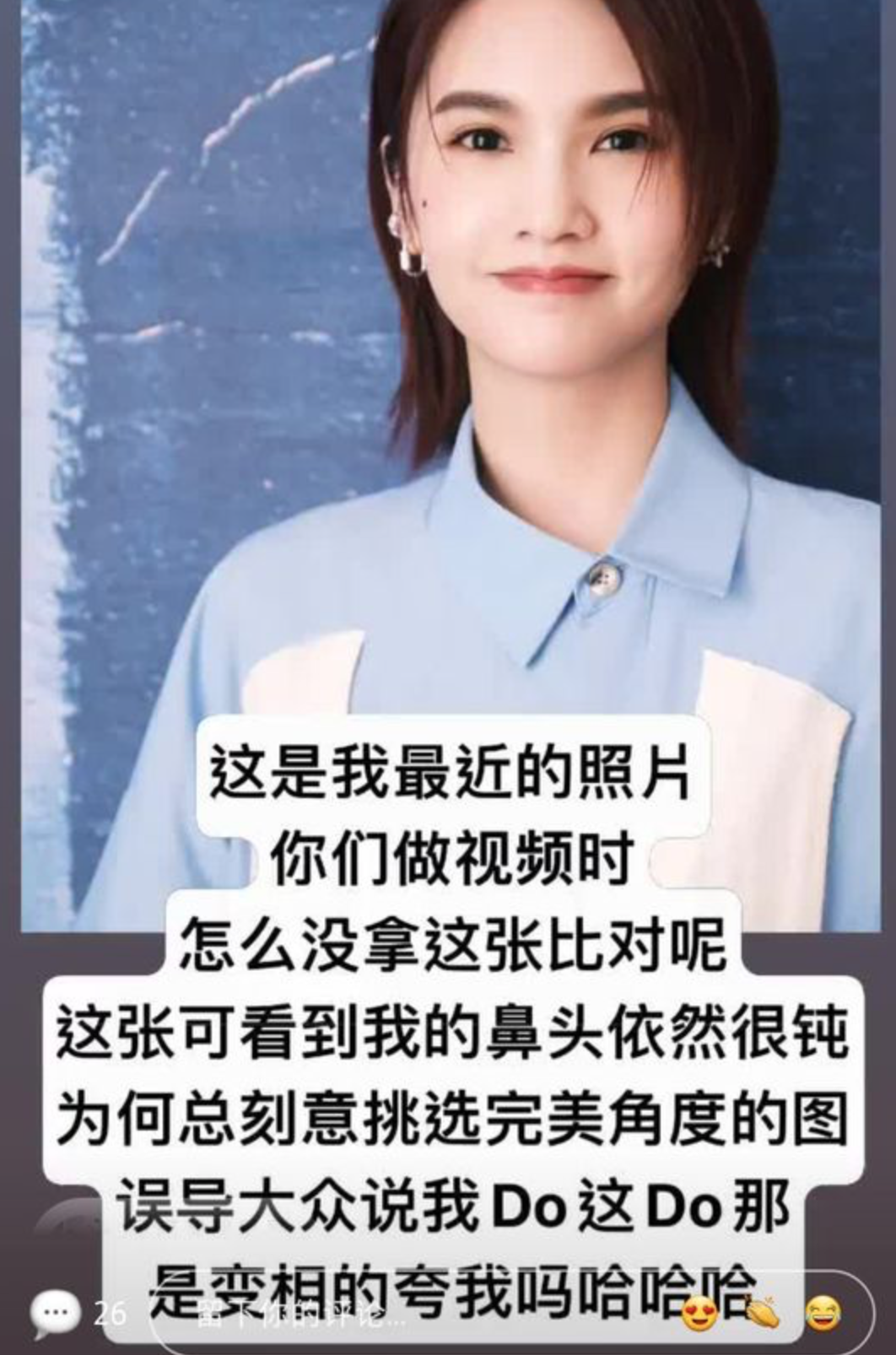 Of course, one post wasn't enough for the singer to prove her case.
Her next story was a recent pic of herself, which she captioned, "This is my latest photo. Why didn't you compare this one when you made the video? You can see that my nose is still very blunt."
"Why do you always deliberately choose pictures with perfect angles? Misleading the public by saying that I 'Do' this and 'Do' that. Are you actually praising me indirectly hahaha," she quipped. 
You would think that would be the end of the story but nope. Apparently, Rainie's clarification wasn't convincing enough for many netizens, leaving her with no choice but to post yet another story.   
"Hehe, there are still people insisting that I did 'Do' something," she lamented.

As a last resort, the actress welcomed everyone to scrutinise all videos and unedited pictures of herself, emphasising that other than her eyebrows which have changed drastically, she "didn't 'Do' anything."
"If I did I'd definitely not hesitate to share, but sadly I did not," she said. 
In her final IG Story about the allegations, Rainie revealed that she just doesn't think it's time for her to get plastic surgery. 
"Everyone has their own way of taking care of their looks, and we should respect what others choose to do," she wrote.
"Which woman isn't vain," she asked. "It's just that my way isn't what you guys think it is: plastic surgery. Plus, I don't need it at the moment."
Rainie added that she wishes for everyone to find their own way of taking care of themselves, so that "[we can] grow confident and beautiful together."

Photos: Rainie Yang/ Instagram