Here's The Story Behind Sheila Sim's Very Cool Chanel Wedding Gown
The model-turned-actress knew that it was the dress since she tried it on for a photo shoot in 2016.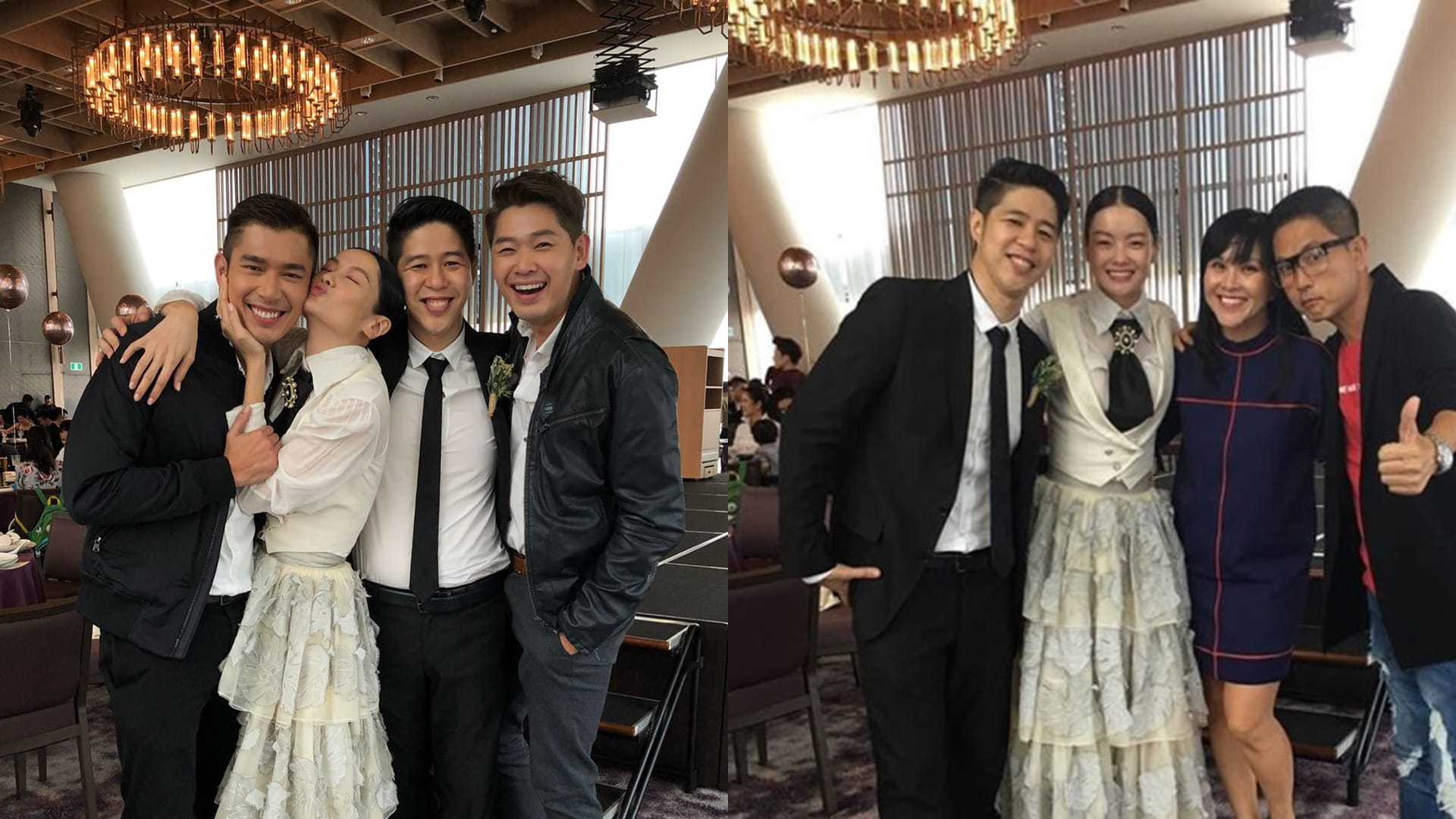 Ch 8 actress Sheila Sim got hitched yesterday afternoon, and the thing that got everyone talking was the unconventional wedding gown she chose for her big day.

The 33-year-old actress wore a two-piece white tuxedo top that came with a vest and tie, and a white three-tiered skirt, all from Chanel.

Speaking to us over the phone, the bride says: "I wore it for a magazine photo shoot when I was in Paris in Dec 2016. When I first tried it on, I screamed out loud: 'I think I've found my wedding dress!' (Laughs) At that time, I only just started dating [Deon, her now-husband] and I didn't know when I'd be getting married, but I just knew that that was the dress I wanted for my wedding."

She adds: "I'm not a conventional bride. The usual wedding tube dress with a long train would be too girlie for me, not to mention, very tight too. I wanted something that I'd feel very comfortable in as I'd be wearing it for the whole day. A wedding is very long and tiring – the last thing I want to worry about is not being at ease in my outfit."

The actress, who's a fan of US drama series Sex and the City, says: "[The lead character] Carrie Bradshaw wore a tuxedo on her wedding day and I thought it was so, so cool. I wanted to do that too but I didn't want both of us walking down the aisle in tuxedo suits (chuckles). My Chanel outfit was the perfect combi of a tuxedo and a wedding dress."

Sheila is best known to TV audiences for her role as Shan Shan, the wife of Chen Hanwei's character, in Ch 8 drama 118. She met her husband, 37-year-old banker Deon Woo, on a dating app in June 2016. He proposed to her on New Year's Eve that same year after a six-month whirlwind romance.

The couple held a 22-table wedding lunch at Andaz Singapore yesterday (Jan 28). Celebs like Elvin Ng, Romeo Tan, Nat Ho, and her fellow 118 stars including Chen Hanwei, Chew Chor Meng and Pan Lingling were in attendance, while Dennis Chew and Taiwanese model-actor Charles Lee were the emcees.

But Sheila's dress was not the only unconventional thing she had on at her wedding. Unlike most brides, she did not wear heels and opted for a pair of sneakers instead.

"I've never been a heels person and I've worn sneakers all my life," the 1.73m-tall actress laughs. "There's so much walking during a wedding, and I didn't want to hurt my feet for the sake of looking pretty. Not wearing heels is the best decision I've made for the wedding!"

8 DAYS: Congrats! You must be super tired from your wedding yesterday.
SHEILA SIM: Thanks! Surprisingly, I'm feeling quite energised right now. After our wedding lunch yesterday, we had a drinks party that went on till 1am. I woke up at 8.45am today and didn't have any hangover (laughs).

Your Chanel outfit is not something we'd expect a bride to wear at her wedding. How did you get your hands on it?
I really need to thank the team behind Chanel for helping me locate this dress. I first saw it two years ago during a photo shoot, so I didn't know if there was a chance I could still get my hands on it. When Deon proposed to me, this dress came to mind and I contacted Chanel immediately (laughs). They hunted for it, located it in Paris, shipped it to Singapore and gifted it to me for my wedding. I'm super thankful.

What did Deon say about your choice of outfit for your big day?
He was very supportive and didn't say anything much. In fact, I also wore this outfit for our pre-wedding shoot in Tiong Bahru, which is our neighbourhood. It was a simple casual shoot and I felt that the dress was very appropriate and that it fit the vibe of the shoot.

The wedding venue was decorated with lots of balloons and we hear it's inspired by the movie Up.
Our wedding was based on the concept of adventure as our relationship was filled with adventure right from the start – from getting to know him through a dating app and running 6km with him on our first date, to climbing a mountain with him on our first holiday and then having him propose to me on our snowboarding trip. So, we set up tents, and put up flags, balloons, candles and benches at our wedding reception. It was made to look like an outdoor camping site and it was really pretty.

You are flying off to Japan next week. Is this your honeymoon?
We're going to Nozawa before heading to Tokyo. It will be a two-week trip but we didn't plan this trip with our honeymoon in mind. We just wanted to go snowboarding as it's winter in Japan now. We are deciding between Europe and South Africa for our honeymoon but that will only happen in September after filming for my upcoming drama wraps. We'll probably head to Europe 'cos Deon says we can go to South Africa with our kids in the future.

Speaking of which, when are you planning to have kids?
We want kids but we can't try now as I'm still filming, so we are planning to start trying for a baby in June!