Blackpink's Jisoo Made S$27mil On Instagram In 2021, Is The "Highest-Earning Asian Celebrity" On The Platform
And how much did you make from your IG?
Recently, online loan lender company NetCredit announced a list of highest-earning celebrities on Instagram for 2021. And there was only one Asian star who made the cut.
And that's Korean girl group Blackpink's Jisoo, 27.
In the list dominated by Western stars like footballer Cristiano Ronaldo, Ellen DeGeneres and Beyoncé, Jisoo ranked seventh.
The Korean idol, who has 65.4mil followers on the platform, was said to have raked in USD$18.8mil (S$26.8mil) last year.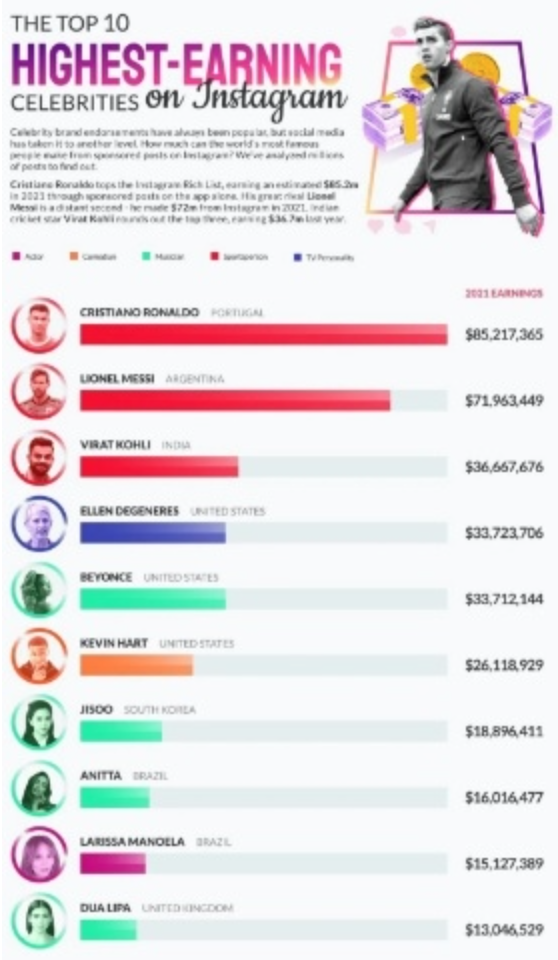 The list also included footballer Lionel Messi, Indian cricketer Virat Kohli, Kevin Hart, Brazilian singer Anitta, Brazilian model Larissa Bonesi and Dua Lipa. 
We can't say we're surprised by Jisoo's appearance on the list. 
Jisoo, who has been the Korean ambassador for Dior cosmetics since 2019, was appointed as the brand's Global Ambassador of Fashion and Beauty in 2021.
At the French fashion house's 2022 Spring/Summer fashion show in Paris, CEO Pietro Beccari joked that "if [her management] YG fires her, message me. I'll take her."
On top of that, the actress was named Cartier's newest global brand ambassador in May this year. It was said that the brand reportedly doubled Dior's offer just to secure Jisoo as their global ambassador. 
Photos: Jisoo/Instagram, sinchew