This Vegan Cookie Recipe From Cookie Monster's New Book Is Surprisingly Yummy
We adapted the vegan choc chip cookie recipe from the book, 'The Joy Of Cookies: Cookie Monster's Guide To Life' & made this massive version.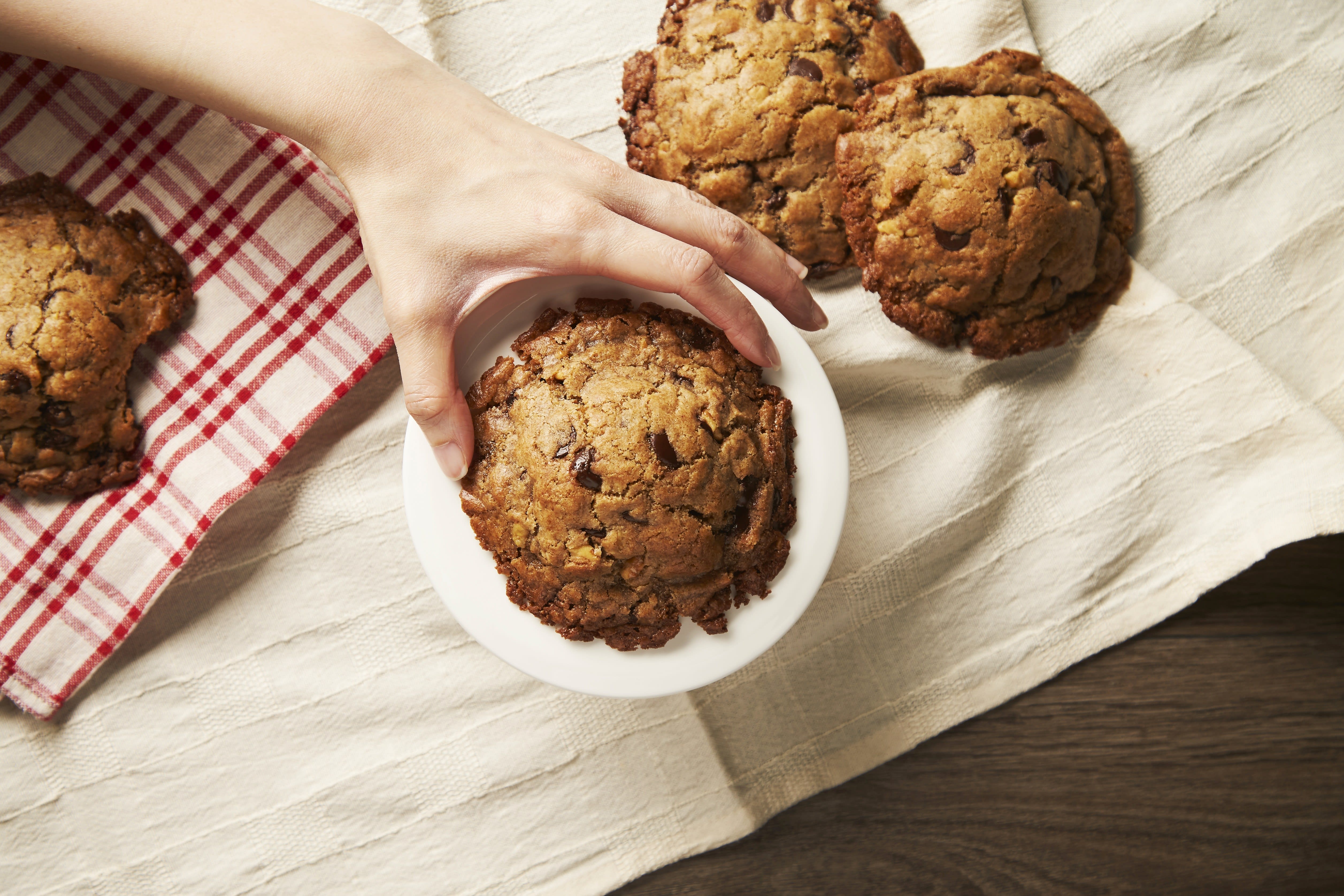 Let's get one thing perfectly clear: the Sesame Street star's new bite-sized tome is not a recipe book. As the furry blue cutie told us when he was recently in town, 'The Joy Of Cookies: Cookie Monster's Guide To Life' is mostly filled with "profound thoughts that me have over the years that me want to share with the world". So, this means sagely advice like: "If sad, eat cookie. If still sad, talk to doctor. Sounds serious." And hilarious gems like: "You cannot keep cookie for later and also eat it now. Unless you have… two cookies."
That being said, there are three recipes in the book. They're pretty vague and peppered with obtuse Cookie Monster-style instructions ("me stir all together with spoon until nice and squishy"). But we found the vegan chocolate chip cookie one surprisingly delicious — it's called Every-Monster Cookie as "every monster deserve cookie".
While the book's recipe originally contains 'no nuts, no dairy, no eggs, no gluten', we did add some toasted walnuts in our rendition to give the chewy oatmeal cookie-esque treat some gorgeous crunch. Feel free to replace it with whole oats if you're allergic to nuts. The coconut oil, used here instead of butter, lends the cookie an alluringly rich, nutty fragrance. We also adapted the recipe to make six monster-sized cookies instead of regular ones. The larger the cookies, the less likely they are to spread in the oven (using oil instead of butter, coupled with no eggs, tend to make the dough spread more than regular cookies).

We never thought a vegan, gluten-free baked dessert could taste this lust-worthy — it's crispy from the nuts, chewy and toasty from the oat flour, oozy from the melty chocolate chips and richly tropical from the coconut oil. It'll please both vegans and non-vegans.

Also check out our recipe for a Cookie Monster-inspired Giant Chocolate Chip Cookie here and our baking session with Cookie Monster himself here.


EVERY-MONSTER VEGAN COOKIES

Adapted from 'The Joy Of Cookies: Cookie Monster's Guide To Life'

Makes six 5-inch cookies

INGREDIENTS:

175g oat flour (try Bob's Red Mill Whole Grain Oat Flour)

110g walnuts, well toasted and roughly chopped (replace with 1/4 cup rolled oats if allergic to nuts)

1/2 tsp fine sea salt

1/2 tsp baking soda

185g dairy-free dark chocolate chips (try Callebaut 70.5% callets from Phoon Huat)
90g chilled coconut oil (try Cocorosco Coconut Oil from Cold Storage)

90g light brown sugar

108g caster sugar
1 tsp vanilla extract
61g plain, unsweetened apple sauce

METHOD:

1. Place oat flour, walnuts, salt, baking soda and dark chocolate chips into a bowl. Stir with wooden spoon till well mixed. Set aside.
2. Into the bowl of an electric stand mixer fitted with a paddle attachment, add chilled coconut oil (ensure it's firm but still scoop-able), brown and caster sugars, vanilla extract and apple sauce. Beat on low to medium-low speed till well-mixed and creamy (this can also be done by hand, if desired).

3. Add the dry oat flour mixture to the coconut oil mixture and stir briefly on low speed to form a firm cookie dough. Cover and refrigerate for at least 30 minutes, or up to one day.

4. When ready to bake, pre-heat oven to 175℃ on fan/convection mode. Line two baking sheets with parchment paper.
5. Weigh dough and divide equally into six portions. Roll each piece of dough into a smooth-ish ball. Place three cookies on each tray, about three inches apart. Bake one tray at a time, for about 15 – 16 minutes, or till cookies are golden-brown and crisp at the edges.

6. Allow cookies to rest on baking tray for 5 minutes before using a spatula to carefully transfer them to a wire rack to cool. Best eaten fresh, on the day it's baked.


Note: The baked cookies can be stored in an airtight container for up to 4 days. Raw cookie dough can also be frozen – simply defrost in fridge overnight before proceeding with the recipe.