Try This Nasi Lemak Curry Puff With Lots Of Lemak Coconut Milk
We spiked this easy to make baked puff with coconut milk since Old Chang Kee's famous version lacks the crucial ingredient.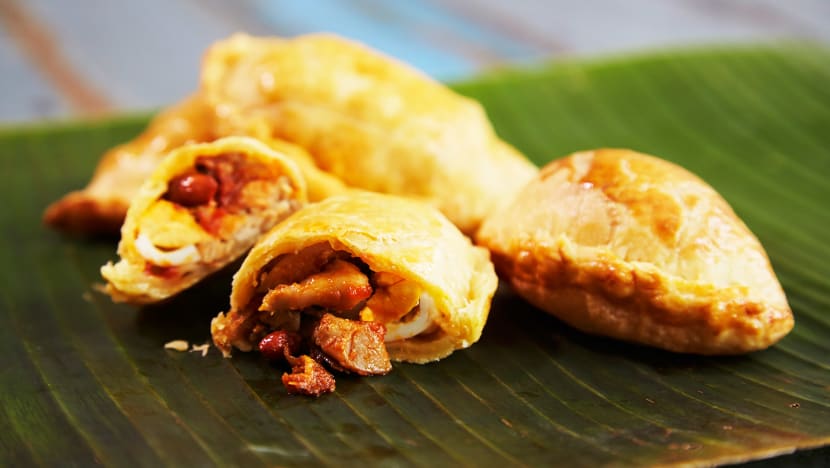 Old Chang Kee's Nasi Lemak Curry Puff, we think coconut milk is integral to any interpretation of the classic rice dish — even if OCK decided to leave it out in their version. So we made our own rendition with a hearty coconutty edge. And because we're too lazy to deep-fry stuff at home, these are baked instead, resulting in puffs that are more crumbly than Old Chang Kee's, and hopefully, also slightly healthier.The ikan bilis-flecked sambal within provides that unmistakable nasi lemak flavour.
To make things easy, we used frozen shortcrust pastry, which comes in ready-rolled sheets. We didn't bother adding pandan leaves or green colouring to the crust because, well, nasi lemak is more about the coconut than pandan, right?
To shape the puffs, we used a curry puff mould that you can pick up at baking supply stores like Phoon Huat for a few bucks. It makes shaping the puffs easy — you can see exactly where your filling will fit within the pastry and sealing it shut is a simple matter of clamping both sides of the mould together.

To prevent leakage while baking your puff, ensure there's minimal moisture in the filling. So squeeze out excess juices from the raw chicken when you remove it from the marinade, and again when you remove the cooked chook from the pan. The best part? You can freeze the assembled puffs and bake one up on a whim without ever having to get out of your pyjamas.

Easy Baked Nasi Lemak Curry Puff

Makes 20

Ingredients:

For the filling:
3 chicken thigh fillets, diced

1/3 cup coconut milk

3 tbsp light soy sauce

1/3 cup store-bought nasi lemak sambal (try Singlong Nasi Lemak Sambal Chilli)

1 tbsp cooking oil

½ cup store-bought fried peanuts and ikan bilis (try Premium Ikan Bilis and Nuts from redmart.com)

3 hard-boiled eggs, each shelled and sliced into 8 wedges

For the pastry:
1 packet ready-rolled frozen shortcrust pastry, thawed (try Pampas, from Cold Storage supermarket)

1 egg yolk + few drops water

Method:
Mix chicken thigh fillets with the coconut milk, soy sauce and 1 tbsp of the nasi lemak sambal in a bowl. Leave to marinate for at least 1 hour or overnight.
Heat oil in a frying pan over medium-high heat. Remove the chicken pieces from the marinade and transfer to the hot pan. Discard the remaining marinade in the bowl.
Fry the chicken for 5 minutes till lightly browned, or until just cooked. Set aside to cool completely before using.
In another bowl, toss the peanuts and ikan bilis with the remaining nasi lemak sambal so that it's all coated evenly. Set aside.
Line several baking trays with parchment paper.
To assemble the curry puffs, lightly dust the curry puff mould with some flour.

Cut a circle from a sheet of pastry using the base of the mould. Place the round piece of pastry onto the mould.
Place about 1 tbsp of chicken onto the centre of the pastry, then place a wedge of egg in the centre of the filling.
Add some of the peanut and ikan bilis mix. Position the ikan bilis so it won't poke through the pastry as you fold it over to form the puff (break it up if you have to).
Fold the curry puff shut. Crimp the pastry seam with your fingers.

Place the puff on the lined baking tray and repeat with the rest of the pastry and filling.
Make the egg wash by whisking the egg yolk with a few drops of water.
At this point, you can freeze the curry puffs in an airtight container for up to a month*. If baking immediately, chill puffs in fridge for at least 15 minutes to firm up.
Meanwhile, preheat oven to 180°C and place a rack in the centre.
Brush curry puffs with the egg wash.
Bake puffs for 20 to 25 minutes, or until golden-brown. Allow to cool for at least 10 minutes on a cooling rack before serving.

*If freezing curry puffs, allow to thaw in the fridge for 30 mins before baking as usual.