Make A McDonald's-Inspired Molten Chocolate Pie
Now that the fast food chain's famous choc pie is sold out, here's how to whip up your own (more elegant) version.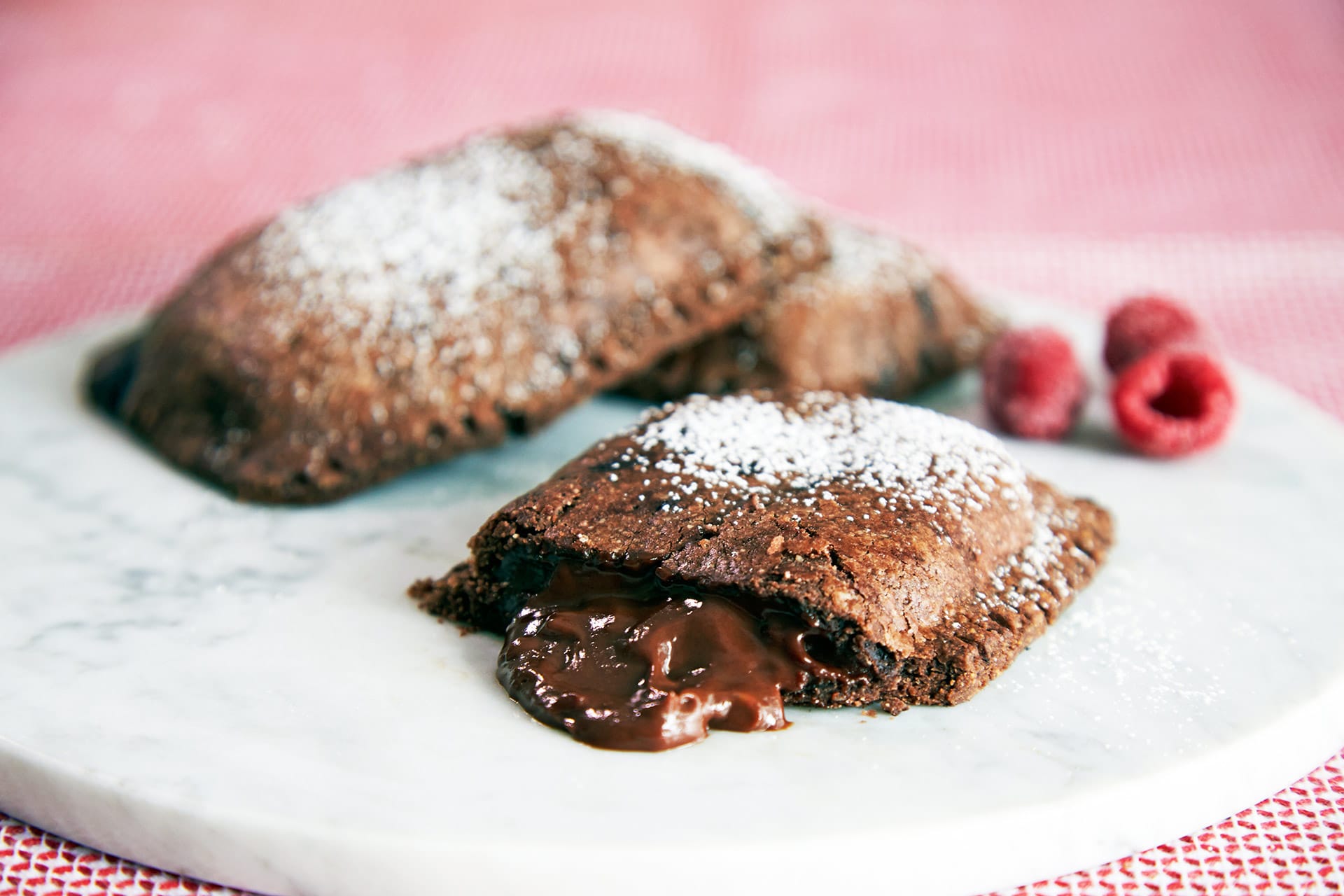 McDonald's now sold-out Chocolate Pie, then you'll want to make this faux version. Its gooey chocolate pudding-like filling is almost identical to McD's, but instead of frying the pastry, which we think McDonald's does, we made a more refined buttery dark cocoa sablee (shortcrust pastry dough used for French tarts), which can be baked up easily to yield a rich, crisp shell. We'd choose banging something into the oven over slaving over a pot of hot oil any day.

Naturally, the better quality ingredients you use, the tastier your pie will be. For the filling, we used dark chocolate couverture from Phoon Huat (you could go all out and splurge on Valrhona too), but you can simply use regular semi-sweet chocolate chips from the supermarket, though the latter will yield a slightly sweeter filling. Similarly, a good Dutch-processed cocoa powder (which is darker and has a richer flavour than natural cocoa powder) for the pastry makes for the best flavour. This pie is a decidedly adult one in the sense that it is not particularly sugary, yet extremely chocolatey.

Because the pastry is buttery, it can be hard to handle in a warm room. It's best to roll out your dough in an air-conditioned room, or be prepared to work quickly. Rolling the pastry between sheets of plastic wrap helps to keep things neat and the pastry from sticking to your countertops and fingers. If you find your pastry softening too much while you work, just pop it in the freezer for 10 minutes and continue.

Lastly, these pies are best eaten warm. If left to cool for more than a few hours, the molten filling will soften the pastry. So make a large batch, freeze them, and bake them to order.

McDonald's-Inspired Molten Chocolate Pie

Makes 20 hand-sized pies

INGREDIENTS:
For the pastry:

300g unsalted butter, softened at room temperature

60g icing sugar, sifted

105g ground almonds

½ tsp fine salt

3 eggs (weighing 60-65g each, in shell), at room temperature

50g Dutch-processed cocoa powder, sifted

385g plain flour

For the filling:

1 cup milk

1 cup whipping cream

225g dark chocolate couverture or semi-sweet chocolate, chopped

113g caster sugar

28g corn starch

28g unsalted butter


METHOD:
Make the pastry. Place the butter in the bowl of an electric mixer fitted with the paddle attachment. Beat on low speed until creamy. About 2 minutes.
One by one, add the sugar, ground almonds, salt and eggs, working on low speed to blend the ingredients. Scrape down the paddle and sides of the bowl as necessary.
Add the cocoa powder and beat on low speed until it is absorbed, then add the flour in three to four additions, mixing only till the mixture comes together to form a soft, moist dough.

Gather the dough into a ball and divide into three pieces.
Gently press each piece into a 2cm-thick disc and wrap each disc in plastic. Allow the dough to rest in the fridge for at least 4 hours, or up to 2 days, before using. This dough can be wrapped and frozen for up to a month.
To make the filling, combine the milk, cream, chocolate, sugar and corn starch in a heavy-bottom medium saucepan. Bring to a boil over medium heat, whisking constantly until the mixture thickens. About 2 minutes.
Remove the pan from the heat and whisk in the butter till full incorporated.
Transfer the mixture to a bowl and let it cool slightly. Then press a piece of plastic wrap onto the surface, which stops a "skin" from forming as it cools.
Refrigerate for at least 2 hours or overnight. The filling will keep in the fridge in an air-tight container for up to a week.
Assemble the pie. This pastry is easiest to work with in an air-conditioned room. Wipe a smooth countertop with a damp cloth (this will help the cling film stay in place while you roll out the pastry). Place two 30cm x 30cm sheets of cling film on the countertop, side by side.
Prepare three large baking trays lined with parchment paper.
Remove a disc of dough from the fridge and cut out a piece of pastry from it, about 8cm by 7cm wide. Place on top of one square of cling film. Cover the pastry with a third piece of cling film and roll out the pastry (between the two sheets of plastic) to about 0.4cm thickness. This will form the bottom layer of pastry for your pie.
To make the top layer, do the same on the other piece of cling film on your counter.
Spoon about 3 tbsp of the chilled filling onto the centre of one piece of pastry, leaving a 2cm border around the edges.
Lay the other sheet of rolled-out dough on top of the filling and press the edges to seal. Trim with a knife to form a neat rectangle measuring about 12cm by 7cm. Gently crimp edges with a fork.
Transfer pie to the tray.
Repeat with the rest of the pastry and filling. Place pies on tray about 3 inches apart. Once all the pies are assembled, chill for 20 - 30 minutes till firm. You can freeze them for up to a month, tightly covered in plastic wrap, till ready to bake.
Preheat oven to 180°C. Set the baking tray on the centre rack and bake for 20 minutes.
Remove tray from the oven and place on a cooling rack till the pies are cool enough to handle, about 10 minutes. Sprinkle with icing sugar if desired. Serve immediately.*

*If baking frozen pies, remove from the freezer and thaw in the fridge for 30 minutes before baking.