How To Make Japanese Strawberry Shortcake Like A Pro
We attend a baking workshop by Japanese pastry chef Yamashita Masataka at culinary studio, My Turn To Host. Here's his strawberry shortcake recipe, which we adapted so even the average home baker can (hopefully) make it.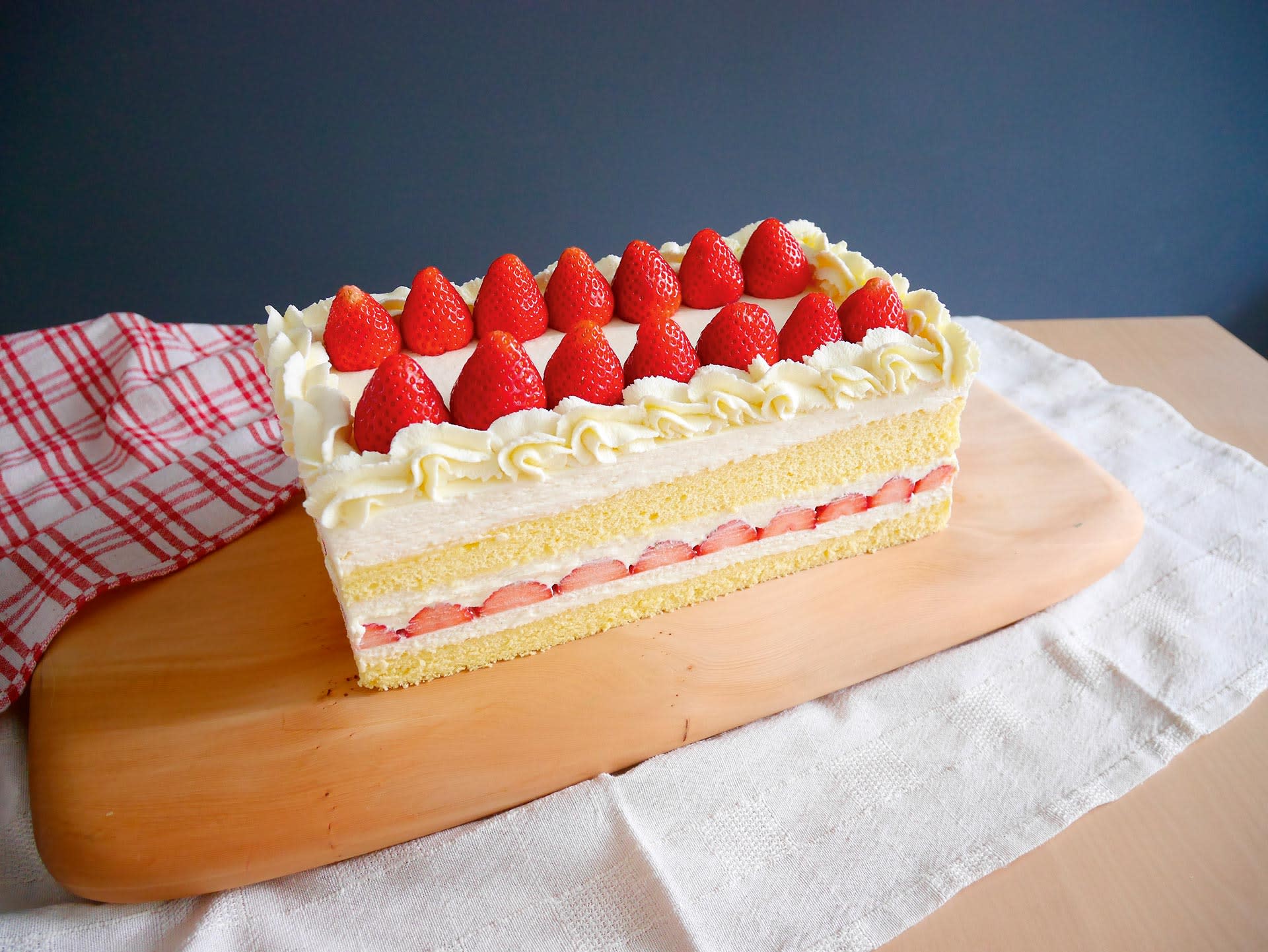 My Turn To Host
. Call 8288-8731 or e-mail
katherine

[at]

myturntohost.com
for enquires.
JAPANESE STRAWBERRY SHORTCAKE
Ingredients:
6 eggs (weighing 60g each, in shell)
190g caster sugar
75g milk
38g unsalted butter
145g cake flour or Hong Kong flour, sifted twice

Vanilla Chantilly cream:
500g whipping cream (with at least 35 per cent fat content)
35g icing sugar, sifted
1 tsp vanilla extract

Filling and decoration:
15 - 20 large strawberries


Method:
1. Preheat oven (conventional mode) to 180°C. Line and grease a 30cm × 30cm shallow baking tin with parchment paper, leaving a 2cm overhang. Set aside.
2. Fill a deep, wide saucepan with water up to 4cm high and bring to a gentle simmer over medium heat.

3. Place eggs and sugar into a heatproof metal bowl. Set bowl into the pan of simmering water and whisk constantly until the mixture reaches 40°C (use an instant read thermometer to check), making sure the eggs do not solidify. Remove from heat and transfer egg mixture to the bowl of an electric stand mixer.

4. Whisk the warm egg mixture at medium-high speed for about 7 to 8 minutes (speed 6 to 7 on a KitchenAid machine), or until mixture doubles in volume and turns thick and pale. To check if it's done, raise the whisk — the trail left by the batter should remain visible for a few seconds before dissipating.

5. Midway through whipping the egg batter, place milk and butter in a small sauce pan over medium heat and simmer lightly till it reaches 70°C. Remove from the heat and set aside.
6. Once egg batter has reached desired consistency, use a rubber spatula to gently fold in the sifted flour into the egg mixture till well incorporated. Be careful not to over mix.
7. Scoop out three heaping spatulas full of the egg batter and place into the saucepan with the warm milk and butter mixture. Quickly fold till thoroughly incorporated.
8. Add this mixture to the remaining egg batter by pouring it slowly over the spatula (see pic 4 above). This helps to disperse the mixture and not deflate your carefully whipped eggs. Gently and quickly fold it in, till well incorporated.
9. Pour batter into the baking tin. Level the top with a bench scraper or spatula.
10. Bake for 15 to 18 minutes, or until cake is a light golden-brown and springs back to the touch when its centre is lightly prodded with your finger.
11. Remove cake from the oven and drop the cake tin from a height of 20cm to 'shock' the sponge and prevent shrinkage.
12. Use parchment paper overhang to lift cake out of the tin. Place it onto a cooling rack. Peel off the paper at the sides of the cake and allow to cool to room temperature, about 30 mins.

13. To remove parchment paper, overturn cake onto a wooden board. Peel off paper on its underside, then flip sponge back upright. If not assembling cake immediately, cover cake in plastic wrap to prevent it from drying out.

For the Chantilly cream:
14. Combine all the ingredients in the chilled bowl of an electric mixer and whisk at medium speed till soft-medium peaks form. Set aside in the fridge.

To assemble:
15. Clean berries with a damp cloth or dip briefly into a bowl of cold water, and gently pat dry.
16. Remove the stems from 5 to 6 of the strawberries, then cut them into ¼ inch-thick (5mm) slices. Set aside.
17. Using a serrated knife, halve the sponge cake into two equal pieces (use a ruler to measure). Reserve the prettier half for the top of the cake, crust-less side up.
18. Place the other sponge half on a large cutting board. Using an offset spatula, spread about half of the Chantilly cream onto it evenly.

19. Top with a layer of sliced strawberries.

20. Spread a quarter of the remaining cream atop the strawberries till if forms a thin, even layer.
21. Carefully top with the other sponge cake half.
22. Add remaining cream onto the top of the cake, and quickly spread the cream till evenly smooth.*
23. Cover assembled cake and chill for 30 minutes to 1 hour to set.

24. When cake is chilled, use a long serrated knife to neatly trim the edges of the cake to reveal its strawberry and cream filling.
25. Decorate the top of the cake with remaining whole strawberries (you may halve some). This cake is best eaten on the day it's made, though leftovers can be kept in an airtight container, chilled, till the next day.

*If you wish to pipe some cream onto the border of the cake as seen in our version in the main photo, increase the whipping cream to 700g. Add more sugar and vanilla, to taste.