What To Expect From Famed Taiwanese Castella Cake Shop Original Cake When It Opens In Singapore
This brand kick-started the craze for Taiwanese-style castella cakes. We travel to its nearest outlet in JB for a preview taste test.
castella cakes
— the gloriously jiggly, eggy sponge cakes that have inspired countless #foodporn Instagram Stories — here is one more to add to your list.
Original Cake from Tamsui Old Street, Taipei, touts itself as the OG of castella cakes — it sparked the trend for the fluffier, lighter Taiwanese version of the traditional castella cake. And it started offering the addictive bakes back in 2011, before Le Castella opened in 2016.
The queuing time for its Tamsui branch is up to three hours. But now, you don't have to fly to Taiwan to get a taste of it (though we are pretty sure you'd still have to queue).
It is opening its first Singapore outlet on the second floor of Westgate mall end August, beside Lady M (but nope, it's not brought in by the same folks).

The outlet here is co-owned by 30-something Malaysian accountant Vivyn Lim, who partners with Original Cake's Taiwanese company to open outlets in Singapore and Malaysia.

It has four outlets in its native Taiwan, and six in Malaysia. Its latest outlet in Johor Bahru's City Square Mall opened last month.
Now, we don't just hit up City Square Mall for our nostalgic Gong Cha fix. So we also checked out what the fuss over Original Cake is about.
The queue

And you gotta queue the old-fashioned way; the shop does not have a collection time slot system like Le Castella in Singapore.
We spotted quite a few Muslim customers in the queue. While OC does not use any pork or lard in its cakes, it is not halal-certified.
The shop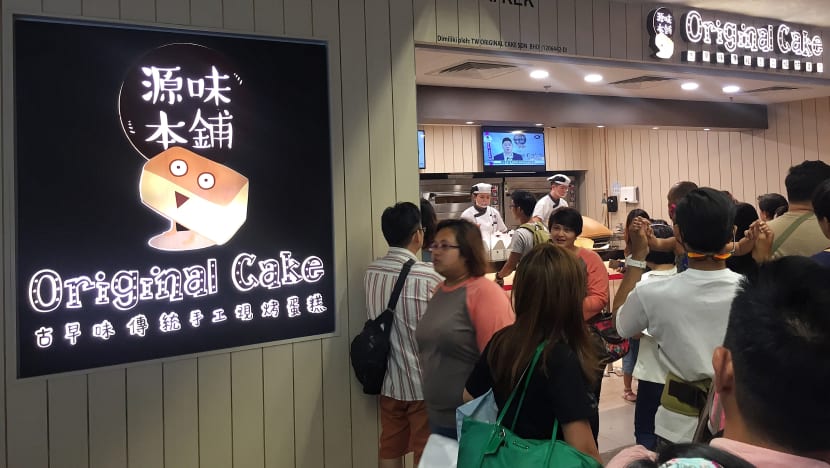 TASTE TEST:

Original Flavour, RM15 (S$4.70)

It's hard not to be excited when the OC staff hands us a pillowy slab of warm castella cake with steam still billowing out of its cardboard box.

Out of the three similar castella brands, we say we like OC's texture the best. It is so wonderfully fluffy and light enough for us to crave a second slice.

But the cake has nary a trace of eggy flavour, and it is not sweet (it tastes more like the plainer traditional Chinese steamed sponge cake). If you like eggy castella cakes, fellow Malaysian brand Ah Mah Homemade Cake is plenty eggy.

Cheese Flavour, RM20 ($6.40)