Wah Kee Big Prawn Noodle Vs Ming's Prawn Noodle
How does the year-old Ming's Prawn Noodle stack up against 66-year-old hawker veteran Wah Kee Big Prawn Noodle at its new Beach Road outlet? We find out. (A version of this story first appeared in Issue 1388, May 25, 2017.)

Ming's Prawn Noodle (8 Days Pick!)
#01-01 Alexandra Village Food Centre, 120 Bukit Merah Ln 1, S150120. Tel: 9616-0495. Open daily except Wed, 7am-3pm. Last orders at closing. www.facebook.com/pg/mingsprawnnoodle
He's the boss: Ming's Prawn Noodle's young towkay Cai Jiaming.
"I usually sleep at 7pm every day. Sometimes I go out for dinner with my girlfriend, but only till about 9pm," shares Cai Jiaming. The 27-year-old hawker runs Ming's Prawn Noodle, the stall at Alexandra Centre Food Village which he opened last May. We don't know of many millennials who'd sacrifice a fun night out like him. Jiaming wakes up at the unholy hour of 2.30am daily to visit Jurong Fishery Port to pick up "about 15kg" of live prawns for his prawn noodles. "Some suppliers offered to deliver pre-shelled prawns to me, but the quality of their deliveries deteriorated. So I'd rather choose the prawns myself," he tells us earnestly.

THE HAWKER: Jiaming graduated from culinary school At-Sunrice GlobalChef Academy, and had interned at the defunct Spanish restaurant Catalunya during his school days. "Most of my schoolmates went to the big restaurants to work after graduating, but I wanted to do something on my own," says the affable lad, whose parents run a furniture store. He adds, "I helped my parents for a while, but it wasn't suitable for me lah. They thought I was joking when I said I wanted to open a hawker stall. My aunt now helps me to serve customers, while I cook." Part of his job at Catalunya involved making crustacean stock, so it got him interested in prawn soup. He experimented and came up with his own recipe for the noodles here. Jiaming opens his stall at 7am "to serve the elderly folks for breakfast" and closes at around 3pm. The young towkay was one of the seven young hawkers invited to the Prime Minister's Chinese New Year Garden Party in February this year to showcase their cooking. He shares, "Being a hawker is the hardest path in F&B, but I take it as a challenge 'cos I've to do everything myself. I'm still young, so if all else fails, I can always go back to a restaurant kitchen…if they'd take me (laughs). Hopefully, I can expand and open more stalls."
THE LOOK: The no-frills stall with a black signboard is stocked with condiments like pork lard and chilli powder which you can liberally add to your prawn mee. Each order comes with a free wet towelette, and you can opt to have your prawns deshelled.
THE FOOD: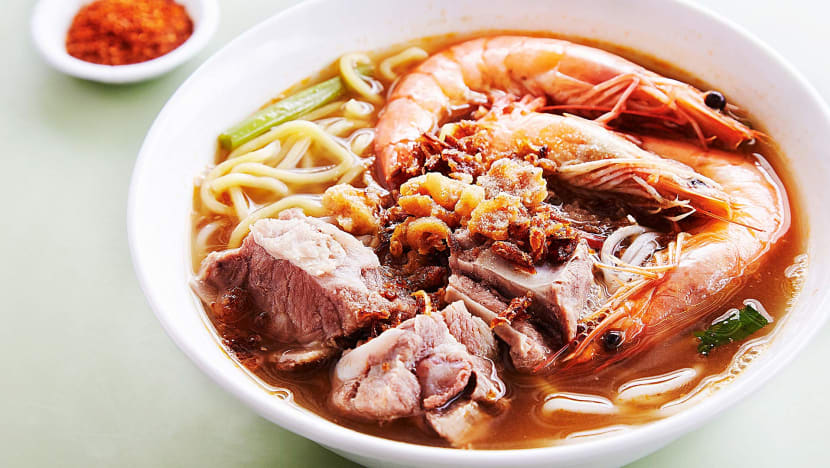 If you don't fancy soup, there's this dry version. Each bowl of noodles is tossed with Jiaming's sedap house-made sambal, a fiery concoction of fresh and dried chillies, dried shrimps and shallots. We recommend going with the yellow noodles for this, as the chilli coats thicker strands better. The coarse bits of crispy, salty pork lard are delish, so too the springy prawns. You still get a bowl of that tasty prawn soup on the side, so it's the best of both worlds.
BOTTOM LINE: Excellent prawn and pork rib noodles cooked by a passionate young hawker. Jiaming's effort to buy live prawns from the fishery port every morning makes a difference — the crustaceans are sweet and fresh, and the soup potent. At press time, Alexandra Village Food Centre is closed for renovations, but Jiaming will reopen his stall on Jun 23. $
2. Wah Kee Big Prawn Noodle
#01-4757, Blk 1 Beach Rd, S190001.
Open daily 11am-10pm. Last orders 30 mins before closing. www.facebook.com/ahkeebigprawnnoodles
Wah Kee, the beloved 66-year-old prawn mee hawker stall from Pek Kio Market & Food Centre manned by an elderly couple, has been on an expansion spree since last year. This was after several investors, including one of the folks behind Japanese dining enclave Eat at Seven, sunk some funds into the brand. It all started with its air-conditioned Esplanade outlet, which brought their humble hawker fare to a sophisticated setting. Two months ago, Wah Kee returned to its heartland roots by opening a third outlet at a kopitiam on Beach Road (beside Golden Mile Food Centre). While the prices at the Esplanade branch are slightly higher than at the original stall, the Beach Road branch follows Pek Kio's pricing.
THE HAWKER: Kevin Lau (above), 46, the cool ponytailed son of Lau Fook Wah, 75 and Tham Lay Mon, 73, respectively the husband and wife who started the Pek Kio stall. Kevin now splits his time between managing his Esplanade and Beach Road outlets, and also takes care of the 100kg-a-day supply of their famed giant wild-caught Indonesian sea prawns, which are delivered to all three outlets. He explains that the expansion came about due to demand: "The queue at Pek Kio can go up to an hour sometimes and my parents are already in their 70s. They can't speed up [the cooking process] anymore. I can cook the prawn broth using the same recipe my father gave to me. I've been accompanying him to sell noodles since I was five." The average waiting time for noodles at the Beach Road stall is 10 minutes. The soup used is cooked by staff that Kevin trained at Wah Kee's kitchen in Esplanade a short drive away, and transported over. Meanwhile, Kevin's folks still do all the cooking at the Pek Kio branch and have no plans to retire soon. He shares, "They like to keep fit doing hawker work."
THE LOOK: This isn't exactly a stall — Wah Kee has leased half of the kopitiam's space, turned it into a 100-seat zone, and added a beverage stall selling their own concoctions like a refreshing Lemongrass with Ginger drink.
THE FOOD:
The cheapest prawn mee bowl here costs $5 with smaller banana prawns (ang kar hae), and starts from $10 for a Big Prawn Noodle bowl with giant tiger prawns (gao chap hae). We went for the $20 bowl (the higher the price, the bigger the prawns), which comes with three wild-caught giant tiger prawns lazing in a scarlet soup ("boiled with prawn heads for at least three hours. It's a secret recipe," says Kevin). The massive bouncy prawns ooze tasty, decadent roe, but they're not as sweet and flavourful as we expected. Unlike the Pek Kio branch where the prized broth is rich and umami, it is strangely flat-tasting here, the only dominant notes the cane sugar and sambal chilli (same story with the soup at the Esplanade branch — it used to be good when Kevin himself cooked there during its opening stages). We opt to have our wonderfully springy, eggy mee kia (specially made for Wah Kee by a supplier) tossed in a yummy, fragrant sambal brimming with top-grade dried shrimp, kangkong and pork lard.
Exclusive to this outlet is a ngoh hiang platter made with wild-caught prawns. We're especially fond of the fried Prawn Cracker, an airy, crunchy disc loaded with two whole prawns. Also delish is the fried Beancurd Skin Roll with Prawns, stuffed with tender fish paste and firm chunks of prawn. And splurge some calories on the crispy Fried Wanton, each juicy orb bursting with fish paste and prawn.
BOTTOM LINE: While we love the prawn mee soup at the original Wah Kee at Pek Kio, the broth at this new branch (and also the Esplanade one) is oddly sugary with barely any prawn flavour. But we do adore the umami chilli-tossed dry mee kia and the tasty new offerings like a Wu Xiang Platter here. $$