Uya Unagi Restaurant A Worthy Rival To Teppei's Man Man
UNDERCOVER RESTAURANT REVIEW: More than decent live unagi without the queue.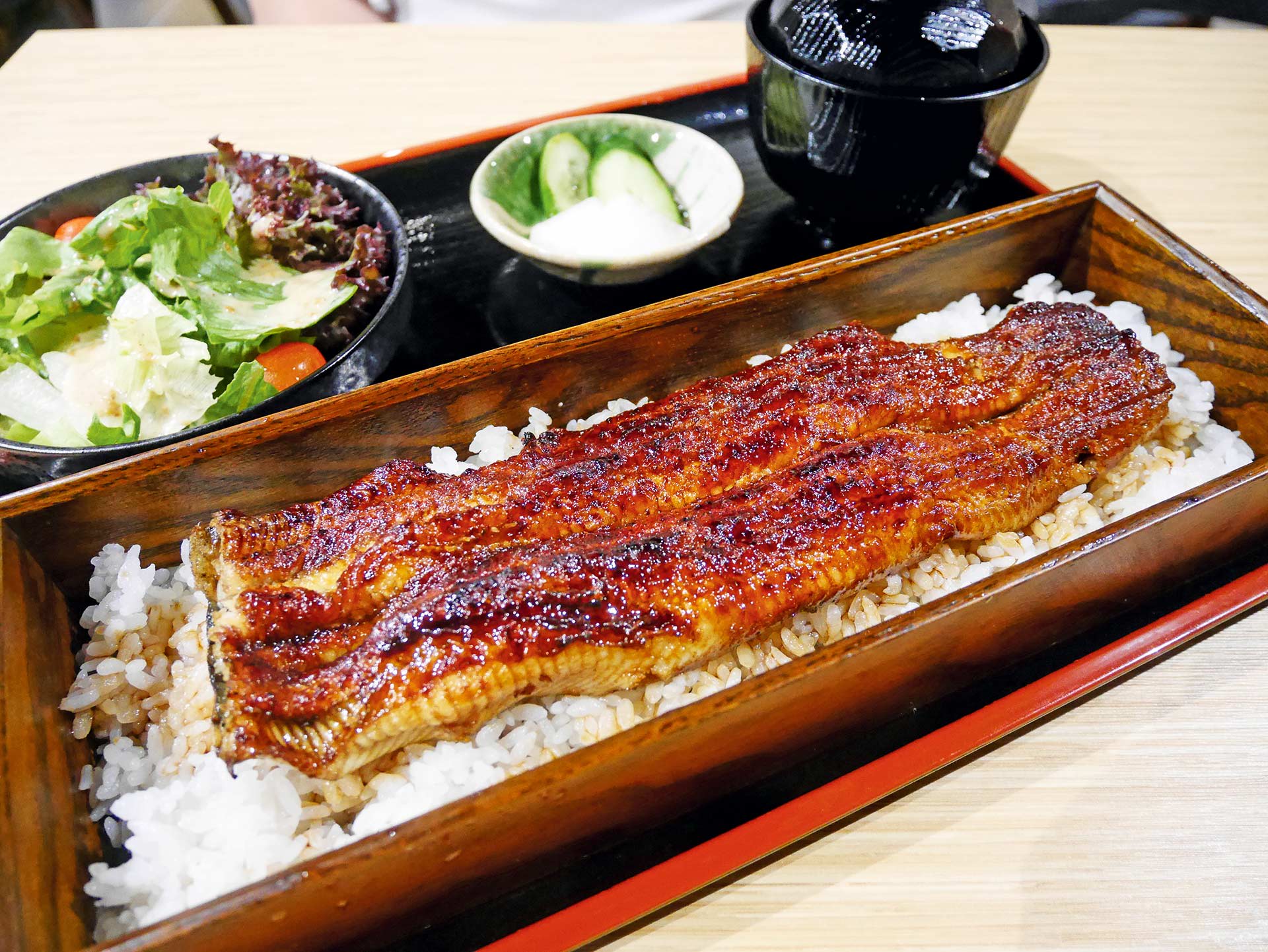 Before Teppei Yamashita's Michelin Bib Gourmand Award-winning Man Man Japanese Unagi Restaurant arrived in town, who knew Singaporeans had such voracious appetites for freshwater eels?
Although the long-standing Chikuyotei at InterContinental Singapore is technically Singapore's first live eel joint, Teppei, a shrewd businessman, cleverly made a show out of it all. Unlike traditionally discreet, posher unagi restaurants common in Japan, where the only eel you see is the one in your bowl, he displayed them swimming in tanks, wriggling for dear life as they're slit, skinned and roasted in a show kitchen. He also priced them slightly lower than at more atas unagi specialists. And he hit a home run — there are still snaking queues of over an hour at Man Man's flagship Keong Saik branch a year after its opening. So it's inevitable that a new player enters the scene for a slice of the eel pie.
Three-week-old Uya at Wheelock Place is opened by the people behind our favourite affordable chirashi joint, Koji. Like Man Man, it also boasts live eels slaughtered on-site and prepared by a Japanese chef with experience cooking the creatures in Japan's unagi capital of Nagoya. The man has worked at Nagoya's famed Atsuta Horaiken restaurant — we've had the unagi there and it was unforgettable.
However, unlike at Man Man, there's no graphic display of eel carnage here. The window framing the kitchen is so small, we can barely see what the chefs in the cramped kitchen are up to. "The eels are killed twice a day, in the morning, and early evening," says the manager. "So you won't see [the killing] unless you're here at those times." We're both relieved and — bizarrely — slightly disappointed (since we're still traumatised by the gutted eels we saw squirming on hot coals at Man Man). But what Uya lacks in showmanship, it makes up for with its irresistible offer of convenience: reservations are allowed, so you can swan in at your preferred time without having to stand in line for a seat. Not that there was any queue the two times we dropped by.
The Look: The dining room is nondescript contemporary with blonde wooden tables placed uncomfortably close together. We were forced to listen to the inane gossip of the OLs beside us. Try and snag the more desirable seats near the window overlooking Orchard Road, if you can.
Eel Supply: An eel wholesaler from Japan is a partner at Uya. His Japanese breed eels are imported from Taiwan, China and Japan, depending on the season. Today, we get Taiwanese specimens. Like at Man Man, they're prepared Kansai-style: the fillets are dipped in sauce, then grilled for a lightly crunchy mouthfeel. The more common Kanto method of cooking unagi involves par-grilling it, before it's steamed, basted and grilled again for a moister finish.
The Food: There are some generic non-eel dishes here to cater to the masses, like a Sashimi Rice Bowl ($23; it's pricier than Koji's $19 one) and a succulent, briny, crisp-coated Oyster Tempura ($12 for three pcs). But of course, eel is the main deal.

On our first visit, a week after the restaurant's opening, we splurge on the photogenic Unagi Rice Box ($46 for large). The lacquered fish is served attractively in a long wooden box, shaped to fit it just so. The undulating strip is fleshy and beautiful, glistening as it rests atop a snowy bed of rice. Unfortunately, most of it is rubbery. Moreover, the salty soy and mirin tare (basting sauce) draping it can't mask its faint muddiness. It does boast an assertive, smoky char, though. And we enjoy the perfectly cooked Koshihikari rice from Niigata. The shiny pearls are nutty, moist and chewy. The Unagi Egg Roll ($9) is also disappointing. Otherwise juicy, fluffy omelette is wrapped around what tastes like leftover, fishy eel.
So we are surprised that on our second visit just days before this review, the quality of the eel is almost completely different. We order the signature Hitsumabushi (the medium portion at $35, feeds one generously). Hitsumabushi is essentially a ceremonial Nagoya way of eating unagi. The eel is chopped into chunks and served in a wooden tub of rice. First you eat it neat. Next, you garnish it with the accompanying spring onions, seaweed and wasabi. Then, you douse it with bonito, kombu and yuzu peel dashi to form an ochazuke. This time around, the unagi is soft, yielding, and mercifully clean-tasting. It's sheathed in a gently crackly crust perfumed with smoke. The tare is also mellower and less aggressively salted. Pretty delicious, as is the bonito-rich soup it's served with.

Why this turnaround? A check with Uya's Singaporean co-owner yielded no concrete answers­ — she says there's been no change in the eel supply since the eatery's opening. However, she concedes that there's now a more senior Japanese consultant chef overseeing things in the kitchen... temporarily. Interestingly, Man Man had a similar trajectory — its now-yummy eels were also rather tough in its early days.
VERDICT: 3.5/5 Now that Uya has sorted out its teething problems — the quality of its eel is as good as Man Man's (which had consistency issues initially too). We sure hope it stays that way.
#02-15/16 Wheelock Place, 501 Orchard Rd. Tel: 6732-1096. Open daily. Sun- Thur noon-2.30pm; 6pm-9.30pm. Fri & Sat noon-2.30pm; 6pm-10pm. Last orders 30 mins before closing. www.facebook.com/uyasg