Teppei's Muslim-Friendly New Udon Joint Fu Men Is Sedap
Unusual Hakata udon is served at this eatery with pending halal status.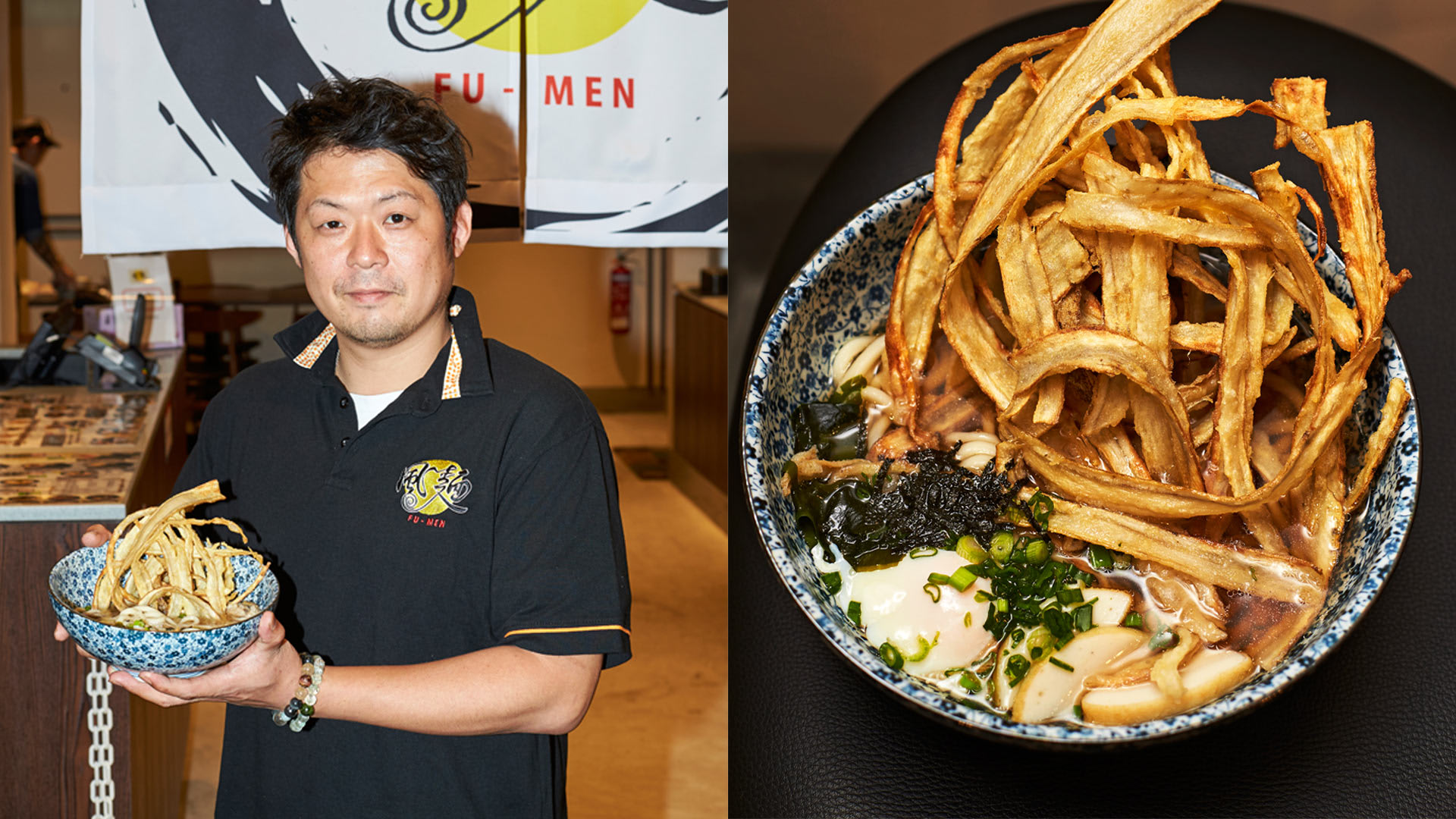 Take a seat, ramen. It's udon's turn to shine. Udon, believed to have originated in ancient China, made its first appearance in Japan in the form of slightly flattened dango rice cakes (which look like dumplings). It has since evolved into the wheat noodles we know today. Considered a form of fast food in Japan, udon can be enjoyed in many ways: warm or cold, in a broth or dry. Every province also has its own take on how to prepare the noodle dish.
Chef Teppei Yamashita's udon at his latest joint, Fu Men, which opened on April 5 in the CBD, is a carby love letter to his hometown of Fukuoka.

Hakata (a district in Fukuoka) udon, which is what is served here, is characterised by tender noodles instead of the usual al dente stuff, and a clear broth made with light soy sauce, flying fish, dried anchovy, dried bonito, and kelp. According to Teppei-san, the rather obscure Hakata udon is mostly found only in Hakata. In fact, this is our first time trying it. The factory-made noodles at Fu Men are imported from Fukuoka and are slimmer compared to the fat, square-edged sanuki-style udon from Kagawa Prefecture commonly found in Singapore. Chef Teppei makes his preservative-free stock with Japanese kelp and four types of dried fish, including Japanese anchovies, saba, tuna and sardine. The 45-minute process involves rigorous temperature control and several steps, which concludes with the addition of soy sauce. Japanese native Munemori Toshihiro — who trained with Teppei-san at the latter's eponymous omakase restaurant for two years before Fu Men's opening — helms the kitchen here.

The chef-founder of Teppei Group is famed for his reasonably priced omakase at Teppei Japanese Restaurant, and now heads an impressive F&B empire with 15 outlets in Singapore and three overseas. The cosy 37-seater Fu Men is in the process of applying for halal certification. So there's no pork used here at all. Teppei-san says he wants to fill the niche for Muslim friends and customers who lament about the lack of good halal Japanese options here. Chef Teppei has plans to open another 10 more Fu Men outlets.

Check out the photo gallery above for tips on what to order here.
Fu Men Udon Shop is at #B1-17/18 Hong Leong Building, 16 Raffles Quay, S048581. Tel: 6224-1134. Open daily except Sun. Mon-Fri 10am-8pm; Sat 10am-2.30pm. Last orders 30 mins before closing.