Singer-Songwriter Hong Junyang Finds Owning Restaurant "More Promising" Than Being A Musician
The Project SuperStar alum plans to open eight The Original Boat Noodle outlets.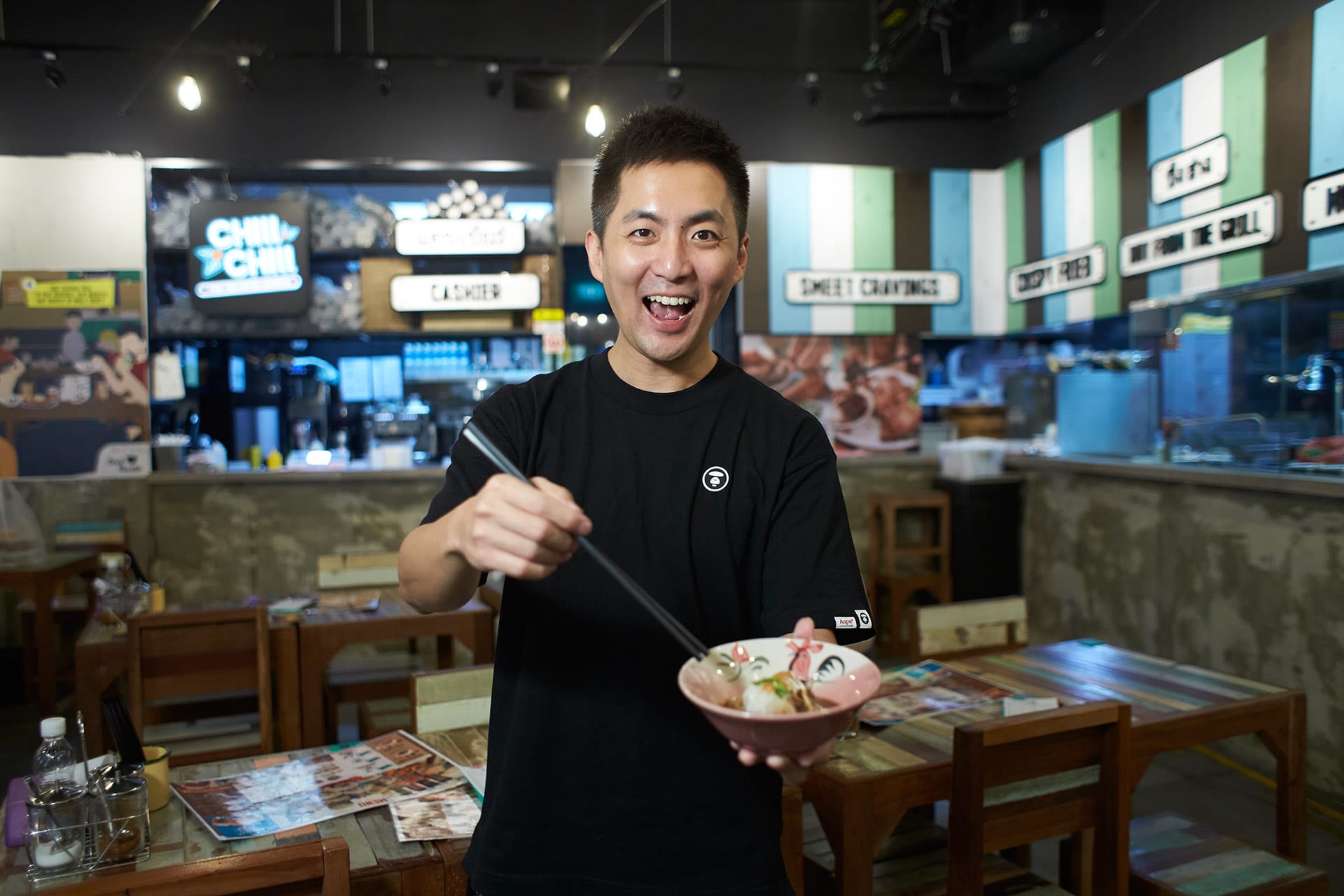 Local singer-turned-music producer Hong Junyang is hoping to revive the boat noodle trend one tiny bowl at a time. The 37-year-old Project SuperStar alum is putting his music on the back-burner for the time being to be an F&B towkay 'cos he finds it "more promising".
Junyang's main role in Original Boat Noodles? He's the spokesperson, and in charge of marketing. Incidentally, his wife and fellow Project SuperStar contestant Candyce Toh is also in F&B — she co-owns Cafe Manuka at Paragon.
The 60-seater Thai street food concept restaurant at Changi City Point, which he co-owns with two other partners, cost half a million to set up and is the first of eight he plans to open by 2019. A second branch is already underway and will open in Bugis by August. They are also in the process of applying for a halal license to cater to Muslim diners like their namesake across the Causeway. The Thai-style eatery is a franchise of The Original Boat Noodle, which opened in 2014 in KL and now has 50 outlets in Malaysia. Yup, The Original Boat Noodle does not originate from Thailand. Nor does it have any outlets in Thailand. That's only slightly weird, right?
Junyang says he likes this brand because of the way it operates, and its recipes are easy to replicate.
For the uninitiated, boat noodles, traditionally served from boats at the floating markets of Ayutthaya in Thailand, are tiny bowls of noodles in a strong pork or beef broth imbued with the animal's blood. There are two types of (blood-free) broth served here: Pathumthani is a dark soy sauce chicken and beef broth and Ayutthaya is a coconut milk-spiked one.
There are no Thai chefs manning the kitchen here. The recipes are prepared according to an easy-to-follow manual, which suits Junyang, who doesn't cook, just fine. Even the traditional Cha Yen (Thai iced tea) served here is made from a pre-packed powder instead of freshly brewed, which is convenient but rather disappointing.

THE LOOK: Located in a corner at the basement of Changi City Point, the joint is designed to look like a street-side stall in Thailand, complete with double yellow lines, Thai road signs, distressed furniture and concrete tiles. It's quaint and rather well done.
Scroll through the photo gallery above for tips on what to order here.


The Original Boat Noodle​​​​​​​ is at #B1-34A Changi City Point, 5 Changi Business Park Central 1, S486038. Tel: 6787-8134. Open daily 11.30am – 9pm. Last orders at 8.30pm. www. facebook.com/boatnoodlesg/