Overflowing Ikura Rice Bowl Worth The Trip To Kyuu By Shunsui
UNDERCOVER RESTAURANT REVIEW: The avalanche of ikura in your bowl of rice is the best thing about dining at Kyuu By Shunsui. Even if it brings out the worst in you (we took home our leftovers).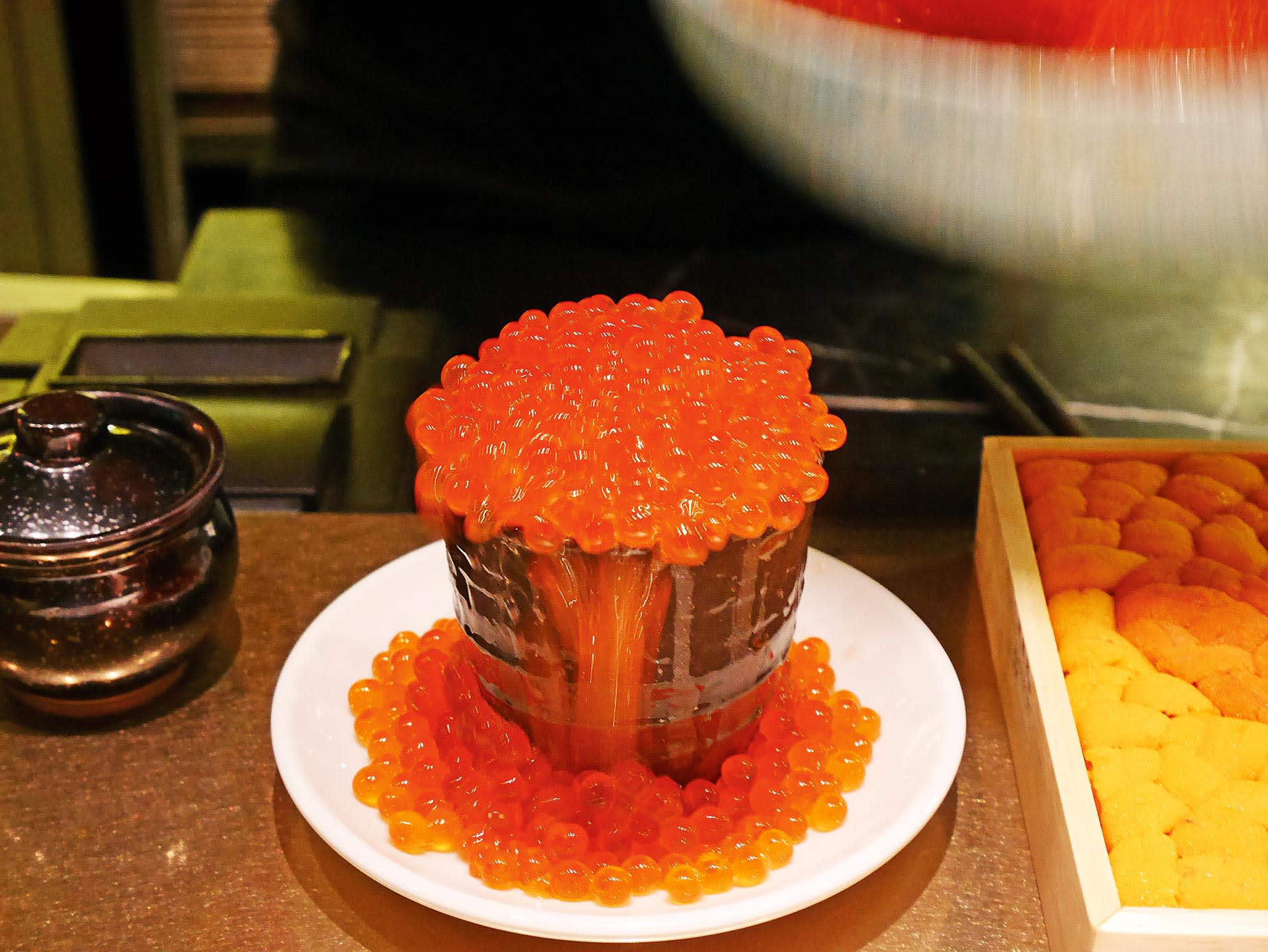 "Yoishi! Yoishi!" yells the Japanese chef, along with his two waitresses. Their shouts are wearier tonight compared to our visit last October, when the restaurant just opened. But we are unperturbed, transfixed by our bowl of rice being rapidly buried beneath a cascade of bejewelled salmon roe. "I won't stop till you say so," informs the chef dutifully, repeatedly plunging his spoon into his giant bowl of ikura. As we film the process with our phone, we deliberately remain silent to see if he means what he says. The shimmering pearls form a mound at the apex of our bowl before teetering and tumbling lazily onto the saucer beneath, forming an orange moat. "Stop," we finally croak, somewhat lamely. Just in case the roe spills onto the table.

Kyuu, a sashimi and robatayaki restaurant at Keong Saik, offers a great value $129 ten-course omakase meal which includes stuff like grilled king crab and Kagoshima A4 wagyu. However, the main draw is this ikura bowl served with a side of drama. Sure, it's a gimmick, but we do enjoy the occasional (not-so) cheap thrill.

THE LOOK & VIBE: Things have gotten more muted since our first visit here, before then-head chef Issey Araki was redeployed to higher-end sister restaurant Kappo Shunsui in Cuppage. Now, sous chef Takamasa Suzuki, formerly the manager at Shunshui (though he has cooking experience in Japan) helms the open kitchen here. His once jovial demeanour has turned sombre and the formerly packed dining room is now half-filled — on a Friday night. The chef, who speaks excellent English as he's lived in Singapore for 20 years, explains that this crowd control is deliberate as they're short-handed. His lone assistant, a young local lad, works the charcoal grill.

THE FOOD: While the food was rather refined under the more experienced Araki's stewardship (he used to work at one-Michelin-star restaurant Askaka Tantei in Tokyo), there's a slight difference in quality today. The appetisers, which include a brick of silky, nutty sesame tofu, shredded crab meat and bean curd skin in piquant ponzu jelly, are still lovely. However, the Sashimi platter is less lovable. The seven types of seafood, such as scallops and snapper, are not as neatly sliced. Also, the prawns have an unmistakable hint of funk. To chef's credit, he apologetically replaces the offending crustaceans with two small cups of sea urchin. Thankfully, most of the grilled items, with the exception of a mushy Eggplant draped with sweet red miso that tastes strangely of chee cheong fun sauce, are as good as before. Our favourites: the King Crab Legs, grilled to sweet succulence and paired with a bracing vinegar and lime dip. Smoky, meaty King Oyster Mushrooms. A warm Amera Tomato from Shizouka, which unleashes ambrosial juices with each bite. The Kagoshima A4 Wagyu Rump Steak is fresh-tasting and fatty, though this inexpensive cut can be slightly chewy if under-grilled (like tonight).

THE IKURA RICE BOWL: Just before dessert, we're presented with three different bowl sizes to choose from. Don't be fooled — the diameter of each is the same (about three inches wide). It's the height that differs, so you get more rice, but the same amount of Ikura. We choose the medium one. If you fork out an extra $29, you receive a large scoop of sea urchin, too. The uni is nice to have if you feel like splurging (we did on our last visit): the murasaki lobes from Hokkaido were floral and creamy. But at this point, we're so stuffed we don't need it. We once had a similarly overflowing ikura bowl at an izakaya in Ginza, Tokyo (that one was served to pulsating taiko drumbeats) which we suspect inspired the concept here. We're happy to report that the quality of Kyuu's Aomori ikura is more refined and less aggressively salty.

It's lightly marinated with sake, dashi and sugar, so that it's just savoury enough as it pops in the mouth in a briny, umami burst. There's so much of the sticky roe that the excellent al dente nanatsuboshi rice from Hokkaido is stained orange with its drippings. You'd think polishing off this small mound is easy — except that salmon roe is super rich in omega-3 oils and it all gets too much midway through our bowl. In fact, we start to fill a little ill. But we soldier on, shovelling the shiny orbs into our mouths. And then we give up. There can be too much of a good thing. As we stare in dismay at our unfinished saucers of ikura, feeling like misbehaving tourists at a buffet line, our girlfriend jokingly asks the waitress if we can doggy bag our leftovers. To our surprise, she promptly procures a plastic box and plops in the uneaten contents of our saucer. It sits on the counter as reminder of our greed as we slowly eat our ice cream. Then, we foolishly ask the chef if any guest had ever requested for a second serving of ikura. He stares pointedly at our unglamorous to-go box and deadpans: "Actually, yours is a lot already". Guess we deserved that.
VERDICT: 3.5/5 Some misses, several hits — and the vibe at this chic joint is no longer as buzzy as before. Still, it offers a good value, filling omakase. The playfully presented, heaving ikura rice bowl alone is worth the visit here — but be sure to finish what you ask for or risk blistering shame.

29 Keong Saik Rd, S089136. Tel: 6221-7098. Open daily except Mon. Tue - Sun 6pm to 1am. Last orders at midnight. www.kyuu.sg