Nasi Lemak That's Good Enough for PM Lee Hsien Loong At The Coconut Club
UNDERCOVER RESTAURANT REVIEW: Nasi lemak and chendol specialist The Coconut Club sounds hipster & looks hipster. But thank god its food is unpretentious, just plain delicious. (A version of this story first appeared in Issue 1360, Nov 4, 2016)
Since we published our review on The Coconut Club last November (we were the first to feature the place), sadly for us, the crowds have now descended on this elegant nasi lemak café. The fact that PM Lee Hsien Loong hosted Philippine President Rodrigo Duterte for a meal here last December definitely contributed to its popularity, too.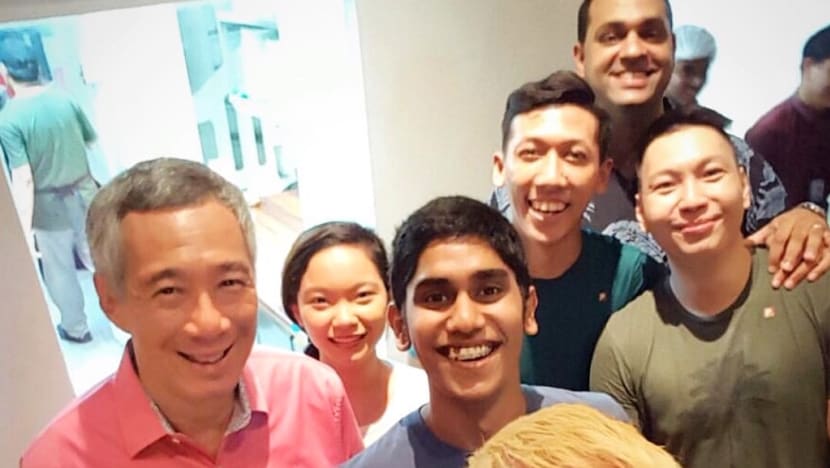 Hand-squeezed coconut milk from thrice-weekly shipments of Mawa coconuts from a single plantation in Sabak Bernam, Selangor
"Our coconuts are freshly delivered every few days 'cos the milk becomes more watery as it gets older — other coconuts in Singapore are as old as a month!" Luckily for them, the tedious extraction of milk by hand is temporary. "We've just ordered a cold-press juicer where we can extract up to 40kg of coconuts." he adds. Oh, and there's also the fact that the restaurant's reticent head chef and third owner, Lee Eng Su, 37, actually knows his way around the kitchen. He's a graduate of the French Culinary Institute in New York (Bobby Flay and David Chang are alumni). And he's been honing his nasi lemak-making skills since he and his partners visited KL's annual nasi lemak convention named, er, "I Eat Nasi Lemak", two years ago, where various versions of the dish are offered by 40 stalls across the country.

THE LOOK: The air-conditioned dining room is chic and comfortable: terrazzo floor, brick wall, a wooden communal table that doubles up as a "wine bar", and a "kopitiam corner" manned by an uncle brewing kopi. In fact, it looks like any pleasant but generic Ann Siang Hill café, until you spy nasi lemak on every table.
THE NASI LEMAK: The menu here is small and focused. So, just a basic plate of Nasi Lemak ($12.80) that you can tart up with side dishes like otak or fish. When it arrives, our plate looks appetising, but it's not exactly heaving like how it heaves when we order nasi lemak at a kopitiam. It's neat, and modestly-sized. Apparently, the nasi lemak style here is Malaysian. We think it is only vaguely so (meaning, it's better than most Malaysian nasi lemak we've had). The Ayam Goreng Berumpah, a mid-sized chicken thigh, is given a good rub-down with ginger, turmeric, galangal and lemongrass and fried till the skin is just lightly crisp. Fragrant, tender and homespun. The dollop of sambal is not as sugary as most local versions (we like), and doesn't stinge on lip-smacking spices and fried strips of onion. A petite pile of crackly fried ikan bilis and nuts sits demurely in a corner. Too petite, if you ask us. Meanwhile, the sunny side up egg has a yolk that oozes satisfyingly when prodded with a fork. As for the rice… we await our lunch partner's verdict as he takes his first bite. He is the biggest nasi lemak fiend we know, and we happen to be married to him. Silence. Then: "It's good, and I don't know if I'm asking for too much, but it could be a bit more lemak," he declares. We shovel a spoonful into our mouth. The well-cooked grains have merely a hint of creamy coconut at first. Then the unmistakable flavour of just-squeezed, slightly sweet, deeply nutty milk caresses our tongue like a gentle wave. The flavour is more elegant than in-your-face rich, and we really like it, though it wouldn't hurt if it were a smidgen more coconutty. But we both agree that the side dish of charcoal-grilled Otak-Otak ($8.50) is lovely. Juicy, brimming with fragrant rempah and chunks of mackerel. We also order the Fried Fish (market price), slender ikan kembung (mackerel) that's crusty-skinned and moist but not oil-clogged. Served with sliced onions and chillies, its sharpness cut with a drizzle of syrupy kecap manis.
Chendol
THE CHENDOL: Chendol is easy to make if you have über fresh ingredients. Yet, finding a superb bowl in Singapore is as rare as spotting a millennial who hates taking selfies. But we know this Cendol ($3.80) is special as soon as we clap eyes on it. The coconut milk pooled around a mound of shaved ice is so thick it's almost cream, so it doesn't get diluted as the ice melts. Splashed on this lush white canvas is sticky brown, intoxicatingly aromatic gula melaka. The house-made pandan-perfumed mung bean jelly 'worms' are tender and tasty, but we wish there were some red beans for textural contrast. "This is how chendol was originally served, the Teochews in Penang only added red beans to it later," says Wai Lee. Such purists.
VERDICT: **** Nasi lemak that's elegant yet homey; rich but not so cloying that you feel ill after a plateful. And that chendol — we daresay it's the best in Singapore. The magic is in its house-squeezed, 'single-origin' coconut milk. Definitely not just another hipster joint selling overpriced, underwhelming local grub. $

The Coconut Club is known for its nasi Lemak and chendol for good reason: its fresh coconut milk is quite simply the best in town. The former Michelin Bib Gourmand eatery (the title was most likely removed because it just relocated to new digs and wasn't open in time for this year's inspection) takes the source and its process very seriously.
The Coconut Club's sales director, who requested not to be named, tells us that depending on the dish's requirements, the coconuts used range from Kampong coconuts to the higher-in-fat premium Mawa coconuts. They're sourced from coastal areas in Malaysia where more fertile soil produces tastier coconuts. And the nuts are harvested then shipped to Singapore at the peak of their freshness and flavour.

The Coconut Club has relocated to larger premises at 28 Ann Siang Rd, S069708. Tel: 6635-2999. Dinnertime reservations taken via info [at] thecoconutclub.com.sg. www.thecoconutclub.sg