Modern Japanese Teas, Singapore-Style
We love the whimsical drinks at Roji Chaseki, a homegrown mod Japanese tea bar by the folks behind Gryphon Tea Company and The Soup Spoon.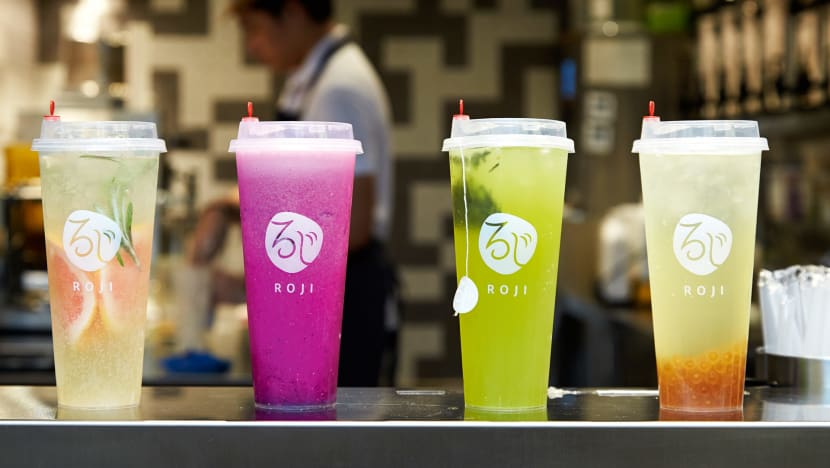 Mention matcha latte or hot cups of plain sencha (premium steamed Japanese green tea) and you probably wouldn't bat an eyelid. But what about sparkling fruit teas and a 'beauty tea' that has marine collagen stirred into it? Three-month-old tea kiosk, Roji Chaseki, breathes new life into traditional Japanese brews with playful flavours, including toppings like popcorn, marshmallow and cocoa nibs. Roji, which is the Japanese word for a stone path leading to a place for tea (chaseki), is an unlikely collaboration between Lim Tian Wee, 48, executive director of Gryphon Tea Company, behind the range of local upmarket boxed teas in supermarkets and cafes, and Anna Lim, 42, co-founder of The Soup Spoon restaurant group.

The two long-time friends decided to partner together as they wanted to rejuvenate Japanese tea's "stuffy" image, which "isn't as flamboyant as Western teas in terms of flavours," shares Tian Wee. Roji Chaseki combines Anna's expertise in retail operations and Tian Wee's wealth of tea knowledge.
Tian Wee, who's the master blender behind Roji's eight fanciful tea blends, has travelled to Shizuoka, Kagoshima and Asahina in Japan to source for tea leaves. He later spent a month experimenting with the various blends. He laments that Japanese teas have a none too exciting "standard image". He says: "I get bored by the lack of beverage choices in Japanese restaurants."
Anna, a self-confessed Japanophile, says: "Through fun and modern ways of presenting Japanese teas, youngsters are more likely to engage and learn about these teas."
On choosing a Japanese tea concept, she exclaims: "We love all things Japanese!" Tian Wee adds: "There is a global trend of drinking green tea, and more health-conscious consumers prefer to drink antioxidant-rich teas without adding too much sugar."
Popular blends at their store include the Koku Yuzu Kukicha (using twigs from the tea plant) that is infused with yuzu and sweetened with konpeito (traditional Japanese candy), Momotaro (white peach-infused sencha) and Milky Popcorn (genmaicha with caramel bits, popcorn and buckwheat). Instead of the usual sugar syrup, rock sugar is added to enhance the flavours of the tea. Prices start from $3.50 a cup.
Boxed versions of these teas ($18.50 for 15 silken teabags) are available at Isetan supermarkets. Meanwhile, three more takeaway outlets are in the works.
The look: The takeaway kiosk, sandwiched between The Soup Spoon and Korean hot pot stew eatery, Jigae Jigae (both co-founded by Anna) at Raffles Xchange, attracts a mainly office lady crowd during lunchtime. The space sports a minimalist chic look with wooden and stone laminates adorning the walls and a Zen-looking tea box display.
Bottom line: The inventive brews here are both elegant and fun. A refreshing change from the usual Japanese tea suspects like Tsujiri and Matchaya.


#B1-64 Raffles Xchange, Raffles Place MRT Station. Tel: 6779-2948. Open daily except Sun. 11am - 8pm (weekdays); 10am to 2.30pm (Sat). Last orders 8pm and 2pm. www.facebook.com/rojichaseki