McDonald's D24 Durian McFlurry Taste Test: Nice Or Not?
We try this pungent new treat, which just soft launched today. Here's our verdict.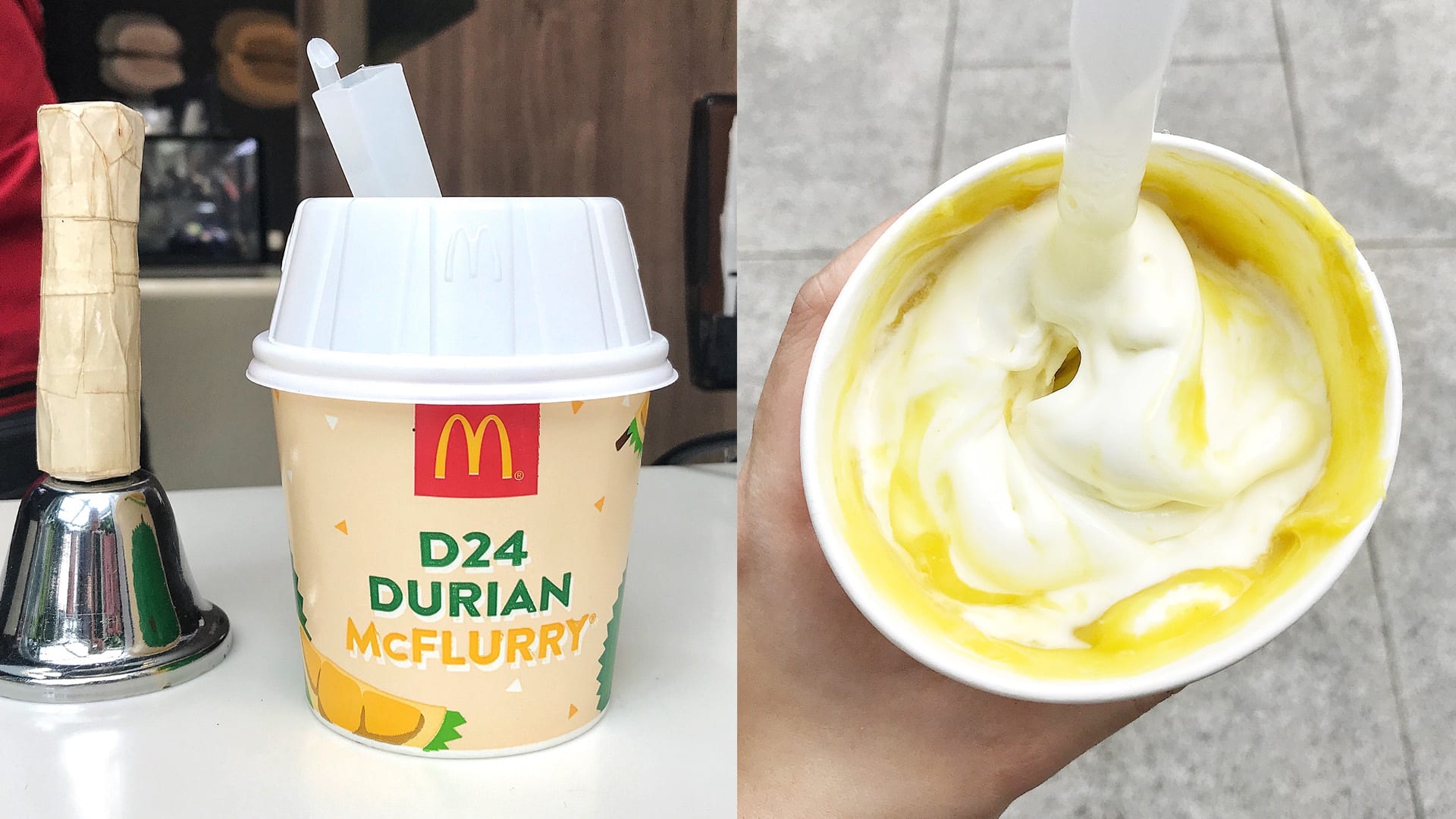 Flavour of the week, McGriddles, beset Singaporeans with abandonment issues again when it was abruptly removed from the menu mere days after its comeback because it was sold out.

Now, who's up for Durian McFlurry?

It soft launched today (July 3) at selected McDonald's outlets and is priced at $4 a cup. It was previously only available in Malaysia, where it retailed for RM9 ($3) each.

The limited-edition McFlurry is claimed by McDonald's to be made with puréed D24 durian (a teaser clip released by McDonald's on their Facebook page showed a gloved hand provocatively prying luscious seeds of durian out of their shells).

"$4 only got real durian meh?" twittered a bunch of OLs behind us at the Jem outlet in Jurong East as we queued up at the dessert kiosk. "I rather go buy the actual durians," another OL piped up.

We watched as a McDonald's kiosk staff filled an Insta-worthy, customised paper cup (printed with cartoon graphics of durians emblazoned with "D24 Durian McFlurry" and "King of Fruits") with vanilla soft-serve ice cream.

Now comes the durian part: she drizzled a ladleful of Pikachu yellow D24 durian sauce onto the ice cream, and fastened the cup and its spoon to an electric whisking machine to blend the sauce and ice cream together.

"Oh my god, the whole mall smells of durian," texted our friend who was at Hillion Mall in Bukit Panjang, where the Durian McFlurry is also available.

However, we couldn't really detect the King of Fruits' potently pungent scent over at Jem. Maybe 'cos the dessert kiosk is located outdoors. But we did smell a faintly artificial durian fragrance (like a whiff of durian kueh) when we put our nose to the ice cream.

Check out the photo gallery above for our verdict.

Available at selected McDonald's outlets, while stocks last.