Grandma Says Ditch Your Diet For This Southern Fried Chicken At The Bird
UNDERCOVER RESTAURANT REVIEW: The signature fried chicken at Miami restaurant The Bird Southern Table & Bar is cooked using a 100-year-old recipe from the owner's granny. Is it worth the calories? We tell y'all.
We're excited. Today, we're about to eat true-blue Southern American fried chicken. Prior to this, we've only had versions of it at the handful of American eateries here, like One Night Only. Or, depressingly, at fast food joints like KFC and Popeyes. The couple of chicken eateries we've tried in New York don't really count either. We anticipate the gloriously golden, mottled birds in Food Network shows, served up by a drawling fry cook somewhere in Nashville, or (now disgraced TV host) Paula Deen.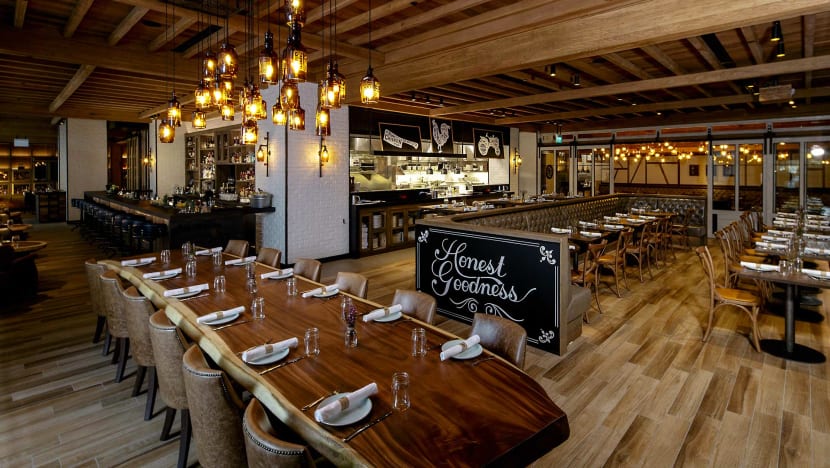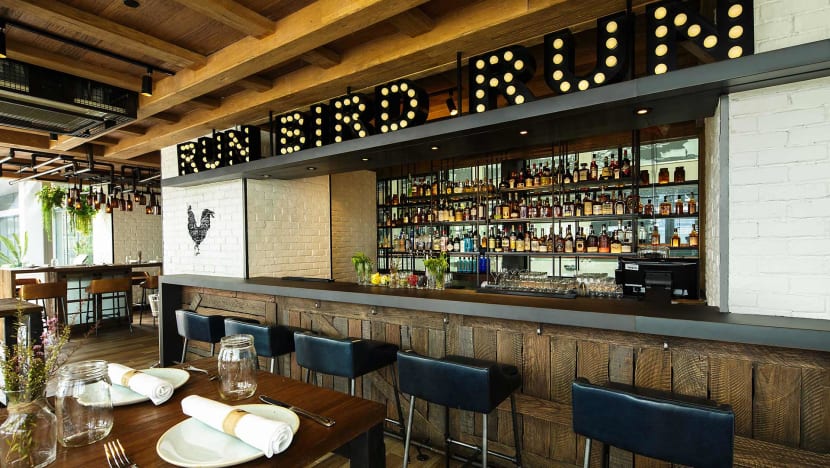 A mediocre Blackberry Bourbon Lemonade. Perhaps it's better to sip one of the 250 types of bourbon on offer here, neat.
THE LOOK & VIBE:
Like a barn overhauled by a rich hipster. On the first floor, the open kitchen headed by an American chef formerly from Lawry's forms the heart of the dining room. Crockery is stored in wire mesh cupboards resembling chicken coops. Exposed wooden beams and whisky decanters-turned-lamps add to the rustic-chic vibe. We park ourselves at a table against a leather banquette, in front of a brick wall superimposed with flickering images of Southern musicians like Elvis from a projector. It all works well with the cool Southern rock tunes jangling on the speakers. In the smaller area upstairs, glass windows offer a view of the bay. The vibe is charming and chill — mainly 'cos it's the restaurant's opening day, and most of the crowd this afternoon are unsuspecting hotel guests.
Classic Buttermilk Biscuits
THE FOOD:
What's a Southern American restaurant without biscuits, the Yankee savoury cousins of British scones? Ain't nuthin, that's fo sho. So first order of business:
Classic Buttermilk Biscuits
($10 for four). They arrive snugly wrapped in a napkin to stay warm, with little jars of airily light whipped honey butter, and cinnamony apple jam.
Col. Newsome's Preacher's Ham Biscuit
The flavour of the burnished blocks is outstanding: rich and creamy with a buttermilk tang, and a good hit of salt that counterbalances the lightly sweet butter and jam. However, its lovely crunchy crust collapses into a moist, tender interior that gets unfortunately a bit too stodgy in the middle. Still, we'll gladly order it again (just not the sandwich versions, like the ham one, which tend to be soggy).
Kale Salad
We dutifully munch on a
Kale Salad
($16) to mitigate the sin of the impending signature dish. It passes muster in a perfectly salady way, with its crisp superfood greens littered with apples, raisins, Vermont cheddar, and rather flat-tasting cornbread croutons, all tossed in a bracing cider vinaigrette.
Chicken 'N' Watermelon 'N' Waffles
Now, for the main event. The
Chicken 'N' Watermelon 'N' Waffles
($45; feeds one to two), an indulgent platter of half a fried chook (the same thing you'd get in the restaurant's signature Llewellyn's Fine Fried Chicken, named after John's granny), heaving with add-ons. The fluffy, crisp-edged waffles speckled with sharp cheddar are great, though we wish its bourbon maple syrup had more syrup and less whisky. Cubes of watermelon spiked with chilli powder are a refreshing respite from all that richness. What of the bird? Four medium-sized pieces from local free-range chickens swathed in a surprisingly thin, delicate skin with barely any flour coating to give it much crunch or heft. The result is just a gentle crispness to go with a simple salt and pepper-driven marinade that complements the bird's savouriness. The thigh meat is succulent and tender, but lacks punch — we can barely taste that 27-hour spice brine of cayenne pepper, smoked paprika and garlic in it. And whoever was in charge of the frying today overcooked the hunks of breast meat till they were pretty dry (a friend who dined here separately said her chook was overall juicier, lucky her). Also, the accompanying honey hot sauce tastes a lot like Tabasco.
Peach Cobbler
Good thing the
Peach Cobbler
($25) ends things on a high note. The fresh slices of caramelised fruit are umami, with an irresistible springy bite that canned peaches can only dream of having. It's crowned with thin, crackly marzipan pastry perfumed with a hint of almond essence we're not sure we're crazy about. But it pairs wonderfully with the luxuriously thick and fragrant vanilla ice cream.
VERDICT: *** We had high hopes for this fried chicken. It's decent, just not succulent, tasty or crunchy enough to justify all those calories — sorry, grandma. However, the other Southern fixings like the waffles, buttermilk biscuits and peach cobbler are down-home delish. Give the week-old kitchen some time to raise its game before popping by. $$$
L1-82 Bay Level & B1-07 Galleria Level, The Shoppes at Marina Bay Sands. Tel: 6688-9959. Open daily 11am-11pm (lunch, dinner & weekend brunch). Last orders at 10pm. www.50eggsinc.com