Former Towkay Of Don Pies Now Cooks Crabs In A Kopitiam
And his seafood dishes at Don Signature Crab are pretty shiok.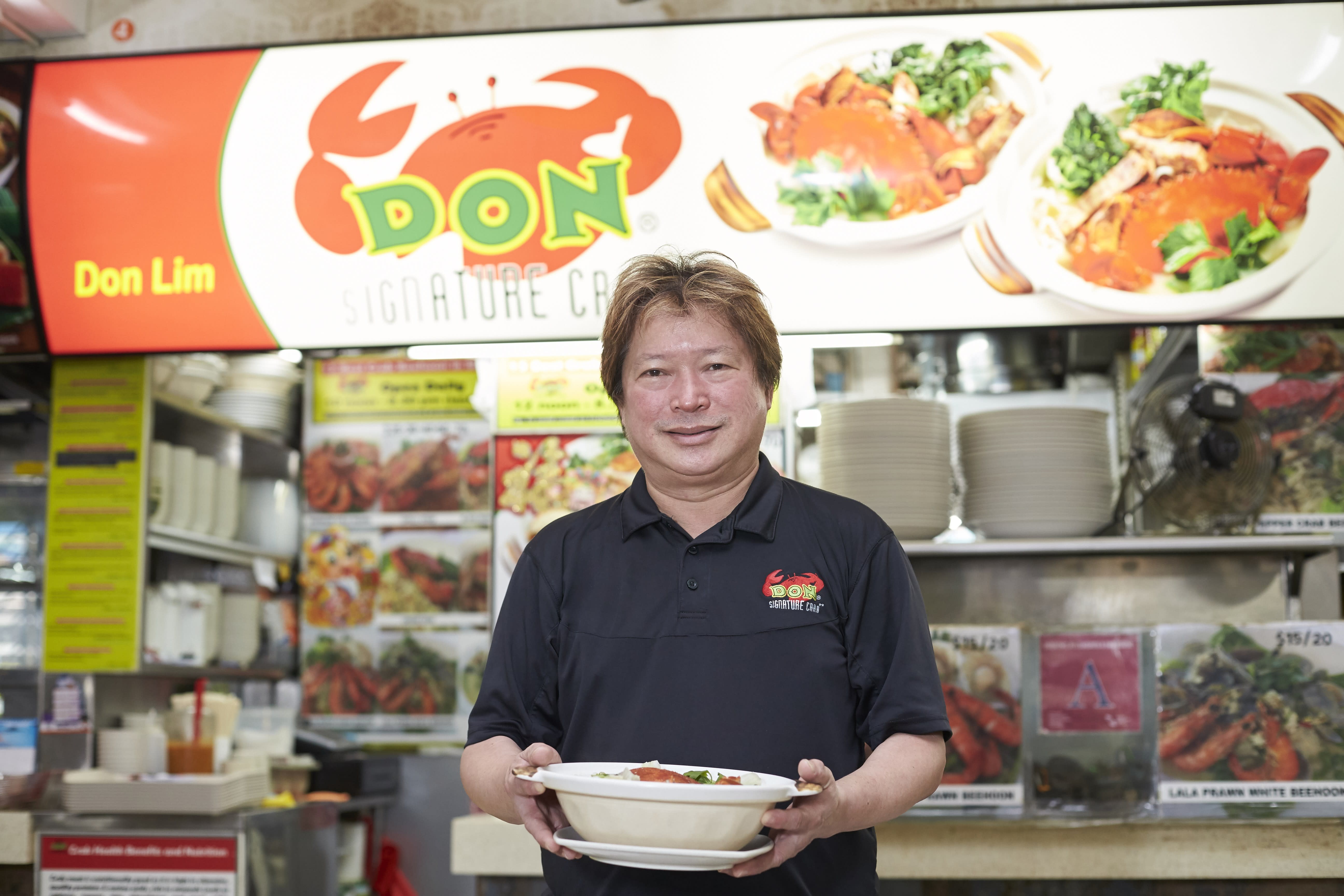 You've probably seen a branch of pie chain Don Your Personal Pie Club at a mall. It's also likely that you've bought a pastry from one of its four stores islandwide, too. But did you know its original founder, Don Lim, has left the chain and is now selling crabs at an unassuming coffeeshop stall in Toa Payoh? It's no wonder the signage at this zi char joint looks similar to the pie store's logo.

The 59-year-old's relationship with food began more than four decades ago, when he dropped out of school at 16 to work in a bakery. He went on to bake in various confectioneries before landing a job as head chef at Hewlett Packard Singapore's staff canteen in 1983, where he worked for 18 years.

In 2000, Don decided to strike it out on his own. He marched up to a bank with his pies in hand, and convinced it to give him a loan of $30,000 by letting the staff taste his pastries. The money went into setting up the very first outlet of Don Your Personal Pie Club at China Square that same year, which sold various chicken pies, cheesecake and kueh lapis.

Six years later, the budding entrepreneur decided to diversify and started selling crabs in his flagship eatery too, which had a dine-in area. "We had a huge space in China Square so I thought we could sell more items instead of just pies," Don tells us. "I chose to sell crabs because it's more unique. No one else in the area sold crabs so there was no competition. If people working nearby wanted crabs for lunch or dinner, they would come to my shop. Back then, we only sold crab bee hoon and black pepper crab."

Business was brisk for Don, but a difference in opinion between him and his business partner led them to sell off their pie biz to an investor in 2014. He says matter-of-factly: "I don't wish to say too much about what happened. It was a mutual agreement between us to sell the business. I don't feel that it's a waste or anything. It was a decision we made [back then]." Don shares that he made a "small profit" from the sale, but declined to reveal the amount. FYI: none of the Don Pie stores sell crabs now.

With his pie business sold, Don decided to continue selling crabs. In 2015, he found a kopitiam stall in Toa Payoh and set up Don Signature Crab there. "The coffeeshop didn't have any zi char stall, so there wasn't any direct competition. Plus, the rental back then was cheap, only $2,000."

These days, Don's stall serves about 10 dishes, ranging from his signature crab bee hoon soup and black pepper crab bee hoon to lala and prawn white bee hoon.

The affable man, who cooks at the stall daily, admits: "The pie business was definitely more profitable. The cost of crabs is high, as live crabs die sometimes and we have to throw them away. Plus, I'm selling my crabs at a low price." He adds: "It's much harder work. Crabs are more perishable compared to pies, which can be frozen beforehand and baked to order. Crabs, on the other hand, are live creatures and we have to ensure that they don't die before we cook them."

However, he has no regrets and won't go back to selling pastries. He says: "I don't miss selling or making pies. For me, when I sold the [pie] business, I told myself I won't touch pies again. It just doesn't make sense to go back to selling them when I've already sold the business. Now, I just want to focus on my crab business."

But will he perhaps offer a crab pie here, for old times' sake? "I don't think so — fresh seafood is too costly," he says.

View photo gallery above for our review of his seafood dishes.