Dig Into Matcha Fondue At This Famous Tokyo Green Tea Dessert Café, Opening At VivoCity
Matcha specialist Kagurazaka Saryo from Japan opens in Singapore on July 27.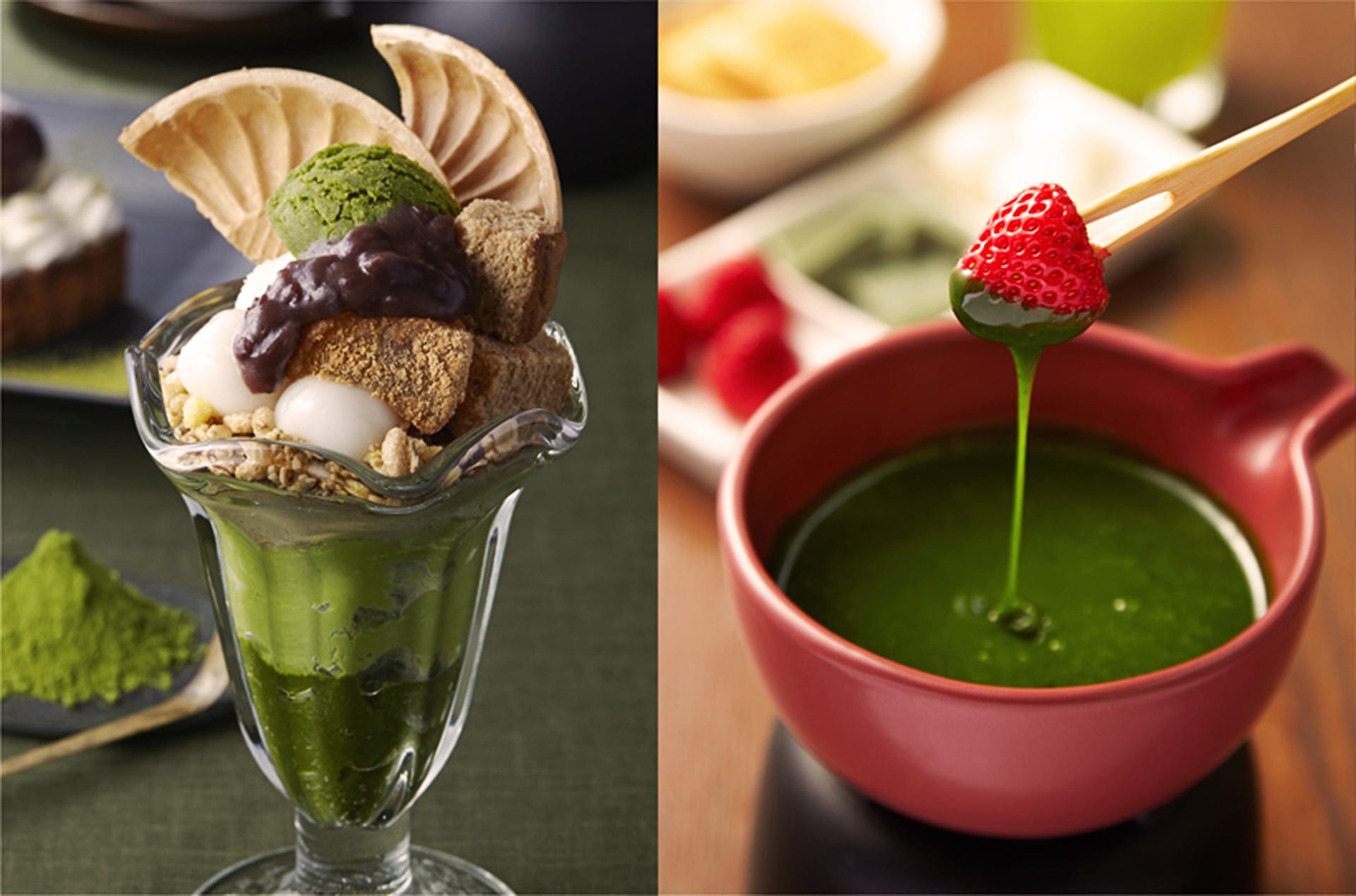 Popular Japanese green tea dessert house Kagurazaka Saryo from Tokyo has come to Singapore. The brand boasts 9 branches in Japan, and the original outlet opened about 14 years ago in a traditional Japanese-style house in Shinjuku. The Singapore outpost, brought in by Japan Food Holdings (also behind eateries like Ajisen Ramen), is housed at VivoCity and looks decidedly more modern with its blonde wood furnishings. It opens its doors on July 27.

Kagurazaka is famous for its range of premium Uji Matcha (from a tea-growing region in Kyoto) sweets and drinks.

The Matcha Fondue with Assorted Sides ($14.90) is by far their most Insta-famous dish. Think a gooey bittersweet dip made with high-quality matcha and melted white chocolate. You dunk slices of banana and strawberry, bouncy shiratama (a type of mochi), plus waffle biscuits in it. It also comes with a scoop of ice cream.

Another fusion green tea-themed dessert here is the Matcha Frozen S'more ($9.90), featuring flame-torched marshmallows cloaking a vanilla or matcha ice cream base. There's also the pretty-looking Signature Parfait ($10.90) layered with matcha and vanilla ice cream, matcha pudding, adzuki beans, warabi mochi, jelly and shiratama mochi.
There are fun bakes, too. Such as a Brulee Matcha Chiffon Cake ($10.90), starring a small matcha chiffon cake capped with a crunchy caramelised sugar lid (akin to a crème brulee).

If it's a traditional Japanese dessert you crave, try the Animitsu ($8.90): matcha flavoured agar-agar cubes, kinako powder (roasted soy bean flour), adzuki beans, matcha ice cream, and whipped cream. Drizzle this with a black sugar syrup called kuromitsu.

Wash your desserts down with a large variety of matcha drinks. The most interesting of the lot: the Matcha Nitro Drink ($7.90), green tea infused with nitrogen, which apparently makes the brew slightly effervescent and creamy. Too weird for you? Go for an Iced Matcha Chocolate Latte ($7.90) instead, or the classic O Matcha ($8.90), the latter green tea powder simply whisked with hot water to form a foamy, unadulterated matcha drink.

Interestingly, the café also serves a small list of savoury food —mostly one-pot soupy dishes called cha-nabe, with your choice of Japanese rice or udon. Examples are the Salmon Shio Cha-nabe ($11.90) and Pork Soya Milk Cha-nabe ($12.90).

Watch this space for our review soon.

Kagurazaka Saryo Singapore opens July 27 at #01-59 VivoCity, 1 Harbourfront Walk, S098585. Tel: 6376-9978. www.facebook.com/kagurazakasaryo