Creator of The Chocolate Lava Cake Opens a Restaurant in Singapore
New York-based French chef Jean-Georges Vongerichten ­— the man who popularised the molten chocolate cake (aka lava cake) ­— opens his first restaurant in Southeast Asia right here in Dempsey.
Do you like oozing chocolate? And have you dined in an angmoh restaurant in the past two to three decades? Chances are, you've probably eaten a molten chocolate cake (more commonly called a lava cake in Singapore). You know, that ubiquitous café/restaurant dessert staple that has stubbornly remained on menus since it was considered fashionable back in the '90s. Some food snobs think it is passé. Cookbook author and New York Times food writer Mark Bittman jokingly coined it "The Big Mac of desserts". Snigger all you want, but its longevity just goes to show that many people still love this cake with its semi-liquid heart. And it is widely believed that the man who created this simple yet sexy dessert is New York-based French chef Jean-Georges Vongerichten (say "John George Von Ger Rich Turn"). The story goes that while baking one day in the late '80s, he prematurely pulled a petite chocolate cake out of the oven, revealing its still unbaked gooey core instead of a crumbly one when he sliced it. And thus, sweet history was made.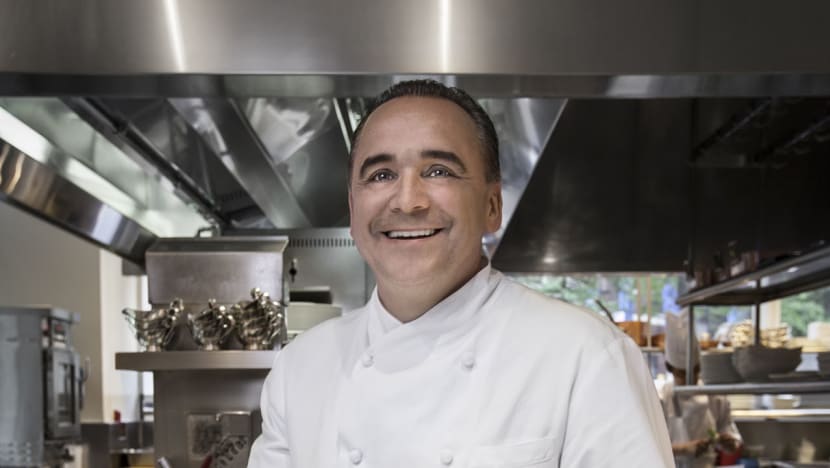 His restaurant in Singapore shares the same breezily chic space as eateries Candlenut and Ippoh Tempura Bar within lifestyle enclave Como Dempsey. It features an open kitchen and 160 seats, including a bar serving modern Asian cocktails.
Egg Caviar
What to eat? The chef's signature dishes, like the
Egg Caviar
($35), warm scrambled eggs and cold cream with a luxurious dollop of caviar, served in an eggshell. There's also the decadent
Black Truffle and Fontina Cheese Pizza
($20). And, of course, what's a Jean-Georges restaurant without his
Molten Bittersweet Chocolate Cake
($15), served with vanilla ice cream? Tip: the man has just landed in Singapore and will be in town for the next ten days to oversee the kitchen, so you know what to do.
Black Truffle and Fontina Cheese Pizza
Blk 17D Dempsey Rd, S249676. Tel: 1800-304-5588. Open 6pm – 9.30pm; till 10.30pm Fri & Sat. Bar open 5pm – midnight daily. Last orders at closing. www.comodempsey.sg/the-dempsey-cookhouse-and-bar

Photos: Francesco Tonelli